Brendan Lipovsky looked at his head coach on the sideline during the midst of a hot shooting streak for Hastings College Sunday against No. 17 Mount Marty.
Bill Gavers told Lipovsky he could get 40 points.
"You've got 4:24 to do it," Gavers said.
Ultimately, Lipovsky didn't reach that mark, but he did reach new career-highs in points and made 3-pointers as the Broncos slayed the Lancers Sunday, 87-70, at Lynn Farrell Arena.
Lipovsky's eight 3-pointers and five two-pointers accounted for 34 points in the Broncos' fourth Great Plains Athletic Conference win, which also put them back over .500 for the season.
"It was a breakout game for him," Gavers said of Lipovsky. "They were daring him, and he knocked them down."
Lipovsky hadn't been 100 percent after suffering an ankle injury earlier this month. But his presence, and production, Sunday "gave us a huge boost," said Gavers.
Lipovsky drilled six of his eight 3s in the second half. The senior transfer in his second year at HC converted the Broncos' first two field goals — both from distance — out of the break. He splashed his four others later in the half in a three-minute span.
On three consecutive Bronco possessions, Lipovsky hit 3s.
"It was just all rhythm," Lipovsky said. "Once you catch fire, it's just a flow from there...I kind of had the easy job. My teammates knew where to find me and all I had to do was knock down the open shot. My coaches put me in great situations to score."
At one point, "Lip," as his coaches and teammates call him, felt something special.
"The moment for me was when I was on the wing and I had just missed a 3 and we got the offensive rebound, we swung it back around, they were sagging off on me and I shot it and it went in early in the second half. And I said 'Wow, this might be the game for me.' "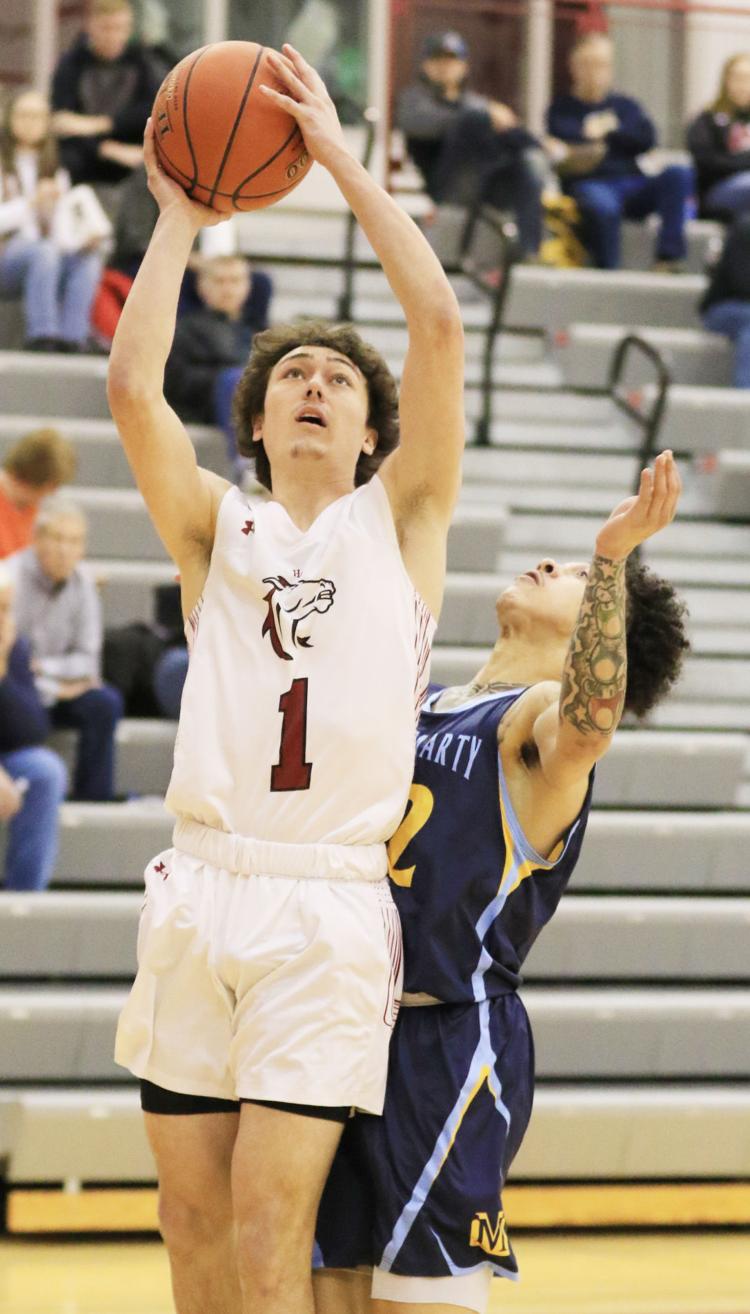 Freshman point guard Mason Hiemstra had a career day as well, totaling new highs in points (20) and rebounds (12).
"We're always preaching to him stay high on yourself, and stay confident, and he always does," Lipovsky said of Hiemstra. "He came from Alliance, which are the Bulldogs, and we think he plays exactly like one."
"Hiemstra is tough as nails," Gavers said. "He's been that way all year."
The first-year Bronco impressed Gavers more defensively than offensively Sunday. Hiemstra had the task of guarding Mount Marty's Chris King, who averages 20.7 points per game. King finished with a team-high 23, but on 6-of-16 shooting.
"Chris King is an All-American," Gavers said. "(Himestra) didn't let him have his patented step back 3 when he crosses over to his left hand."
King hit two of the Lancers' 11 3-pointers. Colby Johnson added three from deep, and Jordan Johnson buried two. Mount Marty, which ranks second in the country in total made 3s and made 3s per game, relies heavily on the long ball.
Lipovsky was plenty familiar with the playing style, and the ability, of the Lancer guards and coach.
"Jordan Johnson and Chris King, as well as their coach Todd Lorenson, were both in my conference," said Lipovsky, who began his college career at Des Moines Area Community College. "I've played against those guys almost my entire college career, so it's great to see them out on the floor and it's great to play against them because they're the top guards, if not the elite guards in the NAIA."
Hastings never trailed in the game after Bart Hiscock's first 3-pointer hit the twine just 20 seconds in. Lipovsky's first five points and Hiemstra's opening bucket gave HC a 10-2 lead with just 2:10 expired.
Mount Marty got as close as three after that, but the Broncos' 13 3s kept the margin intact. It was a taste of the Lancers' own medicine.
Gavers said the focus was on controlling the pace of the game.
"They want a 90 possession game," Gavers said. "Against them, we don't want a 90 possession game. We want 60 possessions or 50. I think we controlled the pace and tempo."
The Broncos led most of the way when the teams first met this season in Yankton, but collapsed late in the game. That didn't happen Sunday. HC remained locked in.
"For the first 36 minutes we were plus-10," Gavers said of the first game. "We lost the last four minutes and ended up losing by two. So that's a credit to our guys. We learned from that."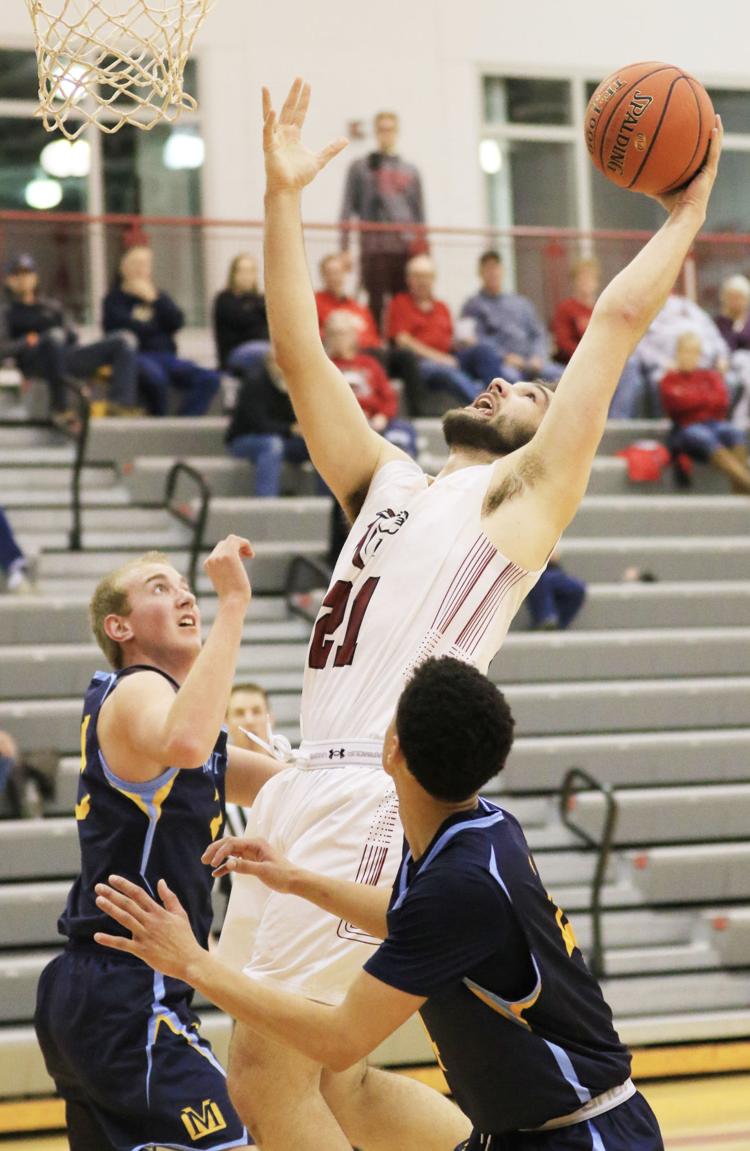 Hiscock finished with a double-double of 15 points and 10 boards to move into 10th place of HC's all-time scoring list with 1,762 points.
The Broncos will face No. 10 Dakota Wesleyan in Mitchell, S.D., Wednesday. They sit eighth in the GPAC standings with nine games to play.
"If we keep getting better, there's a conference tournament at the end and we may have an opportunity to do something," Gavers said.
"We've got an opportunity to go to a top-10 team on Wednesday and keep it going."
Mount Marty.................26 44 — 70
Hastings........................40 47 — 87
Mount Marty (70)
Chris King 6-16 9-9 23, Chase Altenburg 1-3 0-0 2, Jordan Johnson 2-8 0-0 6, Jailen Billings 2-10 0-1 5, Saba Gvedashvili 0-3 0-0 0, Colby Johnson 5-8 0-0 13, Ryan Warren 2-7 0-0 5, Jonah Larson 1-5 0-0 3, Keegan Savary 0-2 0-0 0, Trent Wilson 2-2 0-0 4, Mitchell Lonneman 2-3 0-0 4, Kade Stearns 1-2 2-2 5. Totals 24-69 11-12 70
Hastings College (87)
Mason Hiemstra 6-13 7-7 20, Karson Gansebom 0-2 0-0 0, Brendan Lipovsky 13-22 0-0 34, Zack Johnson 0-1 0-0 0, Logan Cale 1-4 0-0 3, Eli Hunter 1-2 1-1 3, Bart Hiscock 6-11 1-3 15, Shane Chamberlain 1-4 0-0 3, Zach Kitten 0-3 4-6 4, Josh Quinn 1-1 0-0 2, Ryan Ierna 1-3 1-2 3, Trevor Adelung 0-0 0-0 0, Bragan Meyer 0-0 0-0 0. Totals 30-66 14-19 87
Three-point FG:Mount Marty 11-40 (King 2-6, Altenburg 0-2, Johnson 2-4, Billings 1-8, Gvedashvili 0-2, Johnson 3-6, Warren 1-3, Larson 1-5, Savary 0-2, Stearns 1-2), Hastings College 13-31 (Hiemstra 1-2, Gansebom 0-1, Lipovsky 8-14, Johnson 0-1, Cale 1-4, Hiscock 2-5, Chamberlain 1-4). Rebounds: Mount Marty 38 (Johnson 9), Hastings College 44 (Hiemstra 12). Fouls Mount Marty 14, Hastings College 16. Assists: Mount Marty 9 (King 3), Hastings College 14 (Hiemstra 4). Steals: Mount Marty 4 (King 1, Johnson 1, Lonneman 1, Stearns 1), Hastings College 7 (Lipovsky 3). Blocked shots: Mount Marty 3 (Johnson 1, Johnson 1, Savary 1), Hastings College 3 (Lipovsky 1, Hiscock 1, Ierna 1). Turnovers: Mount Marty 11, Hastings College 12.