A more-than-capacity crowd filled Lynn Farrell Arena to its brim Wednesday night and witnessed history.
The estimated 2,300 people who cheered and jeered from the gray bleachers all night watched Hastings College win its 18th consecutive game to start the 2019-20 basketball season, which broke the previous record of 17 straight victories that began the 2001-02 season.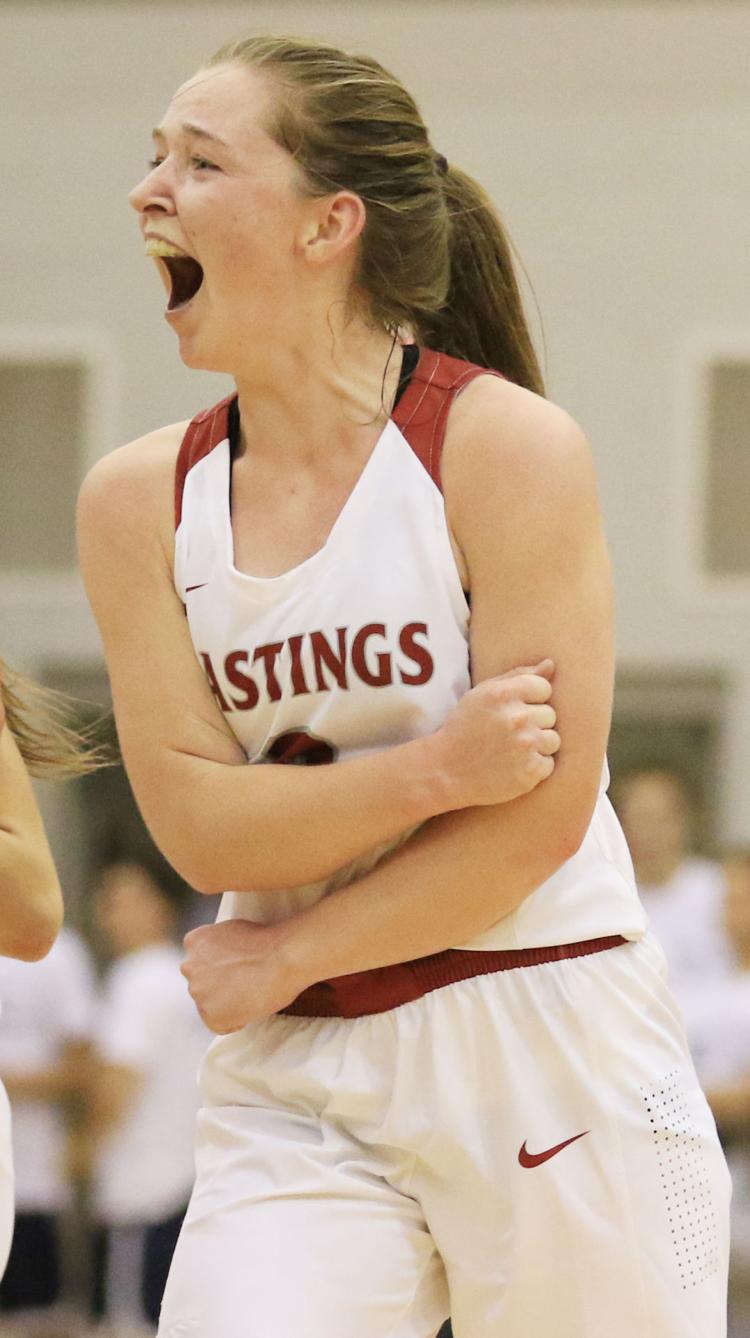 The No. 4 Broncos (18-0, 10-0) upset defending national champion and current No. 1 Concordia 66-59, which is the second time HC has upset the top-ranked team on its home floor in as many years. Hastings knocked off then-No. 1 Dakota Wesleyan Jan. 19, 2019, which also won the national title the season before.
But even more than that, Hastings College ended its long-endured skid against its Great Plains Athletic Conference rival from Seward. The Broncos' win was the first since Nov. 18, 2015. Prior to Wednesday, the Bulldogs had won eight straight games and 11 of 12 against HC.
"We kind of forgot about (the record)," Hastings head coach Jina Douglas said. "We talked about it afterward and the kids had to remind me that we also broke the school record. We'll take it. With the history of women's basketball here, any time you can break any sort of record, I think that says a lot about your team. Hopefully we can keep it going."
Douglas said she felt some relief, albeit it's just one game.
"We hadn't beaten Concordia in a long time, so it's finally nice to get a win against them," she said.
The hard-fought battle was won in the trenches. Hastings' defensive presence disrupted Concordia's leading scorer Philly Lammers, who finished three points shy of her average of 14 points per game and grabbed a game-high 10 rebounds.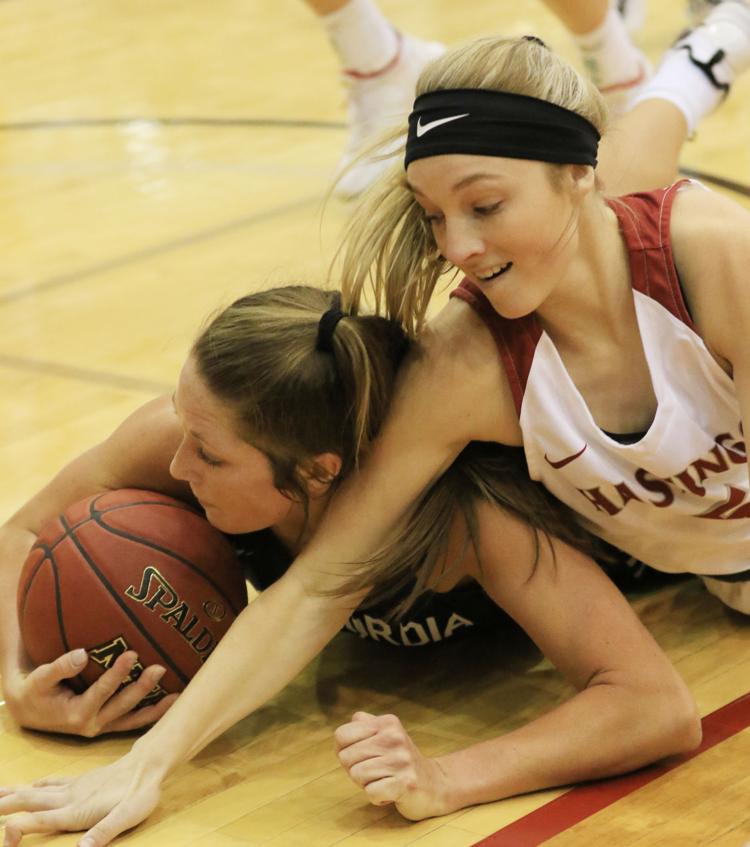 Gabby Grasso could almost take sole credit for the defensive effort in the paint on Lammers, although she'd say it was a team effort.
"She's a stud," said senior guard Shandra Farmer of her teammate Grasso. "She knows what's coming. She's such a smart player. She knows not to get into foul trouble, and she's just smart...Defending Philly, she's been guarding her for a couple years now, so she's so good at anticipating."
Grasso finished with a team-high 15 points and seven rebounds, and game-high four blocks. Farmer said Grasso, who leads the conference in blocks with 35, played more disciplined against Lammers and Co.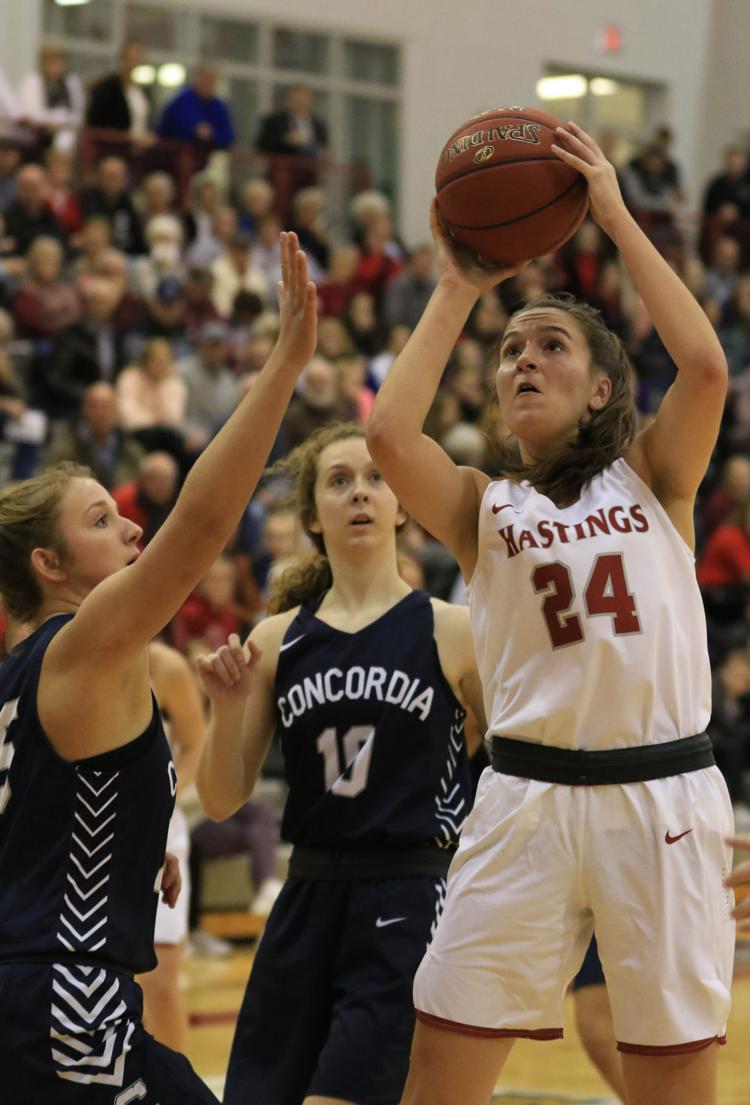 "She has a tendency to jump, but (Wednesday) she stayed down because she knew that's what she had to do," Farmer said. "She was smart and she played awesome. I'm just so pumped for her."
The Broncos held Concordia (14-2, 9-1) to a season-low in scoring with 59 points. The Bulldogs' previous low was 63 in an overtime win over Southeastern in October.
"Hastings wanted it more than we did," Concordia head coach Drew Olson said. "You could tell how motivated they were."
Free throws became crucial for both teams in separate halves.
Concordia shot just 10-for-23 from the charity stripe, where it averages 70 percent for the season.
"I think we taught like 300 high school kids that free throws are really important," Olson said with a laugh. He was referring to the plethora of area high school teams in attendance Wednesday.
The Bulldogs, who hit just 2-of-9 in the first half from the line, didn't have a field goal over the final 6 1/2 minutes of the second quarter. The Broncos failed to record a field goal over the final 6 minutes of the fourth quarter, but countered by sinking 6-of-8 free throws.
The former provided Hastings with a cushion they'd ride out until the end. A 13-0 run by the Broncos ended the first half, of which Kaitlyn Schmit was almost solely responsible.
The junior guard ignited the fire with a four-point play with the first of her three 3-pointers and converted at the line. All three of her makes from downtown came during the 5 1/2 minute run, in which she scored all her 12 points. Sophia Pankratz, who finished with 14 points, added the lone other point in the run.
"We thought if we could make a run before half that would be good for us, and Kaitlyn hit some big shots there," Douglas said.
Hastings swung its momentum into a 12-6 run to begin the second half, which grew its lead to 17 — the largest of the night.
But Concordia's Grace Barry paced the Bulldogs through the second half, where she scored 14 of her game-high 17 points.
"We kind of knew going in that (Hastings) is such a great defensive team that we need people to break others down to get others open," Olson said. "We did a good job of being glued to the other players and Grace finally stepped up and started making some plays. We just needed that to be a little bit earlier."
Barry scored the first six of Concordia's points in the fourth quarter. She kept Hastings within reach, and in near-perfect timing as the Bulldogs' press began to tire the Broncos.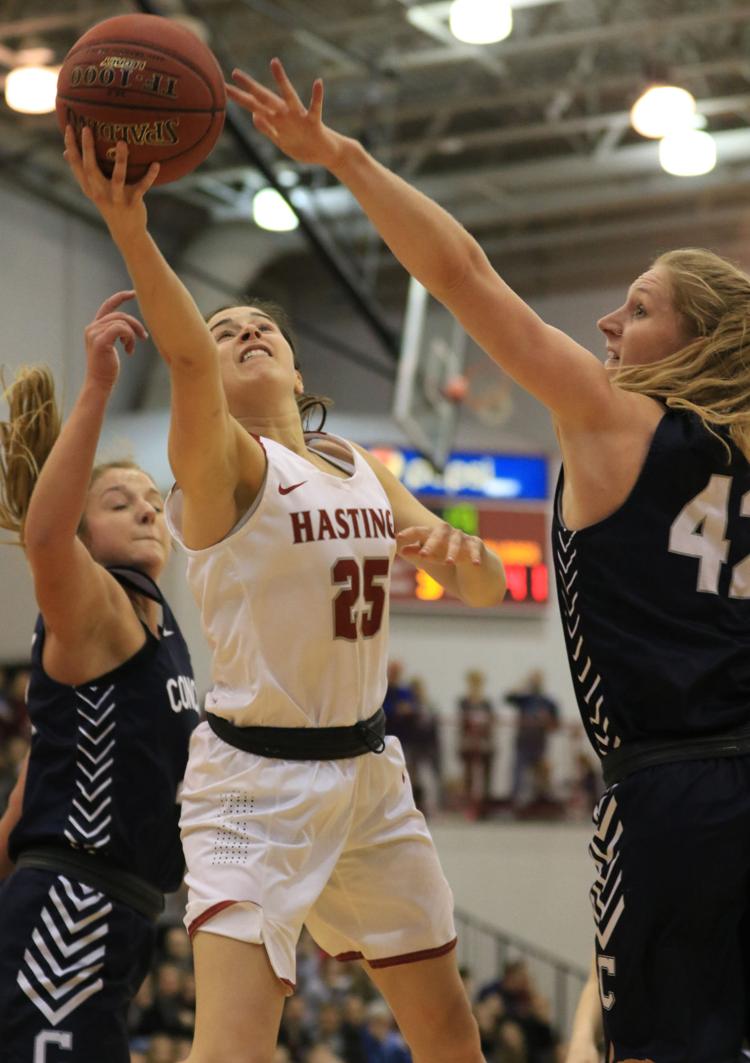 And when Shandra Farmer exited with leg cramps at the 5:46 mark before she was scheduled to shoot a pair of free throws, it looked like a Concordia comeback story would fill these lines.
With Farmer off the floor, Concordia scored six straight points to cut the lead to seven before Douglas called a timeout with 3:16 left.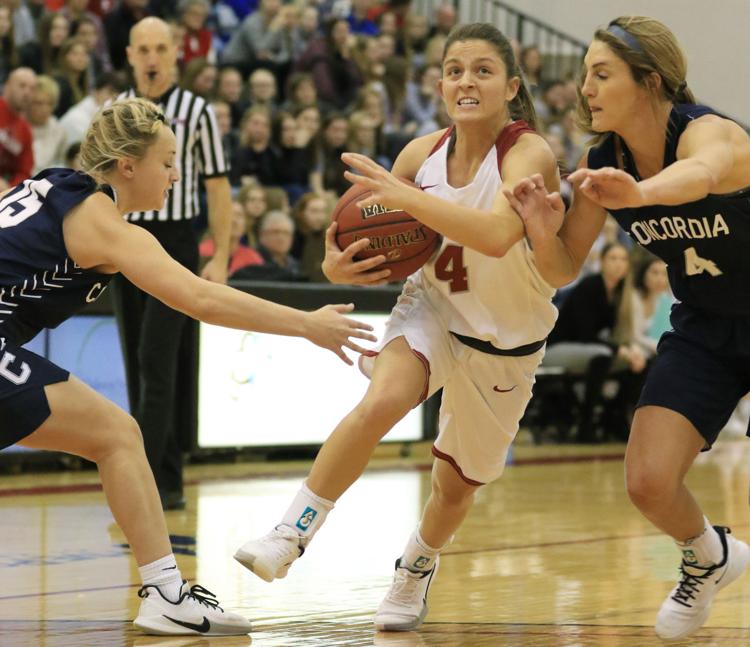 "I saw there was about 3 1/2 minutes left and I'm like 'I'm good, I'm good. I'm going,' " Farmer said with a laugh. "The team held it together. I was looking at the score and so then I knew we could finish because we still had the lead by a few possessions."
Barry scored for the final time with 2:25 remaining to pull the Bulldogs within five, but Grasso answered on the other end with a pair of free throws.
Taylor Farrell crunched the lead back to five with a lay in, and Schmit missed a pair of free throws after being fouled intentionally. But Barry's attempt at the rim fell short. Farmer sealed it with a 2-for-2 performance at the line.
Farmer said she hadn't seen a crowd fill Lynn Farrell like that during her time at HC.
"When I was younger, maybe a few times. But not since I've been here," she said. "We were all really excited. We were anticipating the atmosphere and knew we were going to have a bunch of people we knew here. We were ready to feed off the energy and it really worked for us tonight."
The two teams will meet again February 12 in Seward.
"We talked about how we're going to see them again in February, and we could face them two or three more times after that," Douglas said. "So we know it's going to be tough, but we're just going to enjoy tonight."
CUNE....................20 11 12 16 — 59
HC........................23 19 14 10 — 66
Concordia (59)
Riley Sibbel 1-6 0-0 2, MacKenzie Helman 2-3 0-0 6, Philomena Lammers 5-15 0-4 11, Colby Duvel 3-9 2-4 8, Taryn Schuette 1-3 1-1 3, Rebecca Higgins 1-4 0-0 3, Grace Barry 6-14 5-8 17, Elsie Aslesen 0-1 0-2 0, Rylee Pauli 0-2 0-2 0, Mackenzie Koepke 0-0 0-0 0, Claire Cornell 0-0 2-2 2, Delani Fahey 1-1 0-0 3, Taylor Farrell 2-2 0-0 4. Totals: 22-60 10-23 59.
Hastings College (66)
Emma Grenfell 3-4 0-0 6, Shandra Farmer 3-12 2-2 9, Ali Smith 2-4 0-0 4, Taylor Beacom 1-4 2-2 4, Kelsie Zadina 0-0 0-0 0, Kaitlyn Schmit 3-8 3-7 12, Karli Hale 0-0 0-0 0, Gabby Grasso 5-10 5-5 15, Sophia Pankratz 6-11 1-2 14, Dawson Knode 1-1 0-2 2. Totals: 24-54 13-20 66.
Three-point FG: Concordia 5-17 (Sibbel 0-2, Helman 2-2, Lammers 1-4, Duvel 0-1, Schuette 0-2, Higgins 1-3, Barry 0-1, Aslesen 0-1, Fahey 1-1), Hastings College 5-16 (Farmer 1-4, Smith 0-1, Beacom 0-2, Schmit 3-5, Pankratz 1-4). Rebounds: Concordia 37 (Lammers 10), Hastings College 29 (Grasso 7). Technical fouls: none. Assists: Concordia 8 (Helman 2, Barry 2), Hastings College 11 (Farmer 5). Steals: Concordia 12 (Barry 6), Hastings College 12 (Grenfell 6). Blocked shots: Concordia 3 (Lammers 2), Hastings College 5 (Grasso 4). Turnovers: Concordia 25, Hastings College 17.