Last year, Hastings' McKinsey Long, a freshman then, pump faked, drove to the rim and lifted a struggling team to a season-defining win over crosstown rival Adams Central.
Flash forward to Tuesday night and the Tigers are in a completely different position.
Hastings is ranked ninth in Class B, and with Tuesday's 45-42 win over Adams Central, the Tigers have won four straight and six of their last seven games.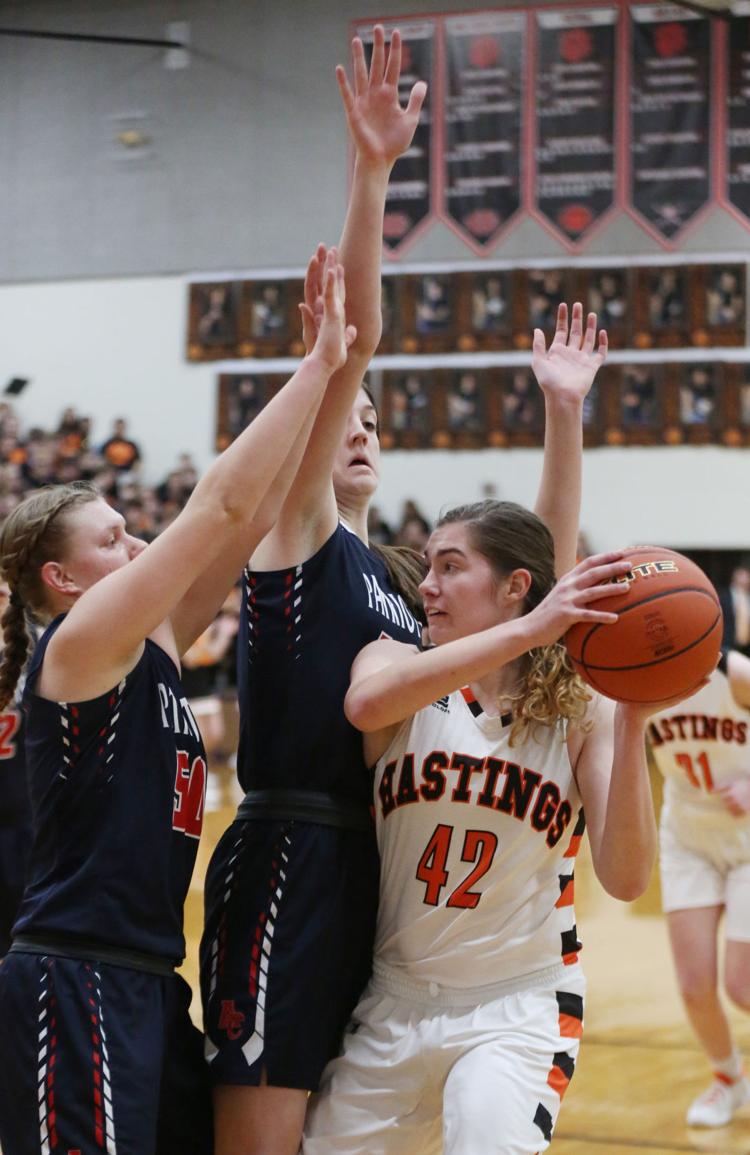 After a 2-4 start to the year, Hastings is 10-3 so far in 2020.
"I put on this tie a long time ago, and I'm still wearing it," HHS head coach Greg Mays joked. "They've all been competitive games. You always have to battle. That's district tournament time basketball. I think we're learning how to play it. We're still young. This is the first varsity season for lots of these girls, so it's encouraging that we're getting wins and making it happen."
Hastings played fast, like Mays wants it to, and the Tigers won the race early with the Patriots.
'We always want to run because we always want a play before they set up their defense," Mays said. "We want a track meet, but we want it our way. Coach Oman at Norfolk said once 'We want to run at them, not with them.' "
When the first field goal of the game fell through the net roughly five minutes into the contest, it was a 100-yard dash for the next five.
Adams Central matched Hastings' first five makes from the field. But the Tigers scored three in a row midway through the second quarter to pull ahead for good.
"It got a little too up and down, probably, (Adams Central) liked that," Mays said. "We probably should have put the brakes on earlier. We put them on towards the end of the half and things turned our way a little bit."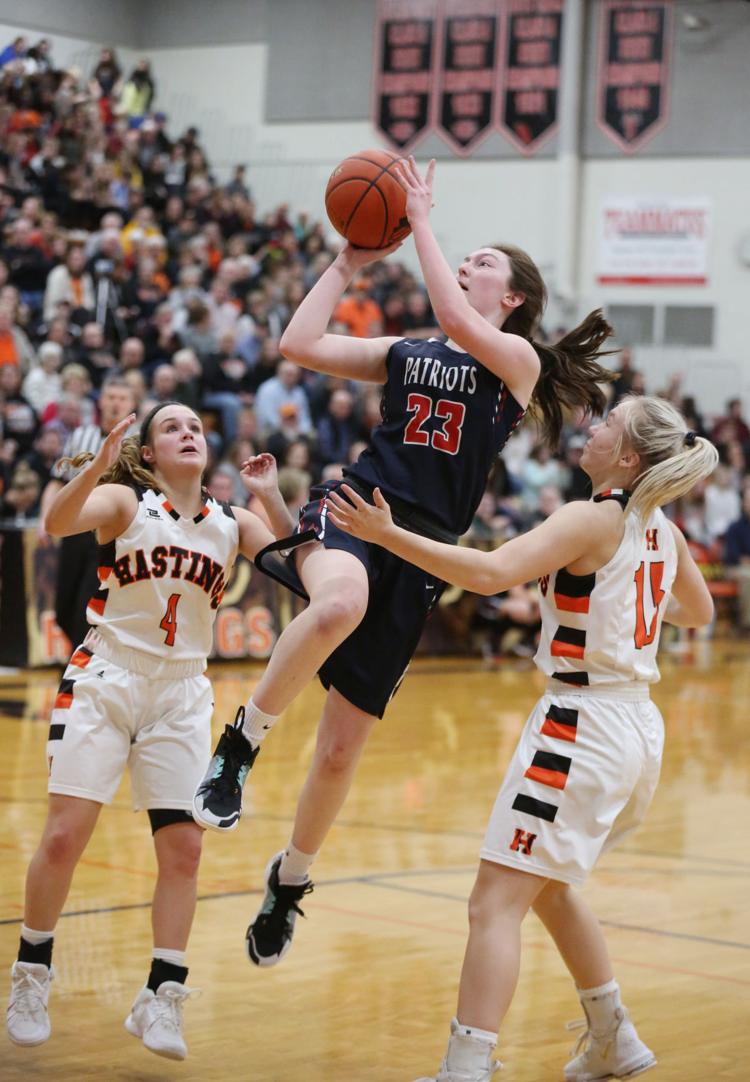 A 3-pointer by Long out of an Adams Central timeout was a buzzkill before half. Then Dacey Sealey raced the length of the court in transition for an easy two, and the Tigers led by eight at half.
The Patriots turned to a 1-3-1 zone defense, which provides their boys program much success and energy. It worked for the girls for a while, too.
"We did a good job making (Hastings) shoot some outside shots that were a little bit contested and forcing them to do some things they weren't super comfortable with," AC head coach Evan Smith said. "It was too little, too late. We put ourselves in a bad situation, getting down 10 late. And we have to use a lot of energy just to get it back to within firing range."
Long, who tied Sealey for the game-high at 14 points, put Hastings up double digits with her first make of the third quarter just 1 minute and 20 seconds into the half, but the Patriots scored six straight points with a free throw by Jessica Babcock, a 3 by Bryn Lang, and a layup by Kylie Dierks.
KK Laux answered with a 3 for the Tigers, who ended the quarter on a 7-3 run.
Hastings' lead never wavered, although the Patriots gave it a good shake.
Trailing by 11 with 5:55 left in the game, Adams Central scored eight straight points over the next four minutes, capped by a 3 from Libby Trausch.
After Sealey and Dierks each split a pair of free throws, it was a three-point Hastings lead. Long extended it to four with a free throw.
With 14.5 seconds left, Dierks halved the lead before Long insured the Patriots would need a 3 to tie it.
The play Adams Central drew up was snuffed out. Mays credited Sealey, who jammed Lang at the top of the key so the Patriots' best 3-point option was unavailable.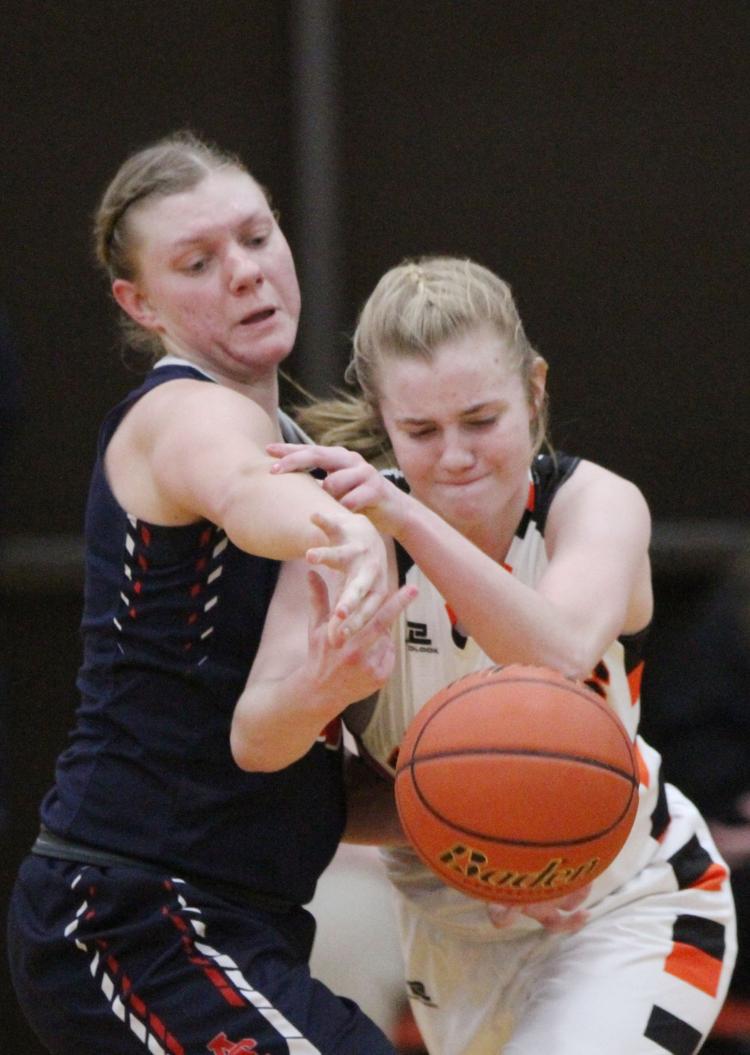 "I remember (Adams Central) had run that play other years. That's not what I drew up thinking they would do," Mays said. "But Dacey switched that thing, jumped out and just swallowed it. That's the kind of play she makes all the time, she's heady, aggressive, and competitive. Put her in the swim meet next week and she'd swim hard."
The 8.9 seconds AC had when the ball was inbounded sped off the clock. No shot was attempted.
"We had a couple different options, and they did a good job switching on to Bryn," Smith said. "They bottled up Jess right away, too, and so that kind of put a little damper on us getting the ball where wanted to."
Adams Central missed nine free throws on the night, which would've easily made up the difference.
"That's not good enough to win tough games," Smith said. "We knew we were going to be able to get to the line, we've just got to finish those."
Babcock and Lang chipped in 10 points apiece for the Patriots, who were without Lauryn Scott (illness), which Smith said would have provided more depth.
AC (12-10)...............................12 5 11 14 — 42
Hastings (12-7).......................12 13 11 9 — 45
Adams Central (42)
Libby Trausch 2-10 1-2 6, Jessica Babcock 3-8 4-10 10, Bryn Lang 4-10 0-0 10, Cami Wellensiek 1-2 1-1 3, Kylie Dierks 3-7 1-2 7, Caitlyn Scott 1-2 1-2 4. Totals: 14-39 8-17 42.
Hastings (45)
KK Laux 2-8 2-2 7, Dacey Sealey 4-8 6-8 14, McKinsey Long 5-11 2-4 14, Daelene Hinrichs 1-5 2-5 4, Lauren Hinrichs 2-5 0-0 4, Maddie Hilgendorf 1-3 0-2 2, Nyagour Duang 0-1 0-0 0. Totals: 15-41 12-21 45.
Three-point goals — AC 4-14 (Trausch 1-7, Babcock 0-1, Lang 2-5, C. Scott 1-1); H 3-15 (Laux 1-6, Sealey 0-1, Long 2-6, D. Hinrichs 0-2).