The Adams Central Patriots (8-0) defeated a tough Bennington Badgers squad, 59-44 to win their home Holiday Tournament.
"Just the way our schedule is this year we haven't really played a top level team yet and we were really hungry to play against somebody that was a rated level team," said Patriots head coach Zac Foster. "It was really really satisfying to play the way we did against somebody good because we needed to see where we were at."
The Badgers (5-3) lead the entire first half of play but, a run right before halftime gave the Patriots the confidence they needed to control the second half and come out with the win.
The Badgers took an early lead on back to back buckets by seniors Jace Miller and Grady Corrigan. The Patriots had an answer in senior Gavin Lipovsky who nailed two triples early in the quarter. The Badgers responded getting six straight points from sophomore Austin Holts to take a 10-6 lead. The Badgers extended their lead to 17-11 as the first quarter came to an end.
Both teams traded points for much of the second quarter. Patriots junior Lucas Bohlen sparked a scoring surge late in the quarter, hitting back to back three-point field goals. With 38.2 seconds left, Bohlen connected on the first of two free throws with junior Dew Vonderfecht getting the offensive rebound off the miss. Vonderfecht found Bohlen who once again drained a triple. The four point play cut the Badgers lead to just one point as the halftime buzzer sounded.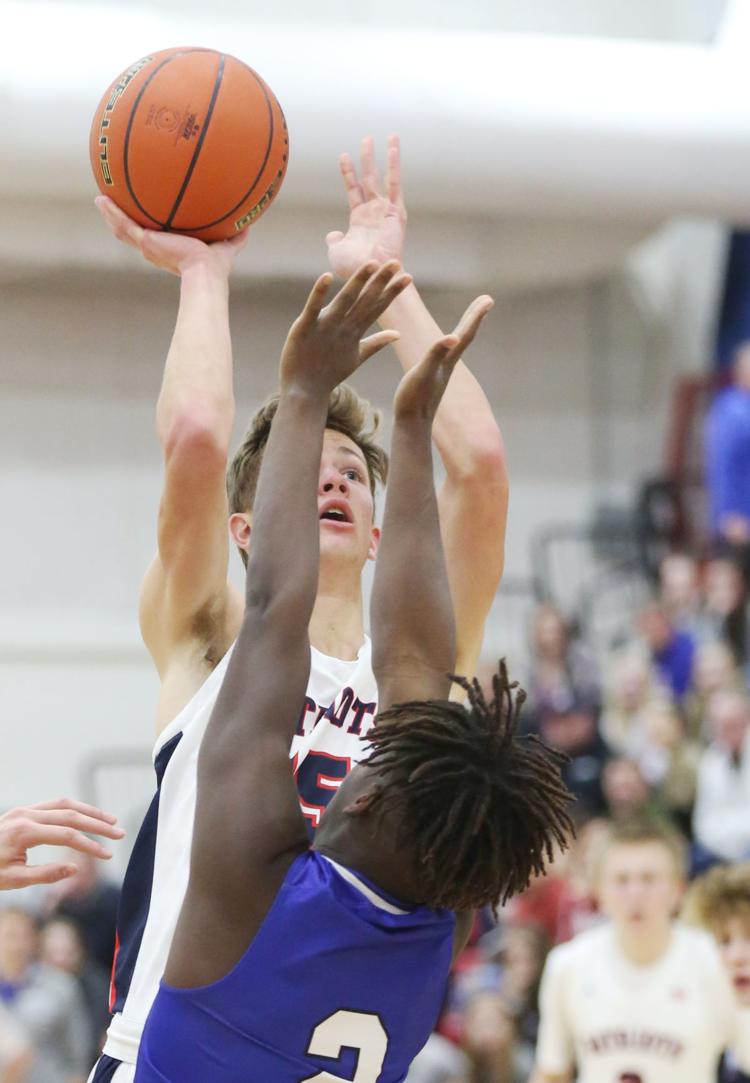 "I thought in the second quarter that little burst by Lucas really changed the game," Foster said. "I thought we were on the ropes a little bit and he hit those two or three shots and all of the sudden we have confidence and from then on we played well. The game could have gone a different way, but that really gave us all confidence, we pulled our shoulders back and competed after that."
The Patriots took their first lead of the game on their first possession of the second half on a trey from Lipovsky. The Patriots would never trail again as they outscored the Badgers 17-8 in the third quarter. Lipovsky had 10 of his game high 16 points in the quartet as the Patriots took a 44-36 lead with one quarter left to play.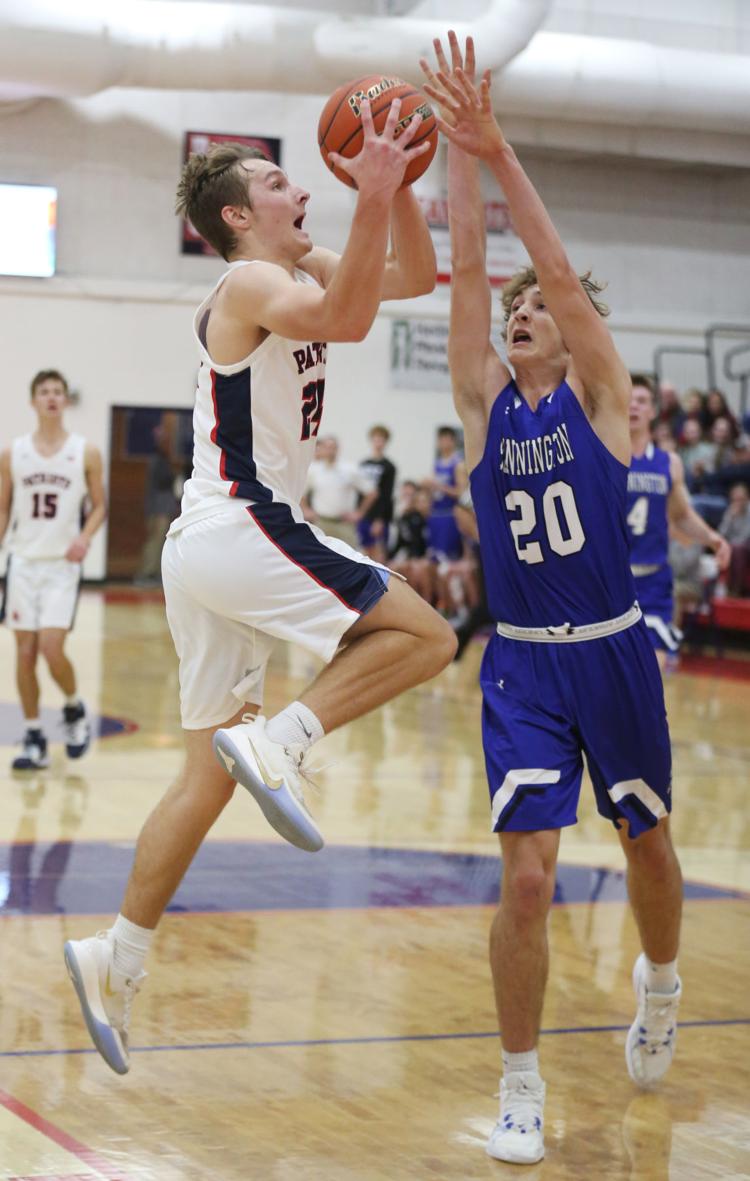 The Patriots scored the first six points of the final quarter extending their lead to 14 points. The Badgers struggled to score in the final quarter taking only eight shots and scoring just eight points. The Patriots outscored the Badgers 9-3 in the final minutes to win 59-44.
The Patriots put together a true team victory with three players scoring in double figures. Lipovsky lead all scorers with 16 points. Bohlen added 14 and junior Cam Foster chipped in 12.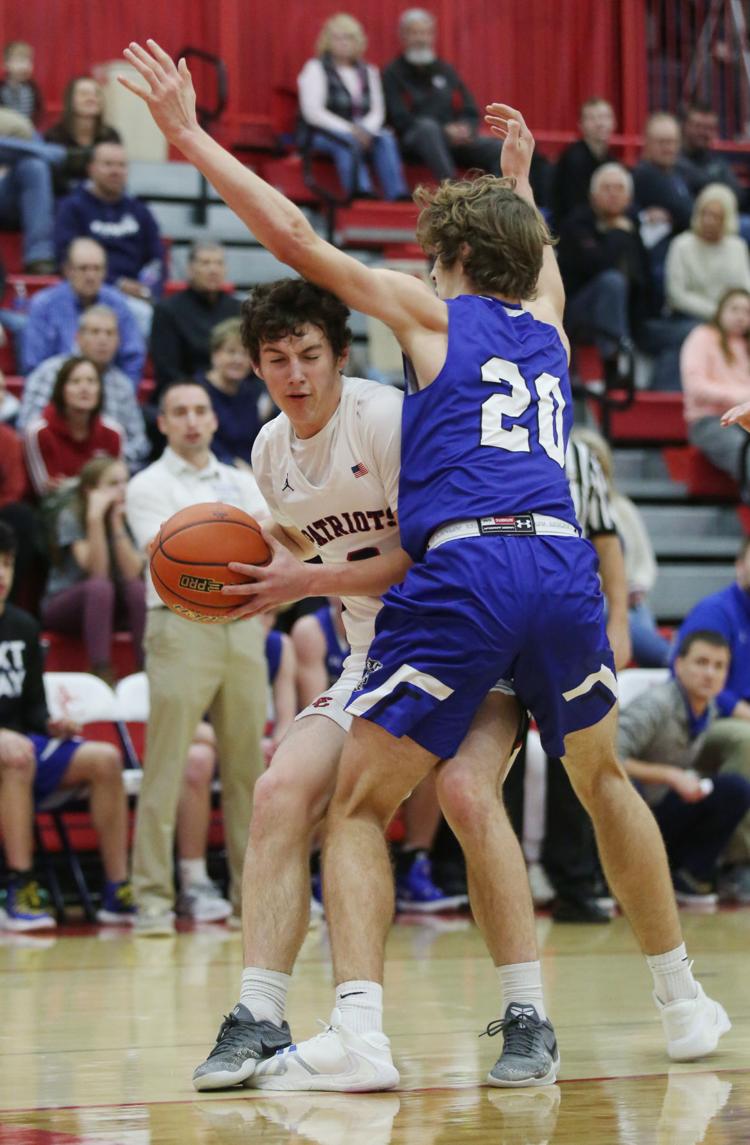 "Our absolute strength is that we don't just have one guy, we have multiple guys that can really affect the game at a high level," commented Foster. "Gavin Lipovsky is our leading scorer and he didn't score last night and he had 16 tonight. Cam had 23 last night and four the game before. Lucas had three last night and 14 today. Tyler Slechta, in my opinion is the best defender in class C, I've said that on record multiple times for over a year now. He didn't score today but I thought he dominated a lot of the game with his defense, Grady Corrigan is a very good player and he only had two points today, Tyler just took him out of the game. So I like the dynamic of our team where it truly is a team, where we all need each other and at different times all play really well."
Bennington...............17 11 8 8 — 44
Adams Central.....11 16 17 15 — 59
Bennington (44)
Cayden Bluhm 1-1 0-0 2, Nick Bohn 3-7 2-3 8, Lucas Brown1-3 0-0 2, Grady Corrigan 1-10 0-0 2, Austin Holtz 4-8 4-5 14, Trey Kenkel 0-0 3-3 3, Jace Miller 2-7 0-0 4, Jaden Reinoehl 1-2 0-0 3, Seth Wempen 1-3 3-4 6.
Adams Central (59)
Nathan Anderson 0-0 0-0 0, Dante Boelhower 3-4 3-3 9, Lucas Bohlen 4-7 3-4 14, Cam Foster 2-8 7-8 12, Gavin Lipovsky 4-10 5-8 16, Travis Niemeyer 0-1 0-0 0, Tyler Slechta 0-6 0-0 0, Drew Vonderfecht 2-2 1-1 5.
Three-point field-goals: Bennington 4-15 (Corrigan 0-3, Holtz 2-5, Miller 0-4, Reinoehl 1-2, Wempen 1-1), Adams Central 7-20 (Bohlen 3-5, Foster 1-4, Lipovsky 3-8, Slechta 0-3).