The Battle of Hastings was everything we expected to see, and then some more.
The Hastings High gymnasium was filled to the brim on Tuesday, creating a deafening environment as Class B No. 2 Hastings and C-1 No. 2 Adams Central had one clutch moment after another. Hastings seemed to answer every AC basket with one of its own in the fourth quarter, but ultimately it was the Patriots that knocked off the Tigers 54-51 to win the battle for the city.
"What an environment; both fan bases did a tremendous job of supporting their teams and both teams played really well. I'm just so unbelievably proud of our kids. I don't know if I've ever been, in my 20 years, more proud of a group all season for how they've played. And (Tuesday), coming into this environment with everything that's being said about the game and play with zero fear. I'm just so unbelievably proud of them for having zero fear," said AC head coach Zac Foster.
"I think any time you play Adams Central, it's never been short on a crowd. The place was electric. It was a really good atmosphere; unfortunately, it kind of bit us because we couldn't communicate very well," HHS head coach Lance Creech said. "I didn't think our communication in the second quarter was very good on the defensive end. They kept getting the same action over and over... It wasn't a very well coached game; I know that for sure."
The rivalry between the two schools has produced its fair share of thrillers recently. Going into Tuesday, the last three matchups have been decided by a total of 14 points. AC's win on Tuesday is the second consecutive three-point win over Hastings and gives them four wins in the last six meetings.
"We're going to remember this for years and years. It was a great game, and I don't think I've ever seen Hastings so full. It was awesome," said AC's Tyler Slechta. "This was a great game, big game. It's a good test to get to where our goals want to be."
The Tigers (17-2) came out of the gate as the aggressors, scoring 10 of the first 14 points and limiting the Adams Central offense, which averages 59.2 points per game, to just six in the opening frame.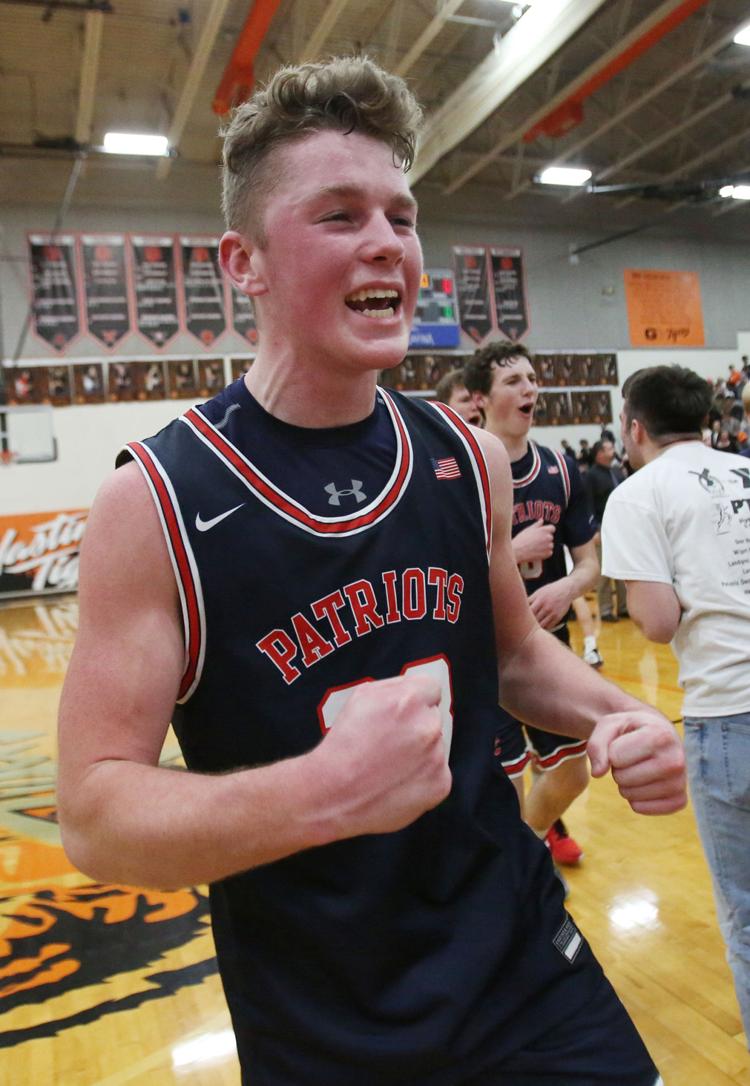 In the Patriots' only loss, to Grand Island Central Catholic, they struggled to knock down shots they're used to seeing go in. Tuesday's game started eerily similar, with AC (19-1) making just one of its 11 shots from the floor in the first quarter.
AC added four free throws in the opening frame, but the poor shooting performance led to a 13-6 lead for the Tigers after the first.
"We said at the end of the quarter, if we get the same shots, we're going to live with them. We really, as a coaching staff, try to empower our kids and give them confidence, and we just told them, 'We're doing the right things. Keep doing what you're doing and stay the course,' " Foster said. "We've been in those situations before, and we didn't panic, just like we haven't all year. It's a testament to our kids and how tough minded they are."
The Patriots certainly played with no fear in the second quarter. Adams Central took many of the same shots it did in the first, but this time the shots were falling, at a rapid pace.
AC drained eight of its 12 attempts in the second, including a trio of 3-pointers. After tailing 16-8, the Patriots finished the final 7 minutes, 16 seconds of the half on a 20-4 run, taking a 28-20 lead into halftime.
"We have great shooters, and we're just going to keep shooting. We can't be afraid, we have to be fearless," Slechta said.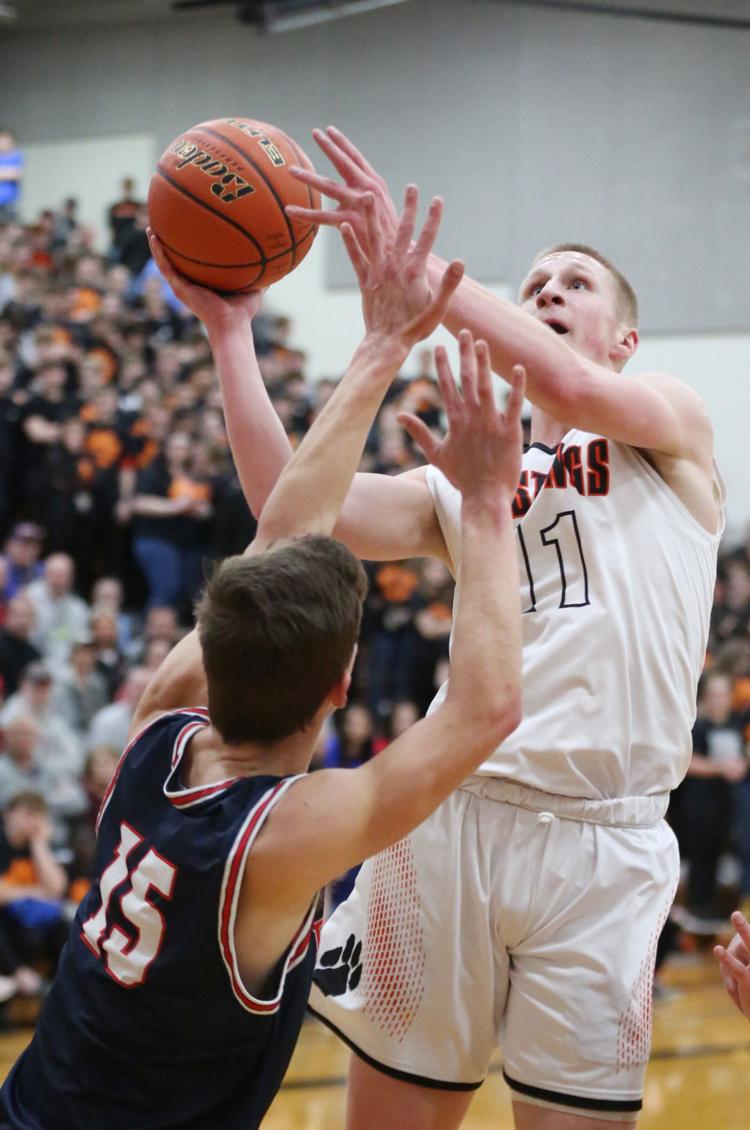 "I liked our energy. What we have to understand is that we can't play aggressive, we can't play tough, we can't play with energy when we're making baskets. It's almost got to be flipped; you have to really play that way when you're not making baskets," Creech said. "Our sense of urgency to start the game was really good, but in the second quarter, (Adams Central) took over."
The Tigers found their groove again in the third quarter. After going 3-for-12 in the second, they responded with 16 points on 7-for-10 shooting, led by Jake Schroeder's eight points. But Adams Central kept pace, scoring 14 points to go into the final period leading 42-36.
Adams Central started with the ball in the fourth quarter, and a quick miss led to a Connor Creech layup just 18 seconds into the period, trimming the advantage to just four. After that, the Patriots began to milk the clock. AC's ball movement kept the Tigers chasing all over the halfcourt, draining time and energy.
"It's hard to do; credit Adams Central because that's hard to do, milk the clock for 6 1/2 minutes. But they're really skilled. They can put five guys out there that can handle the ball safely," Lance Creech said. "They didn't panic when we tried to trap. I didn't want to have to start trying to trap with 6 1/2 minutes left in the game because then we would have been spent trying to make shots... But again, credit their kids, they did a hell of a job executing."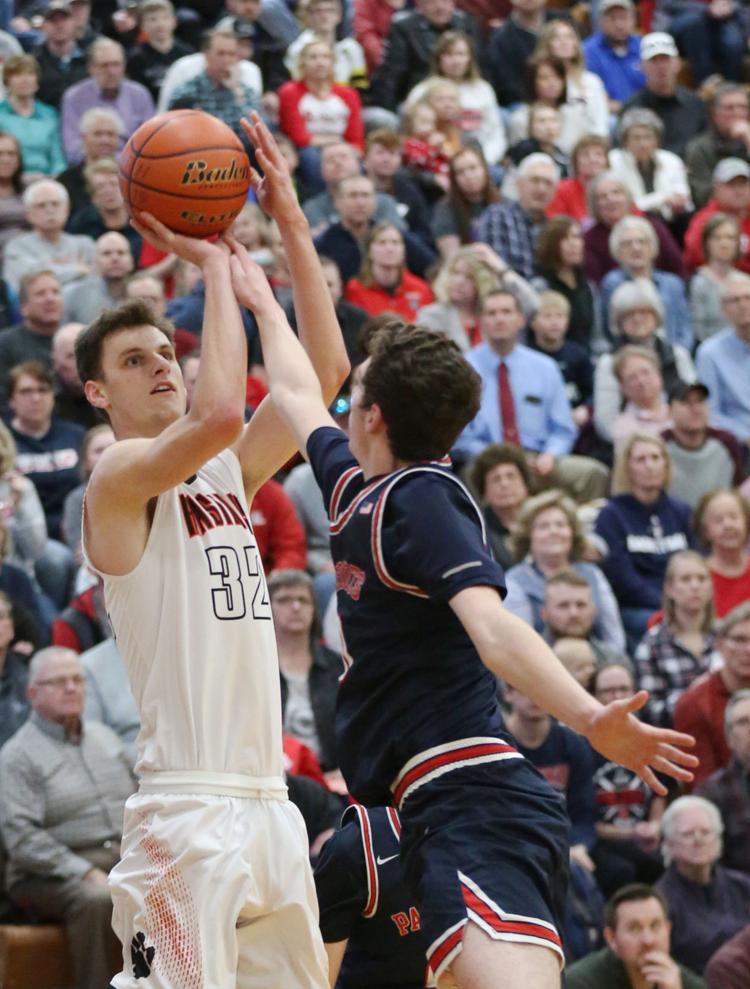 The Patriots eventually worked the ball to an open Cam Foster, who splashed his third triple of the game, extending the lead to 45-38. A JT Cafferty basket pulled Hastings within five again, but another long possession led to an open baseline and a dunk from Gavin Lipovsky.
The slam put Adams Central up seven with 1:57 remaining, and it sparked an intense back-and-forth. On the ensuing possession, Connor drilled a 3-pointer to make it a four-point game. After a pair of AC free throws, he splashed another trey with 45 seconds left to cut the lead to 49-46.
"What do you say about (Hastings)? They're an unbelievable team, and Connor is a heck of a player. We're playing a team with five college athletes and Player of the Year last year in the Tribland (Hilgendorf) and probably this year in Connor," Foster said. "Connor was making clutch shots down the stretch. Tip your hat to Connor because he made some huge plays to keep them in striking distance."
After Connor's 3-pointer, an old nemesis revisited Hastings. The Tigers at times have struggled getting back on defense in transition, and the big shot that pulled HHS within three points was answered just six seconds later with a fastbreak layup by Dantae Boelhower.
"Connor was clutch. He hits shots in big times; you see it in so many other games," Slechta said. "He did it (Tuesday) too, but we were able to find a way to break the press and Dantae's finish at the other end was nasty. It was pretty nice."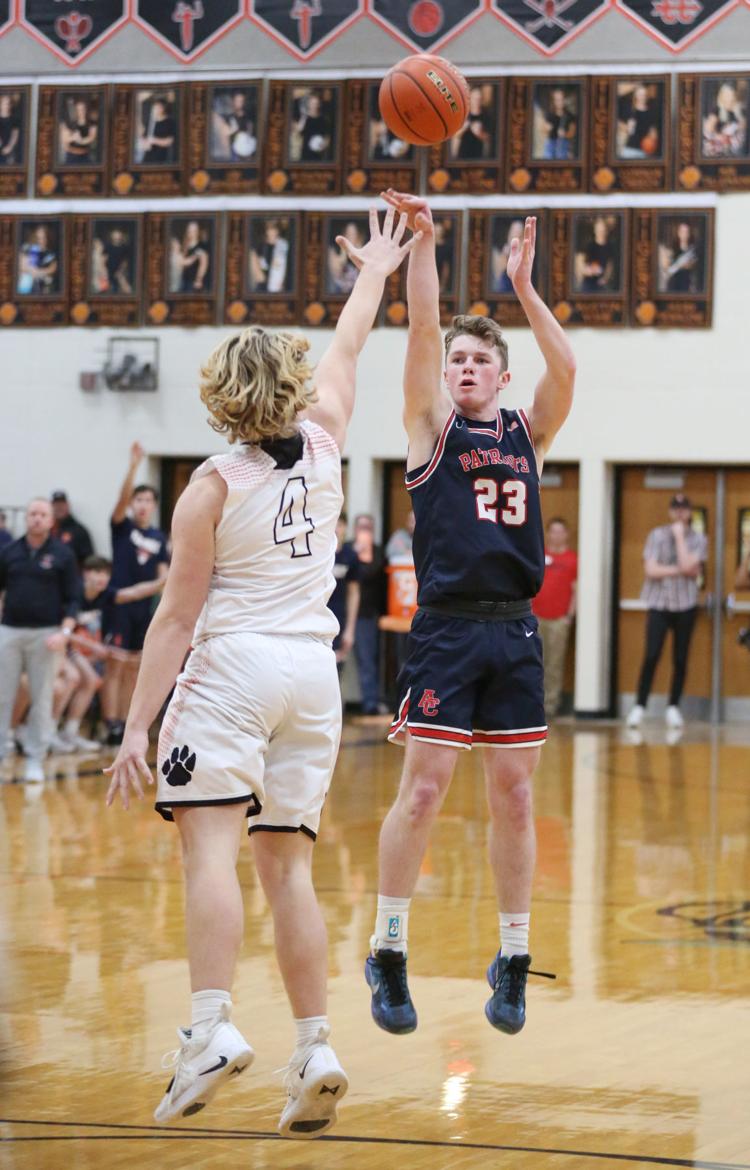 On the ensuing possession, Adams Central forced a turnover, and Tyler Slechta tossed a deep pass to Lipovsky, who raced ahead of the defense and threw down another dunk, this one giving AC a 53-46 lead with 25 seconds.
Lipovsky was hyped, to say the least, commanding his teammates on the bench and the Patriot faithful on the West side of the gym to raise to their feet and get rowdy.
"They threw it to me and I saw an open lane. I just went up and dunked it and everyone was going crazy. My adrenaline was pumping, and I just loved that moment," Lipovsky said.
Hastings did all it could to try and keep the game alive. Jake Schroeder made a quick basket with 15 seconds remaining to make it a five point game. A foul put Cam Foster on the free-throw line, where he hit 1-of-2 shots. Cafferty banked in a 3-pointer to cut the lead to 54-51, but with HHS out of timeouts and only 2 seconds remaining on a clock that doesn't stop after a made basket, the Patriots didn't even have to inbound the ball. They held on for the victory in a battle of one-loss teams.
"They outplayed us," Connor Creech said. "We came out great (at the start) and executed what we wanted to. I think fatigue got to us and lack of focus. Credit to (Adams Central), they made plays."
Connor Creech led all scorers with 19 points. He was 7-for-12 from the field, and he hit all four of his shots in the second half, when he scored 11 points.
"I'll tell you what, the kid is a competitor," the Tigers' head coach said of his son, Connor. "I was really proud of the way he handled things. I thought he played on both sides of the floor and did a really good job. I would hate to see where we would have been without him."
Schroeder added 14 points, also shooting 7-for-12. Creech, Haggan Hilgendorf, and Mike Boeve all tied for the team-lead with five rebounds.
Hastings won't have to wait long to release any frustrations from Tuesday's loss, as it will travel to Waverly on Thursday before squaring off with Class C-2 No. 1 Bancroft-Rosalie/Lyons Decatur Saturday in the Heartland Hoops Classic.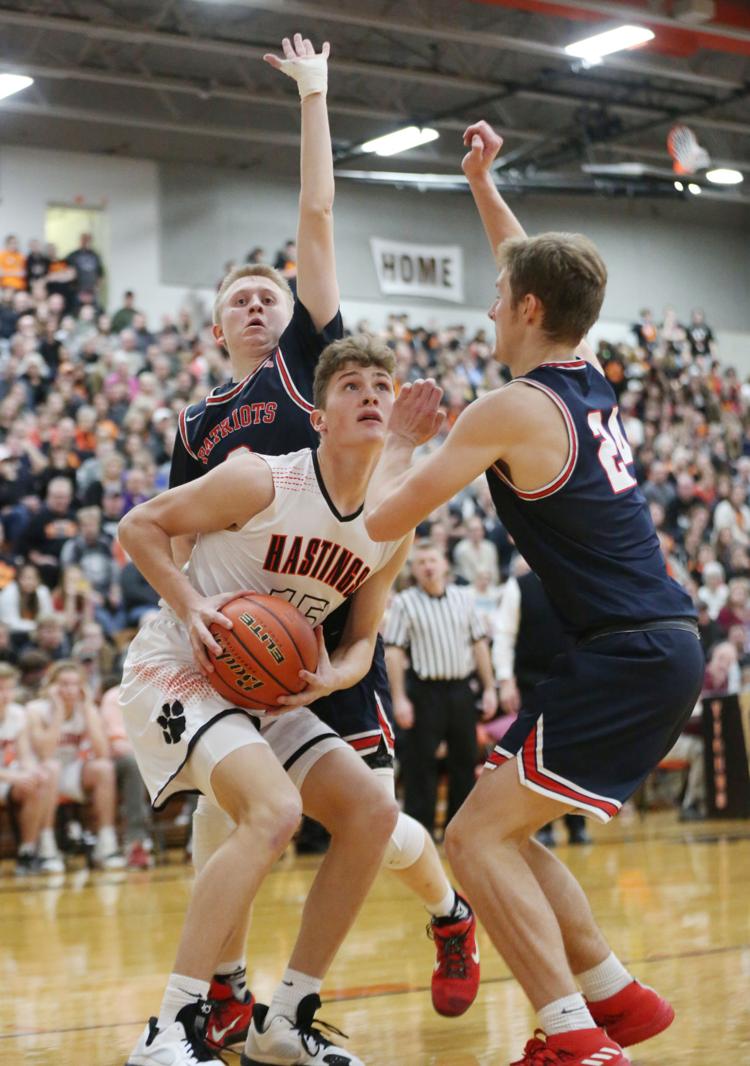 Lipovsky's 15 points paced the Patriots, who had two other players in double figures — Cam Foster with 14 and Slechta with 10. Boelhower hauled in a game-high seven rebounds. After starting the game 1-for-11, Adams Central shot 18-for-30 (60 percent) in the final three quarters.
AC will now host Ravenna on Thursday and then Kearney Catholic on Feb. 21.
"(Tuesday's win) means a lot, but also, we have to kind of move on. We're focused on the end of the season," Slechta said.
AC(19-1).....................6 22 14 12 — 54
Hastings (17-2)...........13 7 15 15 — 51
AC (54)
Tyler Slechta 3-6 2-2 10, Lucas Bohlen 3-7 0-0 9, Dantae Boelhower 3-6 0-0 6, Cameron Foster 4-9 3-4 14, Gavin Lipovsky 6-10 3-3 15, Travis Niemeyer 0-2 0-0 0, Nathan Anderson 0-0 0-0 0, Drew Vonderfecth 0-1 0-0 0. Totals: 19-41 10-11 54
HHS (51)
Connor Creech 7-12 1-1 19, Jake Schroeder 7-12 0-0 14, JT Cafferty 2-2 0-2 5, Haggan Hilgendorf 3-9 0-0 7, Mike Boeve 2-8 0-0 6, Jarrett Synek 0-0 0-0 0, Brennan Witte 0-0 0-0 0, Landon Jacobus 0-0 0-0 0. Totals: 21-42 1-3 51.
Three-point field goals — AC 6-23 (Slechta 0-2, Bohlen 3-7, Foster 3-8, Lipovsky 0-4, Niemeyer 0-1, Vonderfecht 0-1); HHS 7-18 (Creech 4-6, Hilgendorf 1-4, Schroeder 0-1, Boeve 2-7). Rebounds — AC 24 (Boelhower 7), HHS 22 (Creech, Hilgendorf, Boeve 5). Turnovers — AC 5, HHS 7.