The "meatball" Kaelan Schultz was hunting for, she got.
Schultz belted a 1-2 fastball to the opposite field, it landed beyond the fence, and Hastings High advanced to the final day of the Class B state softball tournament for the first time in the program's history.
It's the first time Hastings has won more than two games at the tournament.
"It's a milestone that we haven't been able to get to — ever," said HHS head coach Ashley Speak. "It's kind of just been hovering around us for the last few years, so to be able to do it in walk-off fashion against one of our biggest rivals was awesome."
Schultz's walk-off homer completed the Tigers' comeback and knocked off rival Northwest 8-6.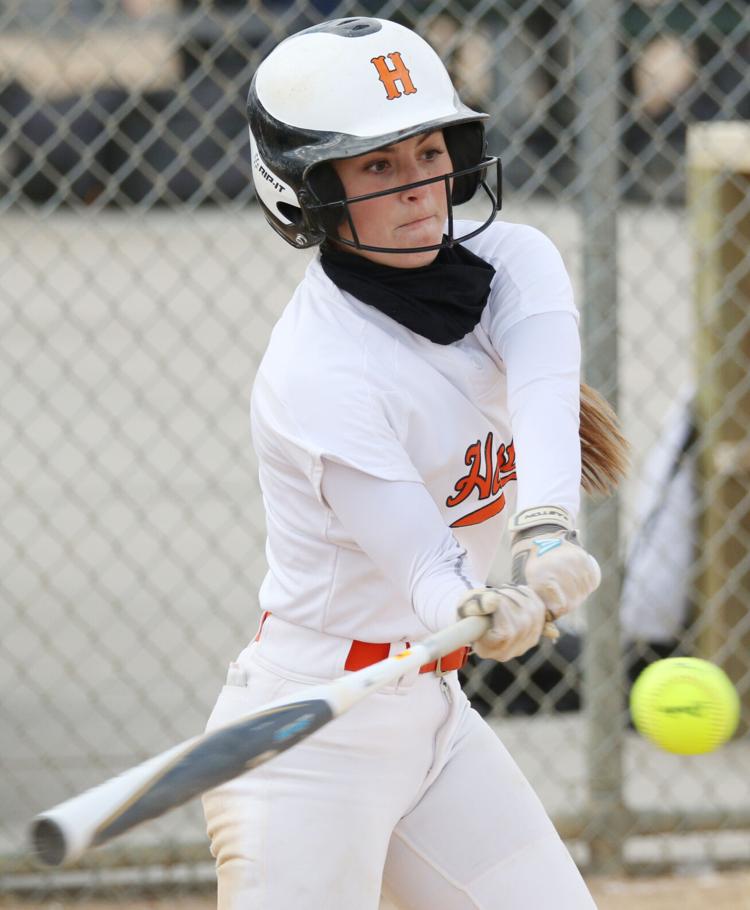 "It was just a real moment," Schultz said. "I just knew I had to come up and get a good base hit and she threw me two outside pitches and I was like 'I'm going to go with it.' And that's what happened."
Sophie Cerveny led off the seventh with an infield single and Sammy Schmidt, the winning run, grounded a ball back up the box.
Schultz waited patiently before calling game.
"It felt real good off of the bat," she said. "I was like 'Dang! That's an awesome moment.'"
The Tigers trailed up until that point in the ball game after Northwest clubbed three home runs in the first four innings.
Kylie Caspersen and Emma Sundberg produced big flies in the second inning, which made it 4-0 Vikings. Faith Gibson's RBI single in the first broke the ice.
In the fourth, Avyn Urbanski further separated Northwest from Hastings with a two-run blast.
But as the Vikings couldn't bulge their lead, Hastings came knocking.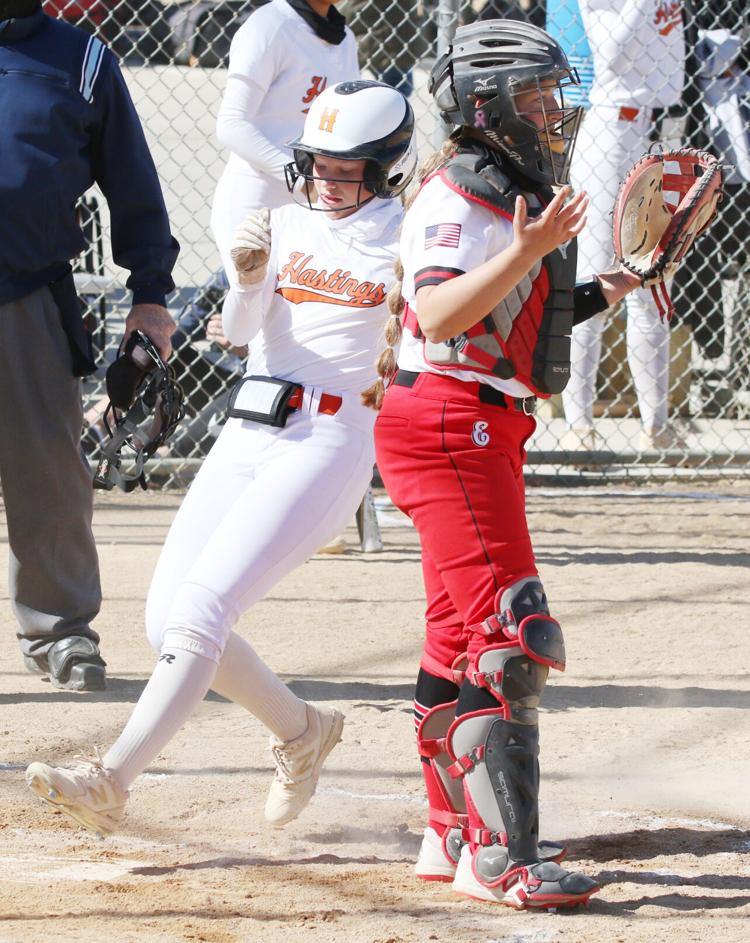 Peytin Hudson powered the Tigers to within one of Northwest with a three-run shot in the sixth that hugged the left field foul line on its way out of the park.
On the previous pitch, Northwest thought it had recorded the second out of the inning with a pitch on the corner.
"It was a perfect pitch," said Northwest coach Mitch Sadd. "We should have had the strikeout there, but they let it go and (Hudson) hits that home run that puts them right back in the ball game."
Northwest further swung the momentum towards Hastings by getting doubled up on the base paths in the top of the seventh.
The top of the Hastings lineup did the rest.
"We knew we had that coming back up," Sadd said. "Hastings at the top is very strong."
"I thought if we could roll that lineup over to the top again that we'd have chance," Speak said. "And we did."
Alex Curtis put Hastings on the board in the second inning with a run-scoring double, and Schmidt plated Cerveny in the third.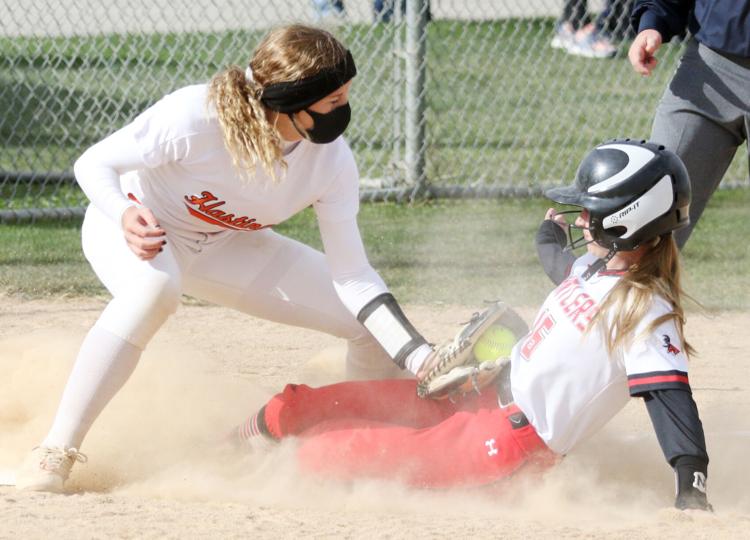 Northwest started Caspersen, a freshman, in the circle. After she provided two innings, the Vikings turned to their ace, Ava Laurent, who had pitched all eight innings of their win over GICC.
"We were trying to buy Ava a little bit of time," Sadd said. "She's going through a little bit of soreness, so we had to give her a little bit of time. We told Kylie to give us a few innings and let Ava rest a little bit. (Kylie) did everything we needed her to do."
Laurent stifled the Tiger lineup through her first three innings. After Schultz greeted her with a single, Laurent retired 10 Tigers in a row before KK Laux drew a walk, Faith Molina singled, and Hudson left the yard.
Northwest failed to capitalize on a Hastings error in the fifth, stranding a runner on third. The Vikings left a runner in scoring position in the sixth, as well.
The big hit finally came for Hastings, which had more than a handful in its earlier win over Elkhorn.
A three-run blast by Schultz helped the Tigers grow a 12-0 lead after the first two innings, but the Antlers crawled all the way back to tie the game in the fifth inning.
After racking up 12 hits in two innings, Hastings mustered only two between the third and sixth.
Hastings quickly answered Elkhorn's tying run with a pair in the sixth. Curtis, who launched her second home run of the season in the second inning, singled and was scored by Cerveny's fifth hit of the game. Cerveny eventually came around on an Elkhorn error.
Watching that large of a lead evaporate was worrisome. So, too, was trailing out of the gate against Northwest. But Hastings dug deep.
"We got a little nervous early with Faith giving up some hits, but (we) continually just show up and play every day," Speak said.
The Tigers (32-4) earned a rematch with Norris, which lost to Skutt 4-0 in the winner's bracket final.
Norris and Hastings have split two matchups this season — both were one-run ball games.
Skutt, which is undefeated in the tournament at 3-0, will have to be beaten twice in the championship round. Hastings beat the SkyHawks earlier this season 8-4.
"We're going to bring it," Schultz said. "I know we can do this. We've worked so hard for this moment, and (Friday) is our day."
Game one
HHS (30-4)....390 002 0 — 14 17 2
ELK (22-14)...060 331 0 — 13 11 2
W — Faith Molina. L — Megan Garcia.
2B — E, Jaycee Schutte.
HR — E, Nyleigh Carbaugh, Garcia, Paige Roessner. H, Alex Curtis, Kaelan Schultz.
Game two
NW (27-12).......130 200 0 — 6 6 0
HHS (31-4)........011 003 3 — 8 9 1
W — Faith Molina. L — Ava Laurent.
2B — H, Alex Curtis, Sophie Cerveny.
HR — H, Peytin Hudson, Schultz. N, Caspersen, Emma Sundberg, Avyn Urbanski.