Adams Central played like it was intimidated Tuesday night in the first of its two crosstown rivalries.
The Patriots were stagnant and uncommunicative against the No. 2-rated St. Cecilia Hawkettes, who rolled to a 24-point victory.
But on Thursday, AC was unselfish, aggressive, and patient, especially in the second half, en route to a 56-41 win over Kearney Catholic.
"When we distributed the ball, we found open shooters all over the place," Patriots head coach Evan Smith said. "We got our bigs involved and just played a way better game (than Tuesday)."
Adams Central's effort against the Stars on Thursday was better in many categories. Perhaps the biggest area was rebounding.
The Patriots, who were out-rebounded by a much smaller STC team (34-18) Tuesday, kept Kearney Catholic off the boards, specifically in the second half. Adams Central out-rebounded KC 40-24 for the game, but 22-6 in the final two quarters.
Freshman Rachel Goodon, who scored eight points, corralled a game-high 13 rebounds for the Patriots. Goodon hauled in nine rebounds in the third quarter alone — three on one possession, and AC's Cami Wellensiek scored during it.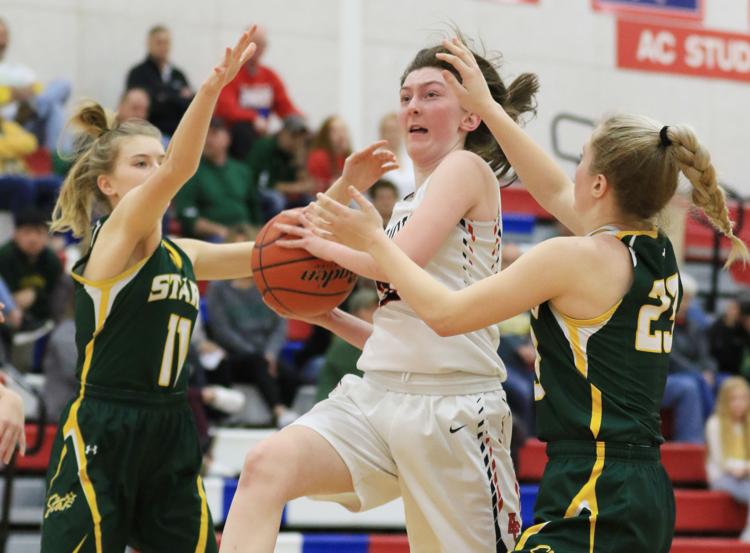 "That's a big part of our offense," Smith said. "If we're getting good looks, we're not always going to hit everything, but when our bigs can get offensive rebounds or at least a tip out to our guards, it creates another opportunity for us to score.
"We didn't do a very good job of that in the first half, and I thought Kearney Catholic did do a good job of that. We kind of minimized their second chance opportunities, and I thought we had a lot more."
The teams were involved in a 94-foot, back-and-forth dash for much of the first half. There were a combined 22 turnovers in the opening 16 minutes. And a lazy defensive possession by AC to end the first quarter, allowed the Stars to tie the game with a 3-pointer at the buzzer.
But when Adams Central slowed the game down, the Patriots were in control.
"We played with way too much pace, especially in the half court, and so when we were able to move the ball a little more, it got their defense moving, which we wanted it to, and it led to more scoring opportunities," Smith said.
"When you take care of the ball and you minimize those turnovers, it just creates so many scoring opportunities for us. We have the ability to play really fast, but we're not always playing our best basketball that way."
Bryn Lang and Libby Trausch drilled back-to-back 3s out of the half to push the Patriots in front for good. The pair did the same thing in the same order to begin the fourth.
Lang was 4-for-6 from beyond the arc and finished with a game-high 16 points. Trausch hit three 3s for nine points.
Jessica Babcock tallied seven of her nine in the fourth quarter, where the Patriots shot 7-for-8 from the floor. Babcock also reeled in seven boards.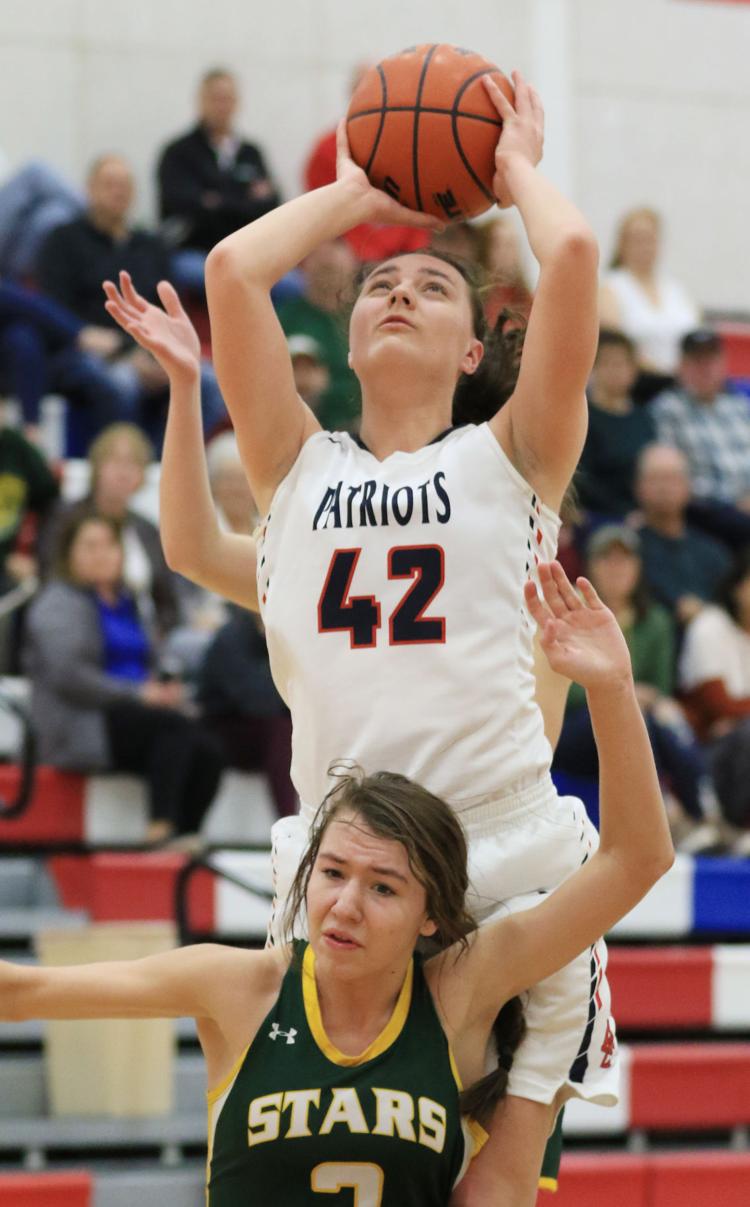 After making just over 30 percent of its shots Tuesday, Adams Central shot 45 percent from the floor with seven 3s.
"When you play a team like St. Cecilia, who plays such good defense all the time, constantly, it wears on you," Smith said. "(Thursday) I thought we did a better job of finding people inside, which created more shots for us outside. Jess did a great job of getting to the rim, Libby did a good job getting to the rim. So when we can attack the lane with those two, it makes it pretty hard for the other team."
Adams Central and Kearney Catholic were knotted at 23 at halftime, but the Patriots outscored the Stars 33-18 over the final 16 minutes.
KC managed just one field goal in the third quarter, and 33 of the Stars' 48 shot attempts were from beyond the arc, where they hit nine.
Ashlyn Wischmeier, Ainsley Aden, and Liv Nore each connected on a pair of 3s. Wischmeier led the Stars with nine points.
The Patriots (12-9) play the second half of their crosstown rivalries at Hastings High Tuesday. Smith plans on running a practice Monday, but otherwise wants his girls out of the gym, "unless (they're) really bored."
"This has been a pretty long stretch. January and February are a pretty grinding time of year and we haven't had many breaks," Smith said. "I think just getting their mind away from basketball a little bit is a good thing. Any time you can give some rest here and there, our girls need to be charged and ready to go for next week and then obviously into districts.
"A little downtime doesn't hurt anybody."
Hastings knocked off the eventual state-bound Patriots 36-35 last season after trailing by as many as eight. AC led all but the final 10 seconds of the game; the Patriots didn't score the final 3 minutes, 46 seconds.
"It'll be a fantastic atmosphere. I'm super excited for it. It's always fun game for our kids," Smith said.
KC (12-7)....................13 10 7 11 — 41
AC (12-9).................13 10 16 17 — 56
Kearney Catholic (41)
Liza Trettel 1-6 0-0 3, Ashley Keck 2-7 3-6 8, Ashlyn Wischmeier 2-11 3-4 9, Ainsley Aden 2-7 2-2 8, Christian Arram 1-4 0-0 3, Kyla Reifenrath 1-2 0-0 2, Liv Nore 3-7 0-0 8, Jenna Kruse 0-4 0-0 0. Totals: 12-48 8-12 9-33.
Adams Central (56)
Jessica Babcock 4-10 1-2 9, Bryn Lang 5-7 2-2 16, Rachel Goodon 3-9 2-2 8, Cami Wellensiek 2-4 0-0 4, Kylie Dierks 2-5 0-0 4, Libby Trausch 3-9 0-0 9, Lauryn Scott 2-2 0-0 4, Caitlyn Scott 1-2 0-2 2. Totals: 22-48 5-8 56.
Three-point goals — KC 9-33 (Trettel 1-5, Keck 1-4, Wischmeier 2-8, Aden 2-5, Arram 1-4, Nore 2-3, Kruse 0-3); AC 7-12 (Lang 4-6, Trausch 3-6).