The Hastings Sodbusters hosted the Fremont Moo for the final time during the regular season Wednesday night at Duncan Field. And the two teams made sure the spectators got their money's worth.
Both squads battled in a pitcher's duel for the first six innings, but after falling behind by six the Sodbusters rallied and had the tying run just 90 feet from home in the ninth inning. Unfortunately for the home team, the Moo held on just enough for a 9-8 victory.
"We did a great job of not quitting, but that was about all we did really good (Wednesday)," said Sodbusters' head coach JM Kelly. "We just didn't play very good baseball all night. We just didn't really deserve to be in the game with our two-out hitting. Execution in general was not very good."
It was a tightly contested battle for six innings, but the game took a sudden turn in the seventh, when all the momentum was shifted in favor of Fremont.
With the game tied at 2-2, Fremont scored six runs in the top of the frame. Hastings needed some sort of a response and got one with two outs in the bottom of the frame when Efry Cervantes — who hit the go-ahead hit in Tuesday's contest — tripled down the right field line.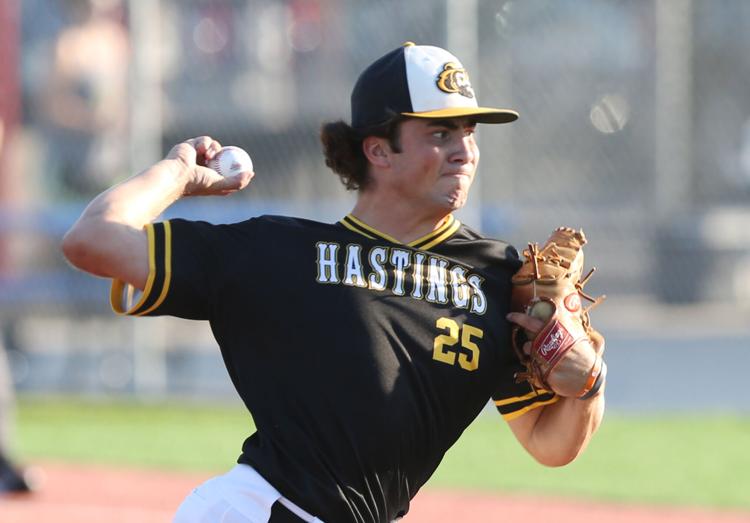 Hastings native Mike Boeve cashed in on the RBI chance with his third single of the game, giving the Sodbusters a little bit of life moving forward.
The Moo still led 8-3 in the bottom of the eighth, but Hastings continued to chip away. Back-to-back singles from Tayten Tredaway and Ryan McDonald, coupled with a Fremont error, got the 'Busters started with another run. Wyatt Andersen followed with an RBI single, and Casey Burnham trimmed the lead to 8-6 with a run-scoring fielder's choice.
Fremont scored another run in the ninth before bringing out hard-throwing Tre Turner to take the mound for the save attempt. But Turner had trouble finding the zone early, walking leadoff Boeve and Grant Schmidt on eight pitches.
A one-out walk to McDonald loaded the bases for the Sodbusters and set up a big at bat for future Husker Griffin Everitt. The seven-hole hitter roped a two-run single to left field to cut the lead to just 9-8.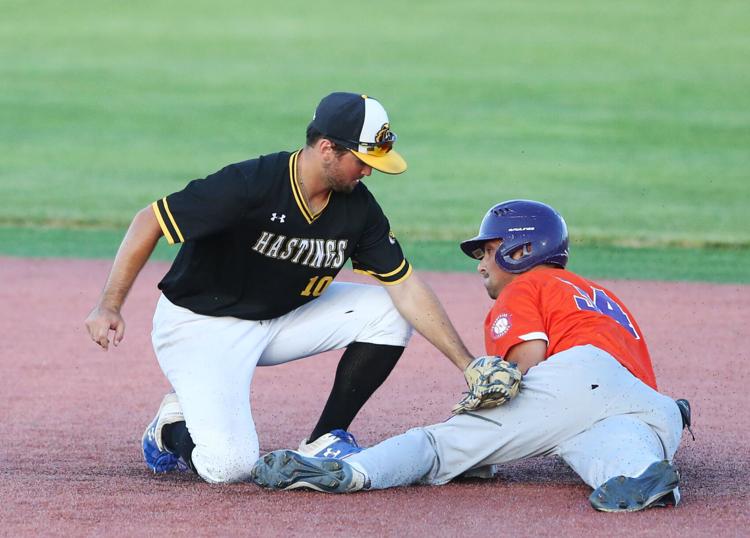 "He had struggled for a while now, so that was big for his confidence, not just the outcome of the at bat but to have the entire at bat that he had was good for his confidence," Kelly said. "He's a great player, he's just been struggling. So, hopefully he's back mentally and ready to go because we're going to need him down the stretch."
A fly ball to center field off the bat of pinch hitter Mike Decker allowed pinch runner Drew Behling to advance to third, but it marked the second out of the inning. And a ground ball by Reece Anderson put the game on ice, allowing the Moo to move into first place in the division.
"Looking back on it — I may be naive — I don't know that there is really anything I would have changed. I think we did everything we could have done chess match-wise; I feel like we just didn't execute better than they did (Wednesday)."
The two teams, who are in the midst of eight straight games against each other, have combined for 74 runs in the previous six games against each other.
Wednesday's game — the seventh consecutive matchup between both squads — seemed like it was going to be another high scoring affair after each team put up two runs in the opening frame, but the starting hurlers settled in for an old fashioned pitcher's duel.
Hastings' Reese Dutton and Fremont's Hilton Mehrmann both settled in after each giving up two runs — both of Mehrmann's being unearned — as neither offense was able to scratch across another run for five innings before the scoring eruptions.
"I knew (Dutton) was going to compete," Kelly said. "Those first two runs were tough, but I knew he was going to compete; I knew what we would get from him the rest of the game. We just didn't do our job. I thought for sure we'd score more than two off (Mehrmann) through six, but we didn't."
Fremont opened the game with two runs after back-to-back singles and a hit-by-pitch loaded the bases and set up Brock Reller for an RBI opportunity. He did his job, putting the ball in play and beating out a double play to score the run from third, but some heads up and aggressive base running from Ronnie McBride gave the Moo a second run on the fielder's choice as he never stopped running from second.
Trailing 2-0, Hastings took advantage of a pair of errors in the bottom of the first and tied the game with two runs of their own. After leadoff batter Casey Burnham reached on the first error, Efry Cervantes doubled to left to give Hastings runners on second and third.
Wednesday's game was the final for nine Sodbusters: Dylan Herd, Behling, Adnersen, Decker, Anderson, Dutton, Jake Bigham, and Adrian and Christian Colmenares. The players are leaving to quarantine before they report to their respective schools for the fall.
Wednesday was also Kelly's final home game, as he has to get back to prepare his team. The Sodbusters will welcome Hastings natives Jacob Shaw, JT Cafferty, and Jake Schroeder — all of which competed for the Five Points American Legion baseball team this summer. Hastings will also welcome Cameron Frederick, who will be playing for Creighton in the fall.
"I'm leaving in four days, so with these last four days I want to make sure we have enough to win. We play (Fremont Thursday) and we're a half game back so if we win we're a half game ahead," the coach said. "If we can take the lead back (Thursday) we're in good shape to jump on them a little bit."
Fremont (21-17)....200 000 601 — 9 10 4
Hastings (21-16)...200 000 132 — 8 12 2
W — Hilton Mehrmann. L — Reese Dutton. S — Tre Turner.
2B — F, Hayden Klemenock, Cooper Morrison, Ronnie McBride; H, Efry Cervantes.
3B — H, Cervantes.