OMAHA — Of the seven Tribland teams competing in the Class D state wrestling tournament at the CHI Health Center, four of them have wrestlers that advanced to the semifinals after day one came to an end Wednesday in Omaha.
Superior's Hayden Neeman, one of five Tribland wrestlers advancing to the smifinals, could very well have been in the same position last season, but he just missed the cutoff date when he transferred to Superior and was deemed ineligible. But now, with a record of 39-1, the Wildcats' sophomore is leaving his mark the tournament.
"It feels pretty cool being in the semis having not been able to wrestle my freshman year and just pushing through it," Neeman said. "I've just got my mindset right."
"He's laser focused. He's continuously thinking about the next move, the next setup," said Superior head coach Seth Going. "We would like to clean him up a little more, but I think that offensive mindset is just solid and has allowed him to be as successful as he has been."
Neeman admits to not having the right mindset last season, since he knew he could not compete in the postseason meets. But he changed his mentality and is striving to be atop the podium when the medals are awarded.
"I didn't have the right mindset last year... I just kind of slacked off last year. But this offseason, I was like, 'I've got to get my head together. I've got to win state,' " he said.
The Superior 106-pounder needed just 49 seconds to pin his first opponent on Wednesday, and then he quickly took care of his quarterfinals foe — Layne Sturek of Pender (who is 48-8 on the year) — with an 11-3 major decision.
With the way Neeman is wrestling, it's no wonder his coach has confidence in his chances of moving on to the finals.
"Hayden is one of those wrestlers that just powers on and continuously attacks. That's one of those things we're going to use to try to get ourselves into the finals."
Thayer Central is the only area school able to boast two grapplers still in the winner's bracket in Brenner McLaughlin and Damian Stewart. Titans' head coach Josh Bowers said those two are exactly where they expected to be after the first day of competition.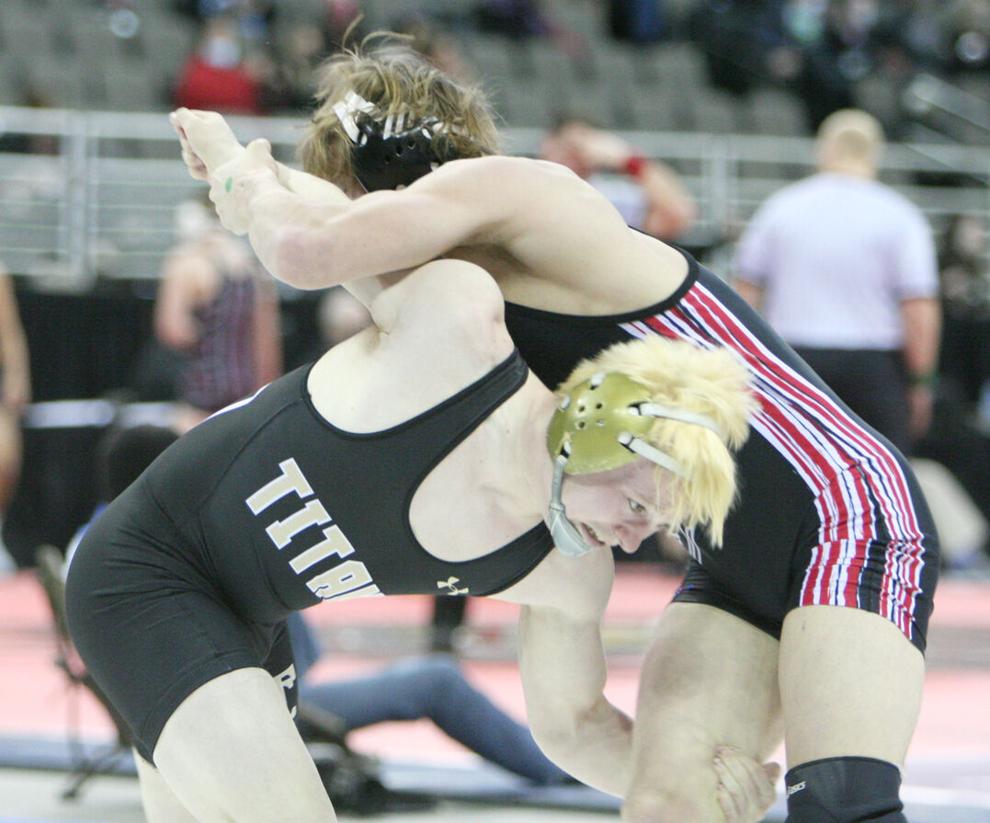 "The draws were great for us," Bowers said. "They came in exactly as we had hoped. You get to state and everybody's good. You just have to take it to them and give it your all on the mat every single time. These guys have worked hard all season long, and we're just grateful that we have a season at all. These guys are ready to leave it out there every time they step on the mat."
Stewart has cruised through the 145-pound bracket thus far. He recorded a pair of pins Wednesday, with the longest match lasting just 3 minutes, 8 second. The Thayer Central senior earned a fourth-place medal last season and is just one win away from clinching a spot on the medal stand once again.
"(The semifinals) will be a rematch of two years ago in districts; we lost to (Elm Creek's Xavier Perez) but we just have to take it to him," the TC coach said. "I think if we just maintain and make sure we're under control and not give up cheap back points and he'll be fine."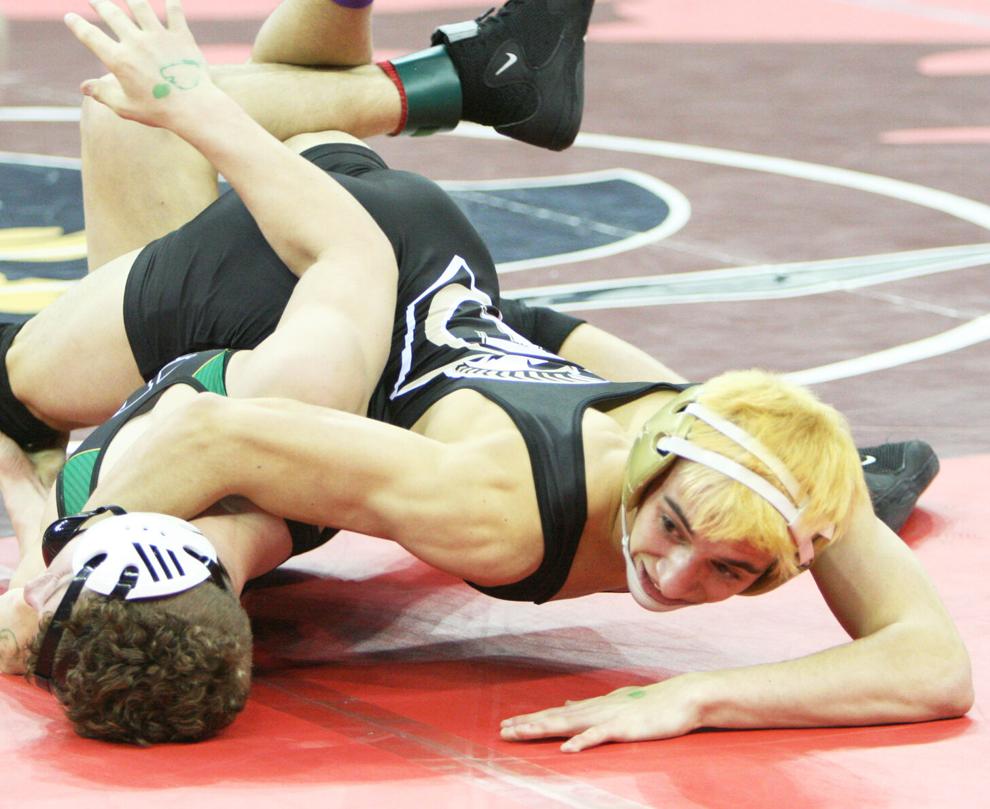 McLaughlin has been dominate as well in the state meet. After winning via 14-5 major decision in round one, he put together a 17-1 tech fall in the quarterfinals. Bowers said the 126-pound junior is looking as tough as ever.
"He's just been really good on his feet, taking it to them," Bowers said. "He's working hard on his feet and hammering them there. I think we have an excellent matchup. We haven't seen much of the kid before, but we have a great chance at him. Brenner keeps working hard on his feet, I think he'll be just fine."
Should McLaughlin earn a win in the semifinals, he could potentially run into fellow Tribland wrestler Nickolas Kuehn of Kenesaw. After placing fifth in last year's state meet as a freshman, the Blue Devil has come into this year's tournament with a new focus, according to head coach Trey Schlender.
"We're a lot more focused than last year," the coach said. "Last year he had a little sloppiness that he liked to do with his wrestling. We've cleaned a lot of that up; we're a lot more focused this year. We stay in good position we're hard to score on.
"Come (Thursday) in the semifinals, (Kuehn) knows that if we don't get taken down and we don't give up big points we're right there in the match and we can compete at any level we want."
Kuehn, who has just three losses on the season, has been in total control throughout the tourney. He pinned his first-round opponent in the second period and then kept Southwest's Jacob Kerns in check for six minutes en route to a 3-0 decision in the quarters.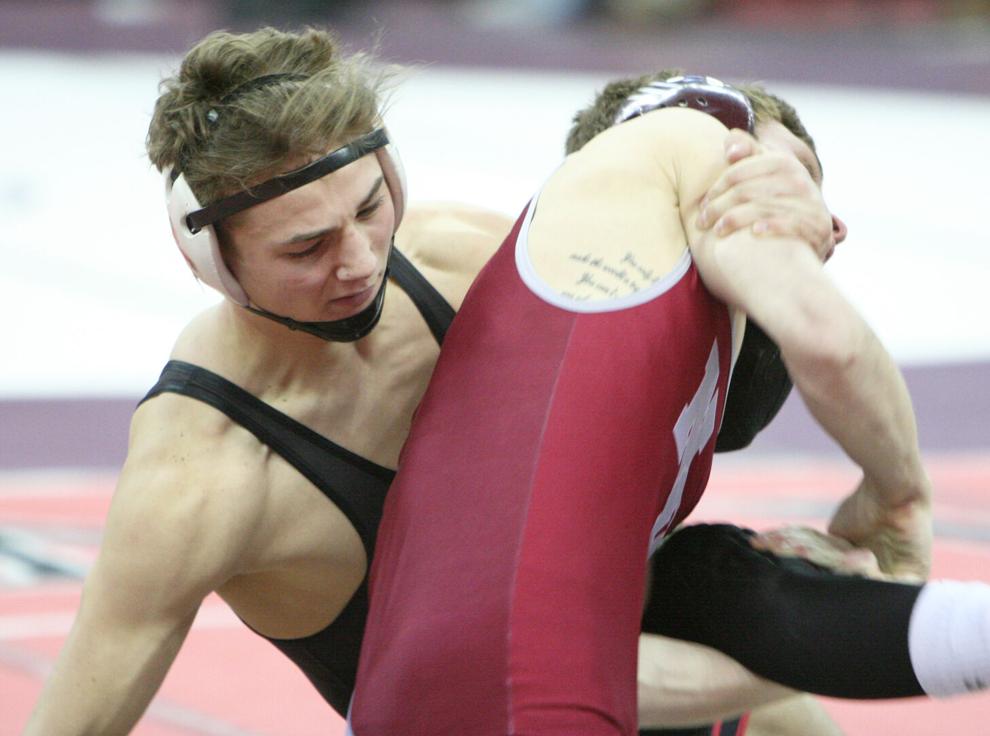 Doniphan-Trumbull's Drake Belville also clinched his spot in Thursday's semifinals with a thrilling 7-6 victory over Neligh-Oakdale's Brock Kester in the quarters. Kester tied the match at 6-all with a reversal with just 1 minute, 20 seconds left on the clock, but Belville was able to escape control in the final seconds, earning the winning point and advancing to the semis.
D-T head coach Andrew Smith said the biggest key to Belville's success in this year's state tournament is his health.
"This might be the healthiest he's been all year. He's been battling a lot of injuries," Smith said. "But he's feeling good; he's healthy and he's moving good...He's just out there having fun now."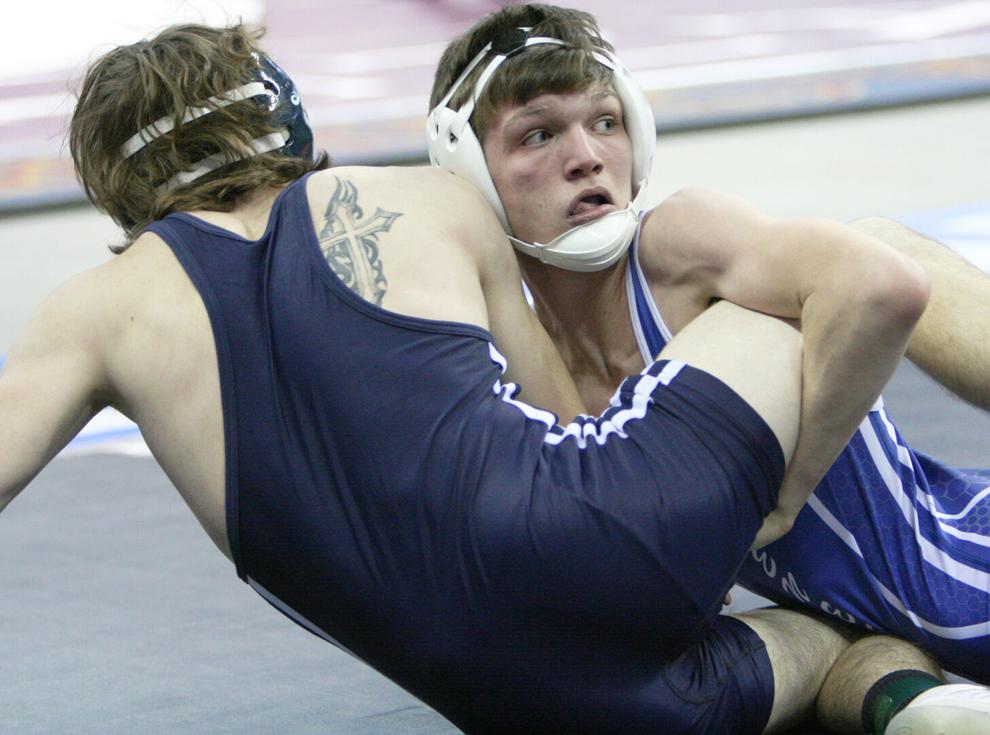 The Class D semifinals begin Thursday at 1 p.m. at the CHI Health Center. With the new format, the tournament will reach its conclusion Thursday, with the finals taking place at 7 p.m.
First round
106 — Hayden Neeman (Superior) 39-1 won by fall over Dierks Nekoliczak (Central Valley) 23-16 (Fall 0:49)
106 — Sebastian Sauceda (Shelton) 23-8 won by decision over Triston Wells (Thayer Central) 33-18 (Dec 5-2)
113 — Creel Weber (Hemingford) 21-6 won by decision over Ashton Sinn (Thayer Central) 43-10 (Dec 6-5)
113 — Carter Beckman (Elgin/Pope John) 32-8 won by fall over Grant Haussermann (Franklin) 19-19 (Fall 2:51)
113 — Aiden Piel (Red Cloud/Blue Hill) 39-9 won by fall over Jaxon Smutz (Scribner-Snyder) 22-8 (Fall 5:31)
126 — Nickolas Kuehn (Kenesaw) 36-3 won by fall over Rafe Grebin (Summerland) 22-17 (Fall 2:45)
126 — Brenner McLaughlin (Thayer Central) 45-6 won by major decision over Jordan Mosel (Plainview) 22-16 (MD 14-5)
132 — Drake Belville (Doniphan-Trumbull) 24-8 won by fall over Mason Tilford (Maxwell) 16-10 (Fall 2:00)
138 — Reed Bennett (Elkhorn Valley) 38-12 won by decision over Trevor Kuehn (Kenesaw) 24-16 (Dec 11-5)
138 — Keagan Mosel (Plainview) 38-9 won by fall over Aaron Allgood (Superior) 24-23 (Fall 4:20)
145 — Dominic Stewart (Thayer Central) 46-7 won by fall over Brooks Armstrong (Red Cloud/Blue Hill) 38-11 (Fall 2:32)
160 — Levi Belina (Howells-Dodge) 48-9 won by fall over Alex Wilbur (Franklin) 26-20 (Fall 3:04)
160 — Wyatt Jenkins (Arapahoe) 23-4 won by decision over Buchannen Tietjen (Thayer Central) 41-12 (Dec 3-0)
182 — Sean Duffy (Kenesaw) 25-12 won by fall over Kaleb Senff (Axtell) 28-17 (Fall 4:00)
182 — Keegan Shuler (Hitchcock County) 34-6 won by fall over Jordan Brown (Superior) 19-21 (Fall 2:45)
195 — Colton Horne (Doniphan-Trumbull) 33-12 won by decision over Sid Miller (Anselmo-Merna) 26-10 (Dec 3-2)
195 — Kolby Larson (Ansley/Litchfield) 47-4 won by fall over Jacob Harrison (Franklin) 9-11 (Fall 2:31)
195 — Andrew Engle (Thayer Central) 27-16 won by fall over Drey Smith (Maxwell) 13-8 (Fall 4:23)
220 — Gavin Anderson (Hyannis) 18-9 won by decision over Joseph Kahrs (Franklin) 23-12 (Dec 5-4)
220 — Dawson Kaup (Neligh-Oakdale) 30-17 won by decision over Anders Webber (Superior) 18-9 (Dec 8-5)
285 — Levi Kerner (Arapahoe) 35-1 won by fall over Caleb Klein (Hastings St. Cecilia) 21-14 (Fall 1:03)
285 — Brayton Branic (Sandhills/Thedford) 48-6 won by fall over Tavin Uden (Franklin) 4-14 (Fall 0:13)
285 — Payton Christiancy (Superior) 38-8 won by decision over Isaac Welch (Mullen) 35-18 (Dec 4-2)
Quarterfinal
106 — Hayden Neeman (Superior) 39-1 won by major decision over Layne Sturek (Pender) 48-8 (MD 11-3)
113 — Lane Bohac (East Butler) 30-5 won by major decision over Aiden Piel (Red Cloud/Blue Hill) 39-9 (MD 10-0)
126 — Nickolas Kuehn (Kenesaw) 36-3 won by decision over Jacob Kerns (Southwest) 33-9 (Dec 3-0)
126 — Brenner McLaughlin (Thayer Central) 45-6 won by tech fall over Tristan Smith (Elkhorn Valley) 14-9 (TF-1.5 5:12 (17-1))
132 — Drake Belville (Doniphan-Trumbull) 24-8 won by decision over Brock Kester (Neligh-Oakdale) 42-8 (Dec 7-6)
138 — Reece Jones (Sumner-Eddyville-Miller) 30-23 won by decision over Trevor Kuehn (Kenesaw) 24-16 (Dec 6-3)
145 — Dominic Stewart (Thayer Central) 46-7 won by fall over Hunter Cook (Sutherland) 49-6 (Fall 3:08)
182 — Cooper Slingsby (Ansley/Litchfield) 41-4 won by fall over Sean Duffy (Kenesaw) 25-12 (Fall 3:44)
195 — Colton Thiele (Summerland) 28-8 won in the ultimate tie breaker over Colton Horne (Doniphan-Trumbull) 33-12 (UTB 3-2)
195 — Gunner Reimers (Palmer) 39-2 won by fall over Andrew Engle (Thayer Central) 27-16 (Fall 1:54)
285 — Brayton Branic (Sandhills/Thedford) 48-6 won by fall over Payton Christiancy (Superior) 38-8 (Fall 2:49)
Consolation round 1
106 — Tristan Olson (Anselmo-Merna) 33-16 won by decision over Triston Wells (Thayer Central) 33-18 (Dec 7-4)
113 — Ashton Sinn (Thayer Central) 43-10 won by fall over Wayne Lee (Arapahoe) 17-24 (Fall 0:36)
113 — Cody Booth (Neligh-Oakdale) 20-18 won by fall over Grant Haussermann (Franklin) 19-19 (Fall 4:31)
138 — Ezekial Heaton (Hyannis) 29-19 won by decision over Aaron Allgood (Superior) 24-23 (Dec 2-1)
145 — Brooks Armstrong (Red Cloud/Blue Hill) 38-11 won by decision over Tyce Porter (Anselmo-Merna) 34-17 (Dec 6-3)
160 — Gunner Roberson (Garden County) 26-26 won by fall over Alex Wilbur (Franklin) 26-20 (Fall 3:20)
160 — Buchannen Tietjen (Thayer Central) 41-12 won by major decision over Matthew Kohel (Morrill) 23-14 (MD 8-0)
182 — Mason Topp (Winside) 42-13 won by medical forfeit over Jordan Brown (Superior) 19-21 (M. For.)
195 — Jacob Harrison (Franklin) 9-11 won by fall over Bryson Warner (Southern Valley) 21-16 (Fall 0:57)
220 — Aaron Hernandez (Sumner-Eddyville-Miller) 17-26 won in tie breaker — 1 over Joseph Kahrs (Franklin) 23-12 (TB-1 5-3)
220 — Colton Sanderson (Pender) 29-20 won by medical forfeit over Anders Webber (Superior) 18-9 (M. For.)
285 — Caleb Klein (Hastings St. Cecilia) 21-14 won by fall over Bryson Shoemaker (Southwest) 29-18 (Fall 0:43)
285 — Isaac Welch (Mullen) 35-18 won by fall over Tavin Uden (Franklin) 4-14 (Fall 1:14)
Consolation round 2
113 — Nathan Halsey (Elkhorn Valley) 14-12 won by decision over Aiden Piel (Red Cloud/Blue Hill) 39-9 (Dec 11-8)
113 — Eli Paxton (Mullen) 41-4 won by fall over Ashton Sinn (Thayer Central) 43-10 (Fall 4:02)
145 — Tristian White (Arapahoe) 31-7 won by fall over Brooks Armstrong (Red Cloud/Blue Hill) 38-11 (Fall 0:56)
160 — Levi Belina (Howells-Dodge) 48-9 won by major decision over Buchannen Tietjen (Thayer Central) 41-12 (MD 9-1)
182 — Sean Duffy (Kenesaw) 25-12 won by fall over Dallas Miller (Garden County) 36-13 (Fall 4:41)
195 — Colton Horne (Doniphan-Trumbull) 33-12 won by decision over Bryce Seier (Morrill) 22-13 (Dec 4-2)
195 — Andrew Engle (Thayer Central) 27-16 won by fall over Jacob Harrison (Franklin) 9-11 (Fall 2:41)
285 — Hunter Mayfield (Burwell) 26-3 won by fall over Caleb Klein (Hastings St. Cecilia) 21-14 (Fall 0:52)
285 — Payton Christiancy (Superior) 38-8 won by fall over George Fraher (Guardian Angels Central Catholic) 38-17 (Fall 0:27)