DONIPHAN — The Doniphan-Trumbull Cardinals (9-10) got off to a slow start and could never catch up to the Titans of Thayer Central (13-7) Tuesday night.
The Titans shot 54 percent from the field in the first quarter, taking an 11-point lead. Despite the Cardinals best efforts, they fell to the Titans 42-27.
"We played hard. We had chances and opportunities, but it just didn't happen tonight," said Cardinals head coach Jerry Caraway. "Thayer Central did a good job at the end, fighting off our little run that we had going. We just need to make more shots."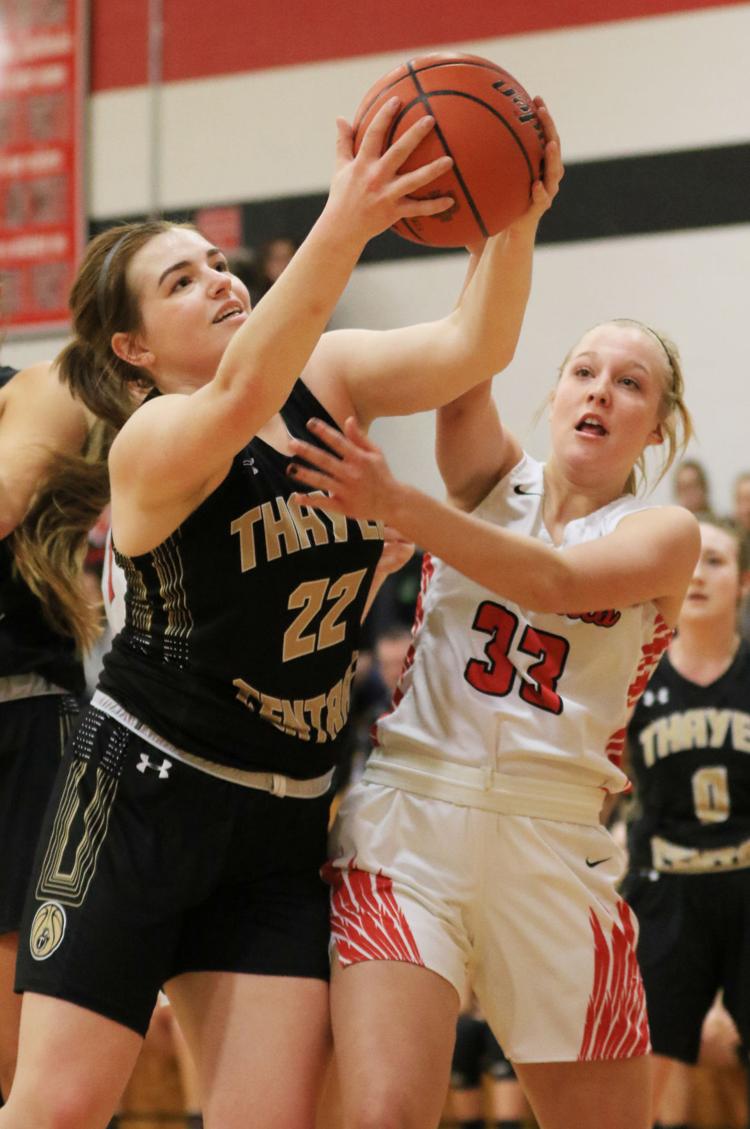 The Titans jumped out to a quick 6-0 lead off of back-to-back steals from sophomore Cassie Hergott. Cardinals senior Maddie Smith nailed a trey, her first of four in the game, to cut the lead in half. The Titans outscored the Cardinals 7-3 in the final minutes of the quarter to take a 15-6 lead.
The Titans scored the first four points of the second quarter on a free throw from senior Stephanie Meyer and a 3-point field goal from fellow senior Sydny Havel giving them a 19-6 lead. Smith was 2-2 from beyond the arc in the quarter scoring six of the Cardinals eight points. The Titans held onto a 23-14 lead heading into halftime.
Titans junior Chloe Souerdyke scored two early baskets to start the third quarter. The Cardinals got back-to-back treys from Smith and sophomore Grace Schultz to cut the lead to seven points. The third quarter would end with a basket from Havel giving the Titans a 30-22 lead.
Smith scored on the first possession of the final quarter to cut the Titans lead to six points. But that was a close as it would get. The Titans outscored the Cardinals 12-3 down the stretch to win 42-27.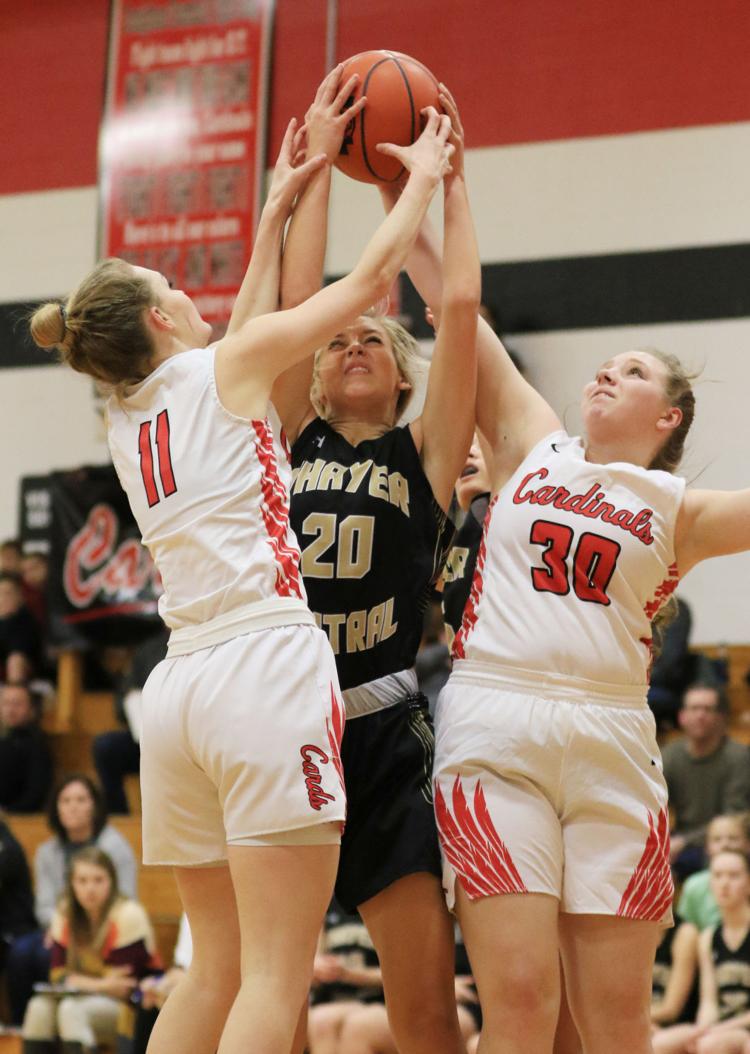 "I'm proud of the way the girls fought, everyone contributed and they all worked together," said Caraway. "Us working together like they have tonight and all year is going to make us a better team and I'm proud of them for that.
Smith led all scorers with 18 points for the Cardinals.
Souerdyke had 14 four the Titans and Havel chipped in 11.
TC..................15 8 7 12 — 42
D-T....................6 8 8 5 — 27
Thayer Central (42)
Alanna Fangmeier 1-4 0-0 2, Sydny Havel 5-13 0-2 11, Cassie Hergott 1-1 1-4 3, Bailey Kiburz 2-3 2-5 6, Stephanie Meyer 2-9 1-2 6, Chloe Souerdyke 6-9 2-4 14.
Doniphan-Trumbull (27)
Ariana Baland 0-2 0-0 0, Kendyl Brummund 0-6 1-3 1, Sophie Fitch 0-5 2-2 2, Hannah Greathouse 1-1 0-0, Carley Johnson 0-1 0-0 0 2, Danae Rader 0-4 0-0 0, Grace Schultz 1-7 0-0 2, Madison Shimmin 1-4 0-0 2, Maddie Smith 6-17 3-7 18.
Three-point field-goals: Thayer Central 2-10 (Havel 1-5, Meyer 1-4, Souerdyke 0-1) Doniphan-Trumbull 5-16 (Brummund 0-2, Fitch 0-1, Radar 0-2, Schultz 1-5, Shimmin 0-1, Smith 4-5).