The No. 2-ranked Hastings College women won their 20th consecutive game to start the season Sunday.
The 82-62 win over Mount Marty at Lynn Farrell Arena matched the win total from a season ago.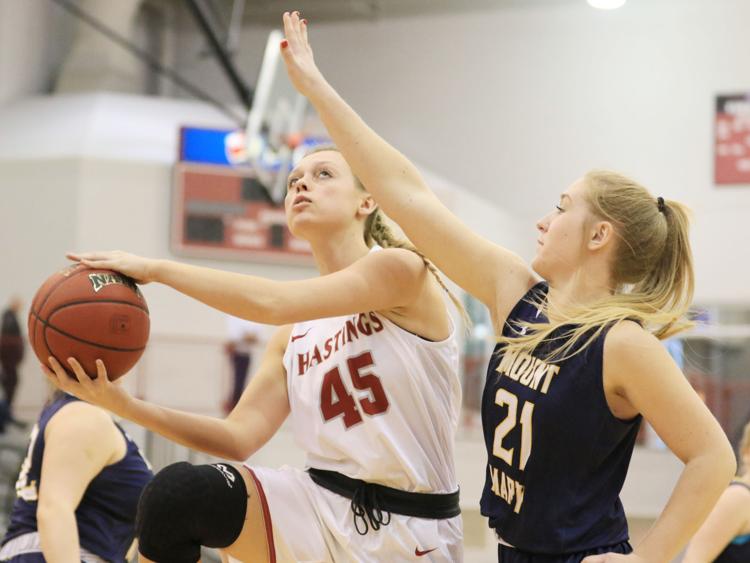 "Last year we were so up and down, we had a lot of injuries, so to get to that point already this year we'll take it," HC head coach Jina Douglas said. "Obviously, we have a lot of big games left, but good start right now, and we'll take it for now."
Hastings (20-0, 12-0) hardly seemed like the team it is in the first half. The Broncos shot the ball poorly and allowed Mount Marty (11-8, 5-8) to hang around.
The Broncos shot just 33 percent while Ali Kuca almost singlehandedly kept the Lancers in the game with 16 of her game-high 22 points. Kuca hit four of her six 3s in the first 20 minutes and Mount Marty trailed by just four at the break.
"We just didn't shoot it well that first half. We had some pretty good looks and just didn't make a whole lot of them," Douglas said. "Then all of a sudden you start to think about it and you miss some free throws, some easy chip shots."
But HC looked more like the No. 2 team in the country in the second half, especially the third quarter where a 21-8 run over first seven minutes put the Broncos up by 17.
"I thought we came out with a little bit more energy," Douglas said. "That first half we were pretty dead and kind of level. In the second half we started with a little more energy and made a few shots, and that also got us even more energy."
Emma Grenfell scored six of her 16 points in the third, which tied her for the team-high with Sophia Pankratz.
"Emma was huge for us," Douglas said. "She had been struggling for us offensively. For her to come out and be aggressive and make a few shots was really big for her confidence and carried us in the second half."
If outscoring the Lancers 27-14 in the third wasn't enough, the Broncos began the fourth on a 10-3 run to gain their largest lead of the night at 24 points.
And despite the poor shooting early, the Broncos hit 15-of-32 in the second half to finish just below 40 percent.
Much like their men's team, the Lancers rely heavily on the 3-pointer, of which they hit 11. More than half of their shots were beyond the arc.
Meanwhile, Hastings did its damage in and around the paint with the occasional deep ball.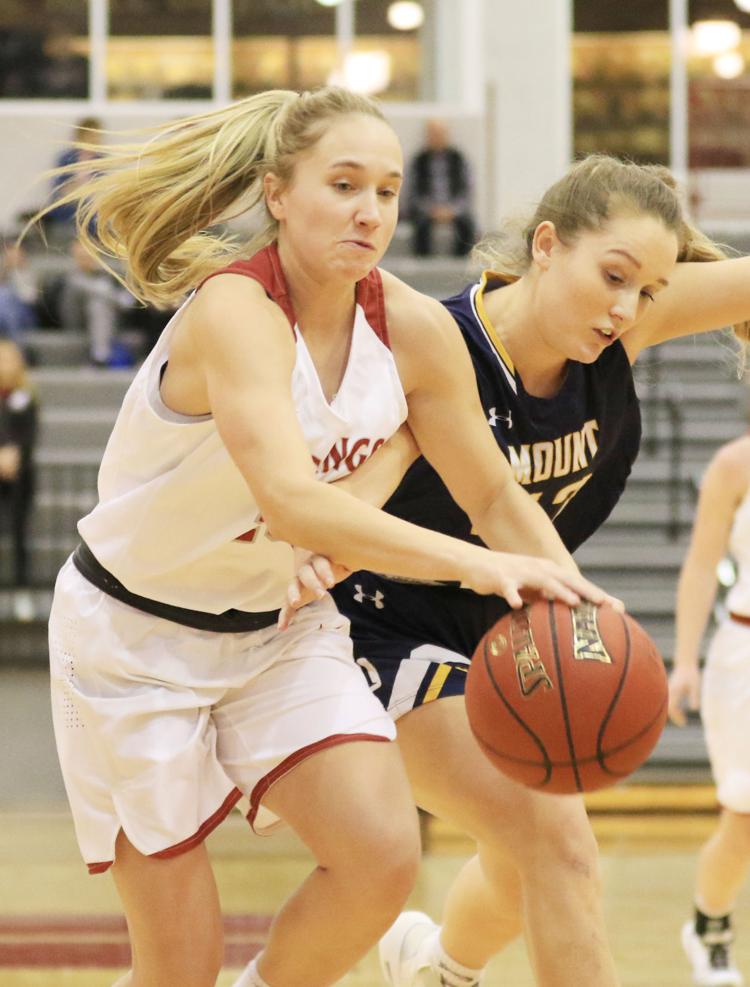 Shandra Farmer scored 13 points on 5-of-10 shooting, with one 3-pointer. Gabby Grasso finished with 11 points and six rebounds. Ali Smith added nine points off the bench.
Grasso and Pankratz have anchored a defense that ranks third in the country in scoring margin. The Broncos are beating opponents by an average of more than 21 points this season. They won by 20 Sunday while holding the Lancers to 33 percent shooting.
"Gabby is unbelievable defensively. She's so good," Douglas said. "She's undersized but she can block shots. She's a great help side defender and she covers up anything near the rim that we do pressure-wise.
"Sophia just gives you a lot of energy. She'll just play her heart out every game and get steals and give us a lot of energy plays out there. It's nice to have those two in there as much as possible."
The Broncos, ranked the highest they've been in four years, will play three top-25 rated teams in their next four games, and seven of their final 10 regular season games are against teams in the poll or receiving votes.
HC will put its undefeated mark on the line Wednesday at No. 12 Dakota Wesleyan, which has the conference's leading scorer in Kynedi Cheeseman (21.3 ppg).
"It's going to be a tough one up there, especially on a Wednesday, day of," Douglas said. "We can see if we can extend the streak or not, but for the most part we've kept (the undefeated record) out of their minds and have just tried to focus on each game."
Mount Marty.............14 15 14 19 — 62
Hastings...................15 18 27 22 — 82
Mount Marty (62)
Ali Kuca 8-13 0-0 22, Molly Koisti 0-3 2-2 2, Karlee McKinney 0-0 0-0 0, Callie Otkin 2-6 0-0 6, Lexi Hochstein 1-2 0-0 2, Bailey Kortan 1-3 4-6 6, Hannah Williams 2-10 2-2 6, Carlie Wetzel 0-0 2-2 2, Peyton Stolle 1-1 0-0 2, Hallie Hallock 0-1 0-0 0, Jamie Tebben 4-12 1-2 12, Shelby Fasching 0-2 0-0 0, Kami Cornemann 0-0 0-0 0, Alexsis Kemp 0-1 0-0 0, Kayla Jacobson 1-6 0-0 2, Aubrey Twedt 0-0 0-0 0. Totals 20-60 11-14 62
Hastings College (82)
Emma Grenfell 6-9 3-3 16, Shandra Farmer 5-10 2-3 13, Ali Smith 2-4 5-5 9, Taylor Beacom 2-8 1-2 5, Kelsie Zadina 0-1 0-0 0, Kaitlyn Schmit 0-6 0-0 0, Jordyn Fiddelke 1-2 0-0 2, Shayla Carrier 0-2 2-2 2, Casey Doronkina 1-4 0-0 3, Karli Hale 0-1 0-2 0, Gabby Grasso 4-10 3-4 11, Sophia Pankratz 5-8 4-5 16, Dawson Knode 2-4 1-1 5, Kate Bergen 0-0 0-2 0, Hattie Sheets 0-1 0-0 0, Hayley Homan 0-1 0-0 0. Totals 28-71 21-29 82
Three-point FG: Mount Marty 11-31 (Kuca 6-11, Otkin 2-5, Hochstein 0-1, Kortan 0-1, Hallock 0-1, Tebben 3-8, Kemp 0-1, Jacobson 0-3), Hastings College 5-18 (Grenfell 1-1, Farmer 1-2, Smith 0-1, Beacom 0-2, Schmit 0-4, Fiddelke 0-1, Doronkina 1-3, Pankratz 2-3, Sheets 0-1). Rebounds: Mount Marty 43 (Williams 8), Hastings College 38 (Pankratz 10). Technical: Mount Marty Coach.