Hastings can now look at its naysayers confidently and smile.
The Tigers finally advanced all the way to the Class B state softball championship game.
And while HHS didn't end up with a first-place trophy — that went to Omaha Skutt — the program accomplished plenty to be proud of.
"I think it proves what Hastings can do at the tournament," said senior Sophie Cerveny, who was wiping away tears Friday after the Tigers lost to Skutt. "Before, everyone just doubted us and told us we would basically choke. And I think now it proves that we're just as good as anybody."
For the first time in 10 trips, the Tigers (33-5) didn't leave the state tournament empty-handed.
A runner-up medal, after an 8-4 loss to the SkyHawks, is better than anything the Tigers have done previously.
"We love the wins we got here," said HHS head coach Ashley Speak. "We had a ton of fun. I'm glad we made it during this COVID season.
"We just wanted to make it to this game, and losing one early (in the tournament) kind of hurt us, but we're super proud of the kids. They never gave up."
Hastings could have surrendered after Skutt's four-run first inning that featured back-to-back home runs by Hannah Camenzind and Ruby Meylan.
It didn't; Hastings tied the game in the ensuing half inning.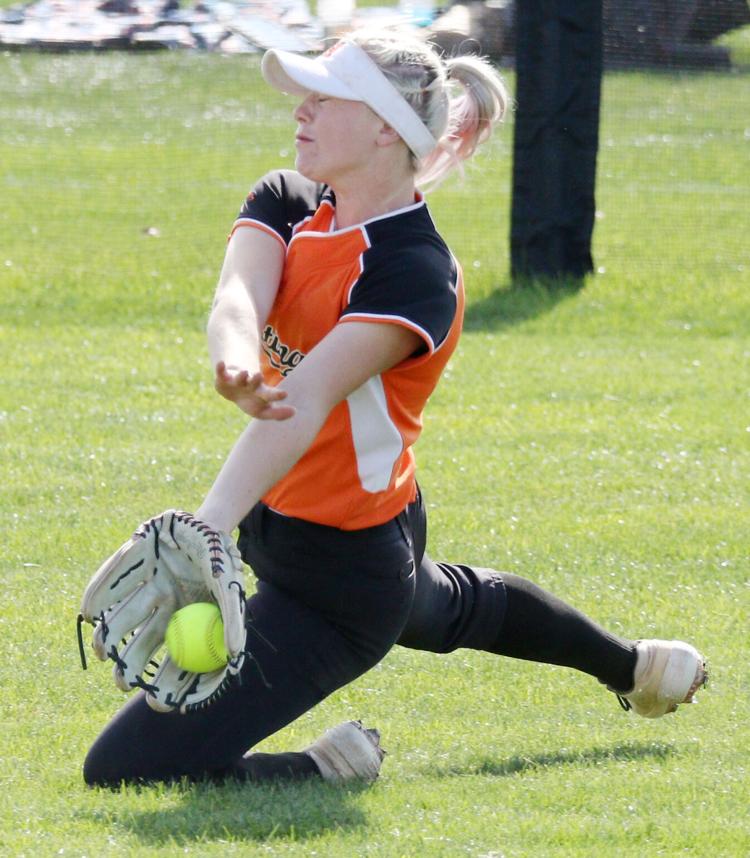 The Tigers could have given up as Skutt retook the lead and padded it throughout the ball game, but they didn't.
Skutt's offense racked up 15 hits to Hastings' seven.
Meylan, who came on to relieve Hannah Camenzind after just 1 2/3 innings in the midst of Hastings' rally, shut the potent Tiger offense down.
Meylan, a junior, permitted just four Hastings baserunners in her 5 1/3-inning effort. Her sixth strikeout crowned the SkyHawks as the 2020 Class B champs, which is the program's first title since 2013.
"She shut us down," Speak said. "We've hit (Meylan) in the past, but you tip your cap to her because she's done an awesome job. She just held us to a couple hits when she came in."
After Hastings ousted Camenzind from the pitcher's circle in the second inning with four runs on four hits, Meylan granted the Tigers only three hits — two in the final inning.
The Tigers manufactured their only offensive outburst with a combination of patience and ambush.
KK Laux led the frame off with a triple to left, and scored on a groundout by Peytin Hudson. Alex Curtis singled in Faith Molina, who walked, and McKinsey Long reached on an error by the Skutt third baseman. Cerveny reached via fielder's choice, and both Sammy Schmidt and Kaelan Schultz stroked RBI singles to signal Camenzind's exit.
Not much else flew against Meylan.
A lead off single by Long in the fourth was washed when she was doubled up on a hard line out by Cerveny.
Laux wore a pitch with two outs in the fifth, but was stranded.
Cerveny's lead off single in the seventh and Delaney Mullen's two-out single were for naught.
"(Skutt) deserves it," Speak said. "They're a tough team to beat, and I think a bunch of them are coming back next year, so hopefully we have a rematch."
Hastings got the best of Skutt (32-3) in September, also by a score of 8-4, to win the Tiger invite. The Tigers dotted up the pitching of both Meylan and Camenzind in that contest, but had no such luck Friday.
In order to win the championship, Hastings needed to beat Skutt, whose only other losses were to Class A champ Papillion-LaVista, twice on Friday.
The SkyHawks, who won their first three games of the state tournament by a combined score of 18-1, weren't going to be denied after suffering a first-round upset last season as the No. 1 seed and falling short in 2018, as well.
"Last year it did not feel good leaving Hastings," Meylan said. "We were at breakfast and I saw all of these teams walking out to go play in the championship and it did not feel good to watch them go play. This whole year we were working so hard every single day...We just wanted it so bad. The past two years we've been so close, and to finally get it, it feels so good."
Offensively, Camenzind homered twice and Meylan once. Sophia Hoffman also left the park, in the fourth.
A one-out triple by Lauren Camenzind and a double by Hannah Camenzind produced Skutt's final insurance.
Hastings eliminated Norris 3-2 Friday morning to reach the prospective title game.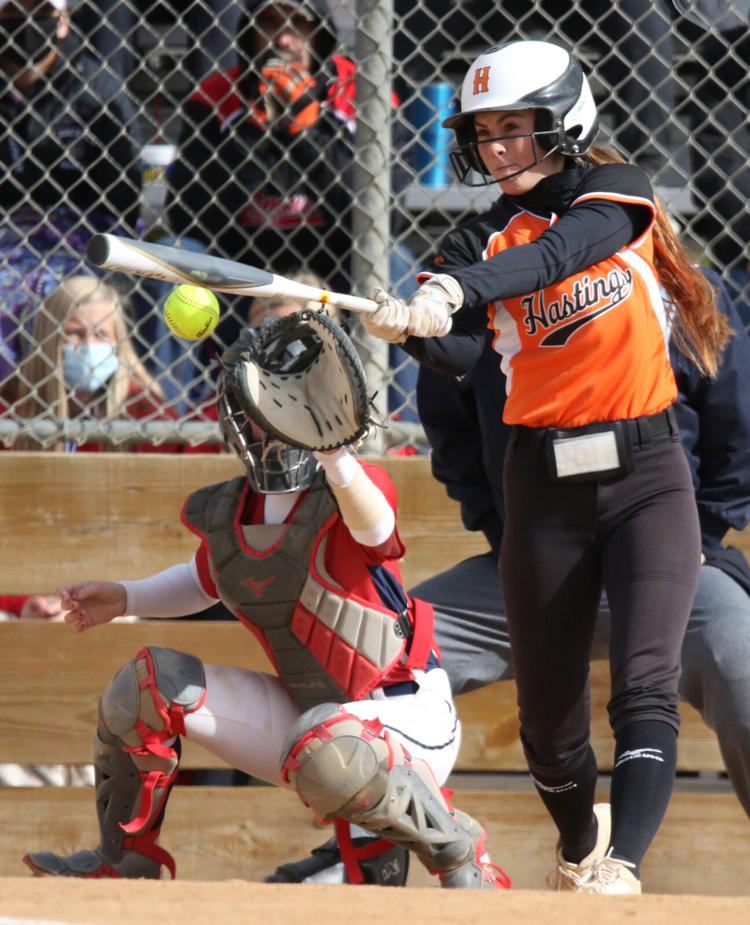 Mullen's three-run blast in the first inning off of Norris ace Alexis Wiggins was the only offense Hastings needed.
Third inning homers by Matthea Boon and Delaney White pulled the Titans to within one, but Molina avoided further trouble, allowing just one Norris hit over the final four innings.
Molina was a workhorse for Hastings through the state tournament, and was largely a reason the Tigers reached the pinnacle at Smith Softball Complex.
Molina, who only lasted 1/3 of an inning in the championship, threw 29 1/3 innings prior through the Tigers' five games.
"She is a gutsy kid," Speak said of Molina. "To come in and throw all of the games that she did and when I went out to the circle the last game and asked, 'Do you want to keep throwing?' She said 'I'll keep throwing as long as you want me to.'
"We just kind of reached that point where if we scored some we may have brought her back, but we've got gutsy kids. I think you see it across the diamond. They just never give up and give all they've got every time."
Hudson threw 5 2/3 of the finale, but her three-run homer in Thursday's win over Northwest was perhaps her biggest contribution of the tournament. Hastings eventually walked off the Vikings on Schultz's three-run blast an inning later to reach the final day of the tournament for the first time in program history.
The Tigers expect to be back for a seventh straight year next October with seven starters returning.
A new precedent has been set in H-town.
"Great things are coming for Tiger softball," said Cerveny, who will move on to play at Nebraska-Omaha. "I'm just so proud of everything we've done this season. We accomplished more than anyone could guess."
Game one
NOR (28-6).........02 000 0 — 2 5 2
HHS (33-4)........300 000 x — 3 3 0
W — Faith Molina. L — Alexis Wiggins.
2B — N, Delaney White, Wiggins.
HR — H, Delaney Mullen. N, Matthea Boon, White.
Game two
HHS (33-5)........040 000 0 — 4 7 1
SKU (32-3).......410 210 x— 8 15 1
W — Ruby Meylan. L — Peytin Hudson.
2B — S, Hannah Camenzind.
3B — H, KK Laux. S, Lauren Camenzind.
HR — S, Sophia Hoffman, Ruby Meylan, Hannah Camenzind 2.