GRAND ISLAND — Hastings High completed an exhausting stretch Saturday at the 13th annual Heartland Hoops Classic at the Heartland Events Center in Grand Island.
And while the end result — a 61-57 loss to C-2 No. 1 Bancroft-Rosalie/Lyons-Decatur (BRLD) — was the third loss in the last five games for the Class B No. 2 Tigers, head coach Lance Creech knew how good of an opponent his team just lost to.
"I tried to explain that to our guys all week in preparation," Creech said. "You don't win 40-plus games (in a row) on accident. I don't care what level you play at...They've just got pieces — they can shoot it, they can drive it, they have a post game, they've got an athletic slasher. So, again, at whatever level of basketball, if you've got those components, you're going to be pretty dang good."
The defending C-2 champion Wolverines' win over Hastings was their 45th victory in a row.
Creech hit the road Friday night to watch BRLD against Logan View-Scribner-Snyder.
"I drove home white-knuckled the whole time because I was just nervous about the pressure they can put on you in the paint," Creech said with a laugh. "Whether it's post feeds, slashing, penetration, they do such a good job of sharing the basketball. They're well-coached, they're organized.
"They're a fun team to watch — not (from) where I was sitting, but they're a hell of a fun team to watch."
The Tigers had the size, but the Wolverines brought the speed.
BRLD's dribble-drives were near unstoppable, and positional rebounding by Jaxon Johnson provided some easy putbacks and second chances.
BRLD also hit eight 3-pointers — six from Darwin Snyder, who scored a game-high 24 points.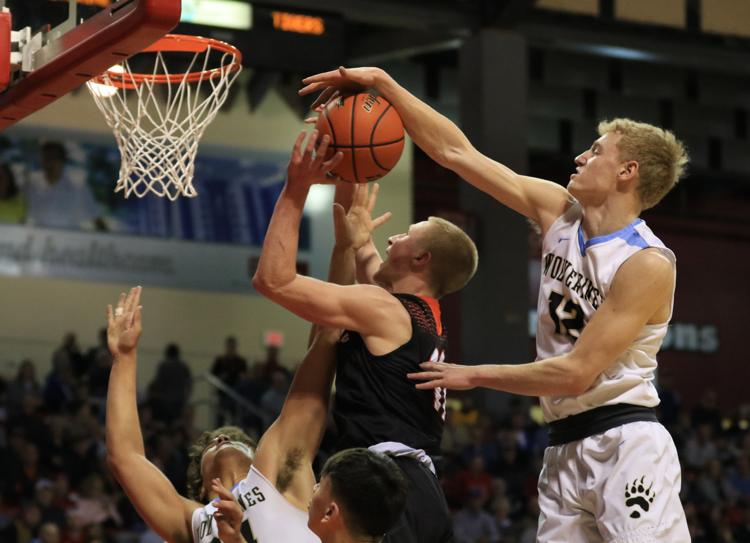 "That's why we had to go zone, and we haven't played zone all year," Creech said. "We started putting it in a week ago in preparation for this because I was fearful of what we saw on film."
The Wolverines hit nine of their first 12 shots from the floor before cooling off and making three of their next 14 before half.
Hastings had enough of a collective answer to stay within striking distance at halftime, before making its third quarter run en route to a lead early in the fourth.
"I thought we attacked the rim more," Creech said. "We had a clear size advantage, which we do against most teams we're going to face. But sometimes we forget. We don't hold our seals very well, we don't post up very strong, we don't get down hill. So I thought that was our adjustment. We've got to get feet in the paint, whether you have the ball or don't have the ball. We've got to get some presence at the rim."
Jacob Schroeder scored six of his 11 in the third quarter, while Haggan Hilgendorf poured in seven of his 10, including a 3-pointer that cut BRLD's lead to four.
Connor Creech, who led the Tigers with 23 points on 9-of-17 shooting, finished off the third with a two, and put his team in front with a 3-pointer at the start of the final frame.
Snyder answered with back-to-back triples. Then Creech splashed another.
The back-and-forth of the fourth quarter provided one of the better games of the eight played Saturday.
Mike Boeve drilled a 3-pointer with 3:35 left to trail by one. But again, BRLD answered.
The Tigers later resorted to fouling, but BRLD's Lucas Vogt sunk all six of his charity attempts — the team was 7-of-8 in the frame.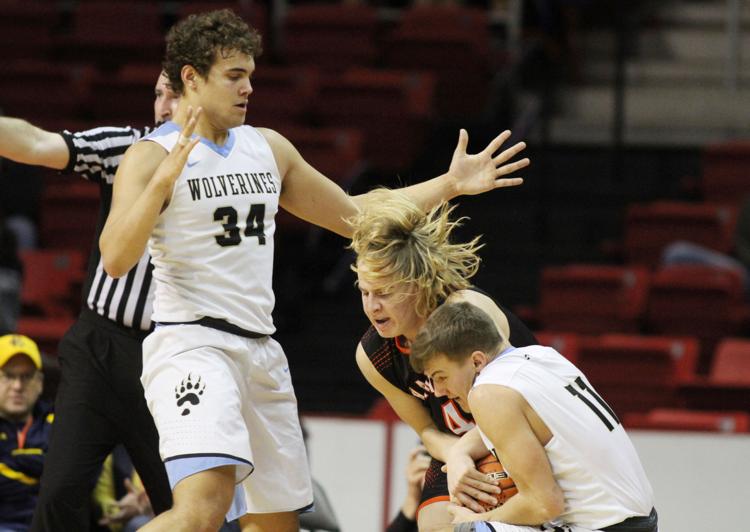 Hastings forced a late turnover that might have tied the game, but the ball was thrown away and handed right back to the Wolverines.
The four-point triumph was the closest game BRLD has experienced in its 22 games this season, and just the fourth time one of its games has been decided by less than 10 points.
"(Hastings) is a great team, they've got a good shot at (the) Class B (title), I'm sure. It'd be 50/50 if we played 10 times I bet," Vogt said.
Let's just say, it was good practice for the Wolverines, because they don't do a whole lot of close-game scenario work.
"Not a whole lot, honestly, We probably need to do a little bit more," BRLD head coach Cory Meyer said.
Creech said Hastings was honored to be invited to participate in the event.
"I told our guys, this is kind of the who's who. It's an honor to play in this thing. It's so well organized, so well run. They treat you like a Division I basketball team, you're kind of the show. It's an amazing event."
Now, the Tigers eyes are on a postseason run after two weeks of intense basketball, where their perfect season ended with a double OT loss to No. 5 Mount Michael. Then a second defeat at the hands of crosstown rival C-1 No. 2 Adams Central. And then C-2 No. 1 BRLD.
"It's been a meat-grinder. I don't know if I've slept 15 hours in seven days," Creech said. "I'm not kidding when I say that. The other morning I was wide awake at 3:30 a.m. and you just start watching film and preparing again. It's been a heck of a whirlwind."
It's time to get "boring."
"We've got to do the little things better than anybody else we're going to face. That's jump stops, that's shot fakes. Our passing was sluggish (Saturday), and we were a little lethargic moving the ball," Creech said. "We've got to get back to being boring like we were earlier in the year. I thought we were excellent at the things that are boring to do, and that's just the little details of it.
"We've kind of lost focus of that and that falls on me. I haven't demanded that as much as I probably should, and when you're preparing for opponents every third day, it's kind of hard to focus on that in a practice setting. But not we have some time, we can get healthy, take a couple days off here, catch our breath, and head into subdistrict play."
Hastings (19-3)..........13 10 17 17 — 57
BRLD (22-0).................21 9 11 20 — 61
Hastings (57)
Connor Creech 9-17 3-4 23, Jacob Schroeder 4-7 3-4 11, JT Cafferty 0-2 0-0 0, Haggan Hilgendorf 3-5 3-4 10, Mike Boeve 4-9 0-0 10, Jarrett Synek 1-3 0-0 3, Brennan Witte 0-0 0-0 0. Totals: 21-43 9-12 57.
BRLD (61)
Will Gatzemeyer 3-4 0-0 7, Dylan Buetler 4-9 2-4 11, Lucas Vogt 3-11 6-6 12, Darwin Snyder 9-13 0-0 24, Jaxon Johnson 2-5 2-4 6, Brayden Anderson 0-0 1-2 1, Arizona Riecken 0-0 0-0 0. Totals: 21-42 11-16 61.
Three-point goals — HHS 6-17 (Creech 2-5, Cafferty 0-1, Hilgendorf 1-3, Boeve 2-6, Synek 1-2.); BRLD 8-19 (Gatzemeyer 1-2, Beutler 1-4, Bogt 0-5, Snyder 6-8).