OMAHA — All three Tribland wrestlers in Thursday's Class D finals had an enormous roadblock standing in between them and the gold medal. In wrestling, you learn from your losses, and there were plenty of lessons being taught in the championship round.
While Superior's Hayden Neeman, Doniphan-Trumbull's Drake Belville, and Thayer Central's Dominic Stewart may have all fallen short of that gold medal, they still conquered a pandemic-filled season and reached a milestone only two wrestlers in their weight class can claim.
"It means a lot — it'd be a lot better if it was gold, but I'm happy with what I've achieved and how far I've come," Belville said, epitomizing the mutual feelings the trio shared.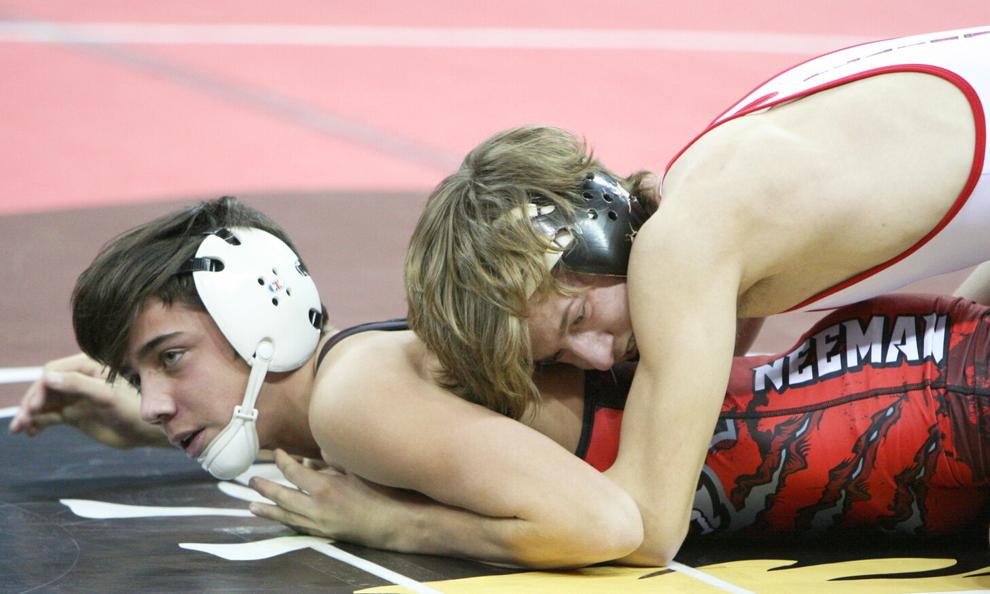 Neeman was up against defending state champion and three-time finalist Eli Lanham of Plainview, who finished the season with a record of 43-0.
The Superior sophomore went toe-to-toe with the senior standout, with neither wrestler able to gain an advantage for the first 1 minute, 51 seconds. Then, Lanham jumped out in front with a takedown with just nine seconds left in the period.
Lanham was able to stay on top of Neeman for the entire second period, and after earning a reversal just six seconds into the third period, he finished the remaining 1:54 on top as well.
"You have to give all the credit to Plainview; their program is stellar and they're an amazing group of coaches. All the power to Lanham, he did a lot of great things," said Superior head coach Seth Going. "We did a pretty good job the first period of keeping him on his feet. We did a couple things where we had an opportunity to get some points, but we just got out-muscled.
"He's a hell of a wrestler. He's good on his feet, he's a heck of a lot better on top, and he's even better on bottom. To be able to get opportunities to score against him is huge; we just have to capitalize on those."
Despite losing his final match, Neeman capped off an impressive season, racking up 40 wins and losing just twice in his first complete season at the varsity level. Going said the sophomore brought the right mindset to the practice room and focused on getting better every day.
Going believes that the runner-up finish will only further motivate Neeman for next season.
"I think you have to have a 365-day plan. You have to think about how you feel right now and make that vow that you'll never feel like this ever again," the coach said. "You've got 365 days to fine tune and rebuild and reset himself. What an amazing opportunity this isn't his senior year, it's his sophomore year... We have two years to work with him and we have amazing things he can do. He just needs to keep that focus."
Unlike Neeman, Belville and Stewart will not have a next year to come back to Omaha in search for the gold again. Both wrestlers capped their careers by earning their second state medal. And while both had hoped it'd be the gold they were bringing back, they understand that silver's not a bad way to end a career.
"There were a lot of bumps in the road to get here, a lot of injuries to deal with, but I was able to get over them and make it to the finals. It didn't turn out how I wanted it to be, but I'm glad I made it," Belville said.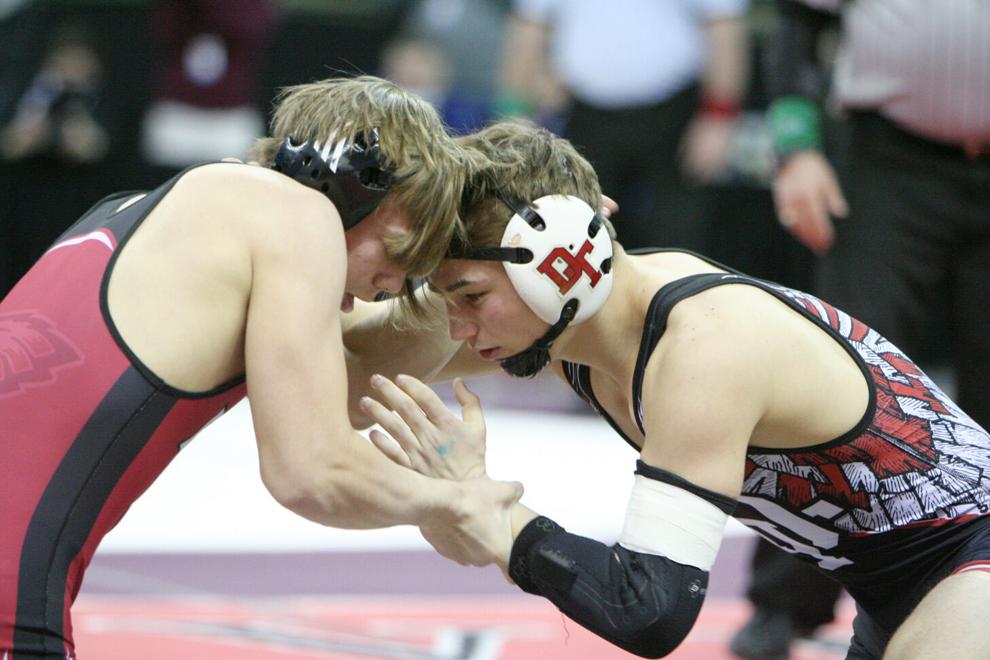 Belville was going against unbeaten, two-time finalist Jeremy Larson of Brady, who improved to 48-0 with the win. The Cardinals' senior had wrestled Larson once during the season, before an injury brought the district final matchup between the two to an end.
Larson jumped out to an 8-0 lead before Belville was able to earn two points with a takedown. Larson won the match 11-2.
"You get down that much in a state title match and it's hard to come back from," said D-T head coach Andrew Smith. "He tried to chip away and he gave effort. That's one thing I'm not going to ever question... I'm very proud of him."
It's been an incredible career for Belville, who became the Cardinals' first finalist in program history. Smith said the way the senior conquered adversity this season has inspired others on the team.
"All of these kids, the freshmen, the eighth graders, they all look up to him," the coach said. "He'll kick the crap out of them in practice and they still think he's the best guy in the world. Getting him to the finals and getting him to beat those guys, it was amazing; especially for the school and himself... He wrestled the best I've ever seen."
Stewart's finals matchup was against the new Class D career wins record holder and defending state champion Ruger Reimers (Palmer). The Titans' head coach Josh Bowers said Reimers accolades may have caused the TC 145-pounder to get out to a slow start.
"I think there was a little intimidation there and a little bit of nerves, but (Stewart) took his shots. He knew what he wanted and he kept it close," Bowers said. "He had nothing to lose."
Reimers led 5-0 midway through the third period, when Stewart recorded a takedown and nearly accumulated back points, but Reimers was able to defend the move and hold on for a 6-2 victory.
Stewart finished the season 47-8 and improved greatly on last year's fourth-place finish. After an injury kept him from completing his senior football season, Stewart was thankful he was able to finish his high school wrestling career.
"Coming back to wrestling (after football), I was just going to give it my all and wherever I place, I place," Stewart said. "I'm pretty happy with second place."
The Titans added a third-place medal from Brenner McLaughlin, who defeated Kenesaw's Nickolas Kuehn in the consolation finals. Both wrestlers have bight futures, as McLaughlin will return for his senior season, and Kuehn will still have two years of shooting for that gold medal.
"Next year, I'm definitely shooting for the finals. I just have to be ready to come back and work hard next year too," McLaughlin said.
"I have all the confidence in (Kuehn)," said Kenesaw head coach Trey Schlender. "He's only a sophomore so we have two more years with him. He's going to be a stud... We got a lot better this year. Every day we got better. And we can only improve from here."
D-T's Colton Horne added another medal to the Cardinals' count. He won the fifth-place match by pinning Colton Thiele, who handed him an ultimate tie breaker loss in the quarterfinals.
Semifinals
106 — Hayden Neeman (Superior) 40-1 won by major decision over Reece Kocian (East Butler) 35-4 (MD 10-1)
126 — Adam Miller (Elkhorn Valley) 45-0 won by decision over Nickolas Kuehn (Kenesaw) 37-4 (Dec 8-4)
126 — Zach Dickau (North Central) 38-5 won by decision over Brenner McLaughlin (Thayer Central) 46-7 (Dec 5-0)
132 — Drake Belville (24-8), Doniphan-Trumbull, vs. Jon Peters (45-6), Sutherland
145 — Dominic Stewart (Thayer Central) 47-7 won by decision over Xavier Perez (Elm Creek) 37-7 (Dec 10-6)
Consolation round 3
182 — Keegan Shuler (Hitchcock County) 35-7 won by fall over Sean Duffy (Kenesaw) 25-13 (Fall 2:16)
195 — Colton Horne (Doniphan-Trumbull) 34-13 won by fall over Andrew Engle (Thayer Central) 27-17 (Fall 0:31)
285 — Levi Kerner (Arapahoe) 37-1 won by fall over Payton Christiancy (Superior) 38-9 (Fall 1:29)
Consolation semifinals
126 — Nickolas Kuehn (Kenesaw) 37-4 won by decision over Kyler Mosel (Plainview) 30-7 (Dec 9-6)
126 — Brenner McLaughlin (Thayer Central) 46-7 won by decision over Jacob Kerns (Southwest) 34-10 (Dec 9-2)
195 — Gavin White (Sutherland) 41-3 won by decision over Colton Horne (Doniphan-Trumbull) 34-13 (Dec 5-3)
Third-place match
126 — Brenner McLaughlin (Thayer Central) 47-7 won by decision over Nickolas Kuehn (Kenesaw) 37-5 (Dec 8-2)
Fifth-place match
195 — Colton Horne (Doniphan-Trumbull) 35-13 won by fall over Colton Thiele (Summerland) 28-11 (Fall 3:21)
Championship
106 — Eli Lanham (43-0), Plainview, dec. Hayden Neeman (40-2), Superior; 4-1
132 — Jeremy Larson (48-0), Brady, maj. dec. Drake Belville (25-9), Doniphan-Trumbull; 11-2
145 — Ruger Reimeers (52-2), Palmer, dec. Dominic Stewart (47-8), Thayer Central; 6-2