OMAHA — At last season's state wrestling met, freshmen Braiden Kort and Landon Weidner shone brightly for their respective teams, advancing to the semifinals.
Very little has stayed the same since then, but one thing that has is both wrestlers, now sophomores, are back in the semifinals and one win from the state championship match. With their quarterfinal victories, the two also already clinched a spot on the medal stand.
"It's pretty exciting being back on the podium," Kort said. "Just got two more matches and then hopefully I'll be on top of the podium."
Kort cruised through his first two matches of this year's state tourney, pinning his first-round opponent and then beating Aurora's Jeremy Oswald in a 12-3 major decision — he also advanced to the semis last year with a pin and major decision.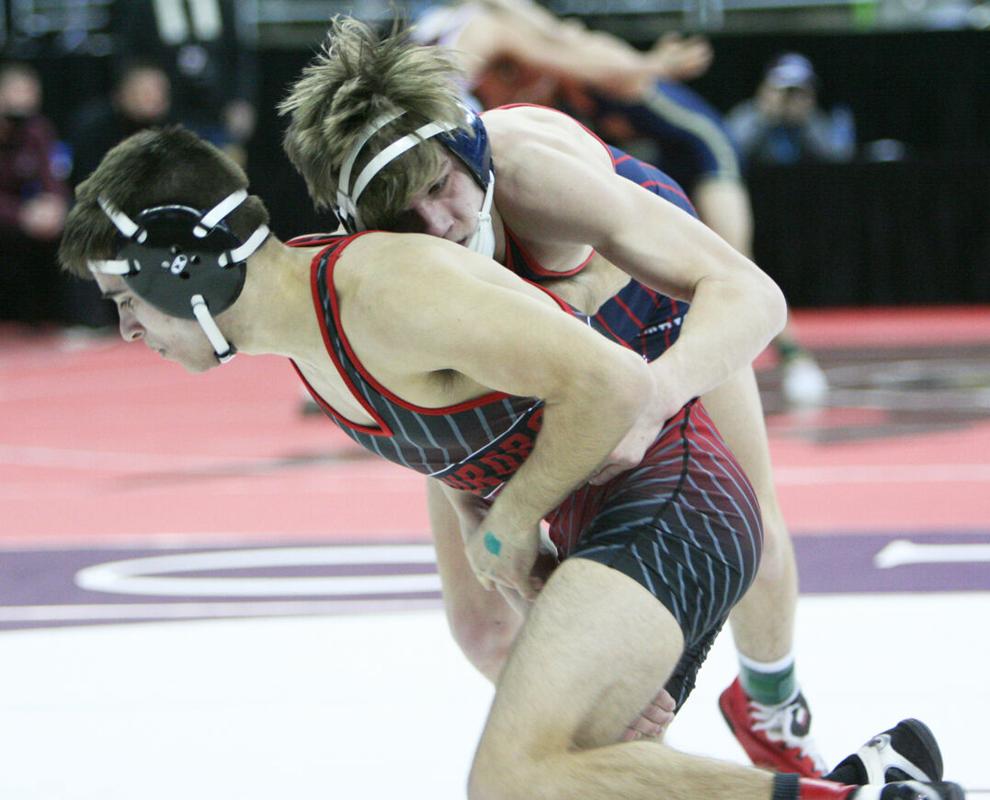 The Patriot came into the tournament as the defending runner-up, so he has high expectations for how this year's tournament will go. Kort said he prepared well for the tournament but hasn't treated it differently than he did last season.
"In practice, we've been going hard every day with a bunch of good practice partners, always learning something from them. I'm just treating it like another tournament," he said. "So far, it's kind of the same. I've competed in big tournaments all the time so I'm kind of getting used to them."
Kort will face Quinton Chavez of Gering in the semifinals. The two wrestlers met twice during this season, splitting the matches.
Weidner is also off to a scorching start to the tourney. HHS' third-place finisher from last year recorded a dominating 17-2 tech fall in the first round and then moved on to the semis with a second-period pin.
The two opponents the Tigers' 145-pounder faced have a combined record of 57-12, and yet he still was in complete control. HHS head coach Nolan Laux said Weidner is wrestling on a different level right now.
"(Landon's) really hard nosed and dedicated. He's worked tough all year," Laux said. "He's had a sour taste in his mouth with how last year ended. He's been on a mission all year. He's been around forever, so he knows what the expectation and the culture is. He just does his business and moves on."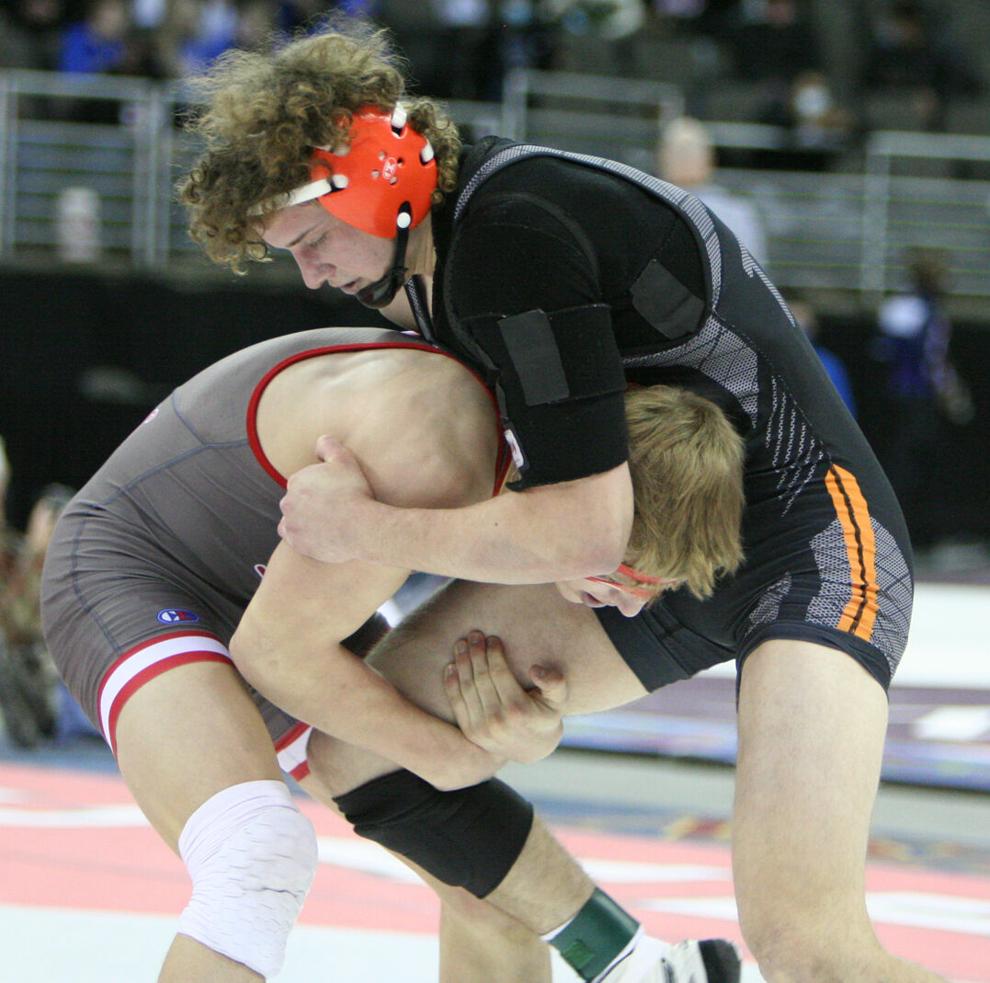 Hastings put two more wrestlers in the semifinals, after both Jett Samuelson (152) and Blake Davis (220) both went 2-0 on Friday. Samuelson moved on with a pin and a 5-1 decision, while Davis pinned both of his opponents.
"They wrestled really well, I'm happy for all three of those guys," Laux said. "Blake Davis wrestled his butt off... and Jett got a big win. I'm very happy with with how they wrestled."
Laux was happy to have three in the semis, but he said it was perhaps just as important that four of the five wrestlers in the consolation bracket will still be wrestling on Saturday. Cameron Brumbaugh (106), Elijah Johnson (126), Blake Kile (138), and Jackson Phelps (170) all advanced to the consolation quarterfinals, just one win from clinching a spot on the medal stand.
Those wrestlers continuing to advance coupled with the three semifinalists have Hastings — the defending team state champions — sitting in second place in the team race after day one. The Tigers have 53 points, just 1/2 a point more than third-place Beatrice and trailing only Gering (63 1/2).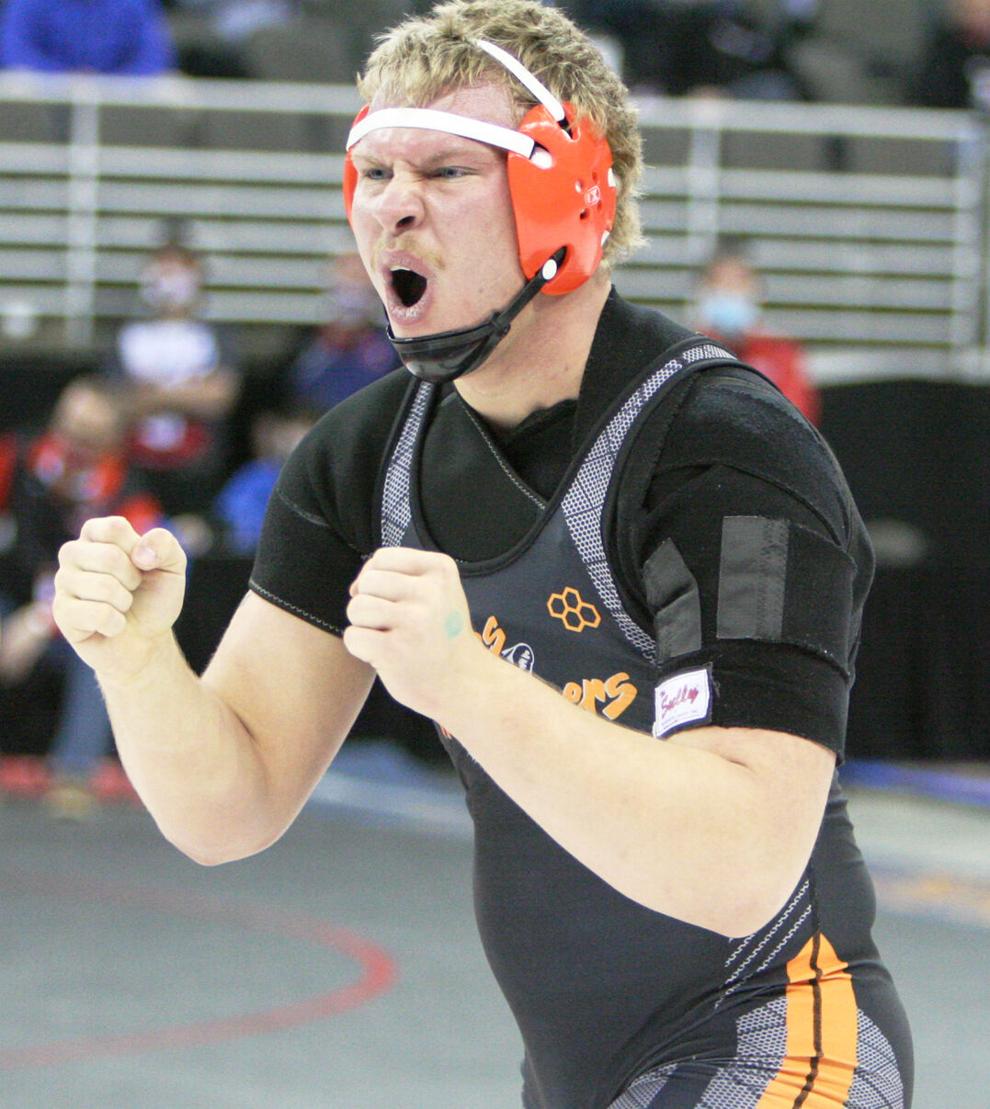 "We haven't been calculating (team points) or anything so much, just wrestling our matches. We're worrying about getting guys on the podium first, and that should put us in position to be up there. Then, we can start doing some math," the HHS coach said with a smile.
Still competing in the consolation bracket for Adams Central is Devon Ackles, who won back-to-back matches after losing in the first round to three-time medalist Drew Arnold of Beatrice.
Minden brought three wrestlers to the state meet and had two advance to the quarterfinals. Both Hunter Heath (138) and Alex Banuelos (160) recorded wins in the first round, but both went up against tough opponents in the quarterfinals, dropping to the consolation bracket.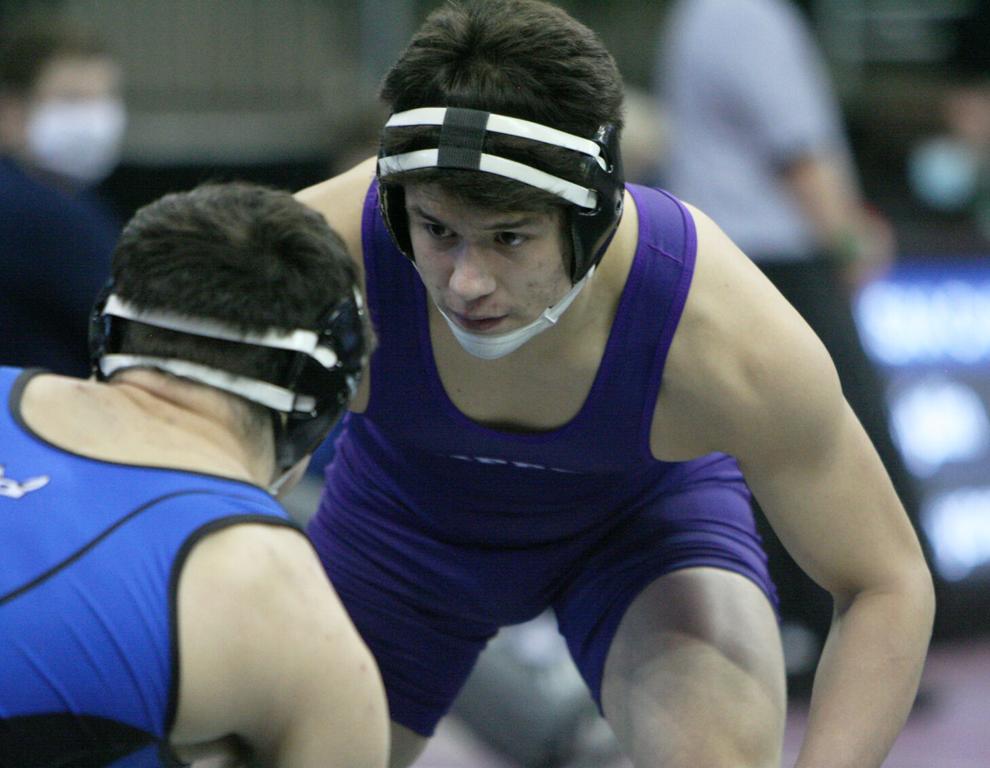 Banuelos lost his match in overtime 6-2, but he bounced back with a win in another thriller, earning the winning takedown with just 23 seconds remaining. Heath won his consolation match via pin to move within one win of a medal.
Scary moment
Hastings 113-pounder Hunter Anderson suffered a frightening injury in the second round of the consolation bracket. After losing his match 5-4 in the quarterfinals, Anderson was battling Gering's Jordan Shirley. In the closing seconds of the third period, Shirley turned Anderson and adjusted to go for the pin. The referee quickly called the pin before it came into question whether or not Anderson was conscious. He laid on the mat motionless but was clearly breathing. The medical staff examined Anderson, who was able to move his fingers and his feet, but he was loaded onto a stretcher and taken to be further examined. The crowd at the CHI Health Center gave Anderson a round of applause as he exited the floor area. No update has been given on Anderson's status.
First round
106 — Joey Canseco (Scottsbluff) 40-12 won by decision over Cameron Brumbaugh (Hastings) 32-8 (Dec 10-3)
113 — Hunter Anderson (Hastings) 22-6 won by fall over Zach McManigal (Wayne) 18-20 (Fall 3:46)
113 — Cash Duncan (Seward) 41-5 won by fall over Justin Barbee (Adams Central) 28-20 (Fall 3:53)
120 — Braiden Kort (Adams Central) 43-3 won by fall over Talyn Campbell (McCook) 36-10 (Fall 3:14)
126 — Drew Cooper (Omaha Skutt Catholic) 30-3 won by major decision over Elijah Johnson (Hastings) 26-18 (MD 15-4)
132 — Drew Arnold (Beatrice) 41-1 won by fall over Devon Ackles (Adams Central) 31-15 (Fall 1:22)
132 — Dreu White (Cozad) 32-8 won by decision over Evan Smith (Minden) 35-14 (Dec 5-4)
138 — Hunter Heath (Minden) 45-6 won by decision over Jayden Coulter (Pierce) 34-12 (Dec 8-6)
138 — Bryar Nadrchal (Platteview) 34-4 won by decision over Blake Kile (Hastings) 26-18 (Dec 6-0)
145 — Landon Weidner (Hastings) 38-3 won by tech fall over Albert Stone (Gering) 36-7 (TF-1.5 5:19 (17-2))
152 — Jett Samuelson (Hastings) 31-6 won by fall over Breckin Schoepf (Seward) 23-17 (Fall 4:45)
160 — Alex Banuelos (Minden) 45-4 won by fall over Josiah Mobley (Scottsbluff) 32-18 (Fall 3:32)
170 — Jackson Phelps (Hastings) 28-11 won by fall over Max Denson (Broken Bow) 35-21 (Fall 0:32)
195 — Chase Cotton (York) 23-4 won by fall over Sam Hemberger (Adams Central) 25-10 (Fall 1:35)
220 — Blake Davis (Hastings) 31-6 won by fall over Iziah Blanco (Gering) 25-19 (Fall 2:26)
285 — Aaron Jividen (Aurora) 39-4 won by decision over Tyler Pavelka (Adams Central) 31-18 (Dec 3-2)
Consolation round 1
106 — Cameron Brumbaugh (Hastings) 32-8 won by major decision over Jet Nuckolls (Wahoo) 24-19 (MD 15-4)
113 — Cael Nieslen (Plattsmouth) 25-14 won by fall over Justin Barbee (Adams Central) 28-20 (Fall 2:39)
126 — Elijah Johnson (Hastings) 26-18 won by major decision over Wyatt Olberding (Falls City) 33-8 (MD 14-4)
132 — Devon Ackles (Adams Central) 31-15 won by decision over Mason Wagner (Scottsbluff) 31-19 (Dec 7-4)
132 — Dominic Cherek (Plattsmouth) 21-14 won by fall over Evan Smith (Minden) 35-14 (Fall 1:54)
138 — Blake Kile (Hastings) 26-18 won by fall over Colton Ruff (Northwest) 15-15 (Fall 1:42)
195 — Brock Ostdiek (Beatrice) 28-20 won by fall over Sam Hemberger (Adams Central) 25-10 (Fall 4:03)
285 — Tyler Pavelka (Adams Central) 31-18 won by fall over Ryan Bickel (Chadron) 31-7 (Fall 4:01)
Quarterfinals
113 — Blaine Christo (Ashland-Greenwood) 26-1 won by decision over Hunter Anderson (Hastings) 22-6 (Dec 5-4)
120 — Braiden Kort (Adams Central) 43-3 won by major decision over Jeremy Oswald (Aurora) 37-11 (MD 12-3)
138 — Trevor Reinke (Beatrice) 40-4 won by decision over Hunter Heath (Minden) 45-6 (Dec 7-1)
145 — Landon Weidner (Hastings) 38-3 won by fall over Caden Corcoran (Ralston) 21-5 (Fall 2:46)
152 — Jett Samuelson (Hastings) 31-6 won by major decision over Cooper Spaulding (Norris) 23-7 (MD 13-5)
160 — Josh Colgrove (Plattsmouth) 31-5 won in the ultimate tie breaker over Alex Banuelos (Minden) 45-4 (UTB 6-2)
170 — Torrance Keehn (Beatrice) 38-6 won by decision over Jackson Phelps (Hastings) 28-11 (Dec 6-1)
220 — Blake Davis (Hastings) 31-6 won by fall over Martin Carrillo (Wayne) 27-8 (Fall 3:26)
Consolation round 2
106 — Cameron Brumbaugh (Hastings) 32-8 won by tech fall over Chauncey Watson (Broken Bow) 34-14 (TF-1.5 3:17 (15-0))
113 — Jordan Shirley (Gering) 35-10 won by fall over Hunter Anderson (Hastings) 22-6 (Fall 4:31)
126 — Elijah Johnson (Hastings) 26-18 won by decision over Chase Eggleston (Norris) 39-20 (Dec 12-8)
132 — Devon Ackles (Adams Central) 31-15 won by decision over Kevin Dominguez (Columbus Lakeview) 32-8 (Dec 6-5)
138 — Blake Kile (Hastings) 26-18 won by decision over Sebastian Lausterer (Wahoo) 41-10 (Dec 2-1)
138 — Hunter Heath (Minden) 45-6 won by fall over Logan Jaixen (Columbus Lakeview) 35-5 (Fall 0:39)
160 — Alex Banuelos (Minden) 45-4 won by decision over Dylan Berg (Blair) 33-20 (Dec 6-5)
170 — Jackson Phelps (Hastings) 28-11 won by major decision over Ben Kamrath (Columbus Scotus) 37-12 (MD 15-1)
285 — Jason Uden (Crete) 14-4 won by fall over Tyler Pavelka (Adams Central) 31-18 (Fall 2:17)