A lively group of mostly senior dancers proved it is still hip to be square dancing, hitting the floor twisting and spinning to an eclectic array of musical genres ranging from Bruno Mars and Savage Garden to big beat and traditional country at the 49th annual Nebraska State Square and Round Dance Weekend Friday and Saturday on the Adams County Fairgrounds.
Hosted by the state's Eastern Federation, more than 200 people from across the region, including Nebraska, Iowa, Colorado, Kansas and Wisconsin, do si doed and ballroom danced the night away Friday night and Saturday, led by featured national and international square dance caller Hunter Keller of Billings, Montana, and round dance cuer Betty Skillet of Emporia, Kansas.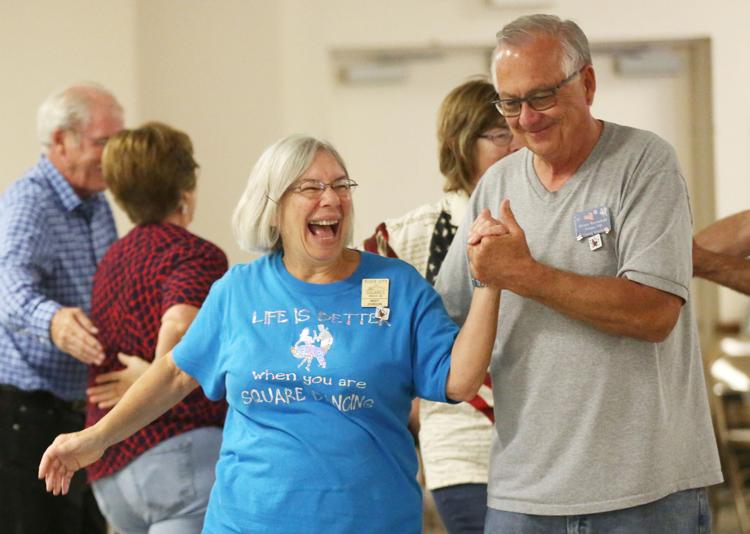 "The crowd just depends on who wants to travel and come see what we have in Nebraska," said Carol Weaklend of Omaha, a square dancer with more than 50 years experience whose husband, Lanny, is a national caller. "It's centralized, so everybody comes in and you've got the Tri-City area. We love the hotels here, and people are really cooperative. They know we're coming, and they're ready for dancers."
About 25 participants were recognized for their service to the country to begin the military-themed event, which has been hosted at the fairgrounds for more years than anyone can seem to remember. Regarded as a club activity, square dancing is largely kept alive these days through hometown clubs that allow enthusiasts to stay polished while awaiting opportunities to attend conventions that bring together fellow square dancers from across the world.
While moving to such traditional offerings as "Turkey in the Straw" and fiddle-driven country and western is still part of the picture, Weaklend said, there is a lot more variety in what dancer move to these days.
"People have learned to like other things, like rock-'n'-roll and Elvis Presley, and that's all been brought into the genre as we've modernized to keep square dancing up with the times," she said.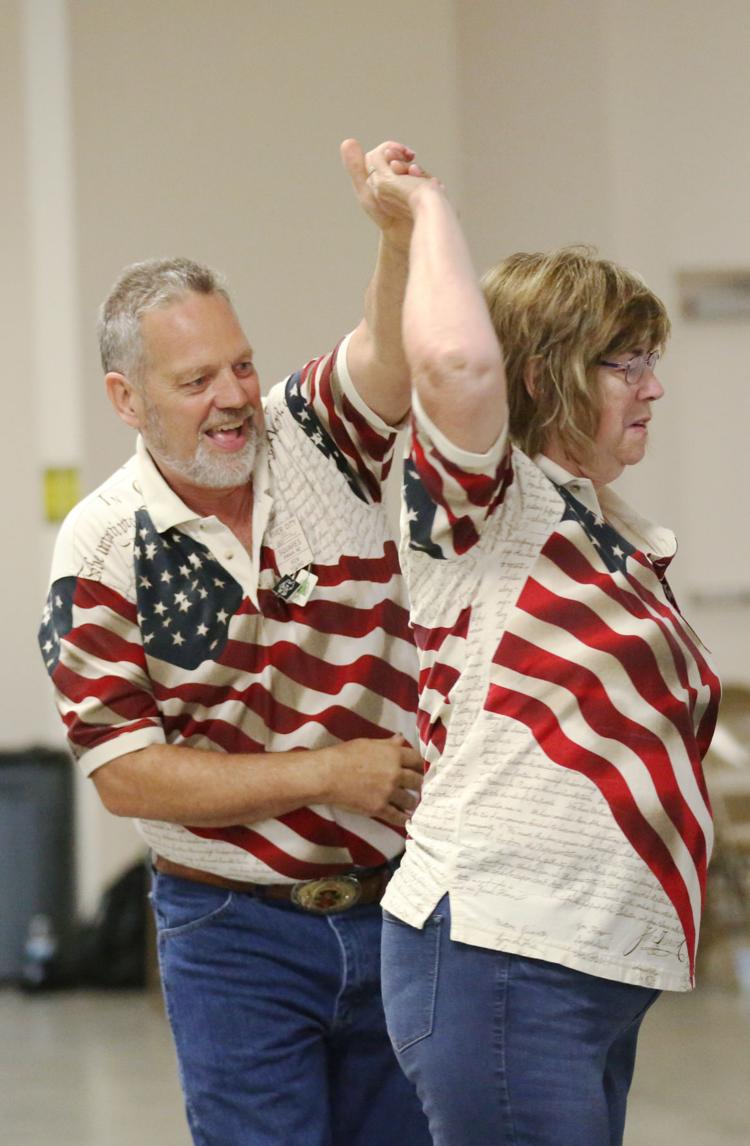 Events like state, national and international conventions offer dancers entertaining fitness options that Weaklend describes as healthy for mind and body alike.
"It's a good activity, 3,000 to 5,000 steps in an evening," she said. "We dance for about 12-15 minutes, then take a break and get up and dance again. It's a good movement and activity, and it's social.
"The dancers who are dancing just love it. Like most other activities, it's always difficult to convince people to get off of the couch, put the cellphone and TV down and come on out and play."
Because it is an activity that requires the synchronization of eight people moving together in measured time, lessons are typically a must for those looking to make a smooth transition to the dance floor, Weaklend said. There are 67 calls to learn in the mainstream U.S. square dance format, with another 27 calls added to the plus program regimen. Additional programs offer additional steps to challenge even the most polished hoofer.
"It has to be well timed out to the music," she said. "If you get there ahead of someone else you think you are lost."
To Lanny, 77, who has been calling dances for more than 35 years, there's plenty going on to hold his interest from one event to the next. And it is that mix of varying activity that continues to make the sport popular across such a wide array of people from all walks of life.
"It's a family activity that's done by eight people, and all you have to be able to do is walk," he said. "You don't need much rhythm. It's a social activity, it's very healthy, and it's good for your brain.
"Our age has gotten older. I would imagine our average age is going to be between 60 and 75. We try to shoot for the empty nesters, people who are looking for something to do together as a couple."
Dennis and Myrna Johnson of Akron, Iowa, were anxious to hit the dance floor and get in as many steps as possible during the two-day event. The pair, who stay active in square dancing clubs each year while wintering in Arizona, have been stepping out on the square-dancing circuit since 1974. Their preferred mode of movement is round dancing.
"It's good exercise, and we've met a lot of people over the years." said Myrna, 69, "We just keep renewing our friendships when we get together."
"It challenges you because it's lots of different levels," said Lanny, 72. "There's lots of rhythms."
Terry Wilkerson, 75, of Arnold has been square dancing for more than 60 years. As best he can remember, he has attended all but one of the state events at the fairgrounds. On this occasion, he is accompanied by longtime friend Jan Leymaster, 75, of Lincoln.
"I just like square dancing," he said." I like country music, and I like to dance. I like the people you meet. They're nice people."
Leymaster considers the exercise piece a bonus. Like Wilkerson, she finds the social interaction most appealing.
"I love the music and love the people," she said. "At the conventions, you see so many more people that you don't see except maybe once a year. I get lots of good hugs from people because you don't see them very often."
Cathy Bellinger, 77, of Omaha has a special affinity for square dancing that goes beyond mere enjoyment of the activity. It was through square dancing she met her husband of 12 years, Jim, while helping out as an "angel" at a square-dancing class.
That connection makes every dance special, she said. On a practical note, she considers square dancing a more enjoyable alternative to working out in a gym.
"It's good exercise, and it's good for your mind, too," she said "You've got to remember lots of stuff."
For Jim, 65, who recently retired, it is the social aspect involved that keeps each convention interesting.
"You just get to have a good time laughing, talking, and visiting," he said. "All of our friends are pretty much square dancers."
Keller, 31, a 15-year professional square dance caller, challenged dancers with workshop level material Saturday. To him, the sport has provided his ticket to ride, having called dances in 45 states and 13 countries along the way.
"Friendship is a big thing," he said. "I've got friends all over the world that if I needed them today, I could call them and they'd be right here. It's also a lot of fun to get up on stage and make people feel good for a few hours."
While the sport has begun to lose some of its popularity to a world brimming with entertainment choices, Keller said he hopes younger dancers will at least give square dancing a chance to impress. Its benefits to mind and body are hard to beat, he said.
"A lot of people think square dancing is just for people who like country music or people who are old, and that's not the case," he said. "We're using a lot of different types of music. We've completely relaxed the dress code. Our big thing now is to try to make people understand that square dancing is not the banjos and fiddles it used to be.
"It started in barns, but we've moved out of that stage. Now I think it's just a group of people getting together, more like team building. If you like to move, and you like to get out and do stuff and love music, this is the activity for you."