Aiden Aldrich went through a lot of trial and error to accomplish his objective Saturday afternoon.
The objective was to get a Sphero rover robot to push two taped-together red Solo cups carrying table tennis balls 20 feet across the carpeted floor of the Hastings Public Library's conference room, around another cup and back to the starting line.
Aiden, an 11-year-old sixth-grader at Hastings Middle School, used block coding and a tablet to control the Sphero rover, which proved to be a challenge. The robotic orb either went too far or too fast — knocking over the cups and spilling the balls.
His setbacks just inspired him to work harder.
"It's just nice to see that every time I succeed it's like 10 steps forward and then when I inevitably mess up it's like one step backward," he said. "It's nice to feel the pull."
Aiden eventually was able to complete the objective. He used a drive program that turned the tablet into a remote, which was easier to control than using block coding.
Aiden was one of a pair of middle school students to participate in the Sphero Lunar Rover Races, a Hastings Public Library Teen STEAM activity. STEAM activities explore science, technology, engineering, art and math.
He hadn't used a Sphero before but had used similar rovers. He was familiar with block coding, using it at school.
"It's called that because all the things are in squares," he said.
Jacob Doyen, the other HMS sixth-grader to participate in the Sphero Lunar Rover Races, chose to focus much of his attention on the "A" of STEAM during the activity.
Exercising his artistic side he attached balloons and pipe cleaners to his Solo cup to create a crazy alien.
He said he liked the creativity of building his alien.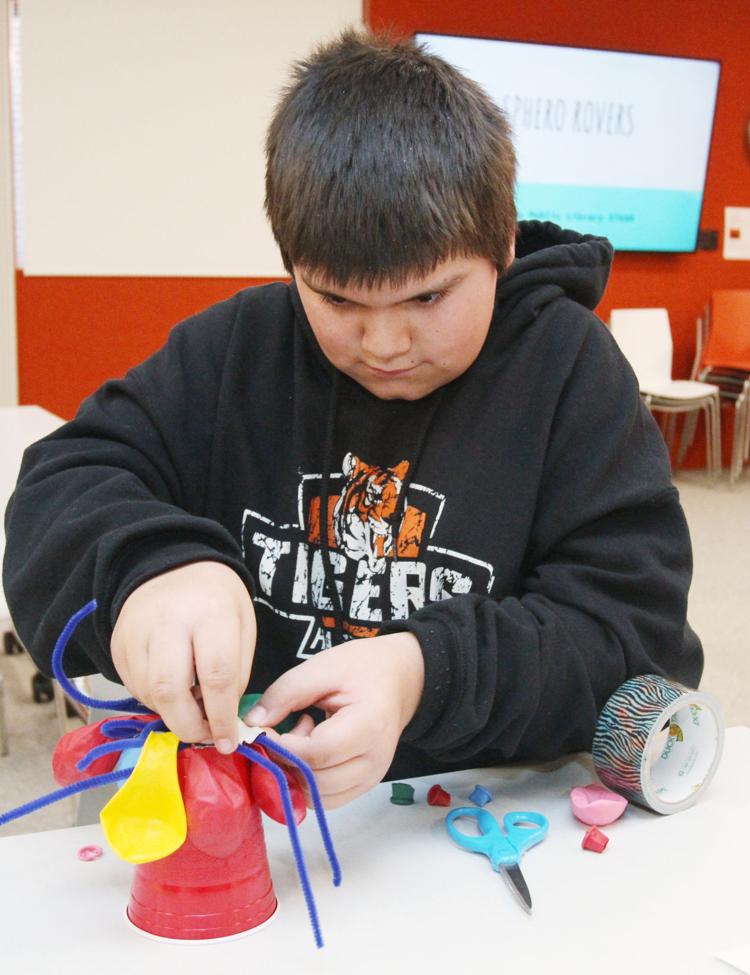 Jacob is part of the library's teen advisory board, which meets once a month to plan activities other sixth- through 12th-graders would like to do.
Rachel Mueller, HPL teen services library assistant, oversees the teen advisory board just like she oversaw the Sphero Lunar Rover Races on Saturday.
"It's never me saying 'Well I think we should do this,' " she said. "It's all of what is teen-centric in our community as opposed to what I think would be cool."
The group's next activity is Library-Con on Jan. 25 — Hastings Public Library's take on Comic-Con, with a costume contest and different activities and Marvel versus DC Jeopardy.