It was a game full of big plays. Fortunately for Hastings High, the Tigers had more of them.
This wild game put up video-like numbers, including the Tigers' win over Beatrice 64-56, led by their passing game that was on fire all night at Lloyd Wilson Field.
Hastings quarterback Jarrett Synek threw for a Class B state record nine touchdown passes, eclipsing the old standard of eight and obliterating the school record of five.
The junior gunslinger posted 451 passing yards to help the Tigers improve to 6-1 and solidified its No.6 rating among Class B schools.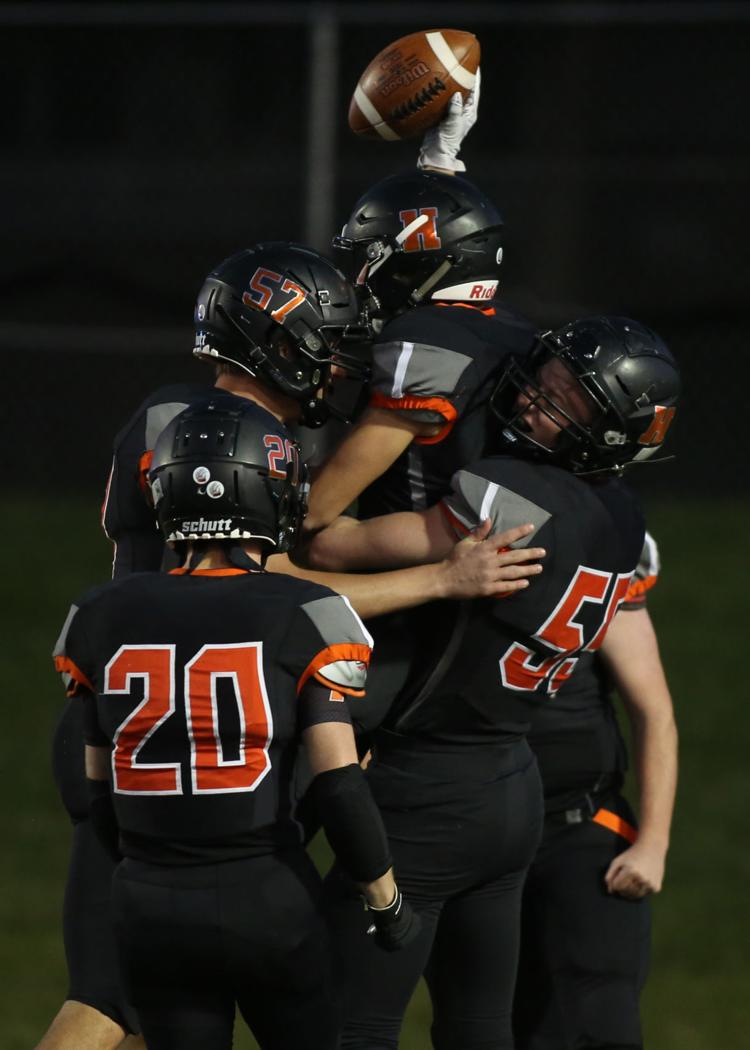 "It felt great," Synek said about his throwing. "I had a lot of help from the line blocking and the receivers catching the ball. We just made great plays, and that's what it came down to."
Gathering in multiple touchdown passes from Synek included Carson Shoemaker and Braden Kalvelage with three each, and Nate Nordby with two.
Shoemaker nabbed eight catches for a game-high 171 yards. Kalvelage totaled 154 yards on four catches.
"That's our game plan usually every game. But tonight was definitely throw it all over," Synek said.
"The receivers were working really hard. The line gave me time. I made the throws I needed to make to score. It felt great. We'd been clicking all week in practice to make the throws I made tonight. It was great overall."
Coach Charlie Shoemaker said that the week's practices saw his team's passing game come together in good fashion.
"We noticed this week, things were really coming together with all of our receivers. We wanted to sharpen up the routes and accelerating," the coach said. "The protection was good for the most part. We know Jarrett can deliver the ball, and he does a good job of reading defenses, finding the open guy."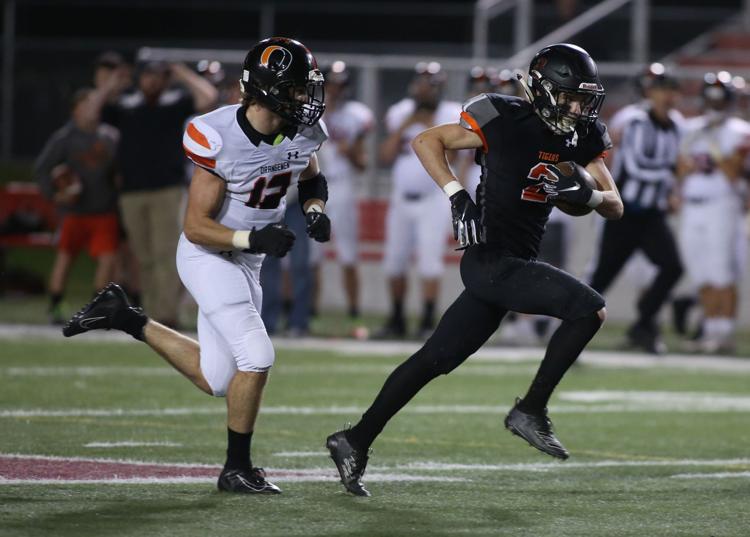 Beatrice's defensive scheme was a set up for passing, and the Tigers responded in that fashion all night. Synek closed the game completing 21 of 33 with no interceptions.
Aside from Weidner's long kickoff return for a touchdown, the Tigers scored the rest of their TDs via their passing attack.
Running the ball was a different story for Hastings, as the Tigers ran for only 37 yards on 18 totes.
"We knew with that four man front it would be difficult to run the ball at times. And they were giving us the pass," Coach Shoemaker said. (Beatrice) had six guys in the box and just a cover three look. And we exposed that quite a bit."
The game's opening kickoff gave a sampling of the contest that would keep on putting up big plays.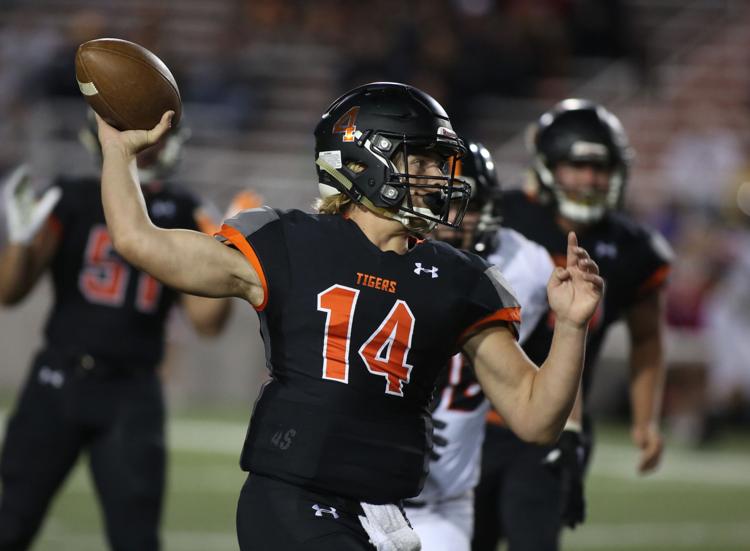 The Tigers Zaide Weidner rambled for a 90-yard kickoff return, sailing untouched down the sideline after veering away from defenders in the middle.
Hastings quickly scored again after Lucas Koletic recovered a Beatrice fumble on the Orangemen's very first scrimmage play.
Austin Nauert hit paydirt on a 16-yard touchdown pass from Synek. Breyer Menke's extra point gave Hastings a 13-0 edge.
Beatrice bounced back, however, by taking the ensuing kickoff on a 75-yard touchdown jaunt but the conversion pass failed.
So, less than two minutes into the game, the teams had already scored 19 points. By halftime, the point total reached 66. It seemed like a video game being played out by these high schoolers.
By halftime, the two squads had racked up a total of 10 touchdowns. And Hastings finished the night with 10 TDs. Beatrice rang up eight, including two long scoring pass plays late in the game.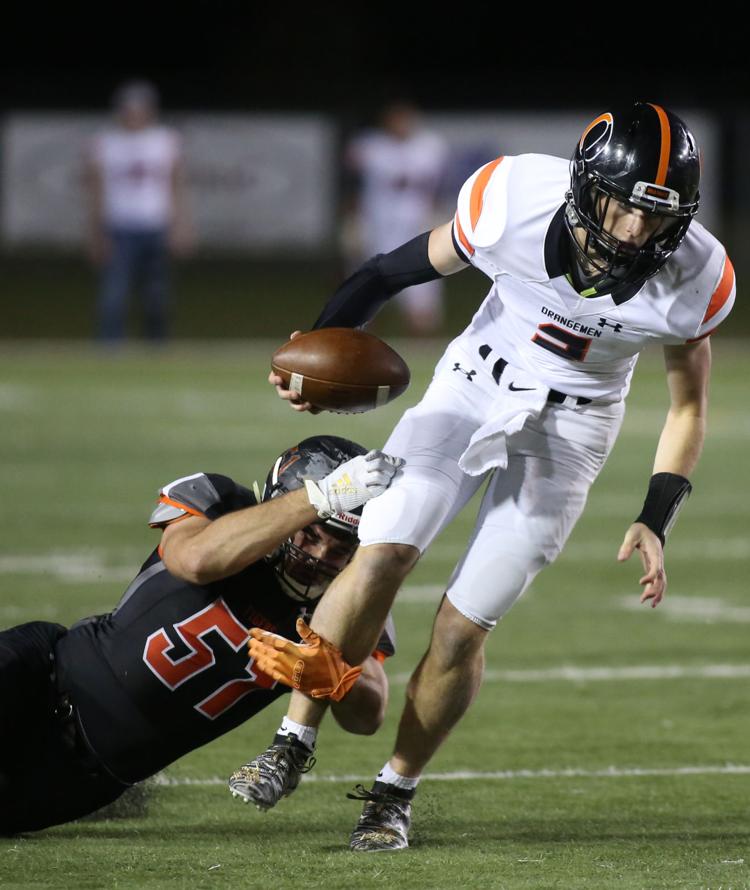 "That's the weirdest game I've ever been a part of, honestly," said the Tiger coach. "It was disappointing there at the end. We had the lead, and it was almost like we kind of stopped."
Hastings will play against Grand Island Northwest next week in a game that will go a long way in determining the playoff status of both teams.
"They're going be licking their chops and ready to go," Shoemaker said about GINW. "It is going to be a battle next week. We are going to have to be ready.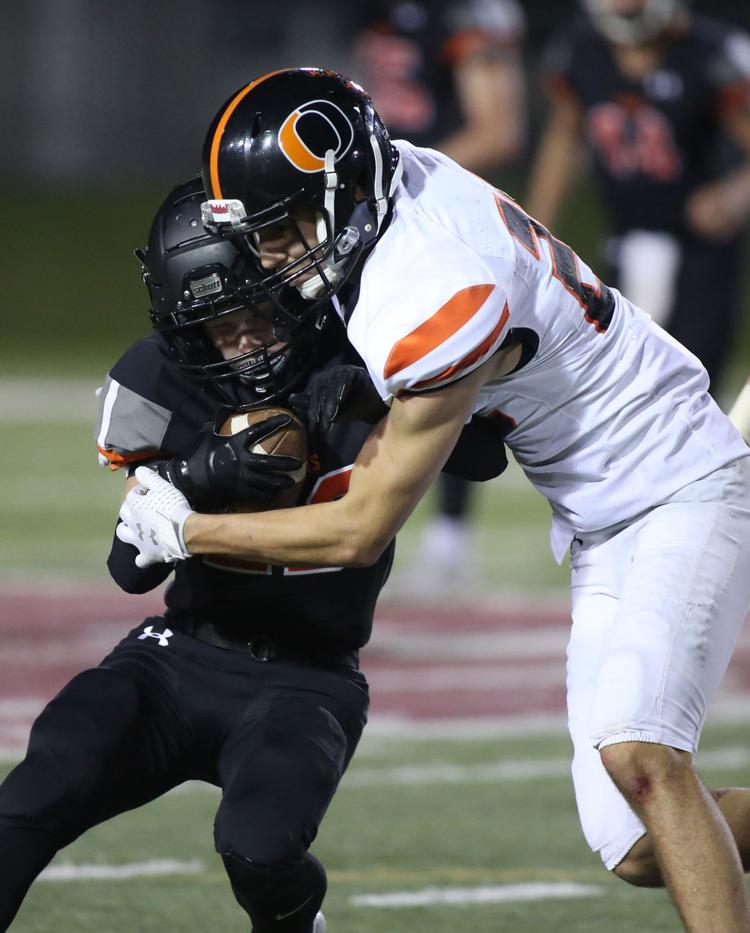 B (3-5) 20 7 7 22 — 56
H (6-1) 20 19 12 13 — 64
H — Zaide Weidner 90 kickoff return (kick fail)
H — Austin Nauert 16 pass from Jarrett Synek (Breyer Menke kick)
B — Drew Gleason 75 kickoff return (pass fail)
H — Nate Nordby 10 pass from Synek (Menke kick)
B — Brody Nelson 60 run (Diego Rodriguez kick)
B — Dakota Adams 3 run (Rodriguez kick)
B — Adams 2 run (Rodriguez kick)
H — Carson Shoemaker 17 pass from Synek (Menke kick)
H — Nordby 5 pass from Synek (kick fail)
H — Braden Kalvelage 25 pass from Synek (kick fail)
B — Nelson 44 run (Rodriguez kick)
H — Shoemaker 49 pass from Synek (pass fail)
B — Rodriguez 27 pass from Nelson (Rodriguez kick)
H — Kalvelage 71 pass from Synek (pass fail)
B H
Rushes-yards 35-159 18-37
Passing yards 186 451
Comp-Att-Int 6-16-1 21-33-0
RUSHING — B, Bennett Crandall 4-2, Nelson 14-144, Adams 8-17, Jurgens 8-5, Burroughs 2-(-9). H, Synek 1-0, Weidner 5-8, Shoemaker 2(-4), Trevor Sullivan 10-41.
PASSING — B, Crandall 2-8-1 80, Burroughs 4-8-0 186. H, Synek 21-33-0 451.
RECEIVING — B, Adam Erikson 2-92, Rodriguez 2-90, Jurgens 1-70, Jace Pethoud 1-14. H, Austin Nauert 4-68, Gareth Jones, 2-27, Kalvelage 4-154, Shoemaker 8-171, Nordby 3-31.