Editor's note: The following story originally appeared in the May 15, 2010, edition of the Hastings Tribune. This is just one of a series of stories throughout Tribland's history that will be running while current sports events are on hold because of the new coronavirus, COVID-19. If you have an idea of a memorable sports story that previously ran in the Tribune, contact sports@hastingstribune.com and it may make it in a future edition.
OMAHA — Evan Price couldn't have picked a better time to score his first goal of the season.
The Hastings High sophomore midfielder gave the Tigers their first-ever lead at state less than nine minutes into Friday afternoon's first-round Class B boys state tournament game against Lincoln Lutheran and added another goal later in the first half, the Tigers' fourth of the game, to propel sixth-seeded Hastings to a dominating 4-1 win at Creighton's Morrison Stadium.
It's the first state tournament win in nine tries for the Hastings soccer program, including both boys and girls.
"It came at a great time," Price said. "Making it to the state tournament and getting two goals, it just feels really good."
With the win, the sixth-seeded Tigers (13-5) will play South Sioux City in the semifinals today at 8 p.m. in a rematch of Hastings' first-round state tournament game last year, a contest South Sioux City won 2-1 in a shootout. Second-seeded South Sioux City (15-0) advanced with a 1-0 win over Scottsbluff.
On Friday, it was all Hastings against the third-seeded Warriors (11-4).
Price got the Tigers on the board 8:31 into the game. After slipping to the ground, Price got up just in time to receive a cross from junior midfielder Rwendy Armendariz.
Price then booted the ball over the arms of Lincoln Lutheran goalkeeper Ethan Wachal into the top left of the goal.
"From my vantage point, he was in. And then when he went to trip ang got back up, I'm thinking he doesn't have a chance," HHS coach Mike Nanfito said. "Fortunately enough, he was already ahead of that defender and took a touch. It was a very solid goal, probably the second best goal that I've seen for us this season."
Hastings couldn't miss over the next 15 minutes, scoring three more goals to take a commanding 4-0 lead on Price's second goal of the game, 21:43 into the contest.
"They had 20 minutes of just phenomenal soccer," Lincoln Lutheran head coach Nathan Bassett said. "They passed and moved, and we stood. When you do that, you get beat 4-1."
The Tigers went ahead in the 13th minute on a free kick from just outside the penalty box by Luis Pedroza, his seventh goal of the season.
Armendariz then made it 3-0 19:41 into the game with his team-leading eighth goal of the year, off an assists on a free kick by Jeff Richardson.
Two minutes later, Price put the Tigers ahead 4-0 off an assist from Erick Espinoza.
"We just wanted to come out and show them how Hastings soccer plays," Price said.
Said HHS sophomore goalkeeper Brady Menke: "After the first one, I was like, 'Oh, that's a good start. I can deal with that. That's a one-goal lead.' Then we got the second one . And they kept getting more goals."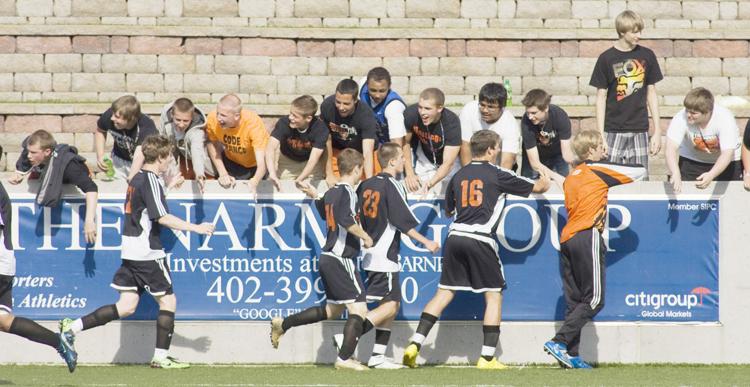 Price came into Friday's game with four assists but without a goal this season. Price said he nearly had a goal earlier this season, but the would-be goal was negated by an offsides call.
He did have one goal last year during his freshman season.
"As a player, from Evan's freshman year to his sophomore year, he has matured into a very good player," Nanfito said. "He's really found his own within himself and he's willing to commit to the team. He's done a great job in committing to the team."
Hastings truly was in control in the first half, never letting the Warriors get much of a serious threat during the first 40 minutes of the game.
"We were just dominating," Armendariz said. "That's probably the best finishing we've done all year. It's the best time to do it, at state."
Said Nanfito: "Coming out today, we just tried to be the aggressor. We knew a little bit about Lincoln Lutheran and we knew their style of play and how they played. They're a very good team. Fortunately enough, our boys showed up and gave a solid effort. It was a great first half of soccer."
The second half wasn't quite the same story.
The Warriors put the pressure on after intermission, getting their two best opportunities to score up to that point during the first 10 minutes of the second half.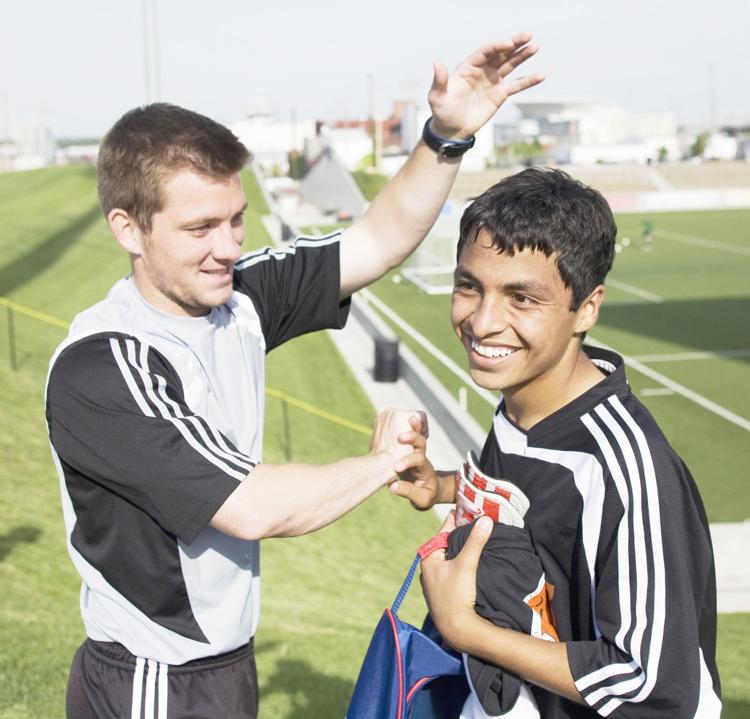 But Menke made a diving save on one of those and a jumping save the other time to keep the shutout in tact.
Lincoln Lutheran finally got on the board in the 60th minute on goal by Drew Eitzmann after a corner kick.
Menke and the Tigers defense, which has posted eight shutouts this season and came into the state tournament allowing less than one goal per game, made sure things didn't get interesting by holding Lincoln Lutheran without a goal over the final 20 minutes of the game.
"They had an opportunity maybe to score with about 12 or 13 minutes left that could have made the game 4-2," Nanfito said. "That last 10 minutes could have got really interesting for this type of atmosphere. Fortunately enough, we denied that opportunity."
Nanfito and his team came into Firday's game confident they couldn't manipulate some things the Warriors did and confident the Tigers could notch their first-ever state tournament win.
But Nanfito admitted he never could have envisioned his team jumping out to a 4-0 lead 22 minutes into the game.
"I felt in this game, it was going to need two goals to win it — just based on the style they play and what we were going up against," Nanfito said. "We found ways around their back four and through their midfield and created opportunities to score. The exciting part about that is we finished. We finished our chances."