LINCOLN — Making its first state tournament appearance since 2008 is a big deal for the Hastings volleyball team, and the girls knew it. Yet, HHS head coach Dave Hepner didn't see his players overwhelmed by the atmosphere. They didn't feel the moment was too big for them.
They did, however, run into a force to be reckoned with in the form of four-time defending champ Omaha Skutt. And the SkyHawks asserted their dominance early.
A 21-0 run to start the match showed that Skutt was not about to overlook the Tigers, as the SkyHawks dominated in every facet of them match en route to a 25-2, 25-5, 25-6 victory in the first round of the Class B state tournament.
"(Skutt is) four-time state champs for a reason; every position is solid, they don't have any weaknesses you can exploit. Those girls just make plays. They've been here before, they understand what to do. Our girls tried hard; I'm not going to take anything away from their effort. I didn't think we lost because of effort, we lost because they were better."
"I don't think we could have played a better game," said Skutt head coach Renee Saunders. "We served well, we passed well, we might have had a record for hitting efficiency. Everyone did their job well and that's what we've been focusing on. We came out ready to play."
The first point of the match initially appeared to go in the Tigers' favor when the SkyHawks' attack sailed over the end line. But as the Tigers were celebrating, the referees decided the ball was touched, awarding Skutt with the point. And so began the rout.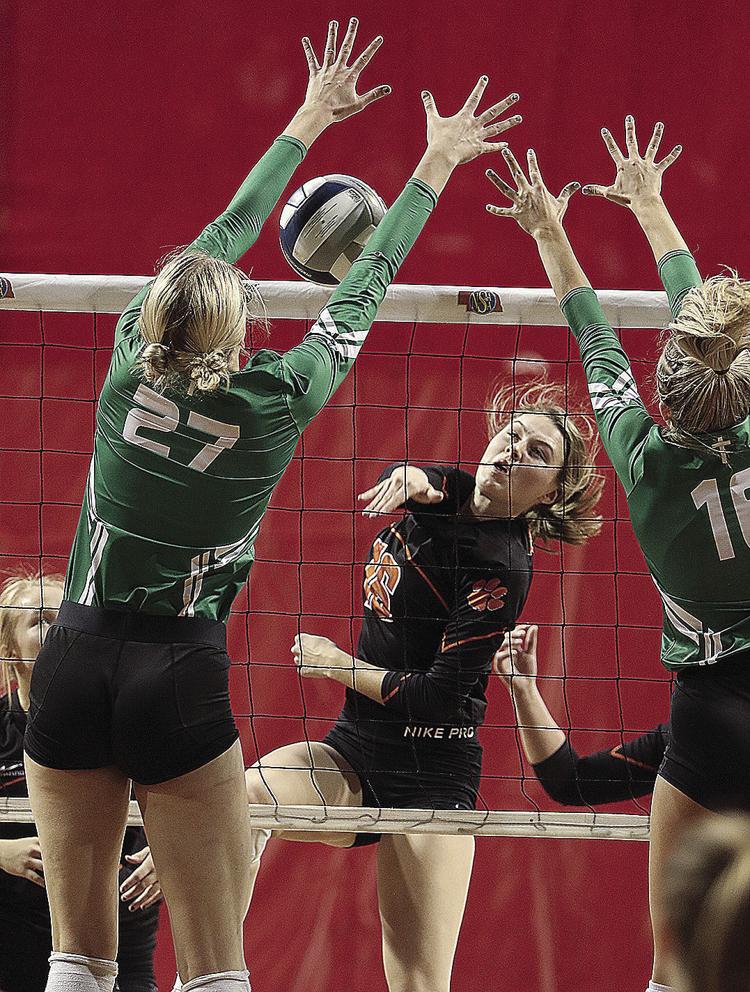 Omaha Skutt scored the first 21 points of the set before Hastings finally got its first point on a kill from Aubree Cress. Cress quickly got her second kill to make it 22-2, but the Skyhawks got the serve back and ended the set on back-to-back kills from Abby Schomers and Lindsay Krause.
"Everything that could go wrong did for us in that first set," Hepner said.
With a 25-2 score, many would assume a solid portion of those points came from errors. But, while Hastings may not have had its best set handling the ball, the Tigers only committed four hitting errors. Skutt was just dominant, racking up 15 kills, two aces and three blocks.
The second and third sets were much of the same. Skutt dictated point after point with its dynamic serving. The SkyHawks were diverse in their serves, successfully dropping in shots just over the net while also sending harder servers to all corners of the court. Hepner said their ability to place serves kept HHS from getting into any kind of a rhythm.
In all, Skutt finished with nine ace serves.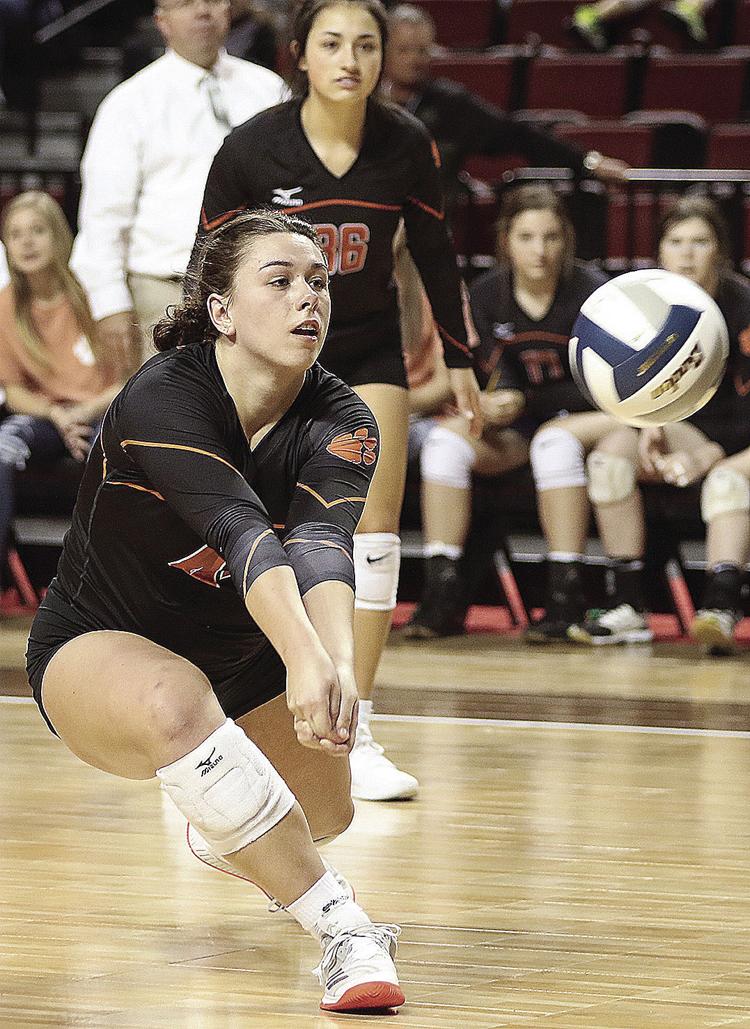 "We just didn't adjust very well to the short ball, adn they all can serve it short. They can drop it inside the 10-foot line, and we struggled with that all match," the coach said.
Another aspect that proved a great benefit for Skutt was its height. The advantage the SkyHawks had at the net was obvious, but even the Tigers' attempts to drop a shot on the back line proved difficult due to the reach of the Skutt back row.
"The balls that we tried to push deep, they just reached up and got them. Most teams we face, that's going to fall," the HHS coach said. "Overall, they're just better. They were hands down the best team on the court (Thursday). We didn't respond very well in our execution.
"I did like the fact that we didn't quit, that we had good attitudes. And I did like the fact that they were smiling at the end, even though it's painful and embarrassing at times when that happens."
Cress led Hastings with four kills on the night, while Dacey Sealey totaled eight assists. Lindsay Krause tallied a match-high 13 kills and Cameron Cartwright added 10. Megan Skovsende led the Skyhawks with five kills.
Omaha Skutt advanced to the semifinals, where it will face No. 5 Norris, which beat Platteview 25-14, 15-25, 27-25, 25-23. The matchup should be fun to watch, as the powerhouse SkyHawks will square off with one of the more talented players in the state, in Norris' Ella Waters, who has 368 kills on the season.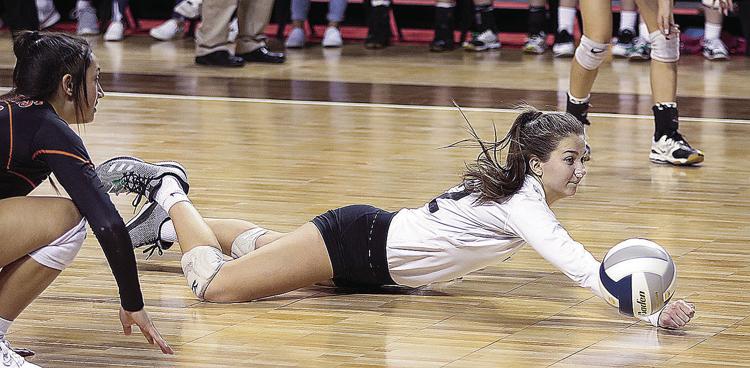 According to the NSAA state tournament history records, the Tigers 13 points are the fewest ever scored by a team in a state tournament match since the adoption of rally scoring. The loss also keeps HHS winless at the state throughout the program's history.
There' no question the Tigers were hoping for a better showing at the state tournament, but Hepner says Thursday's loss in no way diminishes all that the team accomplished this season.
"I didn't think at the beginning of the year we would have a chance to be here. I even told the girls if we would have went .500 I would have been shocked, to be honest with you," Hepner said. "Watching this summer and the things were, we were rough. We were all over the place and didn't have any consistency in our game. They battled through it and it was super neat to see them accept their new roles."
Winning 21 games and a district final for the team's first state tournament berth since 2008 still leaves this Tigers' year a success. Hepner said the senior class did a good job of being leaders for the underclassmen. He said their contributions on and off the court will be missed.
"They're going to be missed, all four of them," the coach said. "I was glad I had the chance to coach them, I really was."
Hastings..........2 5 6
Omaha Skutt...25 25 25
Hastings (kills-aces-blocks)
Dacey Sealey 0-0-0, Brooke Aspen 2-0-0, Haley Schram 4-0-0, Hayden Stephenson 0-0-0, Carley Norlen 0-0-0, Aubree Cress 1-0-0, Emma Estrada 2-0-1, Maddie Hilgendorf 0-0-0, Katelyn Shaw 0-0-0, Emma Markle 1-0-0. Totals: 10-0-1.
Assists — Sealey 8, Cress 1.
Omaha Skutt (kills-aces-blocks)
Allie Gray 3-1-4, Lindsay Krause 13-0-1, Cameron Cartwright 10-0-0, Megan Skovsende 5-5-0, Bre Skala 0-0-0, Erica Fenn 0-0-0, Abby Schomers 3-0-1, Ava Heyne 8-0-0, Lauren Diederich 0-3-0, Grace Werner 1-0-0. Totals: 41-8-5.
Assists — Gray 32, Skala 1.