The Hastings High Tigers (6-5) won a hard fought battle against the Aurora Huskies (1-8) with a stellar performance in the rebounding department Tuesday night.
The Tigers out rebounded the Huskies 39-15 on their way to a 29-18 victory. HHS pulled down 15 rebounds on the offensive side of the ball with junior Lauren Hinrichs grabbing nine of them.
"I thought Lauren Hinrichs bailed us out with a bunch of big rebounds," said Tigers head coach Greg Mays. "She put some shots in there at the end that really helped us down the stretch, too."
The Tigers started the game on an 8-0 run getting four points from sophomore Maddie Hilgendorf. The Tigers held the Huskies scoreless for the first seven minutes of the game to take an 8-2 lead after one quarter of play.
Hinrichs scored the only points of the second quarter for the Tigers on a basket and a free throw. But again, the Tigers were able to hold the Huskies to just two points as they took an 11-4 halftime lead.
"Defensively I thought we were really solid," said Mays. "I know that's a team that's trying to find their confidence and you have to not let them find it against you and I thought we did a good job."
Sophomore Kaitlyn Laux connected from beyond the arc midway through the third quarter to extend the Tigers lead to 10 points. Late in the quarter, Hinrichs finished an old fashioned three-point play for the Tigers. But the Huskies got the last score of the frame by sophomore Rylee Olsen to cut the Tigers lead to just eight points. The Tigers held onto an 18-10 lead with one quarter left to play.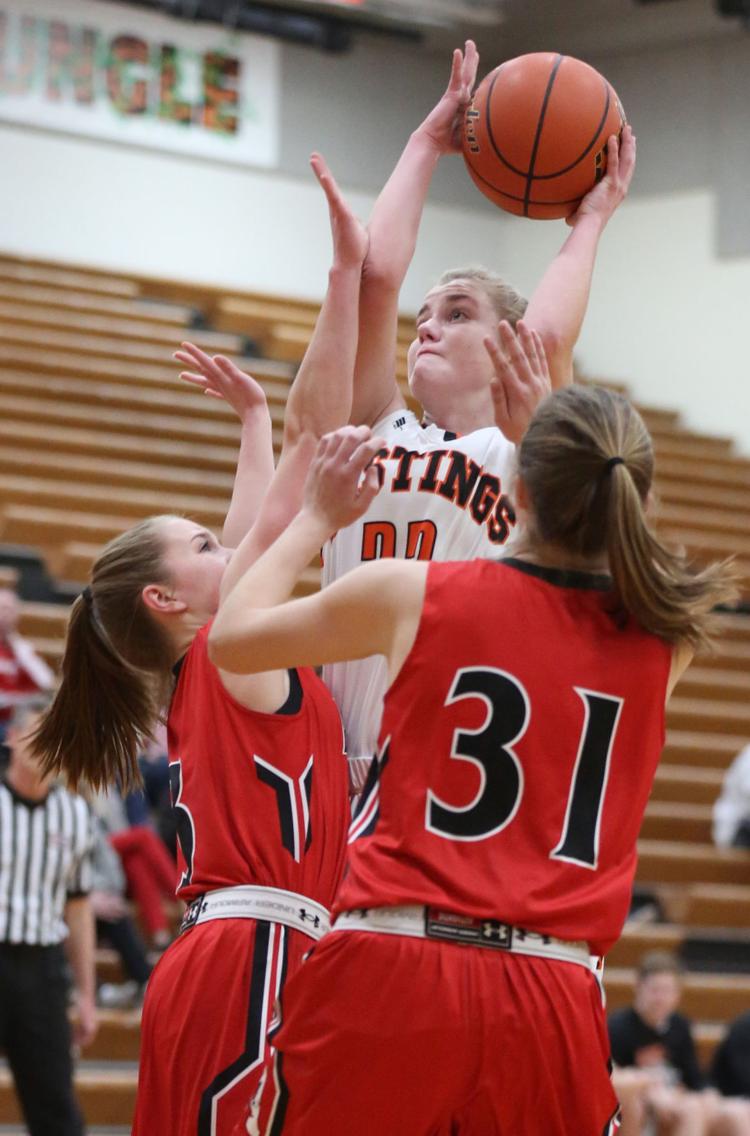 Hinrichs scored a basket for the Tigers, along with a pair of free throws from sophomore McKinsey Long, to give them a 22-10 lead with just over five minutes left to play.
The Huskies scored eight straight points, cutting the Tiger lead to six points with 2:15 left to play. Long finished the game going 3-for-4 from the charity stripe for the Tigers to give them a 29-18 victory
"We kind of had to survive," said Mays. "I don't think it was a night that we played poorly offensively, we just didn't make baskets. I thought we had a lot of good shots, and when you're not making shots the first answer is OK let's go get some offensive rebounds. We got the offensive rebounds and we missed those, too, but they stayed with it and got the job done."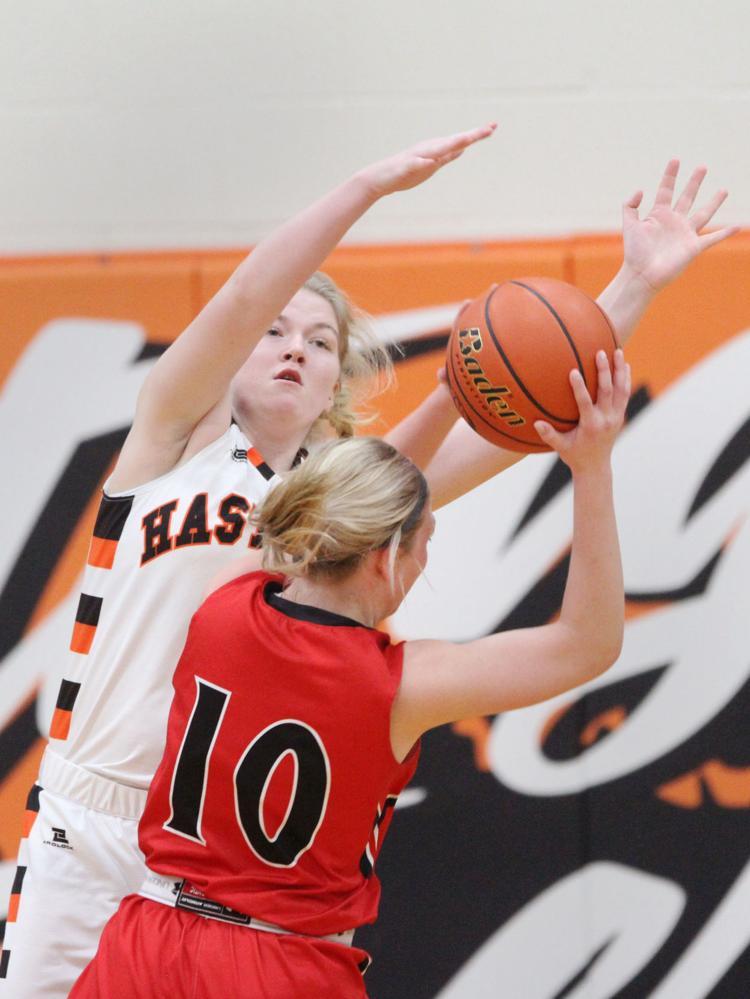 Hinrichs lead all scorers with 13 points and also grabbed 13 rebounds for the Tigers. Long added eight points for the Tigers and Hilgendorf pulled down nine rebounds.
Aurora.....................2 2 6 8 — 18
Hastings................8 3 7 11 — 29
Aurora (18)
Raina Cattau 1-6 0-0 2, Paxtyn Dummer 0-4 0-0 0, Emily Erickson 1-3 2-2 4, Kassidy Hudson 1-3 0-0 2, Cassidy Knust 1-12 0-2 3, Rylee Olsen 1-7 0-1 2, Jaylee Schuster 0-4 0-0 0, Kasey Schuster 1-1 3-4 5.
Hastings (29)
Maddie Hilgendorf 1-2 2-4 4, Daelene Hinrichs 0-1 0-0 0, Lauren Hinrichs 5-10 2-3 13, Kaitlyn Laux 1-9 0-0 3, McKinsey Long 1-9 6-11 8, Daley Sealey 1-6 0-1 2.
Three-point field goals: Aurora 1-11 (Cattau 0-1, Dummer 0-2, Knust 1-8) Hastings 1-7 (Laux 1-5, Long 0-1, Sealey 0-1).