KEARNEY — The Nebraska wrestling state duals tournament's inception was in 2013, and since then, Hastings has qualified four times, with last year's third-place finish being its best.
Year after year, the Tigers' expectations grew, so much so that last season's bronze medal wasn't good enough. Hastings is at the point where gold is the only acceptable outcome.
It's very easy to say that the Tigers were more than satisfied with Saturday's outcome.
Hastings fended off a pesky Bennington team in the semifinals and trounced Pierce in the finals to take home its first state dual tournament championship.
"It feels great. It's been a long time coming," said Hastings head coach Nolan Laux. "We knew coming in that dual team-wise we were going to be really solid. Obviously, we believe we're a solid tournament team, too, but we knew that a dual tournament would be a good format for us."
"It feels amazing to finally get this done after so many years of 'coulda-woulda-shoulda.' It feels nice to finally get it done," said Hastings senior Damen Pape.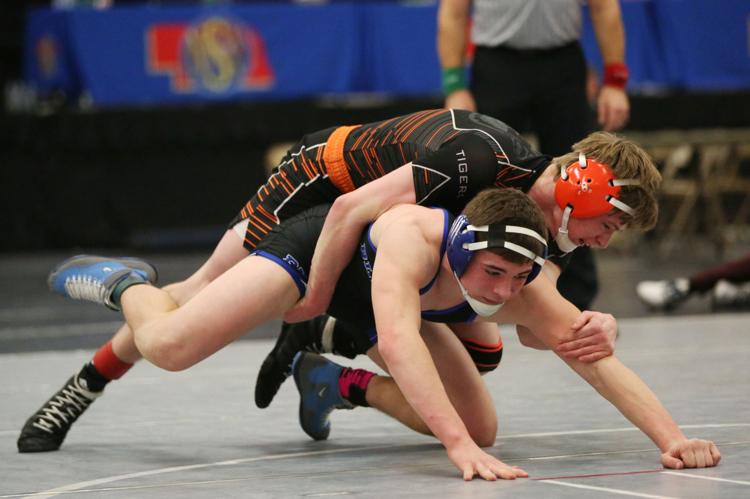 The Tigers' senior class has been one win shy of reaching the finals each of the previous two state duals tournaments, falling in the semifinals each year. And this year, it was the semifinals that once again proved to be the biggest challenge for Hastings.
The Tigers quickly fell behind 12-0 in the first two matches, as Bennington let Hastings know the Badgers meant business.
HHS' 126-pounder Landon Weidner notched a pin and Bryce Brown (132) earned an 11-5 decision to pull within three points, but Bennington added back-to-back decisions to take an 18-9 lead. In the seventh match of the dual, Mason Brumbaugh won the 152-pound bout 10-0. His major decision cut the Bennington lead to 18-13 and sparked a run of four straight wins for the Tigers.
"I was just trying to get the right momentum started. Duals are so momentum based, if I can win, the next guy can win and we can start to snowball," Brumbaugh said.
Hastings' Brayden Lockling gave the Tigers a big boost when he was inserted into the lineup at 160 pounds. He pinned Joseph Wells in just 50 seconds and gave Hastings its first lead of the dual at 19-18.
"Brayden Lockling at 160 really stepped up big time. I think that really turned it all around… that really got the momentum going."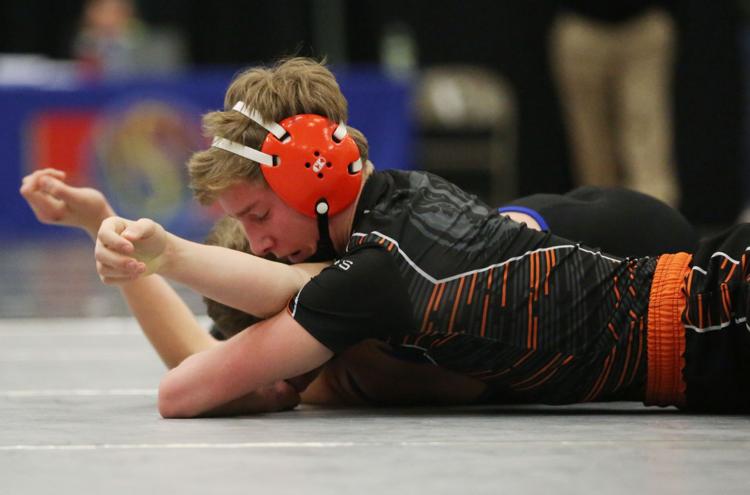 Lockling coming through at 160 allowed Laux to move Izaak Hunsley up to 170, where he earned a major decision which put HHS up by five. With the momentum beginning to swing to the side fo the Tigers, their most decorated wrestler came through in perhaps the most pivotal match of the tournament.
Pape, ranked No. 1 at 182 pounds, stepped onto the mat to square off with the second-ranked wrestler in the class, Luke MacDonald. MacDonald tried to get the jump on Pape, shooting for the takedown right away, but Pape willed his way out of a potentially compromising position to avoid the takedown. And then he went to work.
"He caught me off guard, definitely. That was almost the first takedown I've given up in two years," Pape said.
"I think he kind of caught him off guard at first, but I wouldn't want to make that guy mad," Laux said with a smile. "He was a great leader for us."
Pape went after MacDonald with a vengeance, taking a lead after the first period and pinning the Badger just 23 seconds into the second. Pape let out a few emphatic roars after the victory and was hyped when he got back to the team's bench — a reaction rarely, if ever, seen from him.
"I swear, that was not Damen wrestling. I was hyped up for some reason. I never celebrate like that. It felt nice, obviously," Pape said.
The impressive victory gave the Tigers a 29-18 lead. Bennington cut the advantage to 29-22, but Blake Davis (220) and Josh Callejas (285) both came through with pins to clinch the dual and a trip to the finals.
"We knew Pierce had some solid individuals and we just made sure just because we beat Bennington we didn't doubt Pierce. They had some guys that pushed us. We just wrestled really well in that dual," Laux said.
"We knew once we got through Bennington, we could keep it going. We were pretty pumped for this final dual. We just wanted to get it done," Brumbaugh added.
Hastings didn't slow down in the championship dual. The Tigers won six of the first seven matches and jumped out to a commanding 30-6 lead. Pierce got a pin at 170 pounds, but the Bluejays left 182 pounds open, as Pape accepted the forfeit. Evan Morara's pin at 195 pounds clinched the dual and the championship for the Tigers.
The championship is Hastings' first team wrestling title of any kind since 1988. That year, HHS won the individual tournament championship, which is still a goal for this year's squad.
"Hastings wrestling has been competing for this for a very long time. We've had teams in the past five or six years that could compete for this and just couldn't get the job done. This is a special team right here," the HHS coach said. "This is awesome, but we're not done. We've got two more: we've got districts…and then the state tournament. That individual state tournament is like this, something we've been shooting for, for a long time. This is great; this is awesome, but we want one more."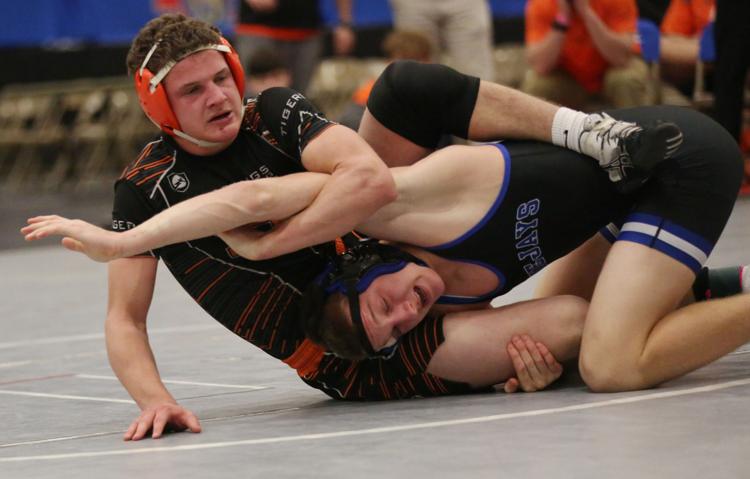 "We know this is a great accomplishment, but everyone cares about the one in two weeks. We just have to qualify as many as possible and make sure we can get it done in two weeks as well," Brumbaugh said.
Hastings will travel to Blair for its district tournament.
"Our main focus is to get everybody to the state tournament and not leave anybody behind, so we can all be a part of it again," Pape said.
Adams Central
The Patriots went into the tournament as the No. 2 seed, but a heartbreaking loss in the first round set Adams Central up for a disappointing day.
AC opened the day's first dual with a 57-second pin from Tristen Obermiller, but the Patriots quickly found themselves in a hole after that. The Bulldogs won five of the next six matches to take a 23-9 lead over Adams Central.
Gering extended the lead to 33-13 with just four matches remaining, leaving AC praying for a miracle. It appeared those prayers were answered, as the Patriots scored 21 points over the next four bouts, getting pins from Oaklyn Smith, Sam Hemberger and Jacob Deckert. But tragedy struck when a penalty for unsportsmanlike conduct docked the Patriots a point, leaving both teams tied at 33-apiece.
There are a list of criteria that are used to determine a winner in the event that a dual ends in a tie. The officials didn't have to go very far down the list of criteria before finding a winner, as the first tiebreaker declared Gering the victory.
Adams Central dropped to the consolation bracket where it faced off with sixth-seeded Blair. The dual had a similar start, with AC jumping ahead early and the Bears controlling the middle weights. But this time, there was no rally from the Patriots, as they fell 40-22, ending their state duals tournament.
This was the third year Adams Central has qualified for the duals tournament. AC will look to rebound and end the season on a more positive note, by qualifying as many wrestlers it can at the district meet.
Minden
The Whippets were up against an insurmountable challenge in the first round as the No. 8 seed. Minden faced off with No. 1 Hastings, and the Tigers won 11 of the 14 matches, seven of which were won via pin. The Whippets fell 61-18 in the dual. Evan Smith, Alex Banuelos and Jaron Brown all earned victories for Minden.
The Whippets dropped their second match to Central City 51-30. Smith and Banuelos both earned wins in the dual to finish the day 2-0.
First round
Gering 34, Adams Central 33
106 — Tristen Obermiller, AC, pinned Marquel Maldonado, Ger; 0:57
113 — Quinton Chavez, Ger, dec. Braiden Kort, AC; 4-3
120 — Paul Ruff, Ger, pinned Tristin Klinger, AC; 0:44
126 — Tyler Nagel, Ger, tech fall Devon Ackles, AC; 15-0
132 — Nathaniel Murillo, Ger, pinned Kayleb Saurer, AC; 3:06
138 — Jeret Frerichs, AC, dec Albert Stone, Ger; 7-5
145 — Nate Rocheleau, Ger, dec. Cameron Kort, AC; 8-2
152 — Jackson Johnson, AC, maj. dec. Collin Schwartzkopf, Ger; 9-0
160 — Donovan DeLosSantos, Ger, pinned Jaxen Gangwish, AC; 2:46
170 — Jacob Awiszus, Ger, maj. dec. Blake Bonifas, AC; 17-6
182 — Oaklyn Smith, AC, pinned Dilan Lopez Ruiz, Ger; 2:36
195 — Sam Hemberger, AC, pinned Andrew Mount, Ger; 4:45
220 — Jacob Deckert, AC, pinned Iziah Blanco, Ger; 0:52
285 — Tyler Pavelka, AC dec. Tucker Hixon, Ger; 4-0
Hastings 61, Minden 18
106 — Markus Miller, HHS, pinned Kole Nielsen, Min; 0:26
113 — Hunter Anderson, HHS, pinned Jayson Simpson, Min; 3:23
120 — Evan Smith, Min, pinned Dalton Hansen, HHS; 5:26
126 — Landon Weidner, HHS, maj. dec. Hunter Heath, Min; 12-4
132 — Bryce Brown, HHS, tech fall Jon Brais, Min; 16-1
138 — Austin Yohe, HHS, pinned Jasper Birkestrand, Min; 0:39
145 — Jett Samuelson, HHS, pinned Gage Fries, Min; 3:24
152 — Alex Banuelos, Min, pinned Tony Perez, HHS; 2:34
160 — Izaak Hunsley, HHS, maj. dec. Eduardo Gonzalez, Min; 12-1
170 — Jaron Brown, Min, pinned Jacob Lopez, HHS; 2:50
182 — Damen Pape, HHS, pinned Daulton Kuehn, Min; 0:31
195 — Evan Morara, HHS, pinned Jordan Cole, Min; 0:51
220 — Blake Davis, HHS, pinned Alex Quintana, Min; 0:37
285 — Josh Callejas, HHS, won by forfeit
Consolation semifinals
Blair 40, Adams Central 22
113 — Braiden Kort, AC, pinned Luke Frost, Bla; 0:58
120 — Devon Ackles, AC, pinned Shay Bailey, Bla; 2:26
126 — Tyler Curtis, Bla, pinned Konnor Howard, AC; 4:38
132 — Brody Karls, Bla, dec. Kayleb Saurer, AC; 6-5
138 — Hank Frost, Bla, SV Cameron Kort, AC; 2-0
145 — Dylan Berg, Bla, pinned Jeret Frerichs, AC; 5:29
152 — Jackson Johnson, AC, UTB Duncan Leoges, Bla; 3-2
160 — Treyton Jones, Bla, pinned Blake Bonifas, AC; 1:59
170 — Oaklyn Smith, AC, dec. Yoan Camejo, Bla; 8-4
182 — Braden Hanson, Bla, pinned Wyatt Janssen, AC; 1:50
195 — Dexter Larsen, Bla, maj. dec. Sam Hemberger, AC; 16-5
220 — Lance Hume, Bla, dec. Jacob Deckert, AC; 4-3
285 — Brady Soukup, Bla, UTB Tyler Pavelka; 4-3
106 — Tristen Obermiller, AC, maj. dec. Jesse Loges, Bla; 13-5
Central City 51, Minden 30
113 — Cole Kunz, CC, pinned Jayson Simpson, Min; 1:57
120 — Evan Smith, Min, pinned Brandon Fye, CC; 0:53
126 — Dyson Kunz, CC, pinned Jesse Gruber, Min; 1:44
132 — Hunter Heath, Min, pinned Johnny Scarlett, CC; 3:20
138 — Kane VonBonn, CC, maj. dec. Jasper Birkestrand, Min; 12-4
145 — Tanner Schneiderheinz, CC, pinned Gage Fries, Min; 2:00
152 — Alex Banuelos, Min, pinned Bryce Sutton, CC; 3:31
160 — Sam Moore, CC, pinned Eduardo Gonzalez, Min; 3:51
170 — Jaramie Elton, CC, pinned Jaron Brown, Min; 5:32
182 — Daulton Kuehn, Min, pinned Micah Loy, CC; 1:34
195 — Jordan Cole, Min, pinned Kyle Dittmer, CC; 1:57
220 — Nik Erickson, CC, pinned Alex Quintana, Min; 1:37
285 — Gunner Bailey, CC, won by forfeit
106 — Drew Garfield, CC, pinned Kole Nielsen, Min; 1:13
Semifinals
Hastings 41, Bennington 28
113 — AJ Parrish, Ben, pinned Hunter Anderson, HHS; 3:47
120 — Hunter Anderson, Ben, pinned Dalton Hansen; 1:29
126 — Landon Weidner, HHS, pinned Austin Breckenridge, Ben; 1:00
132 — Bryce Brown, HHS, dec. Matthew Coe, Ben; 11-5
138 — Robert Greenwood, Ben, dec. Austin Yohe, HHS; 4-2
145 — Colby Puck, Ben, dec. Jett Samuelson, HHS; 4-2
152 — Mason Brumbaugh, HHS, maj. dec. Connor Brecht, Ben; 10-0
160 — Brayden Lockling, HHS, pinned Joseph Wells, Ben; 0:50
170 — Izaak Hunsley, HHS, maj. dec. Logan Burmester, Ben; 11-1
182 — Damen Pape, HHS, pinned Luke MacDonald, Ben; 2:23
195 — Garrett Menke, Benn, maj. dec. Evan Morara, HHS: 12-1
220 — Blake Davis, HHS, pinned Hunter Thompson, Ben; 3:08
285 — Josh Callejas, HHS, pinned Jake Stier, Ben; 1:00
106 — Kael Lauridsen, Ben, won by forfeit
Finals
Hastings 54, Pierce 24
120 — Jayden Coulter, Pier, pinned Dalton Hanson, HHS; 1:24
126 — Landon Weidner, HHS, tech fall Blake Bolling, Pier; 15-0
132 — Bryce Brown, HHS, pinned Ashton Koch, Pier; 1:24
138 — Austin Yohe, HHS, pinned Jeremiah Kruntorad, Pier; 3:49
145 — Jett Samuelson, HHS, dec. Michael Kruntorad, Pier; 9-8
152 — Mason Brumbaugh, HHS, maj. dec. Ashton Schweitzer, Pier; 16-7
160 — Izaak Hunsley, HHS, pinned Zander Schweitzer, Pier; 2:32
170 — Brett Tinker, Pier, pinned Jacob Lopez, HHS; 1:06
182 — Damen Pape, HHS, won by forfeit
195 — Evan Morara, HHS, pinned Travis Jensen, Pier; 0:39
220 — Dyland Kuehler, Pier, pinned Blake Davis, HHS; 4:59
285 — Josh Callejas, HHS, won by forfeit
106 — Markus Miller, HHS, won by forfeit
113 — Brock Bolling, Pier, won by forfeit