Growing up, Evan and Grant Johnson both pushed each other to be better in a myriad of activities. As they got older, Evan became more keen on football while Grant found himself more comfortable in the pool.
But on Wednesday, both Adams Central student-athletes signed their letters of intent to continue their athletic careers at the next level. Grant will be swimming at Drury University — an NCAA Division II school in Springfield, Mo. — and Evan will be a quarterback at Nebraska Wesleyan.
Not every gets to enjoy the opportunity to play at the collegiate level, but the Johnson family is excited for the future and proud of the hard work it took to get there.
"I'm really proud of (Grant). He's really worked extremely hard to get to where he's at. It says a lot that we can push each other to be better; even though we're not in the same sports, we're both really competitive in every thing we do," Evan said.
"Even though we're not going to college to play the same sports, we both played football, we both swam for years, and we've just been able to push each other athletically," Grant said.
In the pool, Grant is a state medalist and one of the top swimmers for the Hastings swim team. Evan has been a four-year starter at quarterback for the AC football team and led the Patriots to the state semifinals this year.
Like most brothers, Evan and Grant were very competitive with one another growing up. It didn't matter the sport or the activity, neither wanted to lose to the other. That competition is part of what makes both athletes so successful in their respective sports.
"No matter what the sport was or the activity was, there was always a want to be better than him, and he wanted to be better than me. Really, you don't want to let your brother to be better than you in anything," Evan said with a laugh. "That kind of fueled the competition. Even though we're really competitive, we have the utmost respect for each other. At the end of the day, we're brothers, we're family. It's all really special."
Both brothers grew up competing in both swimming and football. Grant stopped playing football after seventh grade while Grant stopped competing in the pool before high school. But both spent a year back in the pool and on the field during their tenure at Adams Central.
"I quit football after my seventh grade year and took multiple years off and then finally came back to it last year," Grant said. "It was mainly for fun and to be with friends, but it was also some good cross training. It was some good workouts."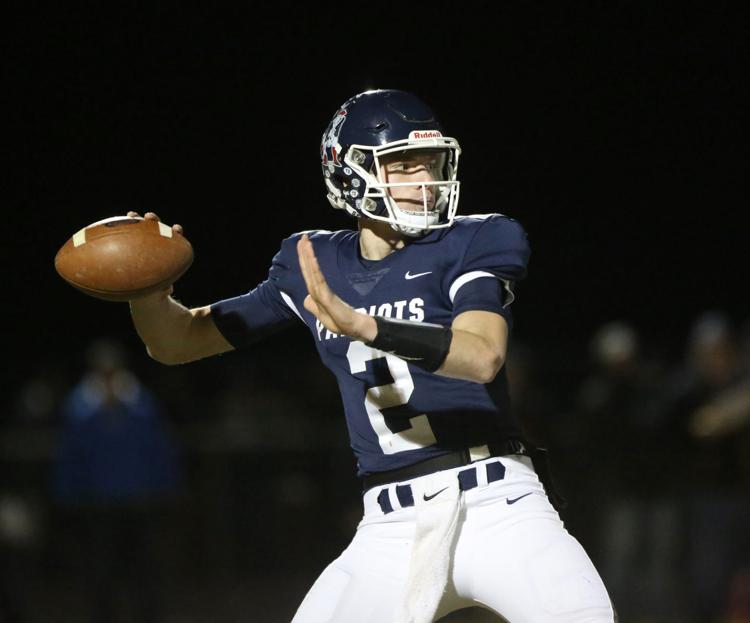 "Coming back and doing a sport with your brother is another incentive to try something different. It's always fun to compete like we had growing up through elementary school and into junior high and then continue that in high school."
Drury is one of the top swimming teams in the country right now in Division II, coming in at No. 2 in the current rankings. Grant said he thought about going to Nebraska Wesleyan until his visit to Springfield.
"It's a relatively small school for D-II, but they have a tremendous swim program," Grant said. "It was also the great academics they have to offer there. They have really good pre-health programs, which is what I'm going into."
Evan had several offers from all levels of the collegiate football landscape. Ultimately, the standout QB decided playing for the Prairie Wolves is where he wanted to be.
"It really came down to the overall fit in the college," said Evan, who is also going into pre-medicine. "The offense they run really fits my skillset as a quarterback. I just really felt at home when I was on my visit. And both my parents went to Wesleyan, so I was already exposed to the school a little bit and that definitely helped my decision."
At one point, Nebraska Wesleyan was an option for both Grant and Evan, but the two had not really talked about what it would be like if both of them went to the same college.
"We never really talked about it, as far as what it'd be like if we were at the same college. We both did our own research on the schools we were interested in, and it played out from there," Evan said.
Evan said it was a relief when he finally made his decision, back in December, after the season had ended. As for Grant, he'll get to finish the rest of the swimming season without having to worry about where he's going to college.