With a volunteer force of Bristol Station residents, Pacha Soap has started toward its goal of filling 18,000, 12-ounce bottles of hand sanitizer as part of the company's "We Got This" initiative.
Pacha is giving hand sanitizer to organizations on the front line fighting the novel coronavirus, or COVID-19. Pacha received assistance from local businesses such as Thomsen Oil, Kelly's Supply, Sapp Brothers, J&M Steel and Krueger Contracting to make the hand sanitizer operation a reality.
"It's pretty cool to see Nebraska businesses and people come together to solve a problem," Pacha founder Andrew Vrbas said. "It's what we're good at in the Midwest."
Pacha is asking for $100 donations to the Hastings Community Foundation for each 30-bottle case as a way to kick-start the foundation's Give Day effort.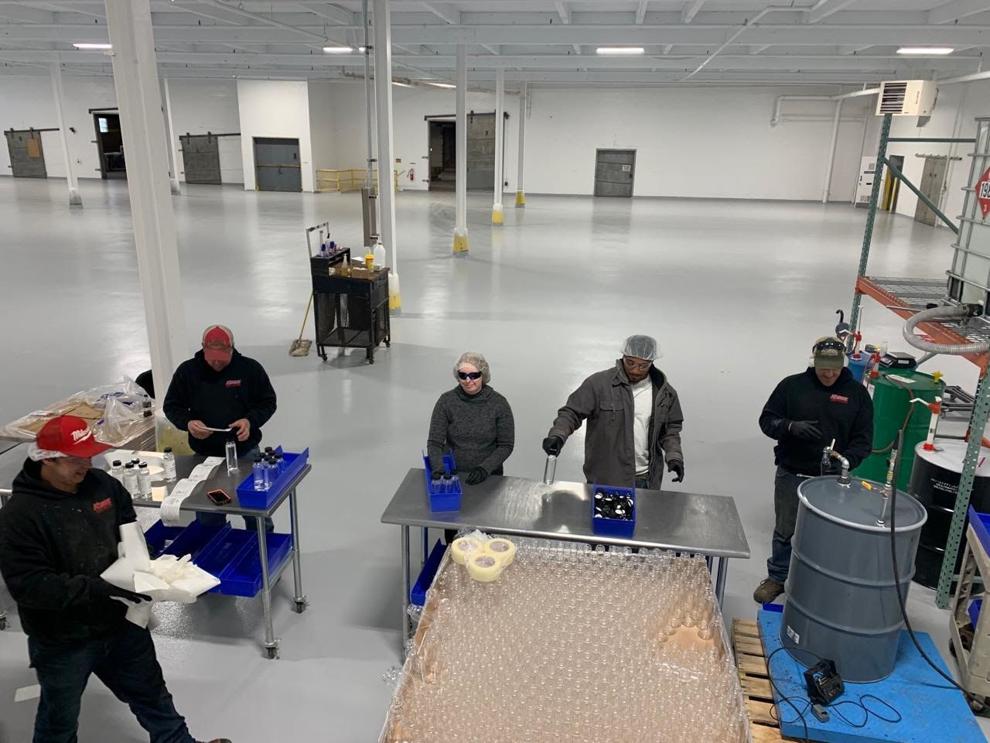 "It's been sweet," Vrbas said. "Hastings, the whole town, anybody I've called, talked to — these guys have called and talked to — every single person has rallied around making this happen."
Pacha's volunteer force of Bristol Station residents started making hand sanitizer Thursday afternoon after receiving ethanol, filling about 900 bottles Thursday afternoon and Friday.
Seth Krueger, owner of Krueger Contracting, which served as general contractor for Pacha's move into the former Bimbo Bakery, as well as the initiative to produce hand sanitizer, has used Bristol Station residents for past construction projects, as well.
"They're hard workers," Vrbas said. "Working with them and Seth has been really cool, and they're volunteering their time, too. It's neat to see."
Krueger came into the former bakery to remove 40,000 pounds of steel out of the building for J&M Steel, which led to Krueger Contracting becoming the general contractor for the project to renovate the former bakery for Pacha.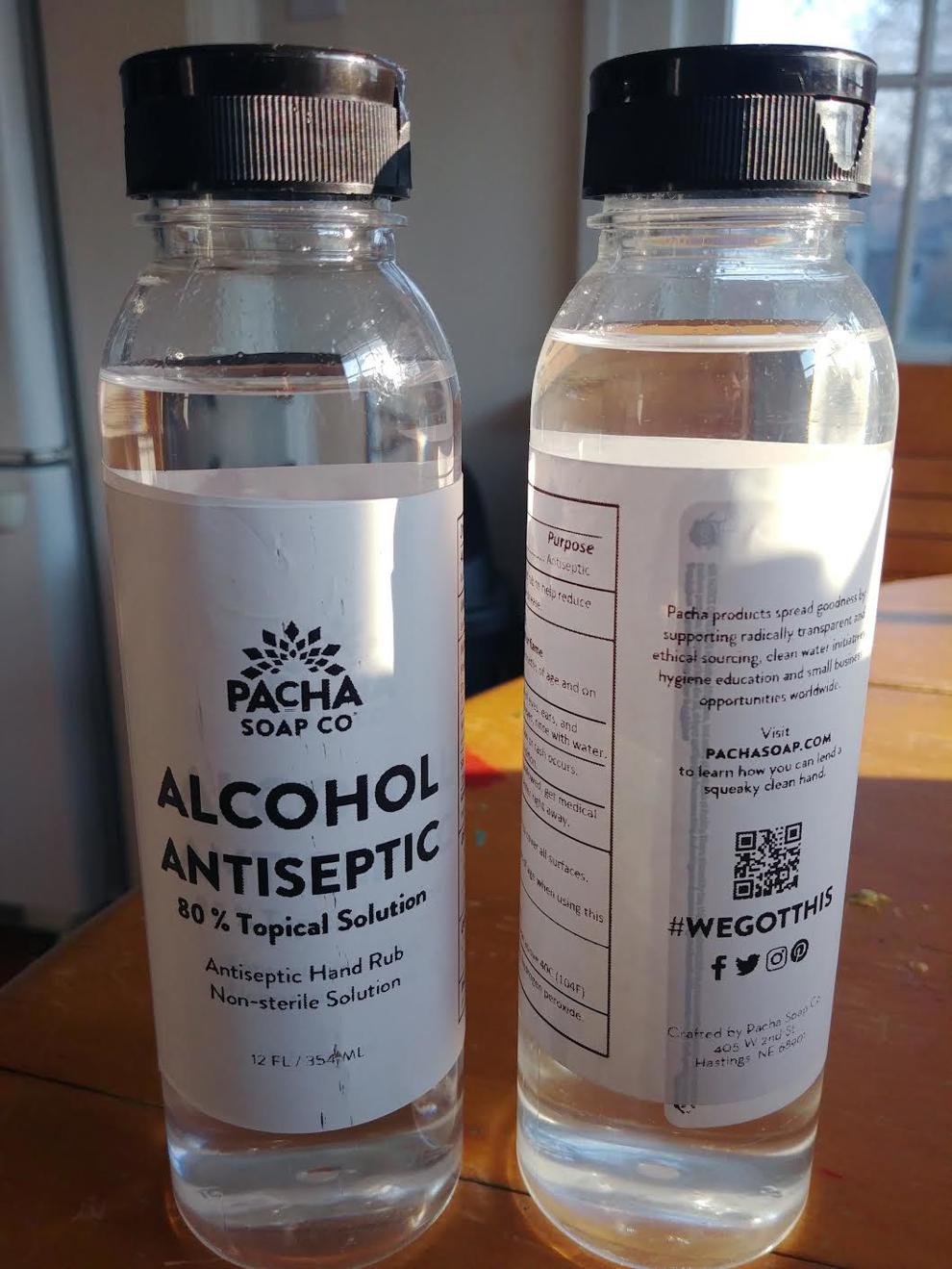 Krueger Contracting, as well as the Bristol Station residents working on the project, donated their time to mix and bottle hand sanitizer.
Bristol Station is a residential re-entry center that reintegrates state probationers and parolees back into society.
"I think it's a great opportunity for our residents to be involved in this endeavor," said Angela LaBouchardiere, Bristol Station executive director. "I know they are very anxious to give back to the community and I think this is a way they are able to do that."
Several Bristol Station residents already had been working for Krueger Contracting.
"He's done a great job reaching out to us and understanding our population. They want to work and they are good workers," LaBouchardiere said. "I think (Seth Krueger) has found some value in that. Just with the other contractors, and even with Pacha Soap itself, they've seen the work ethic and the positive outlook our residents have when they are working. I think they've really been able to capitalize and utilize our residents."
Bristol resident Shaq Falcon said it's been a good opportunity to help make sanitizer.
"It's been fun, honestly," he said. "I didn't know what all went into the hand sanitizer. It was a good learning experience and fun."
Bristol resident Mike Etherington said it has been an easy and smooth process.
"I think it's great," he said. "We're helping our local communities and giving a positive impact of our life."
Bristol resident Adam Sowl said it has been a fun process to work all day making and bottling hand sanitizer.
"It really opens your eyes to see how much we're in need right now during this whole crisis we're going through," he said.
LaBouchardiere said Bristol Station hasn't taken the COVID-19 pandemic lightly.
"We understand we're in a unique situation having a residential facility where people are in close contact," she said. "So several weeks ago we put protocols into place that limited community movement to work, court appointments and medical appointments only."
Bristol Station implemented screening procedures — including temperature taking and monitoring symptoms — for each resident who moves in and out of the facility as well as for those who don't go anywhere.
"In the event that we have someone demonstrate symptoms, which we haven't had anyone, we've got contingency plans in place to ensure the safety of our residents, staff and the community," LaBouchardiere said.
Bristol Station is in regular communication with health care agencies and health department about what is the best procedure and protocol to keep everyone safe and healthy.
Roger Shore, who retired a few years ago from his position as president and CEO of Marmon Energy Services, part of Berkshire Hathaway, has been an adviser for Pacha. He and his wife, Cyndy, own the former bakery building. The Shores offered to buy and refurbish the factory. He got involved with Pacha through a friend's Chicago-based venture capital fund.
The Shores are living in Hastings while Pacha gets its operation in the former bakery up and running.
"I can't say enough about Pacha," Roger said. "I can't say enough about Andrew Vrbas and (Pacha Chief Operating Officer) Jeremy Hansen and the people that make that run."
As much as Pacha has grown during Shores' involvement with the company, he said he is most impressed by Pacha's mission —giving back into the farm base, reinvesting back in its source farms.
"Now that we're in a crisis, Andrew has stepped up and purchased the raw materials, Seth and I have put together a production line," he said. "It's been volunteer labor from there. There's no intent to sell one bottle of these 18,000 bottles we intend to make here."
He said the nearly 100,000-square-foot former bakery has come to be known as the Pacha Plant as a nod to all the worldwide small farms that supply Pacha with ingredients for soap. Krueger and his volunteer force tore up half an acre of asphalt parking lot to be used as a garden.
"I never would've thought you could tear up asphalt and plant a garden, but they just did it," Vrbas said.
The U.S. Food and Drug Administration recently relaxed regulations on the types of alcohol that can be used to make hand sanitizers during the shortage caused by the coronavirus pandemic, including the use of ethanol that ordinarily would have become fuel.
Shore believes Pacha is the first company to use ethanol to make hand sanitizer, denaturing it with isopropyl alcohol.
"For us to be able to denature it here and cut those regulations — we talked about it here and Andrew started making phone calls and the governor was very responsive," he said.
Pacha happened to have 18,000 cylindrical 12-ounce bottles in stock.
"Now the issue is availability of plastic containers, a crazy shortage of plastic containers," Vrbas said. "We just happened to have these and we were not going to use them. We're going to fill these 18,000 bottles."