CLAY CENTER — On April 14, the Sandy Creek Board of Education had a special meeting to transfer ownership of the old Clay Center ballfields to the city.
Julie Otero, superintendent of South Central Nebraska Unified School District No. 5, explained why the school gave up the property.
"The city has been taking care of the area for a long time maintenance-wise, and since the the school is no longer there they thought they could utilize it for the city," she said. "They thought they could utilize the land. So we had to get our legal counsel involved because over the years, the building was added onto, streets were not closed that were officially not closed."
"There were a lot of legal stuff that had to be done before we were able to get that accomplished. And one of the things is that it is going from one non-tax entity to another is why we were able to do that."
The Clay Center School District closed its high school in 2009 and joined the Sandy Creek and Lawrence-Nelson school districts as part of South Central Nebraska Unified School District No. 5 in 2010. Later, the Clay Center local school district merged with the Sandy Creek local district, so the Clay Center School District no longer exists as such, and what once was its property now belongs to Sandy Creek.
USD No. 5 operates the school system for both the Sandy Creek and Lawrence-Nelson local districts.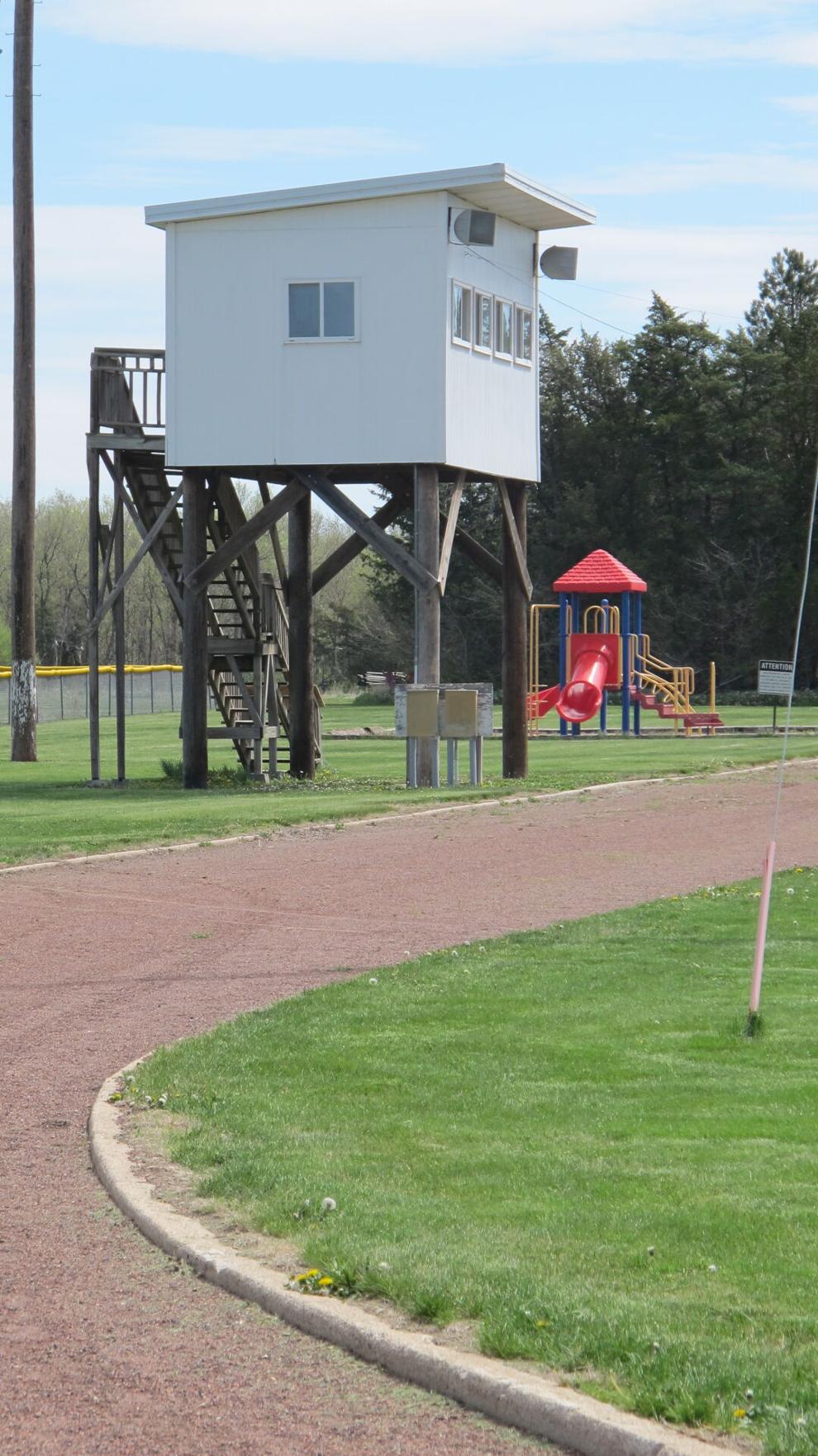 The old Clay Center football field, track and other facilities are one block north of the school campus. The football scoreboard, proclaiming "Go Cougars" (Sandy Creek), and the football field's "crow's nest" remain in place.
Nanette Shackelford, mayor of Clay Center, talked about why it is a good thing for the city to take over the recreational facilities.
"We have been taking care of everything over there except for the football field for over 70 years," Shackelford said. "We have gotten some grants to do some lighting and stuff for the baseball field. We have been doing a community cleanup. I started that when we had Clay Center School here."
"We painted the concession stand. We have done some cleanup over there. We have done stuff at the park. Basically, we have been taking care of it. The tennis courts where the city built them was owned by the school for years, so basically what we said (is) the school isn't using it. We have been taking care of it except the football field, so we should get ownership of it."
Shackelford said some community members have ideas about what to do with the land and some events that could occur there.
"We have some people in the community that are interested in our community club that are interested in starting a sand volleyball league because there is a sand volleyball pit over there that needs a lot of work," she said. "We did go through the process of owning that so we could go ahead and do some improvements to it.
"The city has been using it forever, but we really felt like we should probably own it if we are going to do some additional improvements to it."
Anyone interested in playing in a sand volleyball league can contact the city office for more information, Shackelford said.
"We haven't got the league set up yet. We are hoping to have that ready to go maybe by July 4 or maybe sooner than that."
The school property actually still is in use. Sandy Creek houses its alternative school program there, and Shackelford said most of the building is being used for storage.
Sandy Creek used the building for play practice. Shackelford said the school gyms also were used for sports practices.
She teaches business at Sandy Creek, which has its campus six miles south of Clay Center on Nebraska Highway 14.
"The building is not used a lot," she said of the Clay Center school. "We are trying to figure out what we are going to do with it. We are working on some infrastructure here in the city, and there are some people that would like us to purchase it, but (because of) budget constraints there is no way we would be able to do that.
"There are some roof issues and some other things that would happen. We are going to try and help the school sell it if we can; if not, there is a good chance they might tear down the old part of the school and keep the new part just for the the gym and some of the classrooms. That is up in the air right now. We are trying to figure out how to do a good buy for the school."