There was a time Chris and Stephanie Shade were a career-driven couple looking to amass treasures in pursuit of a comfortable lifestyle.
But as both will tell you, God apparently had other plans for the former Hastings Public Schools music teachers. And while their pursuit of treasure continues, their view of what constitutes treasure has refocused their sights on priorities not of this world.
"I didn't want children early in my marriage," said Chris, a former band teacher at Hastings Senior High School. "I already had my 'band kids.' Then the Lord hit me upside the head with a 2-by-12 and said I needed to focus on family."
That wake-up call from on high came in 2001 in the form of a request from a friend of Stephanie's, who asked the couple to care of two special-needs young girls who needed a temporary home for six months. It turned out to be a defining moment for the Christian couple, one that would lead them to adopt five special-needs children and have three biological children of their own.
Their re-focus of priorities has proven all-encompassing, with Stephanie leaving her teaching position at Morton Elementary to assume the roles of stay-at-home mother and home school teacher, and Chris opening Shade's Classic Corner Cars to enable additional family time.
Their latest addition, Evan, is a Down Syndrome infant born to Egyptian parents during an extended stay in Philadelphia. He was adopted by the Shades in September through the National Down Syndrome Adoption Network.
A series of comedy benefit shows called Stand-Up For Adoption was organized by comedian Shawn Reynolds, a resident of Lexington, Kentucky, who had recently contacted the national agency with a desire to assist a family with adoption fees. His performance on behalf of the Shades will take place at 7 p.m. Nov. 17 at Evangelical Free Church, 2015 N. St. Joseph Ave.
ecause Chris was able to sell one of his prized possessions, a classic car he had owned since age 16, the Shades were able to cover their adoption costs and will donate proceeds from Reynolds' show to create a grant for families wishing to adopt a child with Down Syndrome.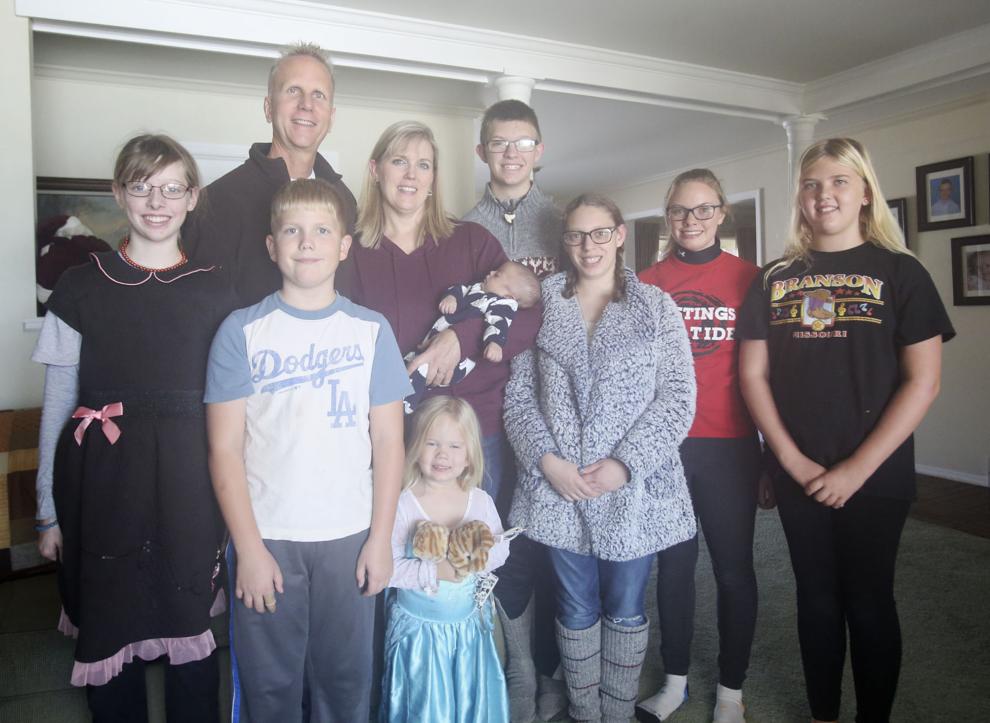 Tickets will be sold at the door, subject to availability, while discounted advance tickets are available online at ShawnReynoldsComedy.com.
With the addition of Evan, the Shade family unit is feeling more complete than ever, Stephanie said. Already his siblings have bonded with him, showering him often with kisses and strokes on the head, even as he sleeps.
Though it was Chris's idea to adopt a child with Down Syndrome — a desire fanned by interaction with other Down Syndrome children — his revelation just seemed to make sense to Stephanie.
"That's the way God works," Stephanie said. "It wasn't necessarily Chris trying to convince me. It was kind of like different pieces of things that I was feeling just kind of all came together. It felt like the fulfillment of something I couldn't quite put my finger on.
"He's our little dark-haired period at the end of a long blond sentence. All the kids are so excited and so glad to have him. They wake up every day excited to see him and see what's he's going to do. He's just been an amazing addition."
Adding another special-needs child to their already chaotic household may have seemed like asking for trouble to some. But to Chris and Stephanie, the decision was one they say affords them opportunities for spiritual and personal growth. Furthermore, it creates a home environment rooted in patience and unconditional love.
The challenges are real, sometimes putting a strain on their marriage. It's what they refer to as "intentional" time together, much of it, costing them sleep, that makes the journey doable.
"We do recognize that our marriage has to be solid and have to prioritize that," Stephanie said. "That, in turn, makes a better environment for them. Any kids, especially high-needs kids, take a lot of time and attention, and it would be really easy to just drift away from your spouse, so we've just had to learn to be really intentional.
"We try to make sure we have that time. A lot of times that means putting the kids to bed, then talking for a couple hours or falling asleep on the couch. In return, it creates a better environment for them when they have a mom and a dad who are on the same page who are united and able to give them stability and support. Then everybody flourishes."
Chris understands how the decision to bring a Down Syndrome child into a family already challenged by the demands of four special needs children may be difficult to comprehend.
Yet to him, it makes perfect sense.
"It's counter-intuitive; to our culture it doesn't make sense," he said. "Our flesh wants convenience, and it's not convenient to wake up in the middle of the night or have to go to so many doctors and counseling appointments. But at the end of the day, it's a blessing because they have so much to teach us.
"It teaches you to work through and find solutions. It teaches patience, whether I want it or not, to slow down, be patient and navigate it together. Our house is busy and blessed — sometimes complete chaos — but I'm thankful for the love in our home."
Stephanie, too, sees the family's family dynamic as blessing. Combining motherly duties of a special needs parent with home schooling can be downright overwhelming at times. It is only through prayer and prioritizing that she is able to make ends meet each day, she said.
"It's definitely created a dependence and need in my heart for Him (Jesus) because I can't do this in my own strength," she said. "I've learned to spend my time on what really matters, and what is important are the people that are right in front of me in my house and investing my time in them.
"We have a lot of emotional and behavioral challenges, and sometimes kids who don't make themselves very easy to love, but loving in spite of that is a great lesson. We're just stumbling through every day, and at the end of the day, it's pretty beautiful. When I call upon Him and the strength that He promises me, then I'm able to do things that I couldn't do. It's like getting to see little miracles every day."