Runners from all over the country came to Hastings Saturday to run in the Hastings 5k and half marathon races.
On a somewhat cool morning that turned into a heat wave as it progressed, runners were enjoying what they love — running, running and running.
The 13.2-mile half marathon started at the Hastings Middle School at 7:30 Saturday morning. The route took runners around Brickyard Park, downtown Hastings, Chautauqua Park, Libs Park, Lake Hastings and other places.
This year's field had people from all over the United States. Nine states were represented, and the others were from Nebraska, coming from Omaha to the Panhandle and somewhere in between.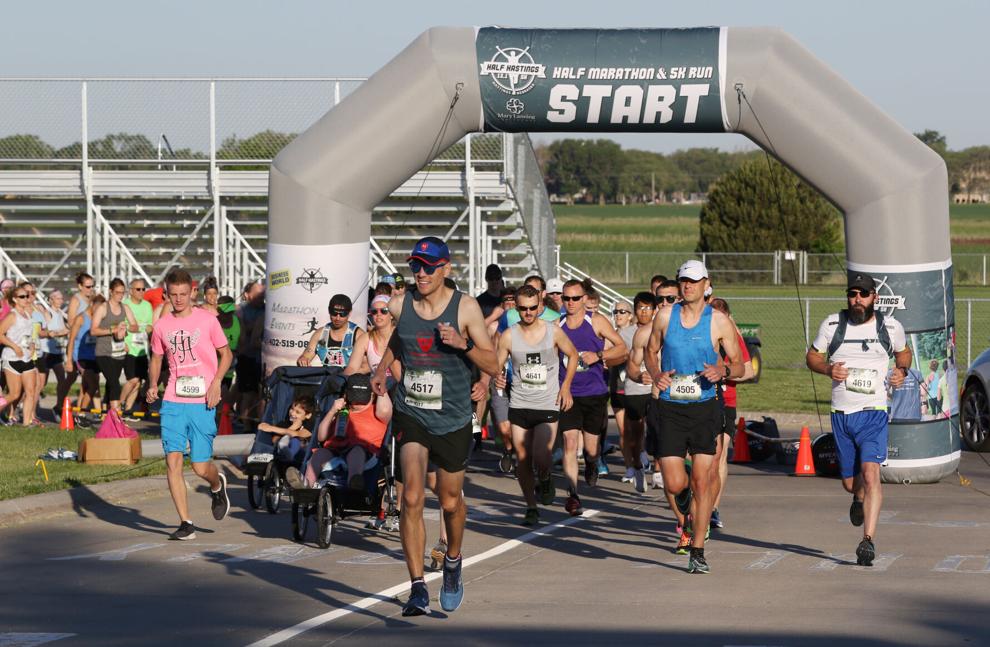 The 5k race began around 8:30 a.m. at Hastings College and ended back at the 50-yard line at Lloyd Wilson Field. Caleb Collison of Axtell took the 5k crown in a time of 17:21, which was two minutes faster than the runner-up, Victor Garcia of Grand Island, who finished with a time of 19:23.
"Coming out, I was really thankful to be running with people. It has been a while since we all can be together and enjoy running," Collison said. "That was exciting right off the bat. Getting into it, it was getting a little toasty out here. I had a goal in mind and put all of my thoughts and worries behind — kept feeling when I wanted to quit saying 'Lord help me' and keep going. I know through him I can make it."
"The most challenging part was myself. Obviously the heat affects your pace. Ultimately, it is your drive and your will. If you let that break, you're going to break. You have to stay focused on the next turn and the next step and know that the end is near and you have prepared to be ready."
Mike Florek is the race director for the Half Hastings event. Florek was excited to see all of the people out on a very warm day.
"The weather was warm, which was very good for spectators and for our volunteers," he said. "It was a little bit of a challenge for the runners, but with a couple of exceptions everybody came through just fine.
"We were very excited to be putting on the race. I heard from a lot of folks that attended, they were ecstatic because this was the first race that many of them were at that was live in over a year. The runners were very excited to be back and running it.
"The course itself was not challenging. We had a couple of hills but they were not big. The runners liked the change of scenery because the course ran in most of the parks, yet we hit a few neighborhoods and we even hit downtown.
The neighborhoods were pretty and well-kept, Florek said.
"Most of the runners said that this was one of their favorite courses. I can honestly say that the parks department and the streets department did a great job of landscaping maintenance. They did a tremendous job cleaning up and making it as nice as they could."
Florek said the race would not be possible without the help of its volunteers.
"The people of Mary Lanning help us put this event on, and a good share of our volunteers come from there, but not all of them. We had over 120 volunteers this year. Most of them have been repeat volunteers because they love doing it so much."
1, Caleb Collison, Axtell, 17:21; 2, Victor Garcia, Grand Island, 19:23; 3, Vincent Condry, Juniata, 19:57; 4, Dave Johnson, Harvard, 20:04; 5, Jacob Henderson, Lincoln, 20:48
1, Juan Garcia, Grand Island, 1:18:41; 2, Cody Lobeda, Phillips, 1:21:05; 3, Cory Logsdon, Omaha, 1:21:19; 4, Neil Wolford, Hastings, 1:27:27; 5, Brock Bulas, Aurora, 1:28:10