The Air Show Sunday afternoon during the Nebraska State Fly-In at the Hastings Municipal Airport has special significance for Hastings College graduate Debby Rihn-Harvey.
The "First Lady of Aerobatics" will perform during the air show.
Rihn-Harvey grew up in Omaha and graduated from Hastings College in 1973 with degrees in biology and medical technology.
She is a 2007 inductee into the International Aerobatic Club as well as Experimental Aviation Association Sport Aviation hall of fames.
Rihn-Harvey, who now lives in Houston, qualified to represent the U.S. multiple times in World Aerobatic Championships in North America and Europe. In world competition, Rihn-Harvey has been a gold medalist as well as holding many regional titles.
While she established a career as one of the top aerobatic pilots in the world, she has never performed in Hastings.
"I'm excited about flying in Hastings," she said. "I've got family coming out from Omaha, and family and friends from Kearney. I hope they're going to have a great attendance."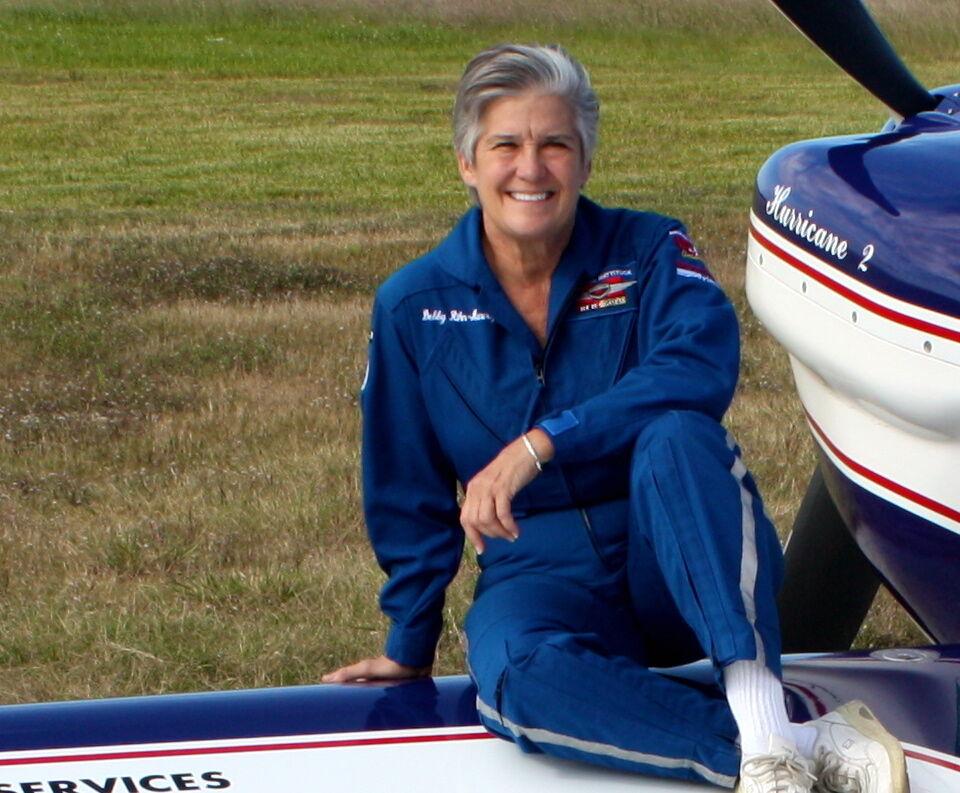 Her airplane is already in Omaha where she is practicing for about a week prior to the Hastings air show.
It's an all-wood, single-wing airplane, built in France. She bought it brand new in 2000.
"I grew up in a family that flew for a hobby," she said. "It was expected of us that we learn to fly."
Rihn-Harvey and her two older brothers all soloed on their 16th birthdays.
"I flew and had most of my readings before I ever left Nebraska," she said. "As anything else, I did everything the boys did. We raced cars. We did all kinds of stuff that was not normal for females, flying being one of those."
It was rare early on to run across other women in aviation.
"It was an obstacle that had to be overcome," she said.
Rihn-Harvey chose to attend Hastings College because she wanted to go to medical school, pursuing research with the intent to cure leukemia.
"I guess life has a way of determining what you should do," she said.
She wanted a college with a good pre-med program.
"I couldn't have chosen a better school," Rihn-Harvey said. "I love the school. I love the campus. The size permitted everybody to be more of a family. It was a fun school and a great education that I received."
After graduation she interned for a year in medical technology in Lincoln and then she moved to Texas.
She flew cargo for six months, but went back into medicine — supervising a hospital lab for about eight years.
She continued offering flight instruction, however.
She started a flight school with a doctor she eventually married.
She still has that flight school, which is in its 43rd year.
As an examiner for the Federal Aviation Administration, Rihn-Harvey gives flight exams and issues pilot certificates for whatever type of rating the pilot tries to get.
Eventually she went into commercial aviation, spending 27 years flying for Southwest.
Her husband had flown aerobatics.
"For me, competitive aerobatics was an avenue to practice what I had learned and continue to learn," she said.
Rihn-Harvey competed seriously for about 36 years, representing the United States in world-level contests.
"It's precision flying," she said. "It's like gymnastics or skating. It's a precision routine in a given cube of airspace."
She attributes her success to "a lot of hard work."
"I strive for perfection, but I don't expect anybody to be perfect," she said. "I've never had a perfect flight, but you strive to be the best you can be."
"I love aviation," Rihn-Harvey said. "I want everybody else to understand a little more about it and not be afraid of flying and not be afraid of what goes on in the sky. I mentor people on a daily basis."
She leads a mentoring camp every summer in Oshkosh, Wisconsin, that promotes empowerment among teenage girls.
"We encourage them to get into aviation and we educate them to the diversity of aviation and what all they can do," she said. "You don't have to be a pilot, but you can still be associated with aviation. It takes a lot of people to put one airplane in the air."