The successes and failures of high school may soon be forgotten, but the lessons learned and relationships made during those four years will last forever.
That was a theme that ran throughout the speeches from each of the six valedictorians who spoke at the Hastings High School commencement ceremony on Sunday afternoon.
Valedictorians Courtney Beave, Alexandra Curtis, Andrew Le, Christine Phuong, Alice Vu and Anna Wibbels were among the 255 graduating members of the Hastings High Class of 2021.
Student Council President Ashlee Long provided the welcome.
"As much as we would all like to think so, high school is not the end-all, be-all of our lives," Beave said. "In the grand scheme of things no one is going to care in 10 years if we were valedictorian, in the top 10% of our high school class or what colleges we got into. People are going to care what we did when we were finally free to make our own life decisions without the boundaries of living in Hastings, Nebraska; whether that is joining the military, going to a community college, a state college or a school five hours away from here."
Each of the speakers thanked their fellow classmates, family members, faculty and staff, and administrators for helping the Class of 2021 get to graduation, especially in light of the novel coronavirus disease, COVID-19 pandemic, which ended in-person instruction for the 2019-20 school year early.
"One positive is that we had the longest summer break ever," Curtis said.
She said there was not just one experience or one person who helped the graduates to this point, but instead more of a general theme.
"It is kindness that made this day happen," she said. "All of the people who have been our greatest allies and staunchest supporters simply took the time to care and were just kind to us. The best teachers we had at Hastings High taught with compassion and a desire to set us up for future success."
The best coaches she had cared for her as a person and not just as a player on the team.
"In short, the people who impacted us the most throughout our lives or here at Hastings High are those who acted with kindness," Curtis said. "There is no way any of us would be here without the support of our classmates, our friends, our family, as well as administration, teachers and our coaches."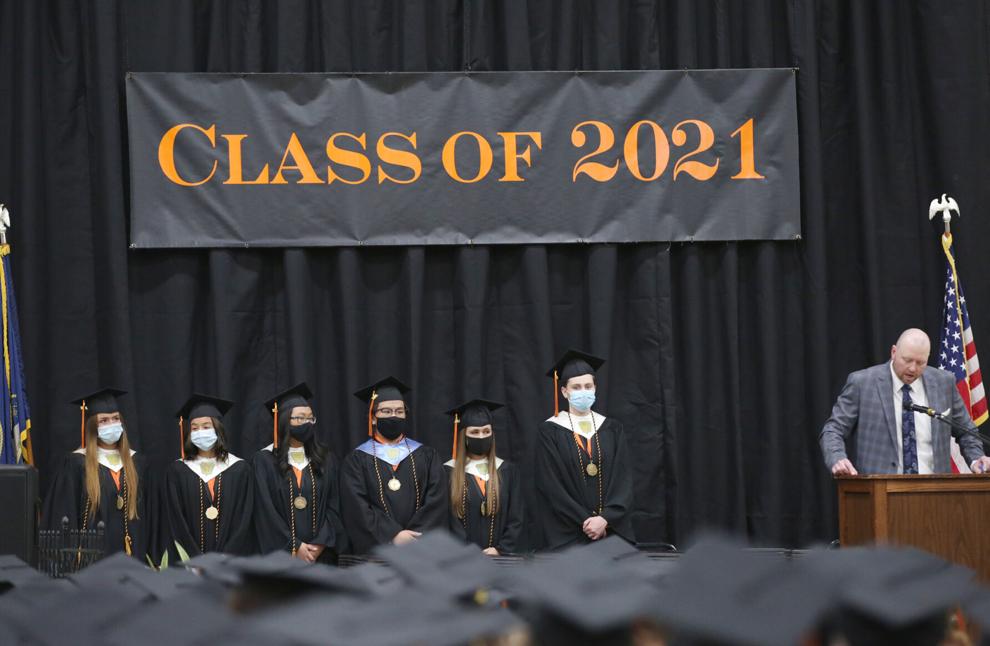 Le said while he and his classmates have been focused for the last four years, with Sunday's ceremony as a goal, there is a lesson many high school students forget.
"That's the idea that you are more than a score," he said. "You're more than a test score, a class score, an ACT score; you're more than a scholarship, or the college you're going to or the titles you receive. A number will never be able to represent you as a person."
At the end of the day, the people who are really there for you will know this too, he said.
"This graduation ceremony does not mark the end of our long careers, but the start of us experiencing new opportunities that will shape us as the next generation of leaders," Phuong said.
Vu said the past four years went too quickly.
"Regardless of how fast these past four years seemed to go by, I think it's safe to say I'm ready to say my goodbyes," she said. "Goodbyes to the long nights staying up and studying and turning in assignments at exactly 11:59 p.m. when they were due at midnight. Goodbye to the unnecessary stress and anxiety I get before every test and quiz."
She thanked Hastings High School for making her into the hardworking person she is today.
Wibbels said she spent the last four years coming to high school every day and complaining.
"Now I'm finding myself dreading having to leave," she said. "Looking back, the late nights spent finishing essays or cramming for tests were not enjoyable in the slightest, but they were accompanied by bonding with my classmates over the heavy workload and our terrible procrastination habits."
She said she laughed a lot during high school.
"I would pay some good money for a rewind tape of all the funniest moments of my time in this school," she said. "The classes that challenged you and made you want to cry taught you more about not only physics and calculus but also yourself than anything else."
High school will be the most influential years she and her classmates will ever experience, Wibbels said.
She said tomorrow will worry about itself.
"You can't speed up or slow down time," she said. "You just have to enjoy where you are right now and look for the silver lining in everything."
Wibbels then continued the Hastings High tradition of taking a selfie with her classmates.