As the midway was coming to life on Wednesday evening at Adams County Fairfest, Kari Hamilton and Daisy Mae Blossom gave visitors insight into the importance of milk.
Hamilton, who lives on a beef farm near Spring Hill, Kansas, is a mobile dairy classroom instructor with the Southwest Dairy Farmers.
Daisy Mae is a Jersey cow and one of two milking cows on Hamilton's farm.
Southwest Dairy Farmers is an alliance of dairy farmers from Texas, Kansas, Missouri, Oklahoma, Virginia, Kentucky and North Carolina. These producers have pooled their resources to provide free consumer education in nutrition, promote dairy product use and provide dairy product information.
"There's 13 nutrients and vitamins in milk, and it's amazing the way people look at you and think, 'Oh my gosh. Really?' " Hamilton said. "Just to really encourage dairy in your life and show how well the cows are treated and how they go from the baby to having their own baby to being the milk cow and producing all the milk for our world."
Dairy cows can eat up to 100 pounds of feed per day in order to receive the nutrition they need. Components of this diet may include grass and alfalfa hay, but also may include soybeans, corn and sorghum mixed with other grains.
While Jersey cows like Daisy Mae don't produce as much milk as the black-and-white Holstein cows — 6 gallons per day versus 10 gallons — Hamilton said Jersey milk is especially creamy and good for making ice cream.
Daisy Mae chomped hay while Hamilton spoke to a small crowd assembled near her trailer on the north side of the education shed.
Hamilton concluded her presentation by attaching a milking claw to Daisy Mae's teats. Audience members watched as milk flowed through clear tubes and splashed into a large whey jar.
Hamilton is one of 10 Southwest Dairy Farmers mobile dairy classroom instructors. She travels all over giving presentations, including to Minnesota the second week of August.
She gives presentations for every age group from preschoolers to senior citizens. She gears the presentation for the age of her audience and the setting.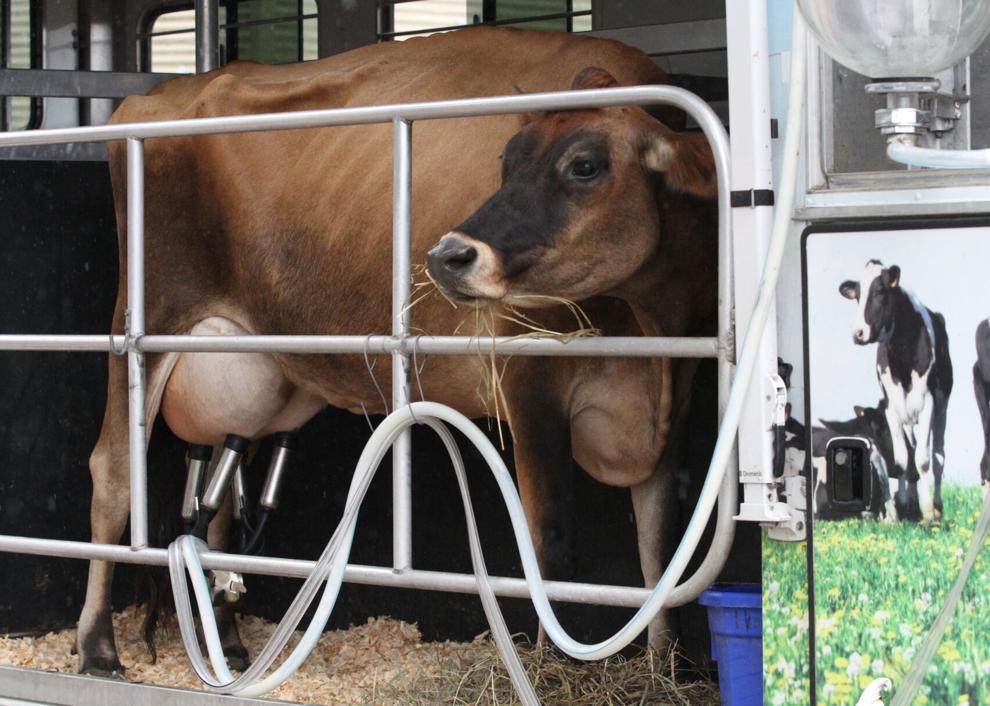 While students in a school make for a captive audience, Hamilton knows many other stimuli are fighting for her audience's attention at a fair.
"My presentations for fairs are always shorter because everybody's always looking around thinking, 'I need to stop there,' 'I need to stop there,' " she said. "You've got moms pushing strollers, and the kids don't want to sit there that long."
Her fair presentation lasts about 10 minutes, but Hamilton makes herself available to answer questions later.
"We can talk for hours about it," she said. "So I always offer up the question-and-answer."
Hamilton and Daisy Mae will be at Fairfest each day with presentations starting at 5 p.m. on Friday, 3 p.m. on Saturday and at noon on Sunday.