Law enforcement officers from 11 local agencies trained to use automated external defibrillator devices for emergency heart situations Tuesday at the Hastings Police Department.
The life-saving devices will be making their way to nearly every patrol vehicle in the state thanks to a $6.4 million grant.
The Leona M. and Harry B. Helmsley Charitable Trust awarded the grant to the Nebraska Department of Health and Human Services for the distribution of AED devices to law enforcement organizations throughout the state.
HPD Capt. Mike Doremus said the department will receive 18 AED devices through the grant, which will allow the department to deploy one to every patrol vehicle. The goal is to have the devices ready for use by the middle of July.
"This gives us that as another tool that will be available when needed," he said. "To have an organization like this give us 18 AEDs is amazing."
Along with the devices, the grant provided funding for training law enforcement personnel on the use of the AEDs. Four officers with HPD took the training, with the plan to pass the information on to their fellow officers.
George Reitz was one of those officers. In his nearly two years as an officer, Reitz said, he hasn't come upon a situation where he was the first to arrive on the scene of a cardiac emergency, but it is beneficial to have the training just in case.
"You never know when you might have to use it," he said. "It could potentially save somebody's life."
According to a news release from DHHS, studies conducted by the American Heart Association demonstrate a significantly higher rate of survival for cardiac patients defibrillated by law enforcement, who are generally first on the scene, especially in rural areas.
AEDs are portable devices used to diagnose and treat sudden cardiac arrest through defibrillation, which re-establishes an effective heart rhythm. The AEDs selected for distribution feature technology that reduces pauses during CPR to improve blood circulation and odds of survival. The devices also can use wi-fi to send near real-time information about a patient's heart to emergency services as another way to improve evaluation and care.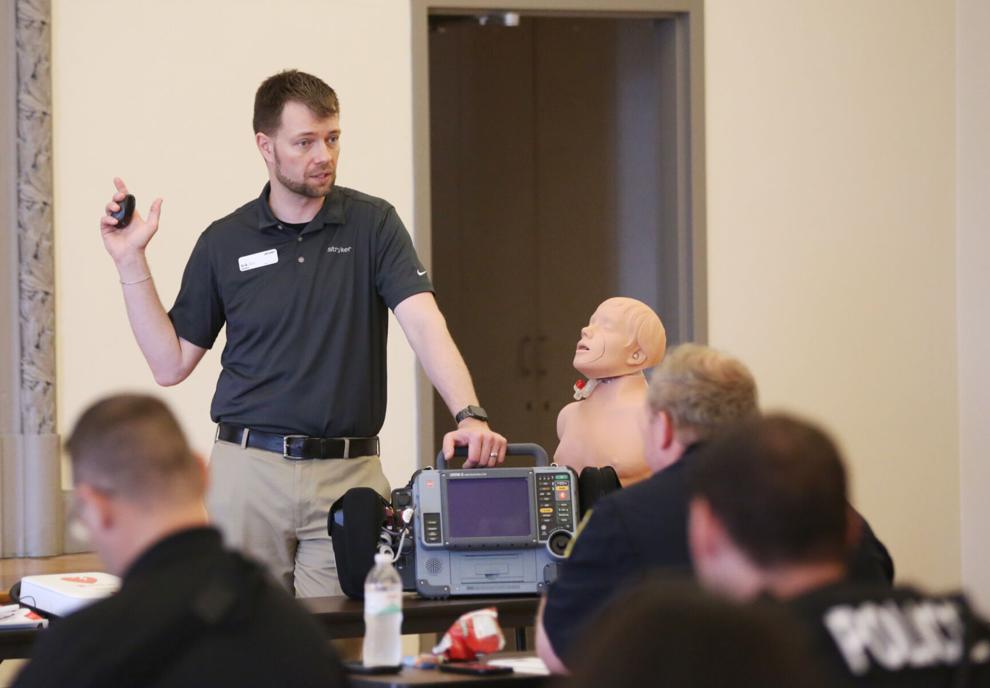 The Hastings training session was one of 23 being conducted across the state from May 17 to June 25. Distribution of the AEDs is planned to conclude in 2022.
Eleven agencies in the Tribland area received AED devices, including:
Adams County Sheriff's Office: 17
Fillmore County Sheriff's Office: 7
Franklin County Sheriff's Office: 5
Harvard Police Department: 2
Hastings Police Department: 18
Hildreth Police Department: 1
Kearney County Sheriff's Office: 7
Minden Police Department: 4
Nuckolls County Sheriff's Office: 6
Superior Police Department: 4
Webster County Sheriff's Office: 6