Livestock herded to the Adams County Fairgrounds Tuesday as members of 4-H clubs from across the county stabled animals to showcase for the 2021 Adams County Fairfest.
Participants in 4-H presented animals to enter into the county fair throughout the day. Each species was brought in during a different time slot, starting with hogs at 7 a.m.
While the fair officially opens on Wednesday, Nebraska Extension Educator Beth Janning said Tuesday marks the real start for 4-H animal exhibitors.
Animals are checked and weighed to be put into the correct categories for each livestock event. Participants must check in animals to be added to the list for shows through the week.
Static exhibits went on display on Monday.
"By the time Wednesday rolls around, we've been at it for a while," Janning said.
She noted the excitement of 4-H'ers as they returned to the fairgrounds and some sense of normalcy after the pandemic prevented exhibitors from seeing much of each other last year. Now, they are able to see each other again. She said it's nice to see the youth help each other out as they set up for the fair.
"There's a lot of excitement around here," she said. "Overall, our goal is to have as close to normal of a fair as possible."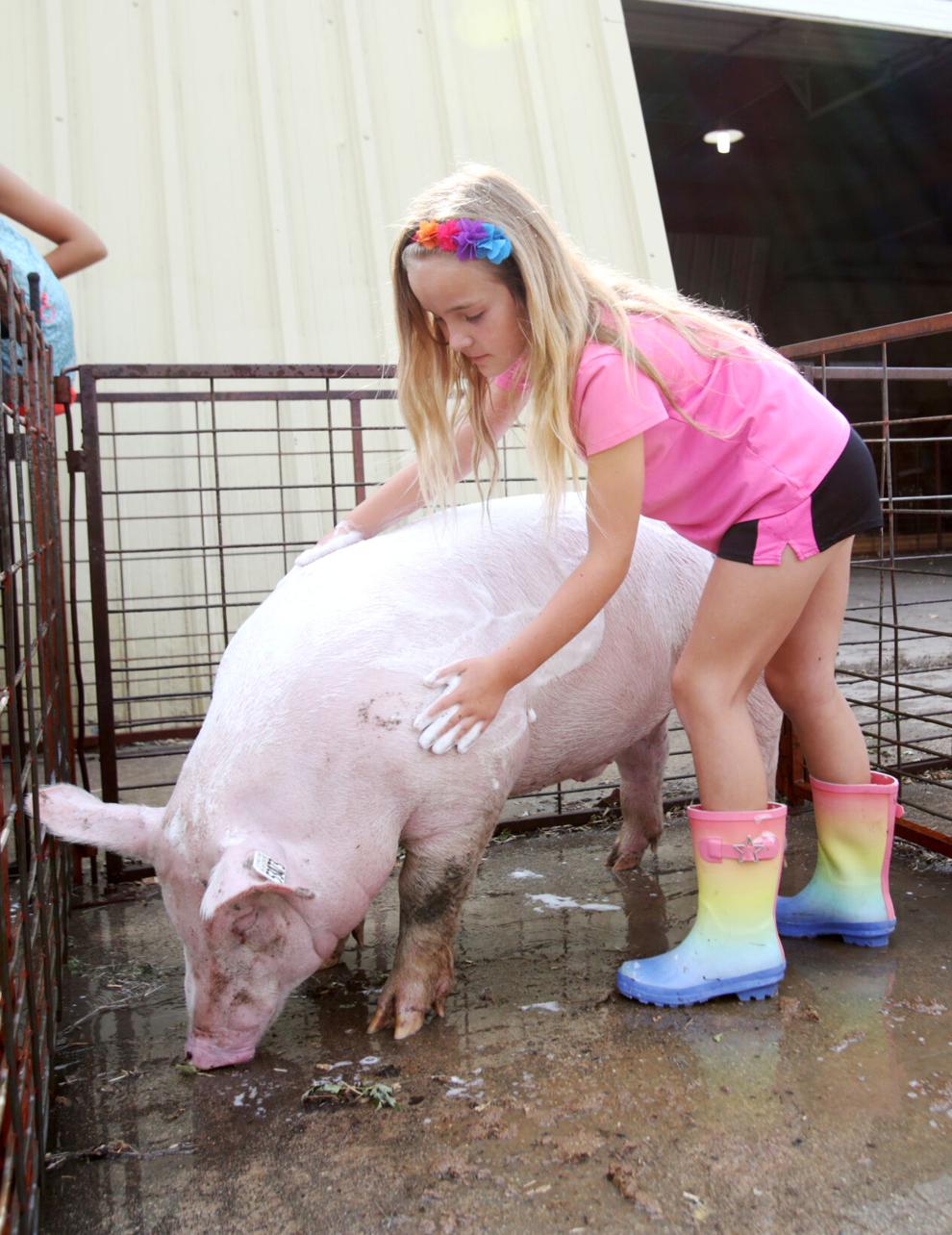 Michaela Hargis, 12, of Hastings said she was excited to be able to have the fair again after missing out in 2020.
Hargis is a member of the Rural Ranchers 4-H Club and has been showing for four years. She brought two rabbits, a sheep and a goat this year.
Her biggest struggle was trying to calm down the rabbits as they adjusted to their new environment in the cages. She brought things from home, like toys, to help comfort the pair.
"The toys help a lot when they're caged," Michaela said.
Barrett McIntyre, 13, of Hastings said there is a lot of grooming and preparation to make sure animals are ready for the show. Sheep have to be sheared and goats shaved. Hooves are trimmed, and they are cleaned to be ready to transport to the fair barns, where they will await shows.
He brought goats and sheep to show this year. He will show the goats with his friend Nakoa Raney, 12, of Hastings. Both are members of the Rural Ranchers.
Nakoa will show two goats and a chicken this year.
He likes the fair because there is a lot to do, both in preparation for the shows and afterward.
He recommended others consider joining 4-H, especially city kids who may not get to be around livestock as much.
"You learn a lot about the animals and where our food comes from," he said. "I think it's pretty fun."