As a geodesic dome was erected over the past week on the west side of the Hastings Middle School, teachers and students alike became excited about the potential within.
"Every morning, pulling in (to the parking lot) was amazing," Jordan Binfield, seventh-grade science teacher, said about watching the progress. "Then at our planning period, or bringing out maybe one of our classes and taking a look at it has been awesome to see how quickly the progress happened."
Binfield and fellow seventh-grade science teacher Jayson Stoddard spoke about the project Friday afternoon as a crew from Growing Spaces of Pagosa Springs, Colorado, was completing the build.
Stoddard announced plans for the greenhouse in February, at which point $41,000 of the needed $65,000 had been raised.
He said credit for fundraising for the project should be given to Jessica McAndrew, executive director of the Hastings Public Schools Foundation.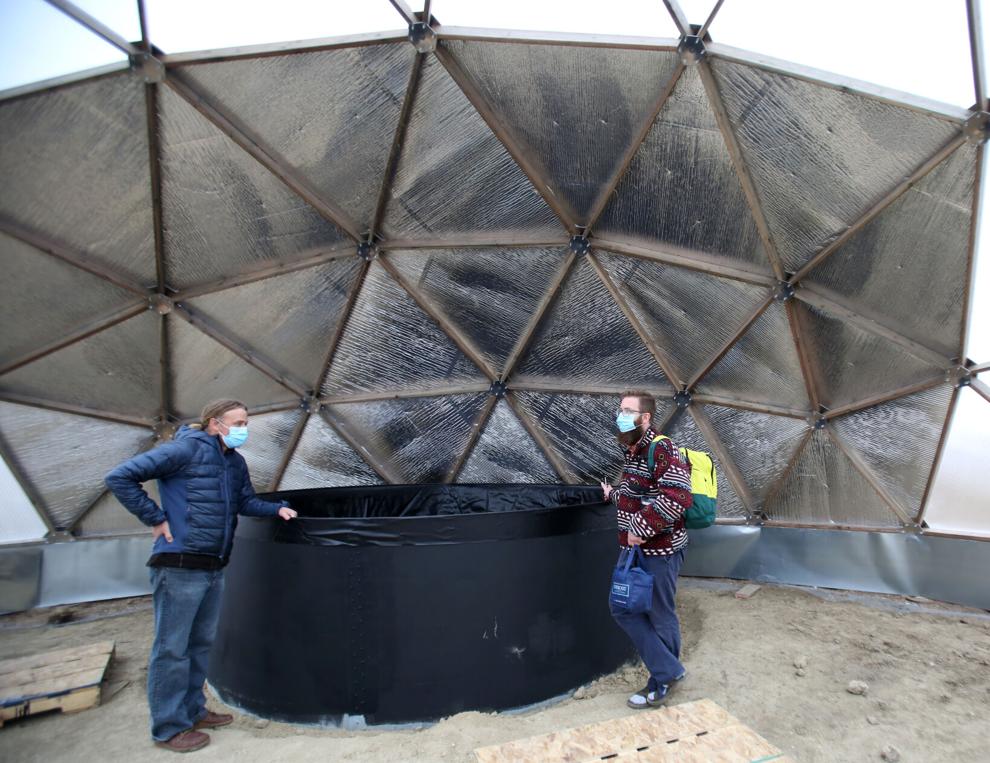 "Jessica McAndrew was an absolutely huge asset for this project," Stoddard said. "We would not be able to do it without her. She did her magic at the foundation. She worked really hard on the grants."
Farris Construction, Consolidated Concrete, Rutt's Plumbing and Big G Ace contributed labor and materials and deserve thanks, as well.
"Those handful of entities were an invaluable asset," Stoddard said.
Binfield was astonished by the speed of the project.
"It was like this slow burn up until this point, and then all of a sudden it was just like that and we're standing here with this finished product — for the most part — today, and now the fun for us begins," he said.
The teachers said the 42-foot dome is a blank slate.
"There's a million and one ways to go about it," Binfield said. "The kids are getting excited about it. We'll probably have one of our first, I don't know if we'll call it a horticulture club or what we'll coin it, but we'll get the group of kids that is really interested in there and start figuring out design and plant selection, and fish selection for the pond."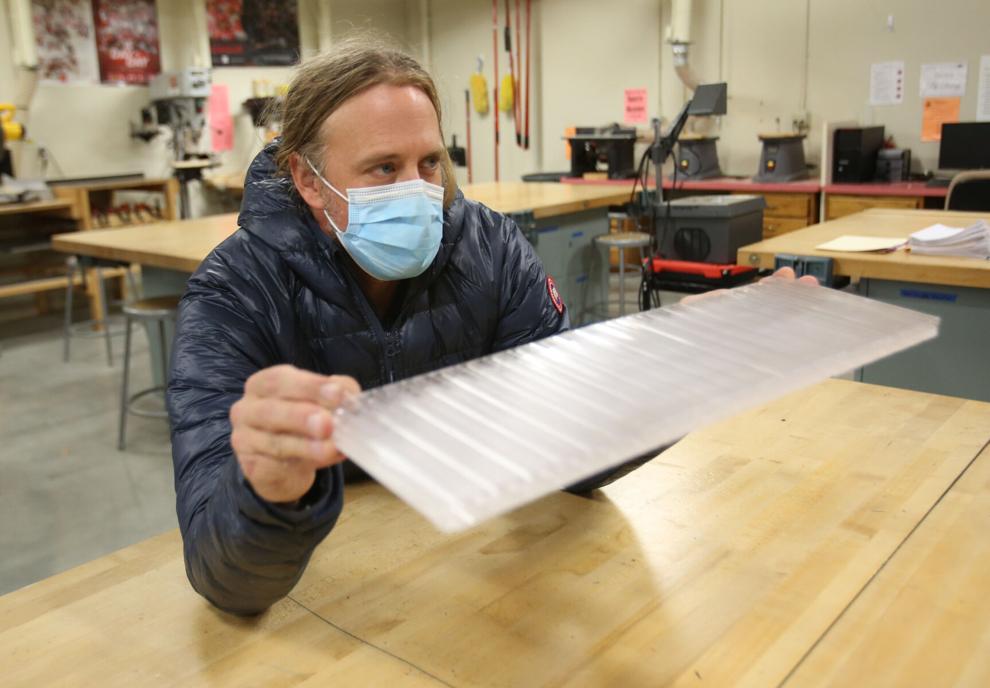 Inside of the dome is a pond that will be filled with 3,100 gallons of water. The pond is situated in front of reflective panels that will direct heat from incoming sunlight into the water.
"On a sunny day that'll be absorbing energy all day long, and then at night that'll be radiating heat throughout the space," Stoddard said.
Geothermal vents will run through the beds along the dome's walls controlling the temperature.
The teachers want the project to be student-driven.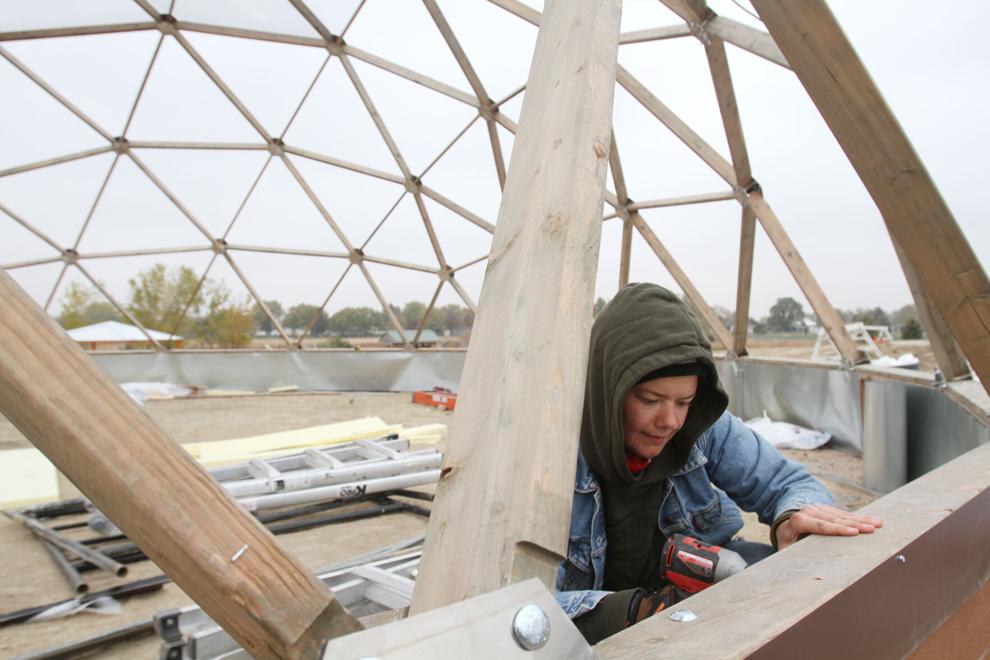 Binfield has hardy winter greens started in his classroom.
"Obviously you can't grow anything and everything in the wintertime," Stoddard said.
The plan, at least for this first growing season, is to start transplants to get ready middle of February, for not only the middle school garden but to send out into the community, as well.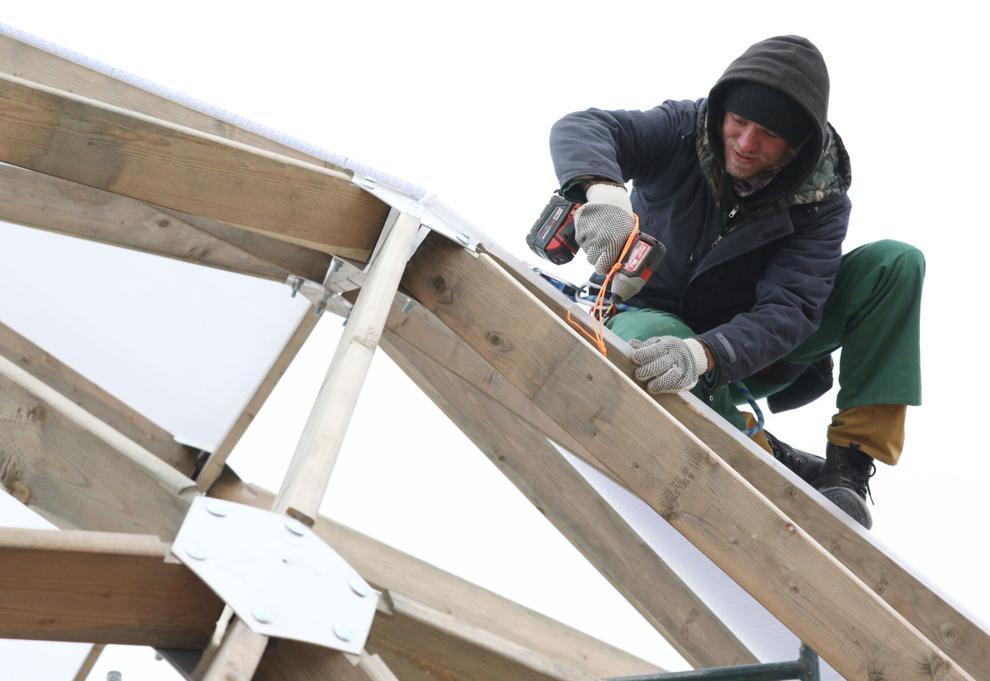 "Growing something and having some productivity here in the next three or four months will probably be a realistic goal," Binfield said.
Stoddard said it will be fun to see how productive students can be with the dome in the winter months.
Like the middle garden itself, the dome is intended to be a community project.
"I think the kids like to do nice things for other people, so a large focus is what can we do to … we would like to see people using it during the day," Stoddard said.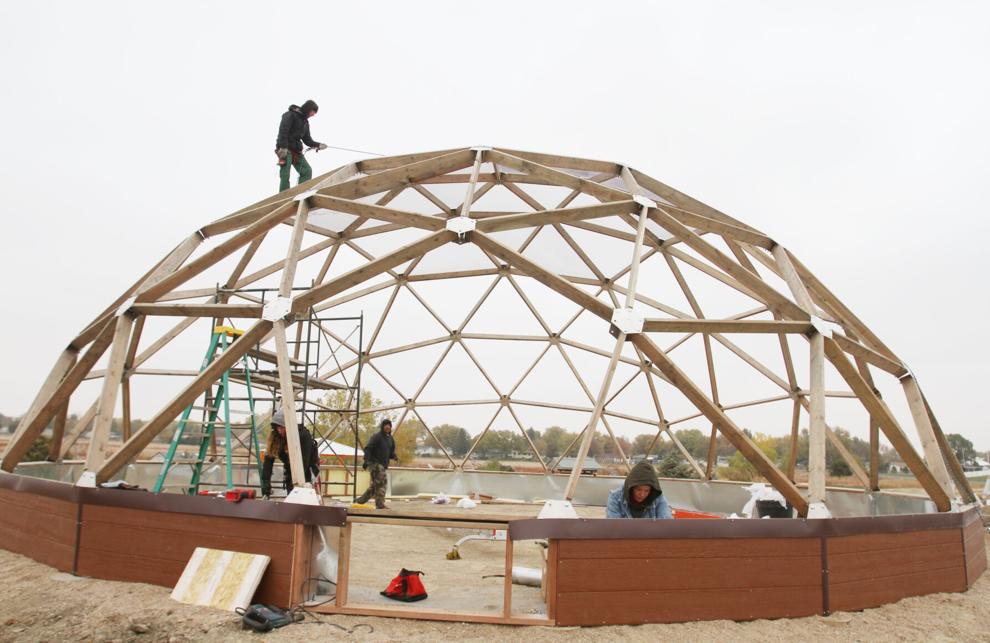 He has talked to local nursing homes about also using the space.
Although Stoddard has been looking at domes for years, he said the project would "probably not" have happened if not for the hailstorm in August 2019 that destroyed the middle school garden.
The dome is made from polycarbonate panels that provide a clear, rigid translucent covering that allows 65% light transmission that Stoddard said would withstand golf ball-sized hail.
"When you start putting up a greenhouse, the first question is, 'What happens if you get a hailstorm?' " he said.
The geodesic shape is also naturally wind-resistant.
The dome will allow the middle school to garden year-round and provide lessons in hydroponics and aquaponics.
"There are countless things we can do," Stoddard said.