In a contest decided by a bite-sized chunk, Hastings police officers won a doughnut-eating relay Tuesday at the finale of the 34th annual National Night Out at Chautauqua Park.
Four officers competed against four lucky raffle ticket holders in the relay. Each contestant in the line had to eat three doughnuts. Some were glazed. Others had sprinkles or frosting.
Contestants started from the ends of the table and had to get the last doughnut in his or her mouth before the next person in line could start.
The race was close throughout, but it looked like the citizen team would seize victory. The last citizen was Joanna Fink and she had half her first doughnut eaten before the last officer took a bite.
That officer, her husband Josh Fink, was ready and hungry. Not only did he devour three doughnuts before his wife finished, but he also took Joanna's last bite and ate it for good measure.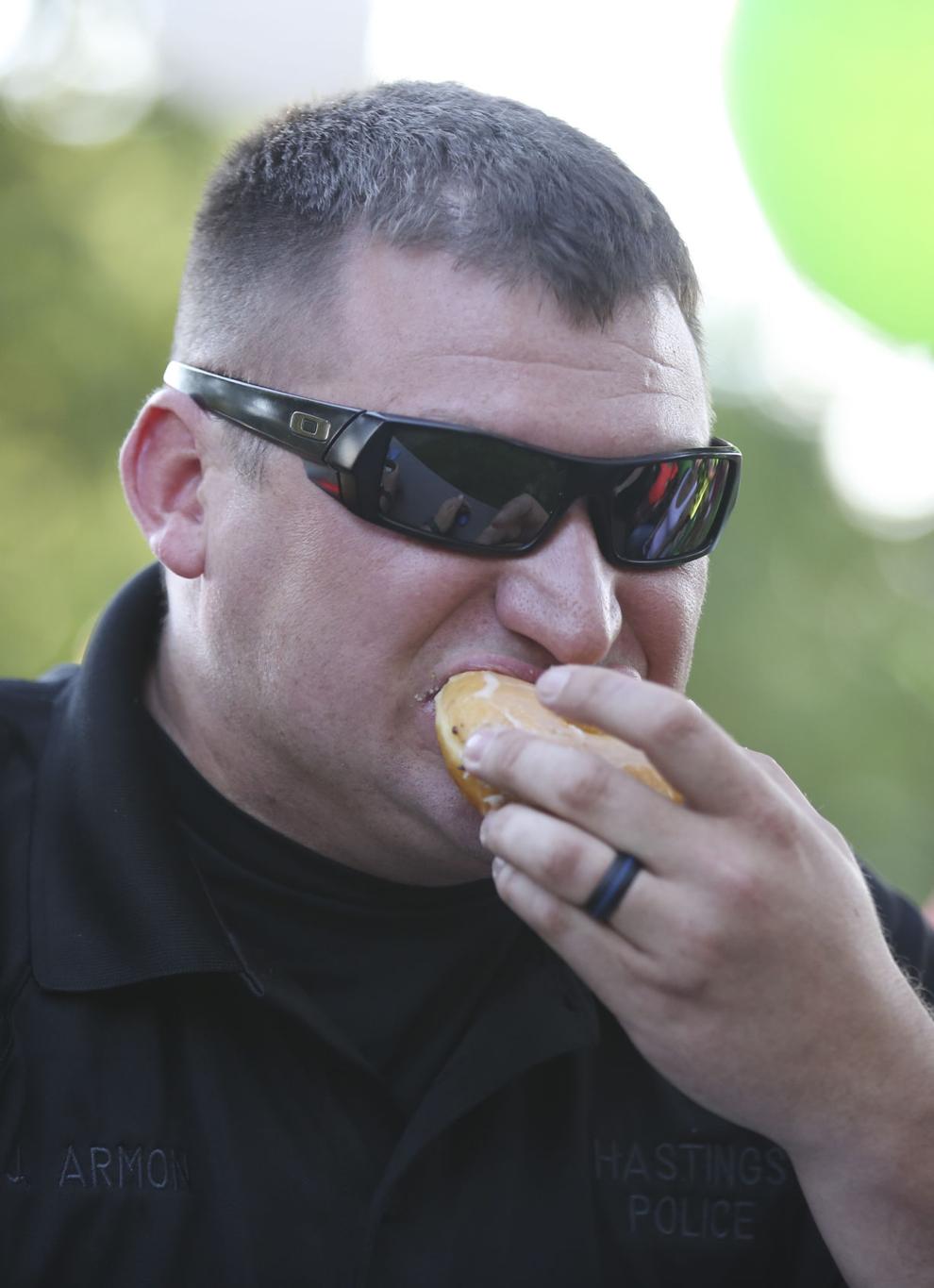 "I always eat like someone is going to take it away from me," Josh said afterward. "I only ate half a bagel today. I was prepping for this."
The local Fraternal Order of Police union put together the doughnut eating relay as a fundraiser for the organization. Officers sold raffle tickets through the day and then drew numbers for the winners.
The owner of the first ticket drawn split the pot with the funds raised overall. The next four ticket holders got to compete in a doughnut eating relay.
FOP President Kyle Williamson said the union wanted to increase its presence in the community. Funds raised by the FOP are then donated to other organizations in the community.
Given the reputation police officers have with eating doughnuts, the FOP thought a doughnut eating relay was a great fit, Williamson said. National Night Out seemed to be a good venue for it and it proved successful, based on the crowd of spectators who circled the contestants.
"It was something we wanted to try and I think the union would be interested in doing it again," he said.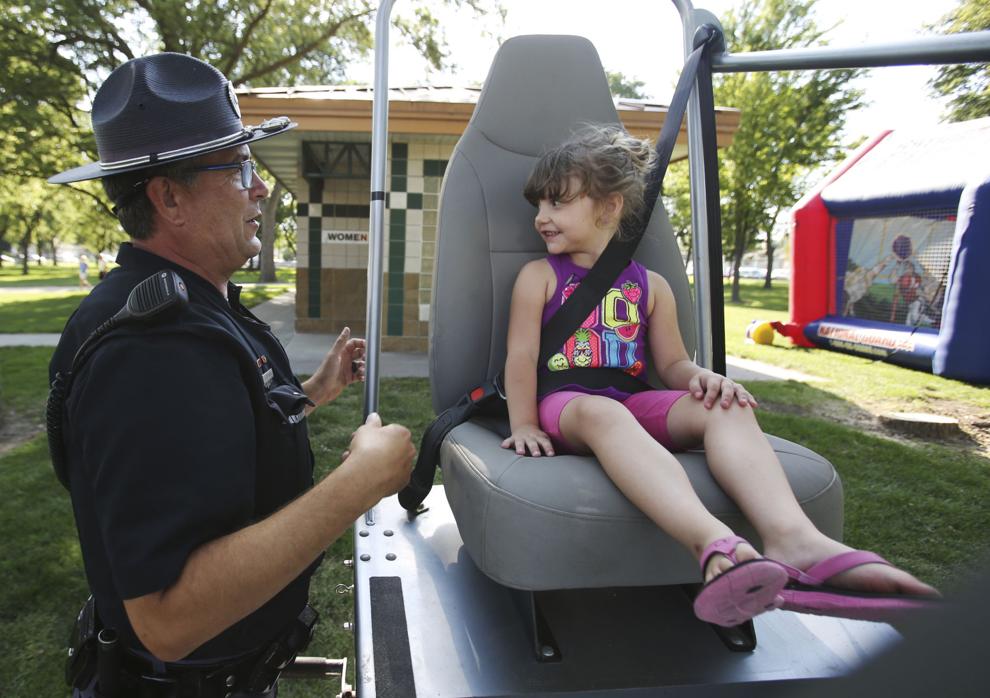 National Night Out is designed to give officers a chance to meet community members in a positive setting.
Hastings police officers showed off patrol vehicles, fired off the sirens and handed out stickers for kids. Some kids also lined up to have an officer show them what it was like to have handcuffs on and sit in the back of a patrol vehicle. Detective Allen Sedlak made balloon animals and hats for kids.
The Nebraska State Patrol brought a Seat Belt Convincer, a device that simulated the experience of a low-impact crash to demonstrate the effectiveness of a seat belt even at speeds of only 5 mph.
Nearly 20 public service agencies had booths set up to talk about the variety of services available in Hastings.
The event started with a proclamation by Hastings Mayor Corey Stutte. Then Stutte and Police Chief Pete Kortum led participants on a walk around the park, followed by a free barbecue with hot dogs, hamburgers, chips and water.
It was Stutte's first National Night Out event since being elected mayor last November.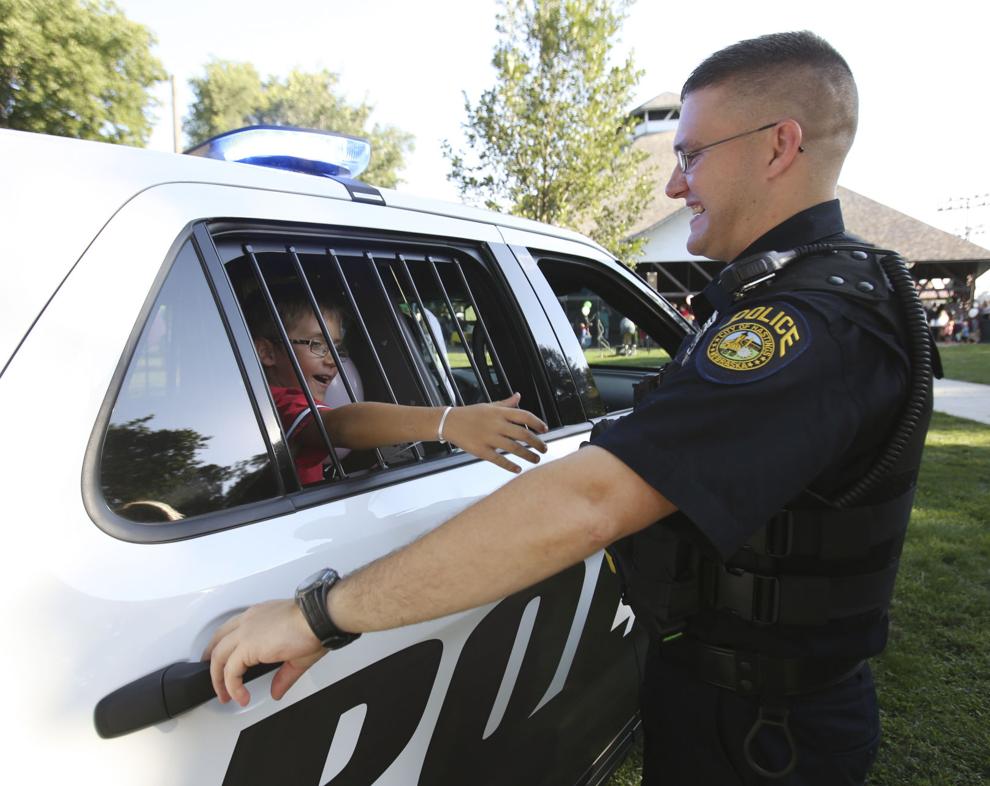 "I think it's a great thing for the community of Hastings," he said. "It's a great way to show pride in what the officers do and the relationship they have with community members."
Organized by the Hastings Police Department and the Hastings Area Chamber of Commerce's Crime Prevention Task Force, the event is designed to heighten crime and drug prevention awareness, generate support for law enforcement, strengthen community spirit and send a message to criminals that neighborhoods are fighting back.
National Night Out is sponsored by the National Association of Town Watch, Hastings Police Department and Hastings Area Chamber of Commerce.
More than 10,000 communities from across the nation and Canada were expected to participate in the event. People are asked to lock their doors, turn on outside lights and spend the evening outside with neighbors and police during the event.
Kortum said some communities invite officers out to different neighborhoods, but he thinks it's better to have the celebration in a central location, as done in Hastings. He asked officers from both shifts working Tuesday to attend the event in uniform to allow citizens to meet more of them.
Not only does the event allow citizens to meet officers, but he said it gives officers the chance to introduce themselves in a casual setting.
"Our officers like interacting with the kids," Kortum said. "It's going great and it's another nice night."