GILTNER — In telling the story of Lyle Reab and his sacrifice, Chaplain Zach Brueningsen and historian Terri Mabon each offered Reab a welcome home.
Brueningsen and Mabon were the two speakers during a graveside service for Reab Tuesday afternoon at the Lerton Cemetery south of Giltner. The service included military honors conducted by a detail of soldiers from Fort Riley, Kansas, and American Legion Riders.
Reab's remains were interred in the family plot — relocated from an unknown soldier grave in Ardennes American Cemetery at Neupré, Belgium — and placed alongside those of his parents, Willis Harry and Daisy, in the cemetery.
Reab, 22, an only child, was killed in a foxhole on the southeastern end of Vossenack, Germany, in November 1944. Vossenack is in the Hurtgen Forest near the Germany-Belgium border and was the scene of intense fighting between U.S. and German forces in the fall of 1944.
"To describe the moment in which we are in right now: Burial, committal, memorial? All those things are true," Brueningsen said. "As a feel though, a welcome home is also appropriate."
While Giltner waited for news after Reab was missing, eventually it was determined he and many others had been killed.
"This isn't just a young man that paid the ultimate sacrifice," Brueningsen said. "This wasn't just the loss of our nation's most valuable treasure, the blood of our service members. This was the only way we would ever know the U.S. what it is today. In no way would our lives be the same without D-Day, Normandy and the battle for Hurtgen Forest. The Axis Powers were some of the greatest evils in the history of the world, and it cost a mother and a father a son, along with countless others. It cost his ability to have his own family, to carry his family name. God knows how many sleepless years his parents experienced."
Brueningsen said Reab's parents experienced a lifetime of heartache.
"I wish I could hug them and thank them, but I cannot," he said. "I can only recognize how important this moment is for all who see and hear it. I pray to God every one of us contemplate the cost of a whole generation of people who worked harder with much less pay, so that we could have our freedom intact."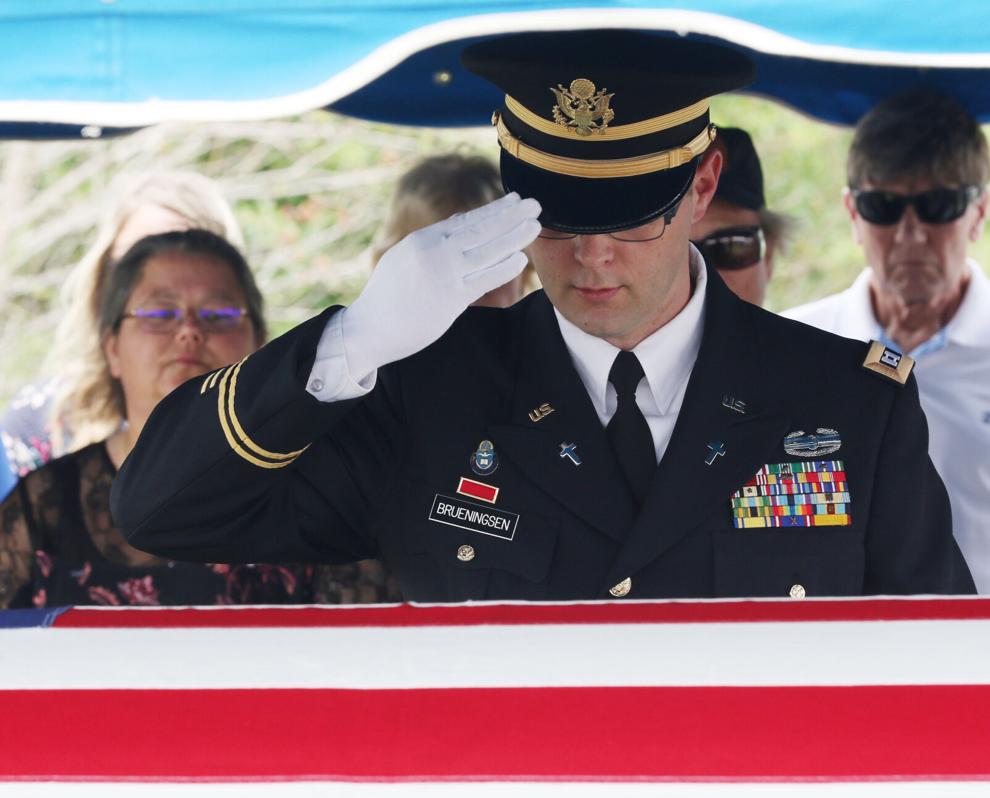 He said the world today would be very different if not for the countless men and women like Reab who gave their lives to stop the Axis Powers.
"We are not great without the sacrifices of giants that have gone ahead of us," he said. "Like many others, he answered the call."
Mabon, who lives at Phillips, spoke of how Reab's name was listed on the Netherlands American Cemetery's Wall of the Missing at Margraten, the Netherlands, and he was "adopted" by Netherlands resident Ron Busschers through a grave-tending program.
While conducting internet searches for additional information on the fallen soldier, Busschers discovered an article claiming Reab's remains were interred in Nebraska. Knowing such wasn't the case, he contacted Mabon, a member of the same genealogical society that posted the article.
Combing through numerous newspaper clippings at the Plainsman Museum in Aurora, Mabon learned that the location of Reab's remains was, in fact, unknown.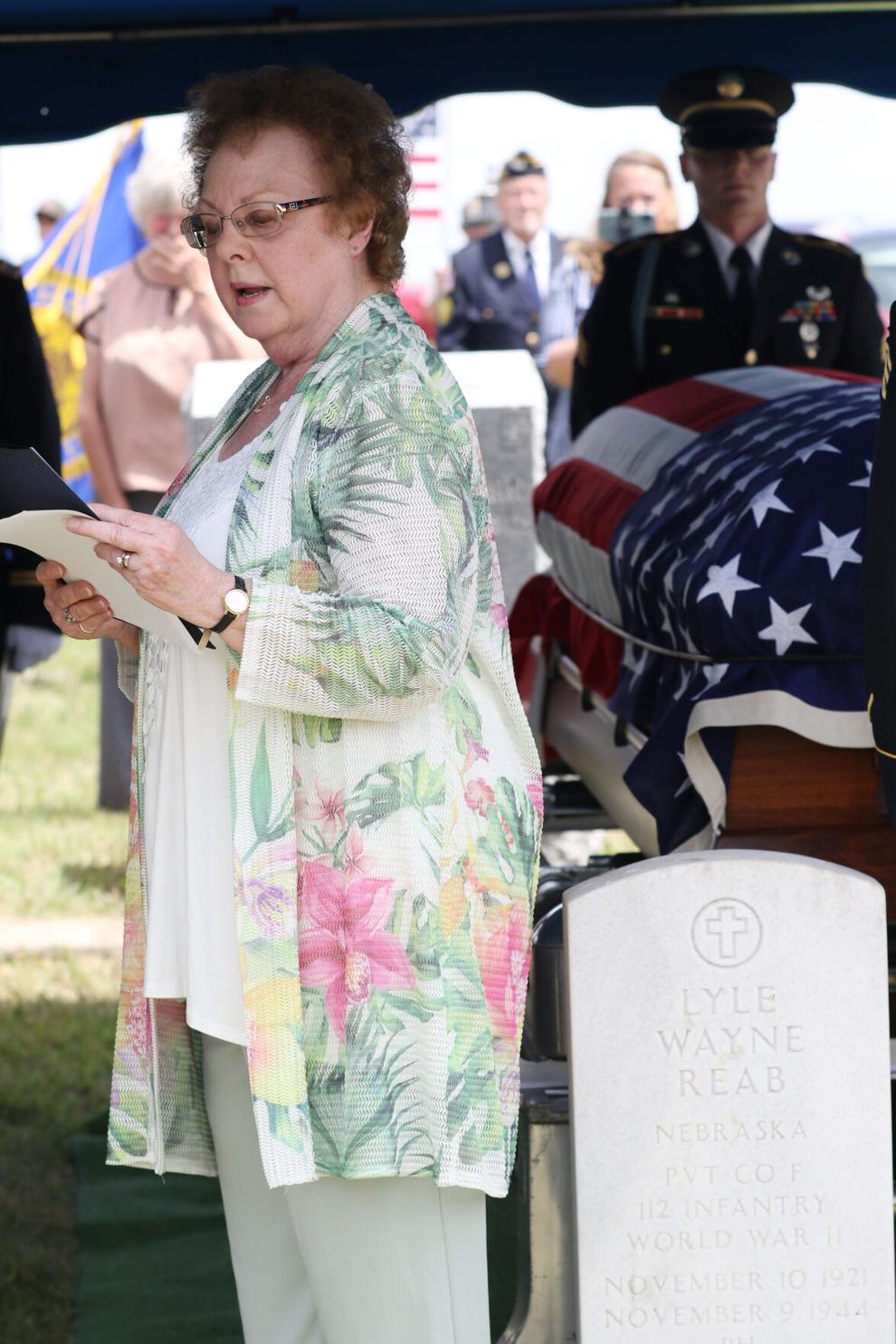 According to a news release from the Defense POW/MIA Accounting Agency, Reab's remains were recovered from the foxhole site in March 1948 by the American Graves Registration Command and were buried in the Ardennes American Cemetery in 1949, but were not positively identified until recently. After an historian with the accounting agency determined the possible identity of the remains, they were disinterred in June 2018 and were sent to Offutt Air Force Base in Omaha, where scientists used dental and anthropological analysis, circumstantial evidence and Y chromosome DNA analysis to eventually obtain a positive identification.
Reab's family members and many others wanting to honor his life filled the Lerton Cemetery on Tuesday afternoon.
Fire trucks held American flags high along the road leading to the cemetery.
"I was really pleased," Mabon said after the service. "I thought it was a very nice welcome for Lyle after these years. I think his parents were probably smiling down at the whole group. I'm glad so many people came out to celebrate his memory and his returning home."
Among those in crowd was Laury Riley of Bend, Oregon. She grew up in the area and was back visiting family, including her sister Paula Consbruck, who lives in Giltner.
"I thought it was very moving," Riley said. "It was very emotional. I didn't know anything about the family, but I was moved."
David Bye of Guernsey, Wyoming was among Reab's family members in attendance during the service.
Reab was the nephew of Bye's great-grandmother.
"It was great," Bye said. "It was very awesome. It was appropriate for the situation. It was just an honor to be here and be a part of it as a family member."
Bye is a 36-year veteran with the Wyoming Army Guard and a full-time technician at Camp Guernsey.
He was impressed by attendance at the service.
"It's just a testimony to the patriotism that the folks have in Nebraska and the country; the turnout for one of our own coming home," he said.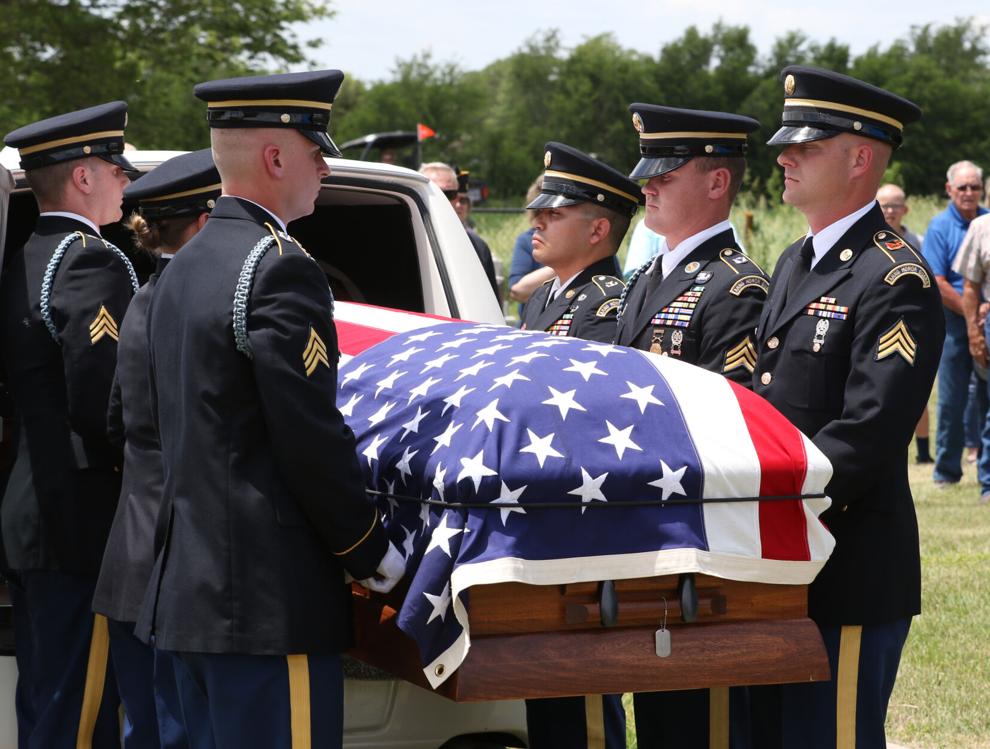 Bye told a family story about a time when, as a 5-year-old boy, Reab won a small Christmas cactus, which he gave to his mother.
"I think she really cherished that through the years," Bye said. "That plant is still living and alive today."
Bye's father has a Christmas cactus that started from that original plant.
"It's a great, big Christmas cactus and he's made starters and given them to all the family," Bye said. "Something Lyle did when he was 5 years old is still in existence today, living."
There were several family members at the service Bye had never met.
"It's just nice to get out and meet others and meet some family I never knew existed, really," he said.
One family member he has kept in touch with is Frank Detamore of rural Giltner. Detamore's grandmother was Reab's aunt.
"I thought everything turned out nice," Detamore said. "All the people that drove miles to come here and give their last thoughts for Lyle, I think is absolutely tremendous."
Detamore served in Army special forces two years during Vietnam.
"It'll be fun to meet a lot of them that neither one of us know," Detamore said, referring also to Bye. "He might know one I don't and vice versa."