Hastings' big idea is bees.
Dustin Schmidt's business idea Up Top Apiaries — rooftop beekeeping in downtown Hastings — won the Big Idea Hastings pitch contest Tuesday at The Lark.
This was the second Big Idea Hastings contest, following one in 2015.
Up Top Apiaries was one of 12 business pitches made during the event that was organized by the Hastings Economic Development Corporation.
A panel of judges narrowed the field to five finalists. The crowd of more than 150 people present then determined the top three ideas through a popular vote.
"We couldn't be more pleased with the turnout tonight," said Maggie Vaughan, who organized Big Idea Hastings as HEDC Director of Talent Solutions. "People came together to support entrepreneurs and small businesses in our community, which was awesome. They were excited the entire night and everybody seemed really passionate and ready to give back and support these potential entrepreneurs in our community."
Judges included David Brandt, representing HEDC; Mark Funkey, representing Central Community College-Hastings, Adam Primm, representing Hastings Young Professionals; Abi Vrbas, representing local business Pacha Soap; and 2015 BIH winner Ben Dumas.
Schmidt got into the idea of beekeeping after attending sustainability workshops through his job as an instructor in the CCC-Hastings culinary arts program.
Honey produced in Schmidt's hives could be used by downtown restaurants and breweries in their food and beer.
"There's a couple of different businesses that have expressed interest," he said.
While rooftop beekeeping is sweeping the nation, Schmidt would be a trendsetter in the area. He said the only commercial rooftop beekeeping he knows of in Nebraska is at the Cornhusker Hotel in Lincoln.
With many students, as well as colleagues, family and friends in attendance, he had one of the largest cheering sections.
With the enthusiasm of a "Price Is Right" contestant, he proudly held the oversized check he received over his head at Bruno Mars' "24K Magic" played on nearby speakers. From the stage he was also high fiving friends and family.
The $1,000 he received from HEDC for winning Big Idea Hastings will go far when it comes to rooftop beekeeping.
He said the cost to set up two hives, his goal for the first year of operation, is just $800.
Vaughan was just as excited as Schmidt about rooftop beekeeping in downtown Hastings.
"It is a brilliant idea," she said. "I was first introduced to the idea about a month ago when he sent in the idea through Big Idea Hastings. I could not have been more intrigued and pleased with the idea because not only is it something cool and it's environmentally friendly but it's also something very different and unique for the Hastings area. We can be trendsetters not only for our region but the state as a whole."
All five finalists will receive resources like legal services, grant writing and videography from Big Idea Hastings partnering businesses.
The two other pitches that received funding included Taylor Van Pelt's Hello Hastings seasonal subscription box service idea, which received $500 from Hastings College; and Jody Stutzman's idea for a Taco Bar, which would offer a mix of Asian, South American, and American gourmet tacos as well as a drink menu of shandies and margaritas, which received $250 from CCC-Hastings.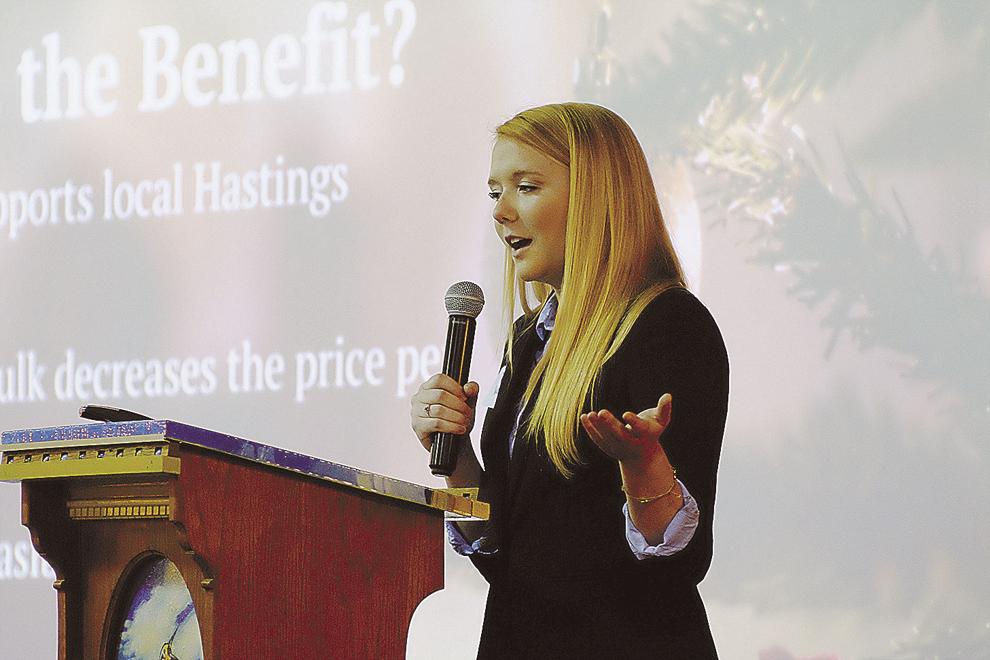 Hello Hastings was one of two subscription services selected as finalists.
Hello Hastings would provide a box of Hastings products for each of the four seasons. There is also Deco Box, which would provide boxes of decorations for a dozen different holidays.
"Subscription services are very unique in the sense that they can serve a very large population... Bulu Box is a great example," Vaughan said. "They're in Lincoln but they're producing their products locally. It's created a ton of jobs in their community from production to marketing, the whole gamut. Although those subscription boxes may not pertain directly to our local community, they can do so much more. It's a cool concept and they're very up and coming in our nation as a whole. It's exciting to see people are very receptive to that."
Among other ideas pitched Tuesday included a kombucha company, shopping carts with scales and scanners, an app to help rape survivors and bystanders, a wedding planning business, locally sourced produce, an outdoor staking rink, large 3-D printers built using parts from recycled electronics and a battle of the bands contest waged among praise bands from local churches.
Dave Rippe, HEDC executive director, let audience members know that even the businesses that did not win Tuesday could get up an running if the right investor decided to get involved. He encouraged anyone interested in supporting one of the business ideas to contact the HEDC office.
Schmidt, who hopes to be up and running with Up Top Apiaries next spring, said he's proud to be part of the current wave of entreprenuership in Hastings.
"There's so many wonderful ideas out there, it's just getting them out there and getting them in the public and letting people know your ideas," he said. "I think it speaks leaps and bounds about where Hastings as a community is going and where it came from. Especially with the revitalization of downtown it's showing a lot of new possibilities."