For about 15 minutes each morning, students at Zion Classical Academy turn back the clock to simpler times, when celebration of God and country were part and parcel of the morning ritual at schools across America.
The opening ceremony is a routine all students from preschool to sixth grade partake in to begin each school day in the church/school parking lot. Standing alongside the flagpole, they recite the Pledge of Allegiance to Old Glory and Christian flags; hear fellow students recite Bible verses, famous speeches and/or poetry; pray the Lord's Prayer; recite Latin greetings; and lift up those celebrating birthdays in song.
It's a simple ceremony, to be sure — but for all it encompasses, it has become something students say they look forward to sharing each morning. Standing shoulder to shoulder with classmates facing fields of crops evokes a unifying spirit that Principal Sara Nielsen calls the perfect way to start the school day.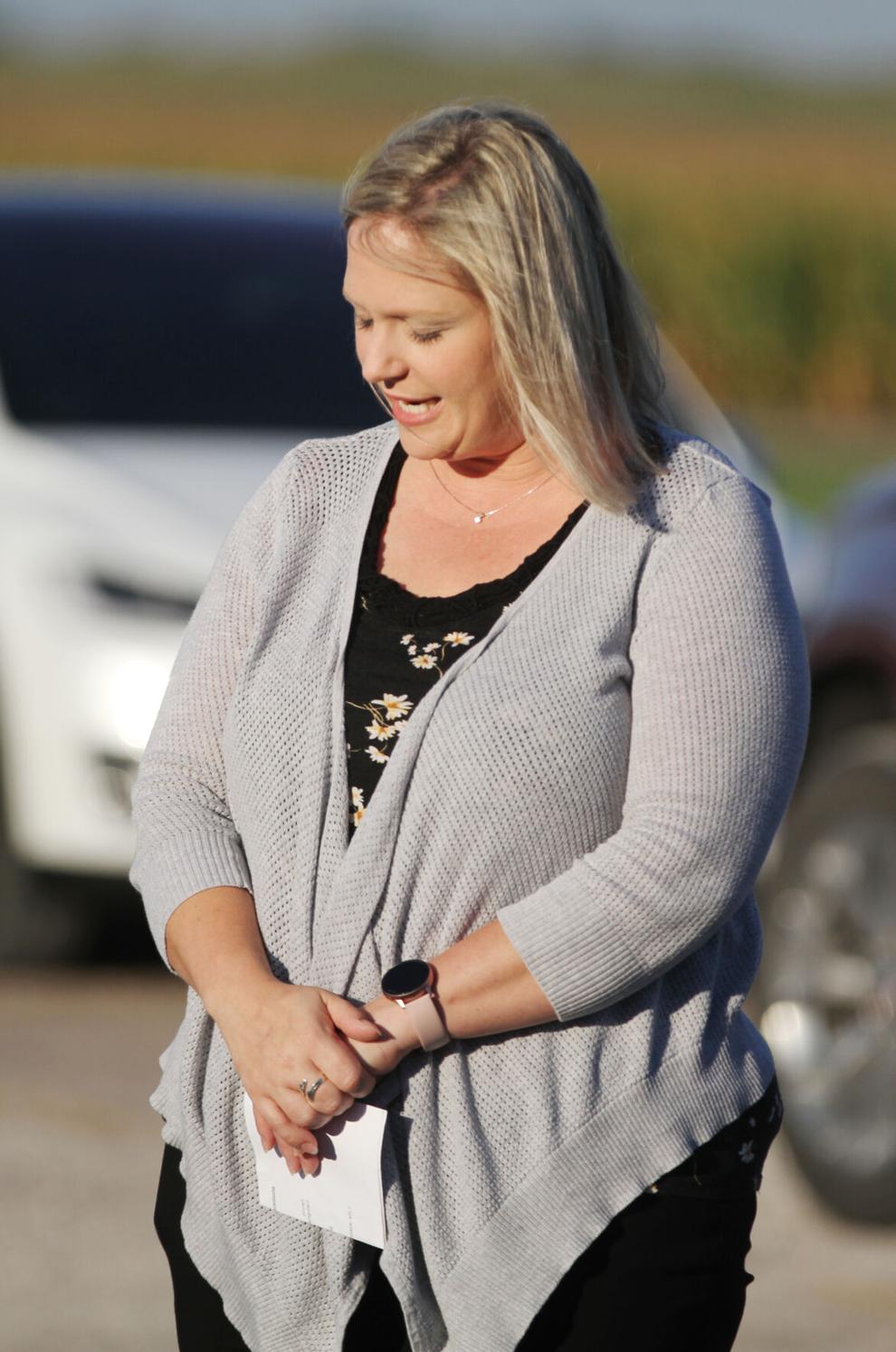 "Doing the pledges together and having students recite Bible verses, saying the Lord's Prayer and speaking in Latin, I can't think of a better way to begin the day," Nielsen said. "We love it. The teachers are really happy with how it's going, and the parents are really pleased and excited to come watch their children."
The school's education model and opening ceremony format are borrowed from Hillsdale Academy in Michigan, which has become the model for Zion's program. Staff from Zion visited the academy during the summer months to shadow the program and pick up pointers for its own fledgling program, which entered its third year of adoption in 2021 at the longtime Hastings Christian school.
"We're going back to our roots, so to speak," Nielsen said. "This is education the way children were educated 100-plus years before all this educational reform started happening."
John Andrew Haygood was homeschooled through fourth grade before enrolling at Zion. Now a sixth-grader, the son of Grace Life Church pastor Chadwick and Meredeth Haygood says he has grown to appreciate the shared educational experience he now enjoys and how the opening ceremony encompasses those things he enjoys most at the academy.
"I'm really happy that it's a classical and Christian education," he said. "I think those two things go really good together.
"Doing the opening ceremony with the whole school, it feels like we're all in it together. We come outside and we're kind of waking up, and it's like, "OK, it's school time.' Another reason they do it outside is we get to see God's creation and everything that he has made."
Second-grader Nash Maendele said he likes how the opening ceremony puts God first to start the day.
Already Nash is looking forward to delivering his first recitation in front of the school on Oct. 13.
"The fun part about it is that it is on a field trip day to the pumpkin patch, so I'm going to do it in front of a lot more people," he said.
Third-grader Claire Peterson wore a headset audio microphone to deliver her recitation on looking to heavens during the Sept. 16 opening ceremony.
"It was hard," she said. "It took me a few weeks to memorize the whole thing. It felt like it went well. My face kinda got red. I felt it."
A former student at Adams Central, Claire said she likes some of the notable program additions at Zion, including the opening ceremony.
"I like that it has Latin and that we get to learn about God and have chapel," she said. "I like doing the Pledge of Allegiance because we don't just do the regular one, we do one about the cross and Jesus."
Fourth-grader Olivia Ablott said she likes starting the day beside the flagpole each morning.
"It's a really good way to start your day," she said. "I like that you can learn with your friends. It's just really fun."