The Hastings College men's basketball team will be hosting its C3 Tip-Off Classic this weekend, and the Broncos have plenty of intrigue going into the year after winning the season opener 96-62 last week at Sterling.
Now, HC will get to debut the squad in front of the home crowd for the first time Friday at 7 p.m. at Lynn Farrell Arena.
HC has a few familiar faces on the court, but it also brought in a solid group of transfers and freshmen that are hoping to take the Broncos to the next level.
"I like the guys we have; I really like our team. Our chemistry is good. We have some new guys, some returners, and they've established a really good culture in the first month and a half," said HC head coach Bill Gavers.
Juniors Karson Gansebom and Dashawn Walker are both back from last year's team. They were two of the top three scorers, averaging 16.5 and 14.6 points per game, respectively. Gansebom dropped 31 points in this year's opener vs. Sterling, exploding with a 7-for-10 performance from 3-point range.
Walker, a 6-foot, 6-inch forward, led HC in rebounds with 7.1 per game last year, and he'll be a big part of the Broncos' success again this season.
"Both are captains on our team and they provide leadership. That's a big deal especially when things get tough," Gavers said. "And their skills are obvious. Gansebom, he averaged 16.5 points per game and shot over 50 percent from the field...And Dashawn is so athletic. He averaged 14.6 last year and can really guard and get to the boards. He's just a really complete player. Having been in the program for a year helped him. I think the second year is a lot easier, particularly for transfers, once they figure out the lay of the land and the culture.
"We need big things from both of those guys; obviously in production but also leadership."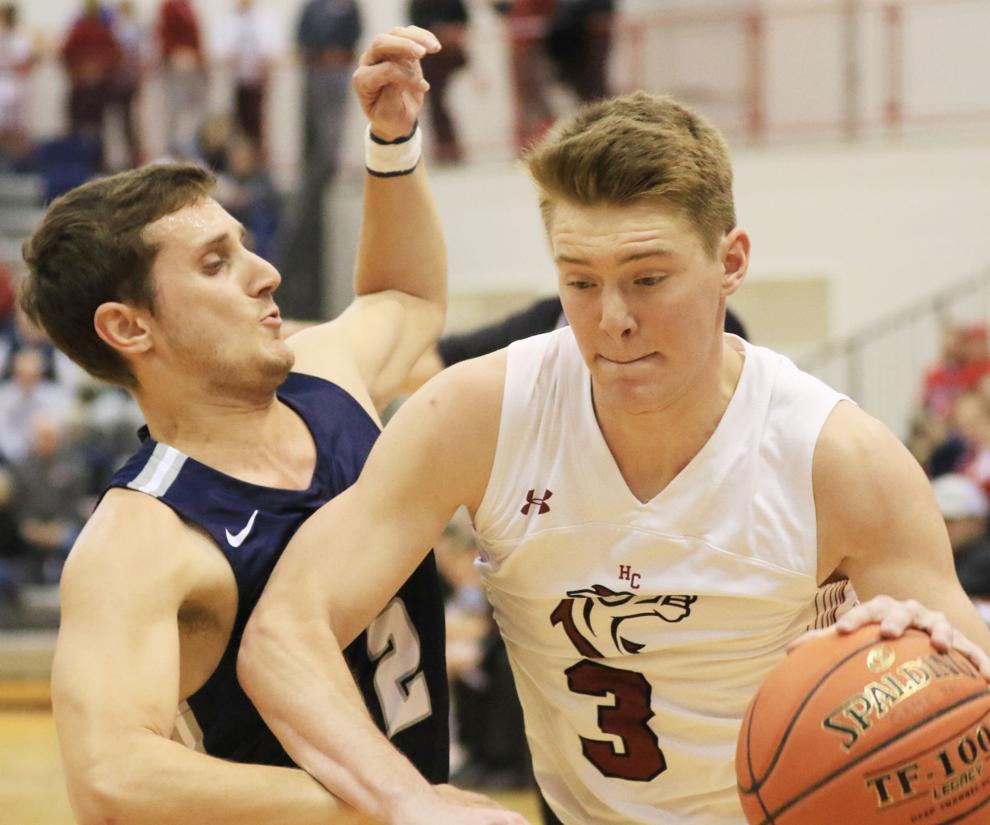 Taking the court alongside Walker and Gansebom to start last Friday's game were three newcomers: Dawson Zenger, TJ Babikir, and Mathias Nchekwube. Nchekwube, who stands at 6-8, hauled in 15 rebounds against Sterling.
Gavers said the players' contributions to the team aren't just measured during the game, but also depend on what happens in between games.
"We have some scoring off the bench and some guys that can do some good things," the Broncos' coach said. "Collectively, everyone is buying into what their roles are, and practices are very, very competitive...(the second unit) goes hard every day against our top unit, and that really helps make us better, that we have competition in practice."
Preseason polls are far from a crystal ball when it comes to predicting the season's final standings, but sometimes they're still hard to ignore. That's the case with this year's conference rankings, which have Hastings in last place. Gavers said the poll shouldn't be taken as fact, but it can also still be used as motivation.
"We're very aware of where we've been picked and our players are very aware of where we've been picked," Gavers said. "I think there's enough motivation to just have pride and do things the right way; they want to win. But there's maybe a little bit of extra fuel when you see it's voted on by the coaches in your league and that's where the coaches believe you're going to finish.
"We talked about it really just being someone else's opinion, but results are what matters. Our guys are aware of it and hopefully it fuels us every day in practice. It has so far."
Hastings College will square off with Presentation College in its opening game of this weekend's Classic. Tip off is set for 7 p.m. on Friday, and Hastings will then take on Friends University Saturday at 6 p.m.
"We're excited to be in front of the home fans in our home gym and have the opportunity to show people what we have," Gavers said.