KENESAW — Aaron Mick feels fortunate to be going back to the state track and field meet in Omaha next week.
After earning a bronze medal in 2019 in the pole vault, Mick was destined to be absent for the 2020 season that never happened anyway after enduring shoulder surgery.
This season, he was hoping he'd recover in time from a torn ACL suffered during football season.
"I didn't know what I was going to be able to do," said Mick, who won Wednesday's vault at the Class D, District 6 meet in Kenesaw by clearing 14-feet. "I was just looking to run in track, maybe be able to pole vault. But being able to go back to state is just a surreal moment to know that I worked my butt off all year for this."
Mick's hard work also showed on the track, where he snagged a spot at state in the 100-meter dash after finishing second in 11.62 seconds and anchored the Bruning-Davenport/Shickley 400-meter relay team that crossed first in 46.06 seconds.
"I started off the year a little slower, but eventually everything just fell into place," Mick said.
Mick will be joined by quite a few of his teammates at Omaha Burke next Wednesday, when the Class A and D athletes begin competition.
"I think we've got a pretty good chance (at a title)," Mick said. "Our throwers went 1-and-2 in both shot and discus, plus we've got a few jumpers. So, I think we can do pretty well at state team-wise."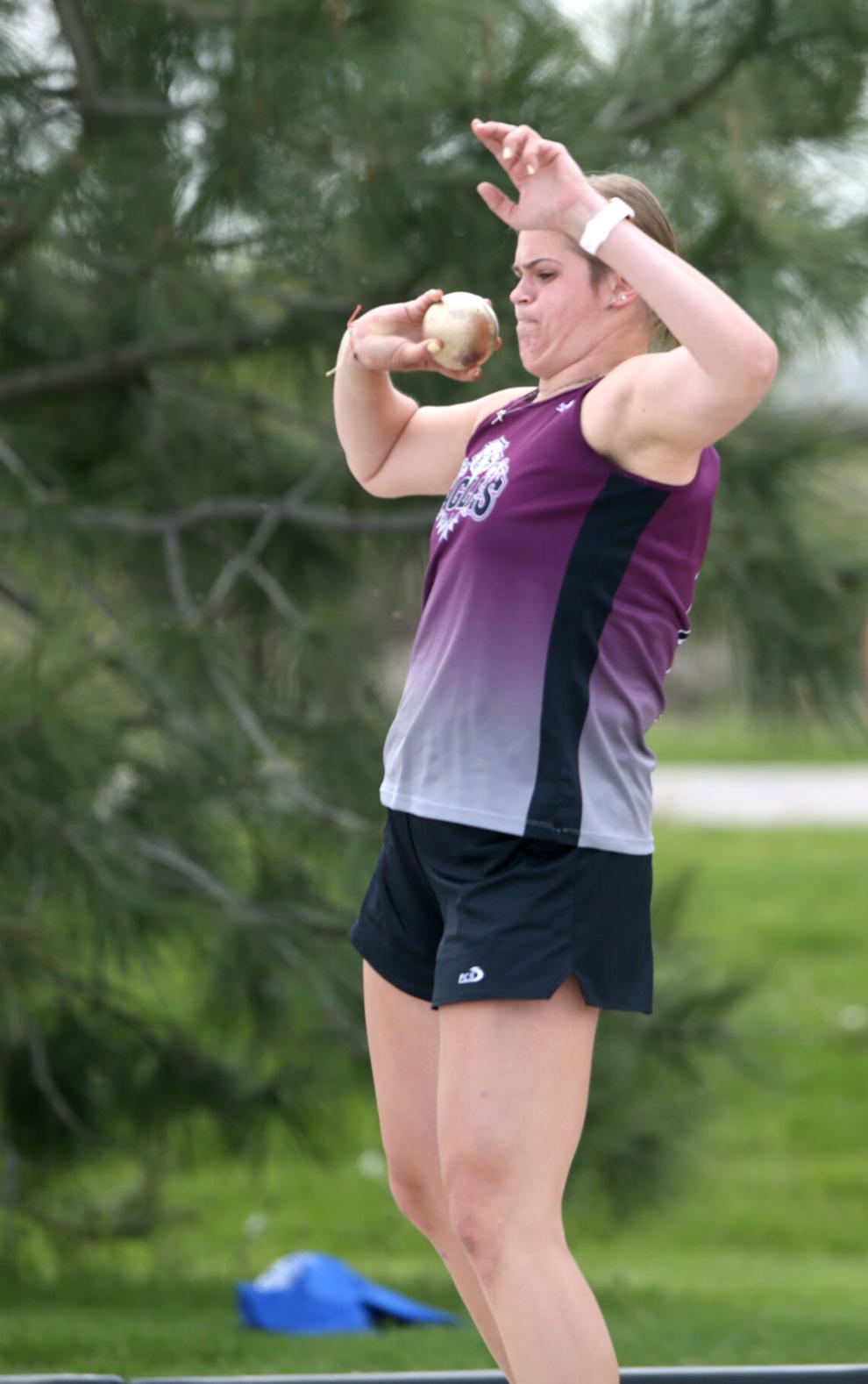 The Eagles, who are known for their successes in field events, displayed more balanced scoring, adding a few more points than usual on the track Wednesday.
Had Axtell not been a participant in the meet, Bruning-Davenport/Shickley would have twice been crowned district champions, which is what the Wildcats were by day's end.
The Eagles earned silver on both sides with the boys scoring 98 points and the girls edging Lawrence-Nelson with 65 points.
"I've noticed all year for the boys that we've really dominated in the field events," said Jill Rohr, first-year co-head coach for BDS. "Today was the best showing on the running side, I would say. They really came through. They were well rested and ready to compete."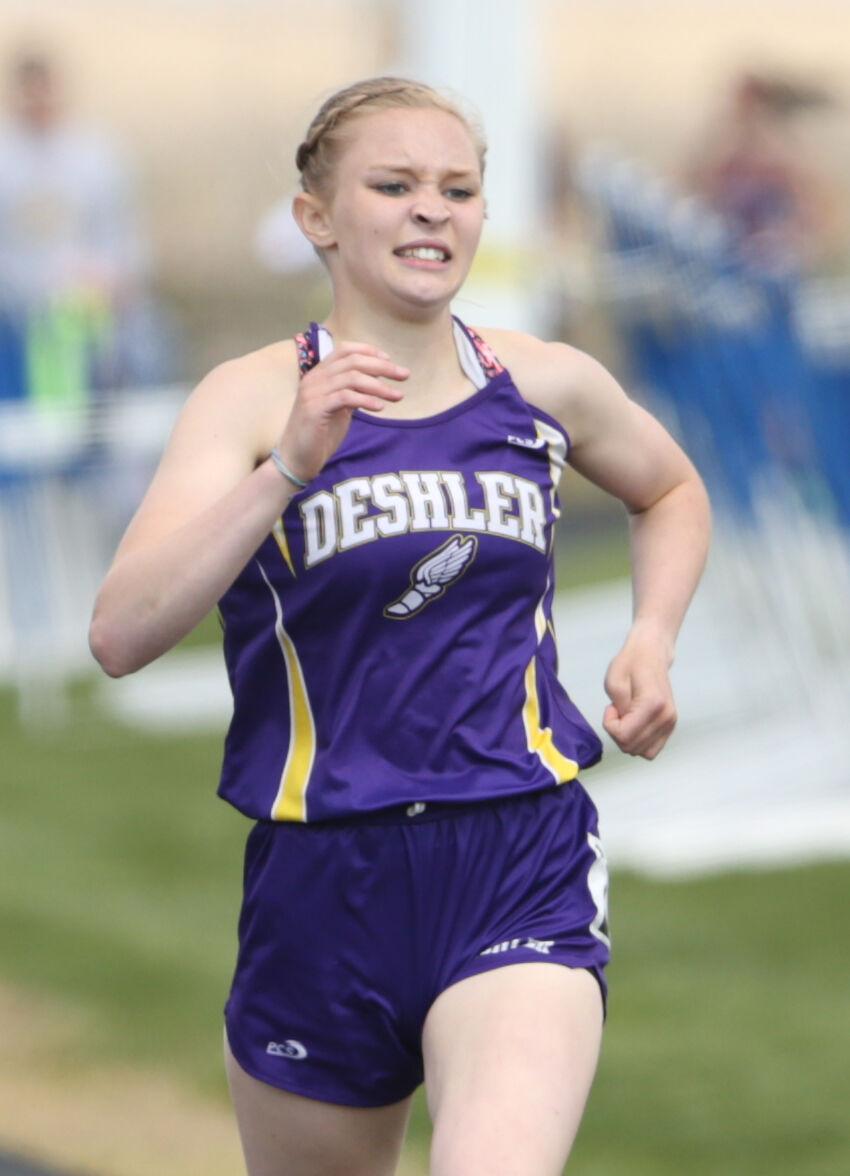 The other half of the head coaching staff, Amanda Hansel, added: "This is the first meet that all around we saw solid performances from all athletes — no matter field events, running events. It was a solid performance by all."
Of the Eagles' combined 163 points, 91 were scored by jumpers, throwers, and vaulters.
Kyle Ardissono won both the discus and shot put, throwing distances of 47-feet, 1/4 inch and 144-4, respectively. Easton Weber placed second in each, hurling 44-2 3/4 and 137-10. Owen Oglesby garnered silver in the high jump (5-8) and anchored the qualifying 1,600 relay run by Dominic Philippi, Raleigh Shipley, and Weber (3:47.55).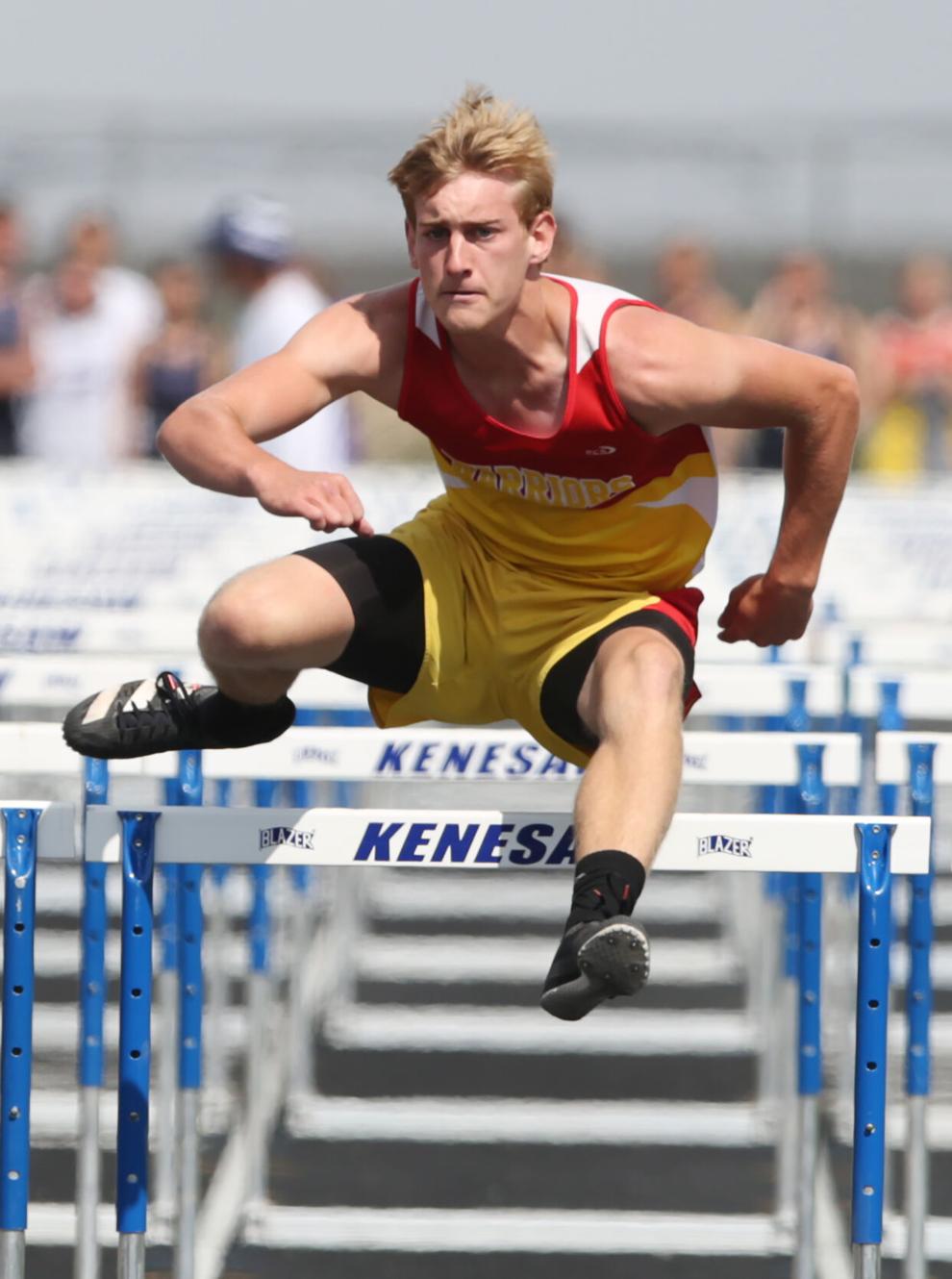 JessaLynn Hudson won the discus (111-0) and was second in shot (37-6 3/4). Mariah Sliva took silver in high jump, leaping 4-7. Taylor Sliva qualified in the 100, finishing second in 13.54 seconds.
The team of Mariah and Taylor Sliva, Hannah Miller, and Hanna Kadel also will be at state after their second place in the 400 relay (54.51).
"The kids are pumped and that's huge right there," Hansel said. "They've put in the time and effort in practice. There's no doubt they are going to succeed in Omaha."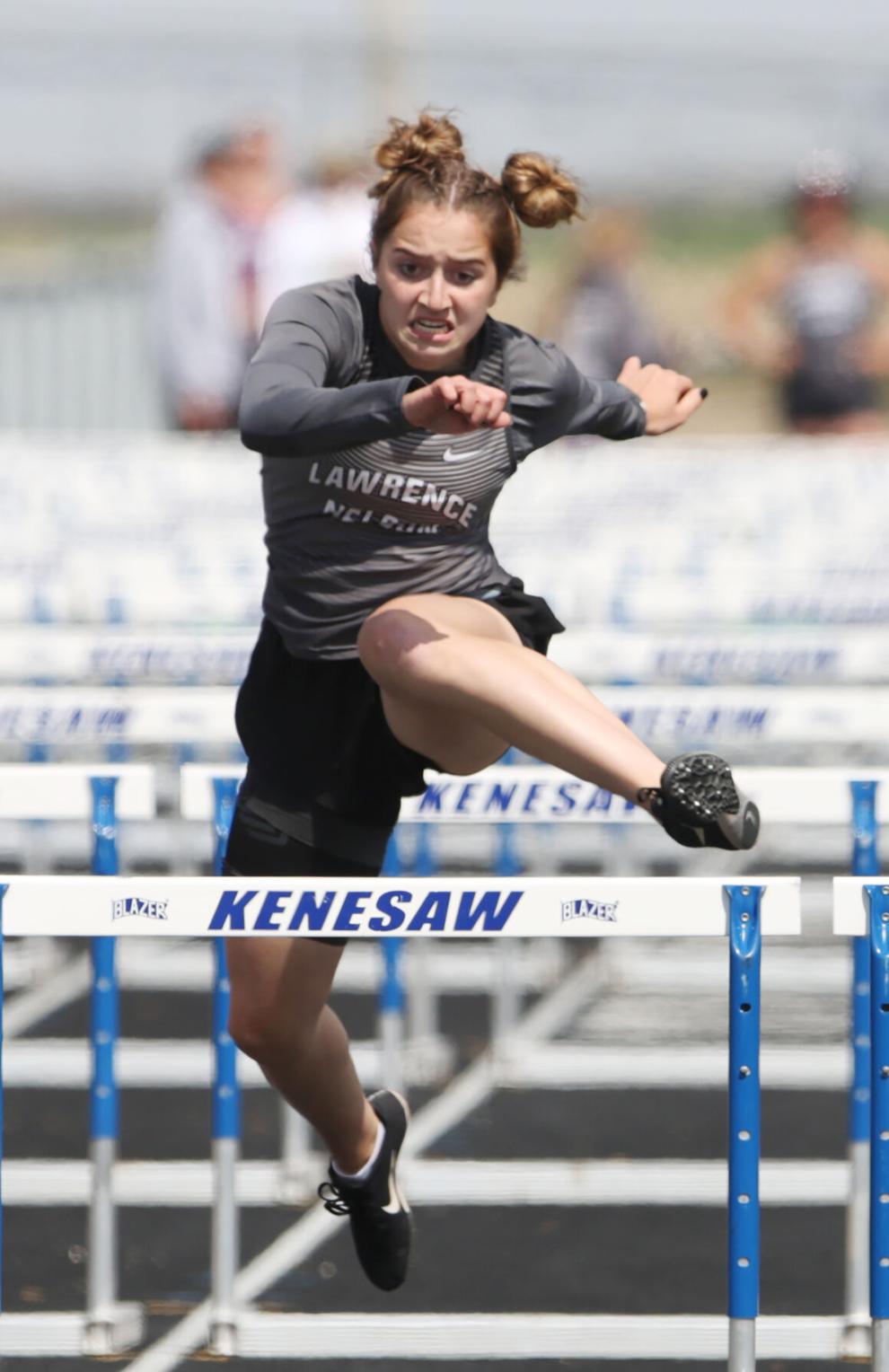 Kenesaw's Cassidy Gallagher will be leading her team to Burke next week after another sound performance on the runways and a personal best on the track.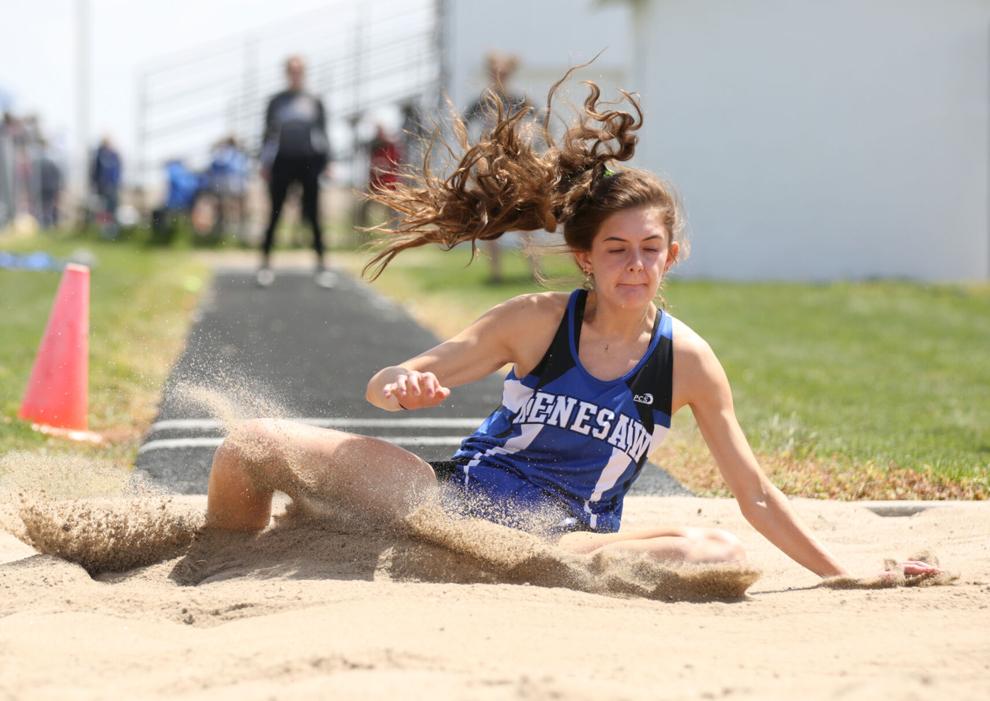 Gallagher, a junior, turned in first-place finishes in the long and triple jumps. She leapt 16-feet, 6 1/2-inches in the long jump and 34-5 1/2 in the triple.
"I'm excited for the jumps," Gallagher said. "I'm sitting pretty high in the triple jump. I'm excited for that one most, probably."
"She takes it very seriously, but she's still having fun out there," said Kenesaw head coach Nancy Bittfield of Gallagher, whose 27.83 in the 200 earned her a spot at state. "She sets goals for herself and does whatever I ask her to do."
The Kenesaw boys, who were third in the team race, qualified for state in four events.
Tyson Denkert won the long jump (20-5) by an inch over Harvard's Ethan Piper, before Piper (23.18) beat Denkert in the 200 by .27 seconds. Both qualified in each.
Denkert ran first on the silver 400 relay team (46.35) with Trey Kennedy, Brayden Sidders, and Sean Duffy. Kennedy qualified by winning the high jump (5-10).
"Trey has been jumping off and on all year, so it was great at districts to finally have him hit that goal and make it down to state," Bittfield said. "Tyson's been running tough all year, so just to have them go out and do what I know they can do is satisfying."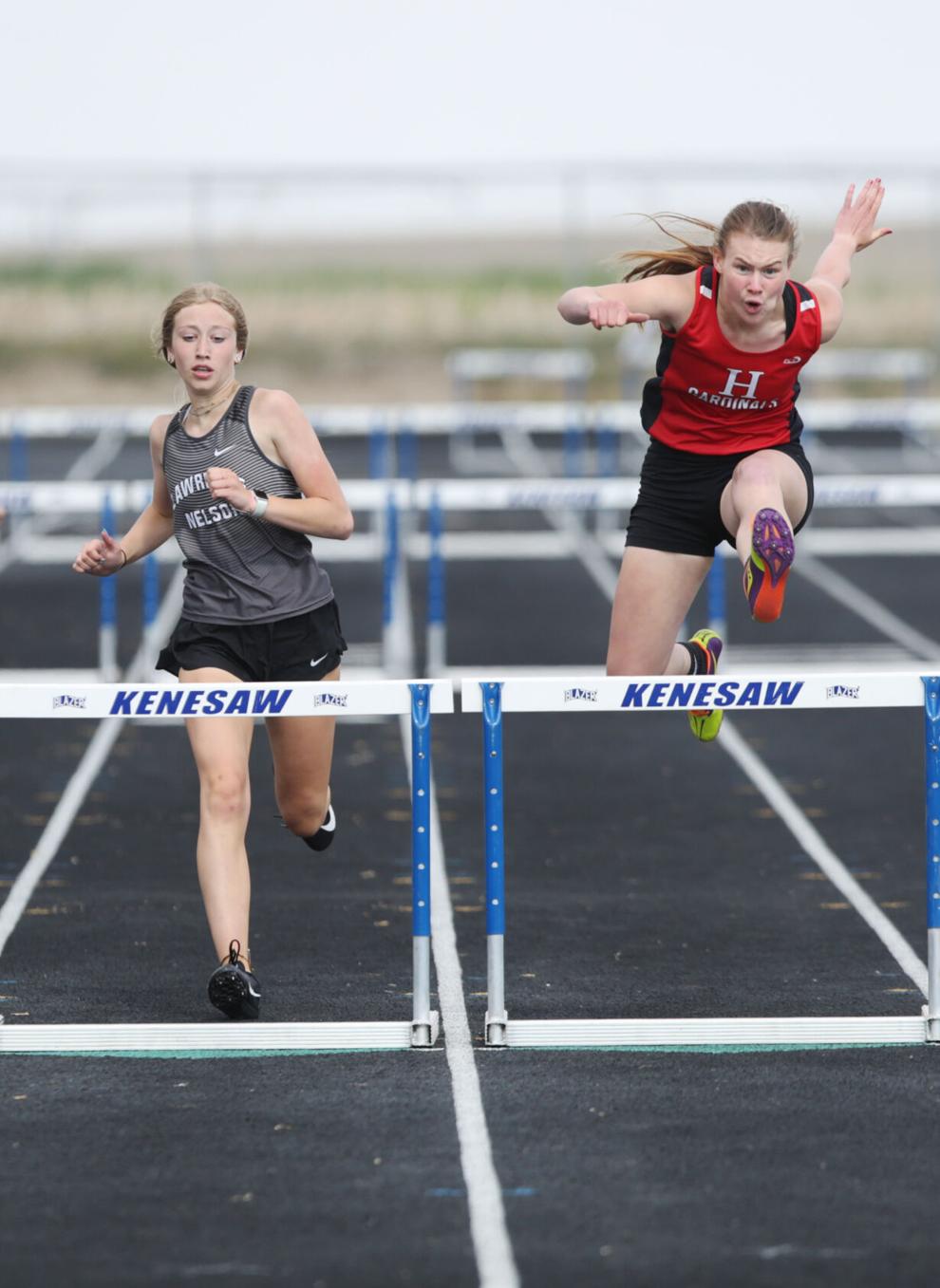 Franklin: Bryanah Hindal, triple jump, 31-10 1/2; Abigail Yelken, shot put, 38-10 1/2
Deshler: Coltin Hansen, 110 hurdles, 16.37; Lacey Schmidt, 800, 2:34.30 & 1,600, 6:17.57
Harvard: Ashley Nierman, pole vault, 10-0 & 300 hurdles, 48.78; Ben Okraska, pole vault, 14-0; Xavier Marburger, triple jump, 40-0 1/2; Ethan Piper, 100, 11.55
Lawrence-Nelson: Emma Epley, long jump, 16-3 1/2 & 100 hurdles, 17.06; Sydney Biltoft, 300 hurdles, 49.12; girls 1,600 relay 4:29.24; boys 400 relay 8:48.68; Cole Troudt, 3,200, 10:40.56; Logan Menke, 1,600, 5:12.95
Red Cloud: Carson McCleary, 110 & 300 hurdles, 16.06 & 41.39; Sterling Frey, 400, 53.04.
Silver Lake: Morgan Dinkler, 3,200, 13:30.36; Tristan Kasson, 300 hurdles, 41.62
Note: Once all district meets are finalized, more of these athletes may qualify through wild-card spots. Those will be announced by the end of the week.
Class D, District 6 results
1, Axtell 122; 2, Bruning-Davenport/Shickley 98; 3, Kenesaw 63; 4, Red Cloud 49; 5, Harvarrd 48; 6, Alma 41; 7, Lawrence-Nelson 39; 8, Franklin 23; 9, Silver Lake 18; 10, Deshler 14; 11, Wilcox-Hildreth 9
1, Axtell 129; 2, Bruning-Davenport/Shickley 65; 3, Lawrence-Nelson 64; 4, Kenesaw 62; 5, Wilcox-Hildreth 50; 6, Deshler 34; 6, Harvard 34; 8, Alma 31; 9, Silver Lake 26; 10, Franklin 24; 11, Red Cloud 7
1, Jaron Bergstrom, Ax, 10:39.11; 2, Cole Troudt, L-N, 10:40.56; 3, Quentin Kappelmann, Ax, 10:59.34; 4, Kyler Carrraher, F, 12:23.34; 5, Griffin Stemmer, A, 12:25.25; 6, Silas Purdy, K, 12:36.20
1, Calvin Johnson, Ax, 52.87; 2, Sterling Frey, RC, 53.04; 3, Cooper Miller, Ax, 53.51; 4, Tyson Denkert, K, 53.52; 5, Christian Penny, W-H, 53.88; 6, Matthew Hansen, SL, 55.20
1, Kyle Ardissono, BDS, 144-4; 2, Easton Weber, BDS, 137-10; 3, Brennan Runge, Ax, 127-2; 4, Joe Kahrs, F, 117-9; 5, Trenton Buescher, D, 116-4; 6, Eli Jensen, K, 116-4
1, Axtell 8:45.47; 2, Lawrence-Nelson 8:48.68; 3, Alma 9:31.20; 4, Kenesaw 9:49.31
1, Aaron Mick, BDS, 14-0; 2, Ben Okraska, H, 14-0; 3, Seth Stengel, BDS, 11-0; 4, Joe French, Ax, 9-6; 5, Levi Schroeder, K, 9-0; 6, James Dubbs, A, 8-6
1, Tyson Denkert, K, 20-5; 2, Ethan Piper, H, 20-4; 3, Gavend Cole, Ax, 19-9 1/2; 4, Carson McCleary, RC, 18-11; 5, Xavier Marburger, H, 18-3 1/4; 6, Lane Kelley, K, 18-3
1, Trey Kennedy, K, 5-10; 2, Owen Oglesby, BDS, 5-8; 3, Peyton Herrick, A, 5-8; 4, Miles Cleveland, F, 5-8; 5, Gage Thulin, A, 5-6; 6, Coltin Hansen, D, 5-6
1, Kyle Ardissono, BDS, 47-0 1/4; 2, Easton Weber, BDS, 44-2 3/4; 3, Trey Kennedy, K, 43-10 1/4; 4, Joe Kahrs, F, 43-7 3/4; 5, Adrian Gomez, SL, 42-10 3/4; 6, Tate Schriner, RC, 40-11 1/2
1, Gage Thulin, A, 40-11; 2, Xavier Marbuger, H, 40-0 1/2; 3, Miles Cleveland, F, 37-5 3/4; 4, Brayden Sidders, K, 37-3 3/4; 5, Randyn Uden, K, 37-1; 6, Tyson Kotinek, L-N, 36-3 1/2
1, Ethan Piper, H, 11.55; 2, Aaron Mick, BDS, 11.62; 3, Gavend Cole, Ax, 11.67; 4, Dominic Philippi, BDS, 11.95; 5, Colton Hansen, D, 12.07; 6, Devyn Zikmund, L-N
1, Carson McCleary, RC, 16.06; 2, Colton Hansen, D, 16.37; 3, Tristan Kasson, SL, 16.78; 4, Quinn Bertrand, Ax, 17.01; 5, Aaron Skaggs, Ax, 17.61; 6, Luke Swanson, SL, 19.41
1, Calvin Johnson, Ax, 2:07.07; 2, Andrew Russell, A, 2:08.23; 3, Christian Penny, W-H, 2:09.49; 4, Quentin Kappelmann, Ax, 2:12.10; 5, Jonathan Lorenzo, Ax, 2:12.37; 6, Nolan Ostdiek, L-N, 2:18.25
1, Carson McCleary, RC, 41.39; 2, Tristan Kasson, SL, 41.62; 3, Quinn Bertrand, Ax, 41.67; 4, Owen Oglesby, BDS, 45.55; 5, Aaron Skaggs, Ax, 46.23; 6, Logan Knaus, W-H, 46.61
1, Ethan Piper, H, 23.18; 2, Tyson Denkert, K, 23.45; 3, Jayden Wales, RC, 24.15; 4, Dominic Phillipi, BDS, 24.21; 5, Gavend Cole, Ax, 24.25; 6, Xavier Marburger, H, 24.35
1, Logan Menke, L-N, 4:59.19; 2, Jaron Bergstrom, Ax, 5:01.66; 3, Andrew Russell, A, 5:08.26; 4, Cole Trott, L-N, 5:12.95; 5, Keaton Cole, Ax, 5:21.49; 6, Latte Schumm, H, 5:24.24
1, BDS 46.06; 2, Kenesaw 46.35; 3, Axtell 46.71; 4, Red Cloud 47.18; 5, L-N 489.85; 6, Franklin 49.07
1, Axtell 3:42.86; 2, BDS 3:47.550p;; 3, Red Cloud 3:54.23; 4, Lawrence-Nelson 3:56.24 5, Kenesaw 3:57.39; 6, Deshler 3:58.96
1, Jacey Schmidt, Ax, 13;30.19; 2, Morgan Dinkier, SL, 13:30.36; 3, Alyssa Ferguson, H, 14:39.46; 4, Abby Snell, Ax, 15:15.34; 5, Nicole Beck, Ax, 15:30.20; 6, Jessica Sole, L-N, 16:13.86
1, Sarah Jensen, W-H, 1:02.24; 2, Brooke Quadhamer, W-H, 1:02.98; 3, Cassidy Gallagher, K, 1:04.51; 4, Hannah Miller, BDS, 1:04.93; 5, Ayda Brandt, RC, 1:06.31; 6, Allie Vieselmeyer, D, 1:06.97
1, Abigail Yelken, F, 38-10 1/2; 2, JessaLynn Hudson, BDS, 37-6 3/4; 3, Natalie Billington, W-H, 36-9 1/2; 4, Kylie Beard, L-N, 33-9 3/4; 5, Delainey Gaughen, H, 33-5 1/4; 6, Lexie Eckhoff, Ax, 31-11 1/2
1, Alma 10:33.17; 2, Axtell 10:42.66; 3, Lawrence-Nelson 12:03.84; 4, BDS 12:25.62; 5, Kenesaw 12:31.99
1, Cassidy Gallagher, K, 34-5 1/2; 2, Bryanah Hindal, F, 31-10 1/2; 3, Kassidy Wehrer, Ax, 29-11; 4, Kassidy Halvorsen, Ax, 29-5 1/2; 5, Alexis Wolfe, A, 29-4 1/2; 6, Jada Spurling, BDS, 28-11 1/4
1, JessaLynn Hudson, BDS, 111-0; 2, Natalie Billington, W-H, 106-10; 3, Emma Schroeder, K, 104-7; 4, Macy Kamler, BDS, 102-1; 5, Sena Petersen, D, 100-10; 6, Aleah Heikkinen, L-N, 94-4
1, Ashley Nierman, H, 10-0; 2, Rylee Legg, K, 8-6; 3, Trinity Houchin, Ax, 8-6; 4, Lacey Schmidt, D, 8-6; 5, Kendall Stemmer, A, 8-0; 6, Jessica Pfeil, A, 8-0
1, Cassidy Gallagher, K, 16-6 1/2; 2, Emma Epley, L-N, 16-3 1/2; 3, Elsa Jorgensen, L-N, 15-9; 4, Brooke Quadhamer, W-H, 15-7 1/4; 5, Katelyn Karr, SL, 14-9 1/2; 6, Kassidy Halvorsen, Ax, 14-8
1, Reagan Nordhausen, Ax, 4-9; 2, Mariah Silva, BDS, 4-7; 3, Bryanah Hindal, F, 4-7; 3, Mallory Kleen, D, 4-7; 5, Tierra Schardt, D, 4-5; 6, Sydney Biltoft, L-N, 4-5
1, Reagan Nordhausen, Ax, 15.73; 2, Emma Epley, L-N, 160.06; 3, Rylee Legg, K, 16.80; 4, Sydney Biltoft, L-N, 17.06; 5, Kassidy Halvorsen, Ax, 17.85; 6, Georgi tenBensel, SL, 18.03
1, Emma Callan, Ax, 13.41; 2, Taylor Sliva, BDS, 13.54; 3, Angie Snell, Ax, 13.73; 4, Avery Fangmeyer, RC, 13.91; 5, Hannah Lienemann, Ax, 13.99; 6, Elsa Jorgensen, L-N, 14.03
1, Addison Neal, A, 2:30.64; 2, Lacey Schmidt, D, 2:34.30; 3, Aubrie Erickson, Ax, 2:43.47; 4, Bryn Kadel, BDS, 2:50.81; 5, Kerigan Karr, SL, 2:58.17; 6, Elizabeth Dubbs, A, 3:06.89
1, Ashley Nierman, H, 48.78; 2, Sydney Biltoft, L-N, 49.12; 3, Rylee Legg, K, 50.56; 4, Georgi tenBensel, SL, 50.86; 5, Taylor Skiva, BDS, 50.92; 6, Allie Vieselmeyer, D, 52.20
1, Emma Callan, Ax, 27.72; 2, Cassidy Gallagher, K, 27.83; 3, Brooke Quadhamer, W-H, 27.87; 4, Hannah Miller, BDS, 28.11; 5, Addison Siebels, A, 28.80; 6, Avery Fangmeyer, RC, 28.87
1, Trinity Houchin, Ax, 5:59.24; 2, Lacey Schmidt, D, 6:17.57; 3, Elli Johnson, Ax, 6:35.29; 4, Kerigan Karr, SL, 6:46.28; 5, Alyssa Ferguson, H, 6:47.94; 6, Caitlyn Hindal, F, 6:48.05
1, Axtell 53.58; 2, BDS 54.51; 3, L-N 54.83; 4, Harvard 56.66; 5, Alma 56.92; 6, Silver Lake 57.45
1, Lawrence-Nelson 4:29.24; 2, Wilcox-Hildreth 4:30.49; 3, Axtell 4:32.72; 4, Silver Lake 4:37.37; 5, Deshler 4:38.56; 6, Alma 4:38.86