KEARNEY — By the time Creighton Jacobitz realized what was happening, it was too late.
The two cameramen and reporter standing in front of him saw the scene unfolding in the background. Jacobitz, soon soaked with ice water, could not.
Following the longest outing of his young career, Jacobitz — who with his left arm helped lead the Five Points Bank Chiefs to a second consecutive Area 7 title on Tuesday — deserved the cool-off brought on by his teammates.
His head coach, Blake Marquardt, was glad to pass the shower on elsewhere.
"I was in the dugout near all the balls and equipment," Marquardt said. "So that's my advice to other coaches who want to avoid that."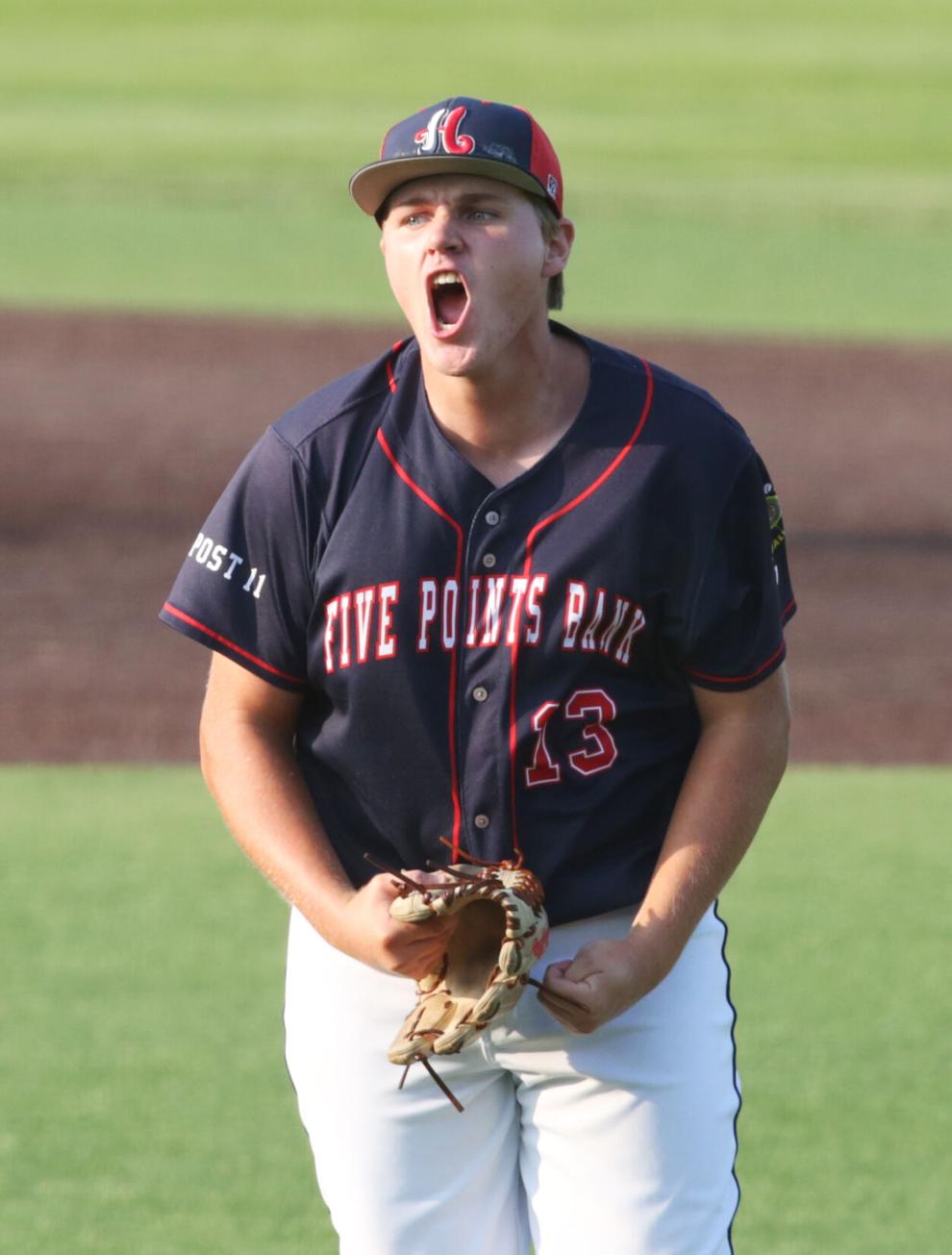 Jacobitz wasn't so lucky; his presence desired on the field after a lights-out performance spanning 7 1/3 innings.
The Chiefs bent but did not break in a ballgame decided on a bases-loaded walk drawn by nine-hole Tyson LeBar in the top of the ninth inning — the go-ahead sequence in yet another extra-inning affair with North Platte First National Bank at Kearney's Memorial Field.
The Nationals dispelled the hosts — an area final regular — on Monday night. But came up short in forcing a winner-take-all game Tuesday night and fell to Five Points Bank 3-2.
The Chiefs advanced to the American League half of the Class A state tournament in Omaha while North Platte will join the National half in Lincoln this weekend.
A pair of one-run extra-inning victories and a surprise rout were the ticket for Hastings.
"I think it shows you the tenacity and the resilience in the group that we have," said Chiefs coach Black Marquardt. "They've really bought in and they love the game. We have our highs and definitely have our lows, but these kids just want to come out and play."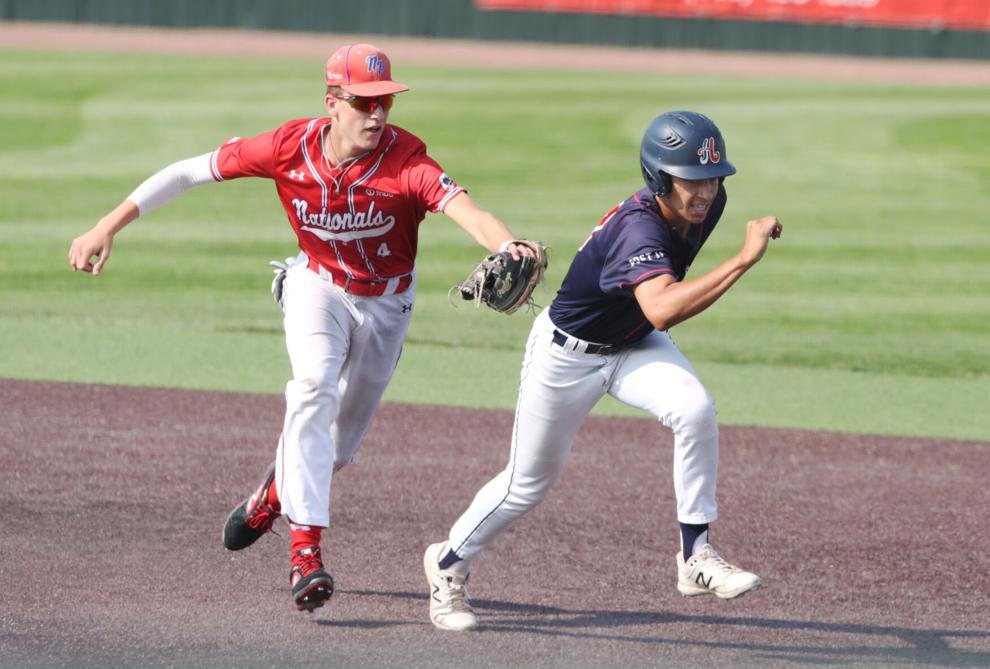 Five Points Bank experienced plenty of lows, potentially costly ones, on the base paths Tuesday. But none came back to hurt.
A defensive freeze allowed North Platte to tie the game. But the Chiefs held sturdy otherwise.
Jacobitz muted a dangerous and speedy Nationals offense to the tune of five hits. He was not rattled by the fifth-inning lead-off home run he allowed to North Platte's nine-hole Cole Wright.
"I'd already given up two this year," Jacobitz said, "so it really helped my composure to stay there, knowing I can come back from this."
The southpaw, who struck out four, deserved the win for his outing. Instead, it went to reliever Luke Brooks, who retired all four batters he faced, including the last two by strikeout.
Hastings Five Points Bank wins the Area 7 tournament title, 3-2, over North Platte. Luke Brooks Ks up the final two hitters looking for the victory. pic.twitter.com/K02OJrDZ2s

— Will Reynolds (@Will19Reynolds) July 21, 2021
"(Jacobitz) was just having such a day," said Marquardt, who promised his coaching staff he'd pull his starter at 90 pitches "no matter what."
"He was having some good moments and I just thought his character was going to grow today and he's going to become a better pitcher because he was going to get pushed a little bit."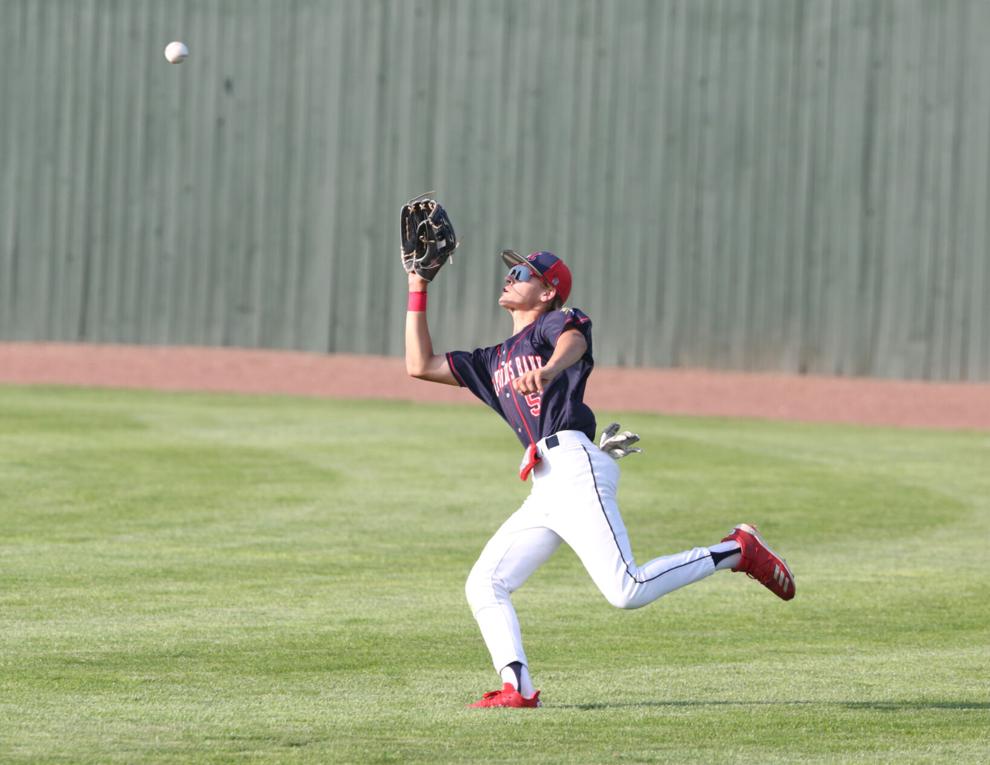 Jacobitz worked around a pair of first-inning baserunners and a tougher first-and-third situation in the fourth. He retired the side in order in the sixth and seventh until a one-out single in the eighth ended his night.
"I knew he was going to come out and compete, and he did just that," said Macrae Huyser, who played left field behind Jacobitz on Tuesday. "He threw lights out. I was so proud of him for going into the eighth inning. That can be a pressure situation for him and he handled it so well."
Huyser was the winning run for the Chiefs, scoring on the six-pitch walk LeBar drew out of North Platte reliever Cody Wright.
Huyser blooped a single to shallow right field to open the ninth and Justin Musgrave bunted him to second before Trayton Newman rolled an infield single.
North Platte elected to walk Cambren Montague to create a force out, leaving LeBar to play hero.
"(LeBar's) not your typical nine-hole," said Marquardt, adding he would have loaded the bases in the situation, too. "It's tough because you've got trust your pitcher to throw strikes. But it eliminates the squeeze."
Marquardt had called a squeeze with Montague at the bat, but the play never had the chance to develop.
Tate Janas pitched into the ninth for the Nationals, matching Jacobitz all evening. But allowing the lead-off single to Huyser in the ninth, and the Chief eventually scoring handed Janas the loss.
Five Points survived the first four innings without recording a hit. Its first single was immediately erased by a base-running gaffe.
A prospective third run for the Chiefs in the fifth was washed away in a rundown.
North Platte managed one hit beyond the fifth frame, where it tied the game. Tyler Tobey, whose single capped Jacobitz's night, was picked off by Brooks.
FPB………000 020 001 — 3 7 0
NP………..000 020 000 — 2 5 2
W — Luke Brooks. L — Tata Janas.