AURORA — Earlier this school year, the Hastings football reached the semifinals for the first time in 21 years. And now, with the school year coming to a close, the Tigers snapped another drought — one that's lasted almost twice as long.
On Thursday, the HHS boys track and field team captured its first district championship since 1988, racking up 111 points from 17 medals, including six first-place performances.
"To bring home a district championship, that's a credit to this talented group of athletes. They are very talented and they compete hard," said HHS head coach Dave Johnson.
"Our goal is to pretty much try and win state," said HHS distance runner Jaydon Welsh. "We came in this meet ready to run. We were in the right place, and we're ready to go."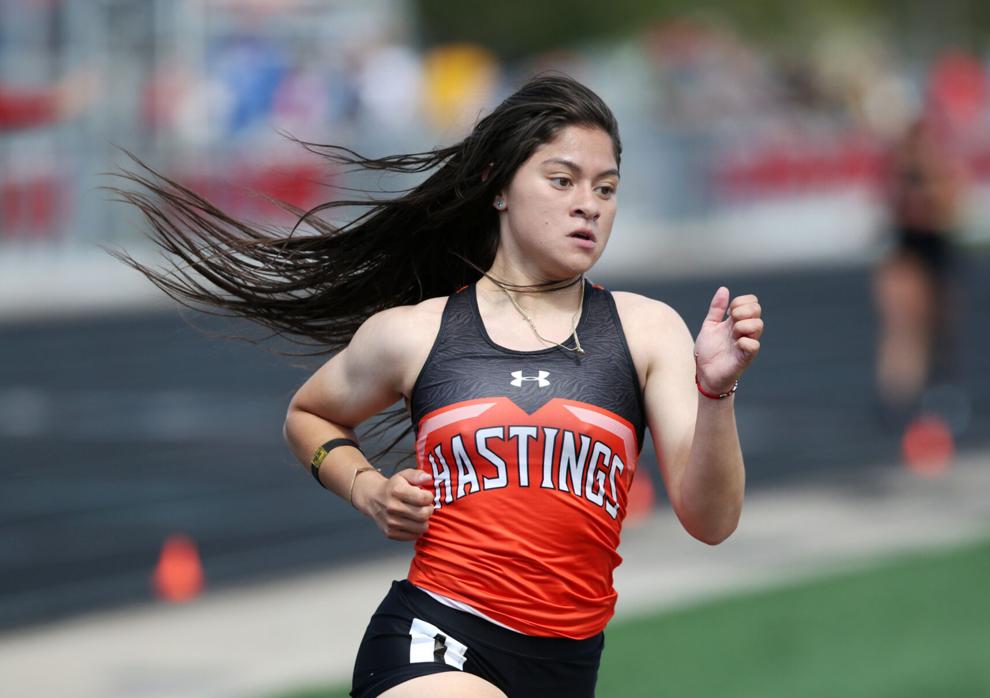 In all, Hastings had eight automatic state qualifying performances from individual athletes, while all three Tiger relay teams punched their tickets to Omaha. The Minden boys finished sixth in the team race and had four automatic state berths, and Adams Central, which placed ninth, clinched two automatic spots.
Several Tribland athletes will be awaiting confirmation on additional qualifying marks to see if their performance earns a wild card spot at the state tournament. Those spots will become official when all of the districts are completed.
The Tigers made their living on the track on Thursday, dominating in both the sprints and distance events. With the exception of the two hurdle events, Hastings had a top three finisher in every race of the meet. Welsh led the way with a pair of gold medals.
"It was about as good of a day as can be expected," Johnson said. "You always go in wanting to qualify as many kids as you can and to qualify kids in events that they can do well in at state... I thought we were in a good position to well (Thursday) and the kids really came through. It was fun to watch."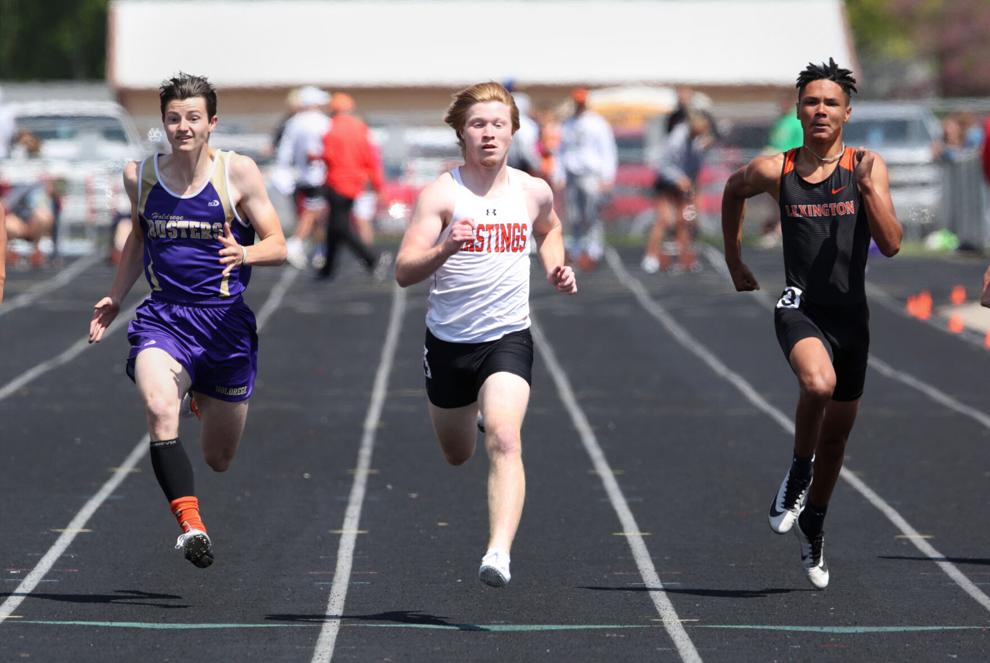 Welsh took first in the 1,600-meter run (4 minutes, 39.53 seconds) and the 3,200 (10:07.69). With stiff competition in the district, Welsh said the mile race pushed him has much as any 1,600 run in which he had competed.
"My goal is still to try and win the two mile, and hopefully the mile, at state," Welsh said. "That mile, I felt like it was fast. I haven't had to go all out in that last 100 in a while, but I saw him come around that corner with me, and I was like, 'I've got to go.' "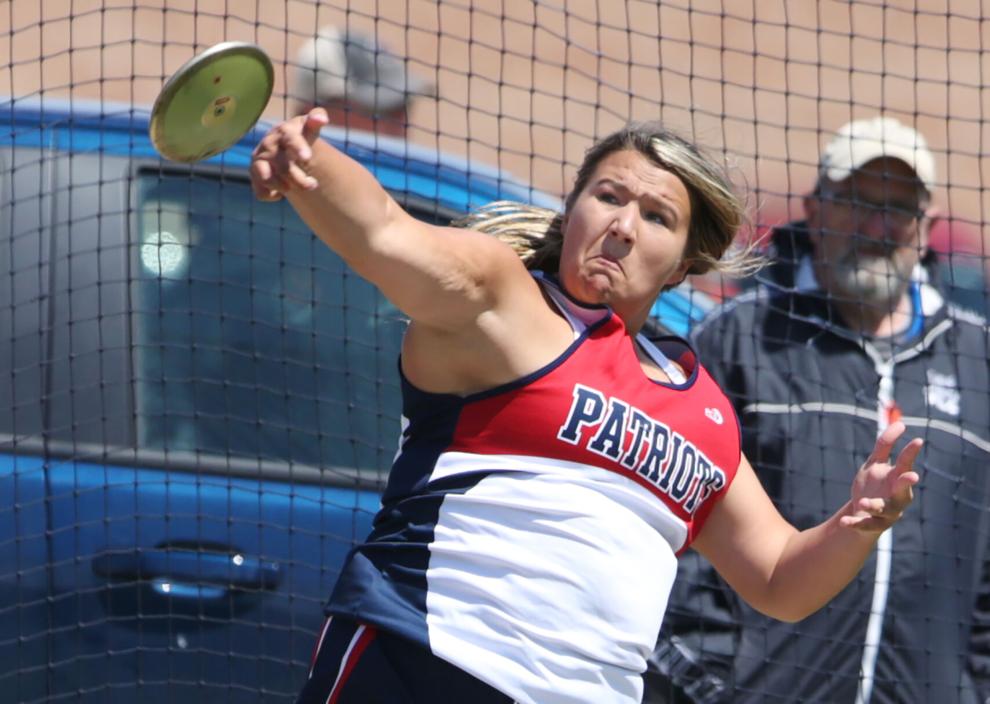 Also earning gold medals were Zaide Weidner and Carson Shoemaker. Weidner took first in the 200 with teammate Austin Nauert right behind him in second, while Shoemaker won the 100. Weidner also earned an automatic berth to state in the 400, while David Smith placed third in the 100 to punch his ticket to Omaha.
Hastings also won the 3,200 relay and the 400 relay and finished second in the 1,600 relay.
Luke Bonifas captured both of the Patriots' automatic qualifying marks, taking third place in both the mile and two-mile races. Gage Fries also tallied both of Minden's individual automatic qualifications. The Whippets also earned a state berth in the 3,200 relay after placing second.
On the girls side, Chelsey Espinosa recorded Tribland's only gold- and silver-medal individual performances, qualifying for the state meet in both the 3,200 and 1,600. HHS girls head coach Brandon Itzen said he's happy that Espinosa is finally healthy going into the state competition.
"She's just an amazing athlete and teammate, and to see her finally have a complete track season is so good," Itzen said. "It's exciting for her as an athlete and because of how competitive she is and how much time she puts in. If you talk about someone that deserves to go because of their work ethic, she's the poster child."
The Tigers placed second in the 400 relay to punch their ticket to state. Adams Central's Clair Hemberger and Taylin Schernikau both placed third in the discus and shot put, respectively, to earn state bids. Kaitlyn Mousel also ensured she'd be competing in Omaha with a silver medal in the 300 hurdles. Jessie Hurt was Minden's only automatic qualifier, placing third in the 1,600.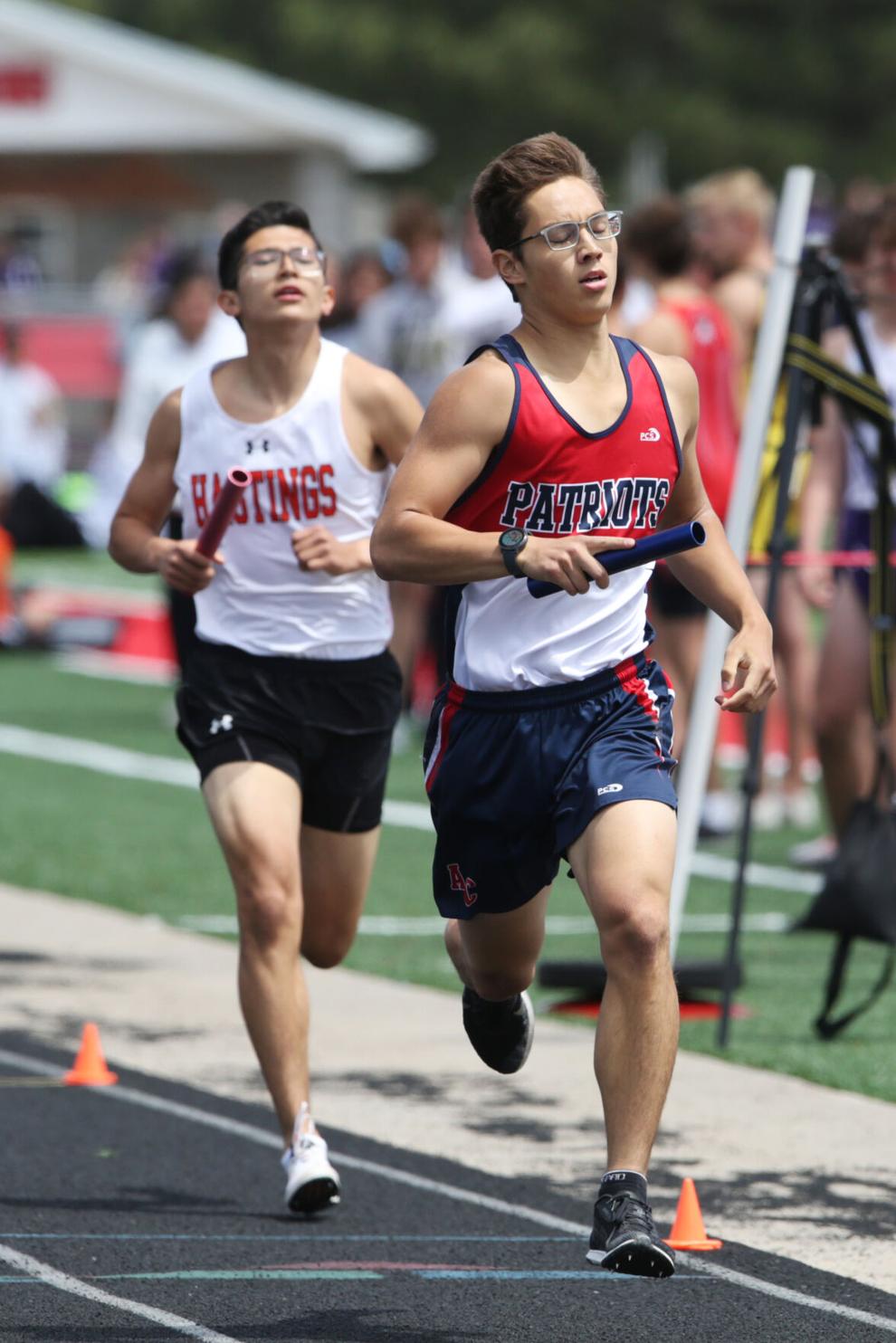 Additional qualifiers will become official as all of the district results are collected. Itzen believes Dacey Sealey's performances in the two hurdles events will ultimately be good enough to qualify her for state, but he said waiting for the official word for any wild card spots is always agonizing.
"Waiting for additional qualifiers just makes me old. I told the girls, if I had hair, I'd lose more of it," Itzen said with a smile. "It's never a great feeling until you actually see it show up."
1, Hastings 111; 2, Northwest 93; 3, Aurora 87; 4, St. Paul 58; 5, Lexington 42; 6, Minden 36; 7, Central City 26; 8, Broken Bow 25; 9, Adams Central 23; 10, Kearney Catholic 14; 11, Holdrege 12
400 — 1, Conner Wells, STP, 49.70; 2, Zaide Weidner, HHS, 50.24; 3, Rylan Birkby, STP, 51.06; 4, Brody Cheeks, NW, 52.22; 5, Chase Weigert, NW, 53.05; 6, Landon Bowen, Lex, 53.27
3,200 — 1, Jaydon Welsh, HHS, 10:07.69; 2, Ian Salazar-Molina, 10:13.14; 3, Luke Bonifas, AC, 10:17.26; 4, Jonathan Lopez, HHS, 10:19.83; 5, Daine Wardyn, BB, 10:23.75; 6, Kevin Parada, Lex, 10:33.60
3,200 relay — 1, Hastings 8:26.30; 2, Minden 8:31.65; 3, Adams Central 8:35.19; 4, Northwest 8:35.79; 5, Holdrege 8:36.16; 6, Lexington 8:43.94
Discus — 1, Eric Lenz, CC, 159-1; 2, Gage Griffith, Aur, 152-5; 3, Wyatt Sindelar, NW, 147-0; 4, Daniel Elge, Aur, 146-1; 5, Logan O'Brien, KC, 143-5; 6, Johnny Whyrick, HHS, 142-8
High jump — 1, Alexander Brandt, NW, 6-5; 2, Robert Delgado, Aur, 6-4; 3, Logan O'Brien, KC, 6-3; 4, Nolan Studley, HHS, 6-3; 4, Breck Samuelson, AC, 6-3; 6, Andy Poss, STP, 6-1
Long jump — 1, Carsen Staehr, Aur, 21-2 1/2; 2, Jacob Settles, Aur, 20-8 1/4; 3, Qwentin Coble, BB, 20-5 3/4; 4, Beau Dreher, HHS, 20-2 3/4; 5, Austin Vandeventer, HHS, 20-2; 6, Andy Poss, STP, 19-8 1/4
Pole vault — 1, Caden Carlson, Aur, 14-8; 2, Caleb Vokes, NW, 13-0; 3, Jacob Mosley, NW, 12-6; 4, Brody Ridder, BB, 12-0; 5, Jaren Moore, 11-6; 5, Zachary Sundquist, Hol, 11-6
Shot put — 1, Gage Griffith, Aur, 54-9; 2, Eric Lenz, CC, 54-4 1/2; 3, Danniel Elge, Aur, 51-7; 4, Brody Stutzman, NW, 48-7; 5, Brett Mahony, KC, 47-5 1/2; 6, Wyatt Sindelar, NW, 45-3 1/2
Triple jump — 1, Alexander Brandt, NW, 43-11 1/2; 2, Carsen Staehr, Aur, 43-10 3/4; 3, Qwentin Coble, BB, 41-9; 4, Garret Schmaderer, KC, 41-3 1/4; 5, Nate Kerr, 41-1 1/4; 6, Greysen Strauss, Lex, 40-5 1/2
110 hurdles — 1, Gage Fries, Min, 15.29; 2, Alexander Brandt, NW, 15.89; 3, Tyler Carroll, CC, 16.12; 4, Alex Peters, Aur, 16.78; 5, Jase Carpenter, Lex, 16.95; 6, Garrett Richardson, NW, 17.04
100 — 1, Carson Shoemaker, HHS, 11.20; 2, Victor Isele, NW, 11.36; 3, David Smith, HHS, 11.42; 4, Koby Nachtigal, Aur, 11.43; 5, Hunter Stewart, Lex, 11.45; 6, Gibson Kennedy, NW, 11.74
200 — 1, Zaide Weidner, HHS, 22.53; 2, Austin Nauert, HHS, 22.86; 3, Qwentin Coble, BB, 22.98; 4, Quentin Moss, Lex, 22.34; 5, Hunter Gravatt, STP, 23.38; 6, Koby Nachtigal, Aur, 23.53
300 hurdles — 1, Gage Fries, Min, 40.67; 2, Jase Carpenter, Lex, 41.31; 3, Rylan Birkby, STP, 41.50; 4, Alexander Brandt, NW, 41.53; 5, Garrett Richardson, NW, 42.17; 6, Zane Eggleston, BB, 42.98
800 — 1, Conner Wells, STP, 1:57.84; 2, Jacob Wells, STP, 2:01.13; 3, Landon Eckhardt, HHS, 2:02.70; 4, Bryant Fulmer, 2:04.75; 5, Tyler Salter, NW, 2:06.01; 6, Matthew Ochsner, HHS, 2:07.04
1,600 — 1, Jaydon Welsh, HHS, 4:39.53; 2, Elmer SoteloMunoz, Lex, 4:39.99; 3, Luke Bonifas, AC, 4:42.11; 4, Carter Harsin, Min, 4:42.62; 5, Jed Walford, NW, 4:48.28; 6, Ian Salazar-Molina, Lex, 4:48.63
400 relay — 1, Hastings 44.11; 2, Aurora 44.32; 3, Northwest 44.90; 4, St. Paul 45.10; 5, Holdrege 45.59; 6, Lexington 46.17
1,600 relay — 1, St. Paul 3:28.68; 2, Hastings 3:29.84; 3, Northwest 3:33.74; 4, Minden 3:35.61; 5, Lexington 3:41.26; 6, Holdrege 3:47.50
1, Northwest 117 1/2; 2, Aurora 68; 3, Holdrege 63 1/2; 4, Lexington 49; 5, Kearney Catholic 48; 6, St. Paul 40; 7, Hastings 38 1/2; 8, Adams Central 31 1/2; 9, Central City 31; 10, Broken Bow 25; 11, Minden 14
400 — 1, Rebecca Made, NW, 1:01.52; 2, Megan Belgum, Hol, 1:02.18; 3, Kailyn Scott, BB, 1:02.55; 4, Kamrynn Mings, NW, 1:02.72; 5, Emily Erickson, Aur, 1:02.87; 6, Anna Lindstrom, BB, 1:03.15
3,200 — 1, Chelsey Espinosa, HHS, 11:52.75; 2, MaKinley Tobey, BB, 12:20.76; 3, Kennadi Ureste, Lex, 12:25.55; 4, Jenna Cecrle, AC, 13:11.91; 5, Rebekah Paulsen, STP, 13:28.74; 6, Kiernan Bierman, HHS, 13:38.19
3,200 relay — 1, Northwest 10:15.95; 2, St. Paul 10:17.77; 3, Lexington 10:27.16; 4, Hastings 10:33.58; 5, Minden 10:37.79
Discus — 1, Ella Jacobson, Hol, 127-9; 2, Olivia Popper, STP, 123-11; 3, Claire Hemberger, AC, 123-6; 4, McKinna Moats, Lex, 122-7; 5, Madison Hirschman, STP, 117-1; 6, Makinzi Havranek, NW, 112-0
High jump — 1, Margaret Haarbeg, KC, 5-1; 2, Hanna Swearingen, Hol, 5-1; 3, Kya Scott, BB, 5-1; 4, Rachael Kearney, Lex, 5-1; 5, Hannah Gengenbach, AC, 4-11; 6, Nyagour Duang, HHS, 4-9
Long jump — 1, Alexis Bliven, Hol, 16-5 1/2; 2, Keyara Caspar, NW, 15-1 3/4; 3, Brooklyn Janssen, NW, 15-1 1/2; 4, Mia Rowe, Lex, 15-1; 5, Sarah Hultquist, Min, 14-10; 6, Fernanda Caballero, Lex, 14-8 3/4
Pole vault — 1, Cassidy Knust, Aur, 10-6; 2, Taryn Wagner, CC, 10-6; 3, Bradie Medina, Hol, 10-0; 4, Megyn Scott, AC, 9-6; 5, Kaitlyn Jewett, Hol, 9-0; 5, Trinity Brewer, NW, 9-0
Shot put — 1, Claire Caspersen, NW, 37-9; 2, Amber Kosmicki, STP, 34-9; 3, Taylin Schernikau, AC, 34-5 1/2; 4, Madison Hirschman, STP, 34-2; 5, Kya Scott, BB, 32-10; 6, Noel Eckert, Aur, 32-10
Triple jump — 1, Rosalyn Roggasch, KC, 35-6 1/2; 2, Emily Erickson, Aur, 34-3 /34; 3, Mia Rowe, Lex, 33-10; 4, Macie Middleton, NW, 33-2 1/2; 5, Sarah Hultquist, Min, 33-0; 6, Abby Rehtus, Min, 31-10 3/4
100 hurdles — 1, Faith Carroll, CC, 15.93; 2, Aizlynn Krafka, NW, 15.96; 3, Eva Fahrnruch, Aur, 16.85; 4, Dacey Sealey, HHS, 16.85; 5, Kylie Larson, Aur, 16.93; 6, Taylor Retzlaff, NW, 17.40
100 — 1, Samantha Roby, NW, 12.53; 2, Avyn Urbanski, NW, 12.61; 3, Kaylee Crosby, Aur, 12.74; 4, Alexis Bliven, Hol, 12.89; 5, Grace Baasch, NW, 12.97; 6, Madelyn Brown, Aur, 13.16
200 — 1, Samantha Roby, NW, 25.82; 2, Avyn Urbanski, NW, 26.46; 3, Alexis Bliven, Hol, 26.62; 4, Madelyn Brown, Aur, 26.75; 5, Kaylee Crosby, Aur, 27.37; 6, Pricila Madriz, Min, 27.69
300 hurdles — 1, Jackie Ostrom, Lex, 47.23; 2, Kaitlyn Mousel, AC, 48.19; 3, Ashley Keck, KC, 48.26; 4, Eva Fahrnbruch, Aur, 48.35; 5, Dacey Sealey, 48.52; 6, Faith Carroll, CC, 48.88
800 — 1, Cassidy Knust, Aur, 2:25.22; 2, Avery Hurlbert, Hol, 2:27.13; 3, Elaina McHargue, CC, 2:27.22; 4, Ashlyn Wischmeier, KC, 2:30.52; 5, Gracie Mudloff, STP, 2:38.28; 6, Reagan Shoemaker, HHS, 2:39.43
1,600 — 1, Grace Oberg, KC, 5:30.74; 2, Chelsey Espinosa, HHS, 5:38.16; 3, Jessie Hurt, Min, 5:39.54; 4, Ella Buhlke, CC, 5:40.23; 5, Kali Staples, BB, 5:40.84; 6, Lynsie Lancaster, AC, 5:47.71
400 relay — 1, Aurora 51.43; 2, Hastings 51.99; 3, Northwest 52.34; 4, Lexington 52.75; 5, Central City 53.53; 6, Holdrege 53.60
1,600 relay — 1, Northwest 4:07.75; 2, Kearney Catholic 4:11.24; 3, St. Paul 4:15.54; 4, Lexington 4:17.17; 5, Aurora 4:18.62; 6, Holdrege 4:20.43