KENESAW — On a cold night, Kenesaw didn't freeze up when Bruning-Davenport/Shickley, the team that knocked the the Blue Devils out in last year's quarterfinals, initially answered the bell.
Kenesaw quarterback Tyson Denkert scored the first of his five total touchdowns on the opening possession from 12 yards out to put the Blue Devils up early.
But BDS answered on its first offensive play when Easton Weber went 40 yards to tie the game at 6-6.
The Blue Devils weren't fazed.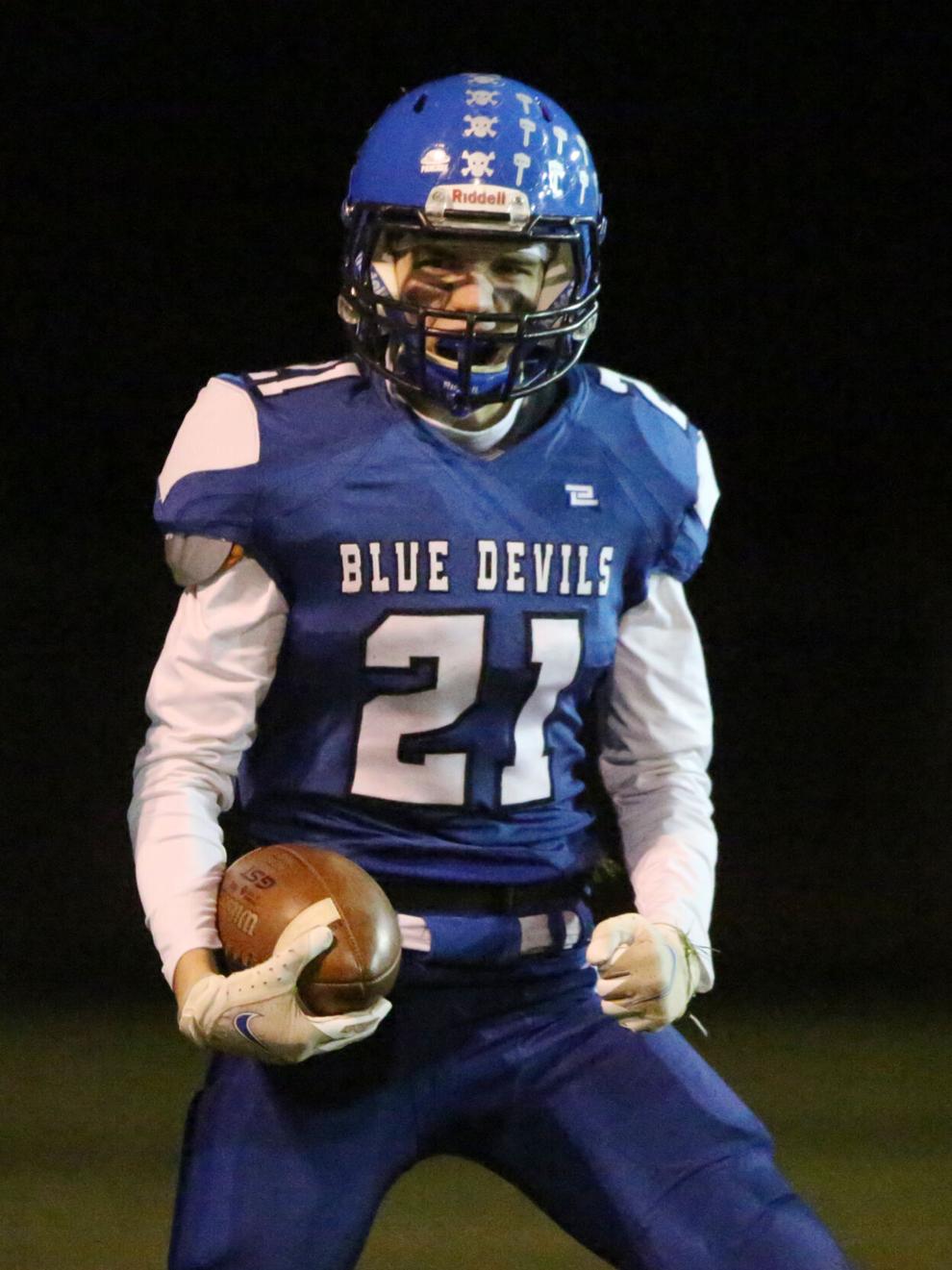 After that quick score, the Kenesaw defense buckled down while the offense kept its foot on the pedal in a 36-6 victory that sent the Blue Devils to their first state final since 1990.
"This is just awesome," said Kenesaw head coach Craig Schnitzler. "These guys are great and their preparation is their confidence they carry. They believe in each other and they believe in what we're doing."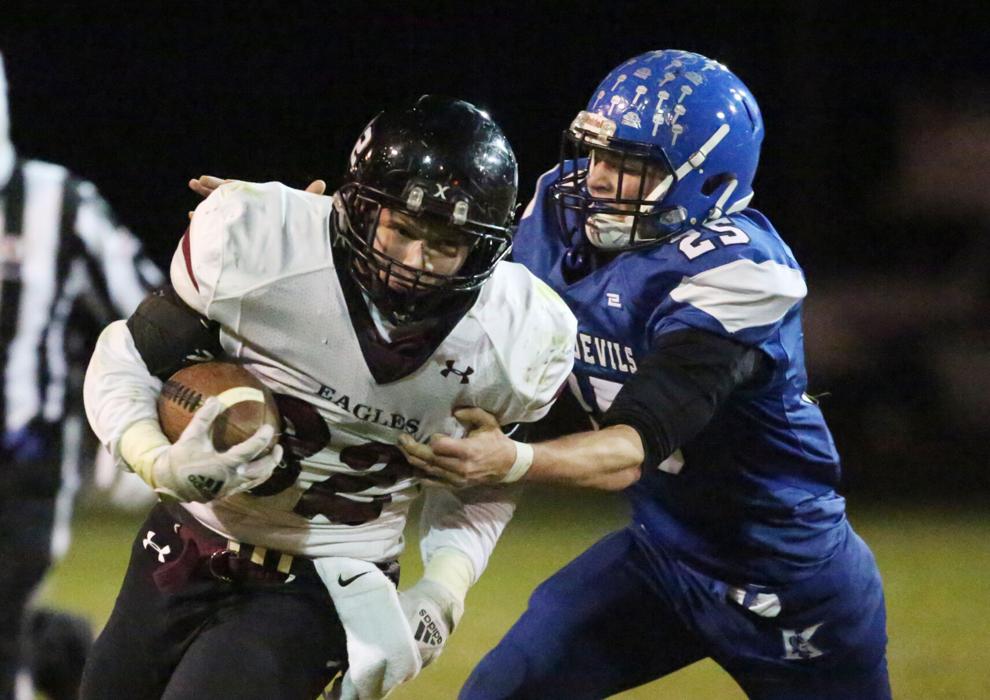 BDS had three turnovers in the first half, which, against top-rated Kenesaw, proved hard to overcome.
"We fought hard. We had three turnovers in the first half, and that is what we did against Ansley and we never got over that hurdle," said BDS head coach Mark Rotter. "Against a really good team like (Kenesaw) we cannot do that. They had some turnovers as well. We needed that and to have zero ourselves to give us a chance. The turnovers in the first half were killers."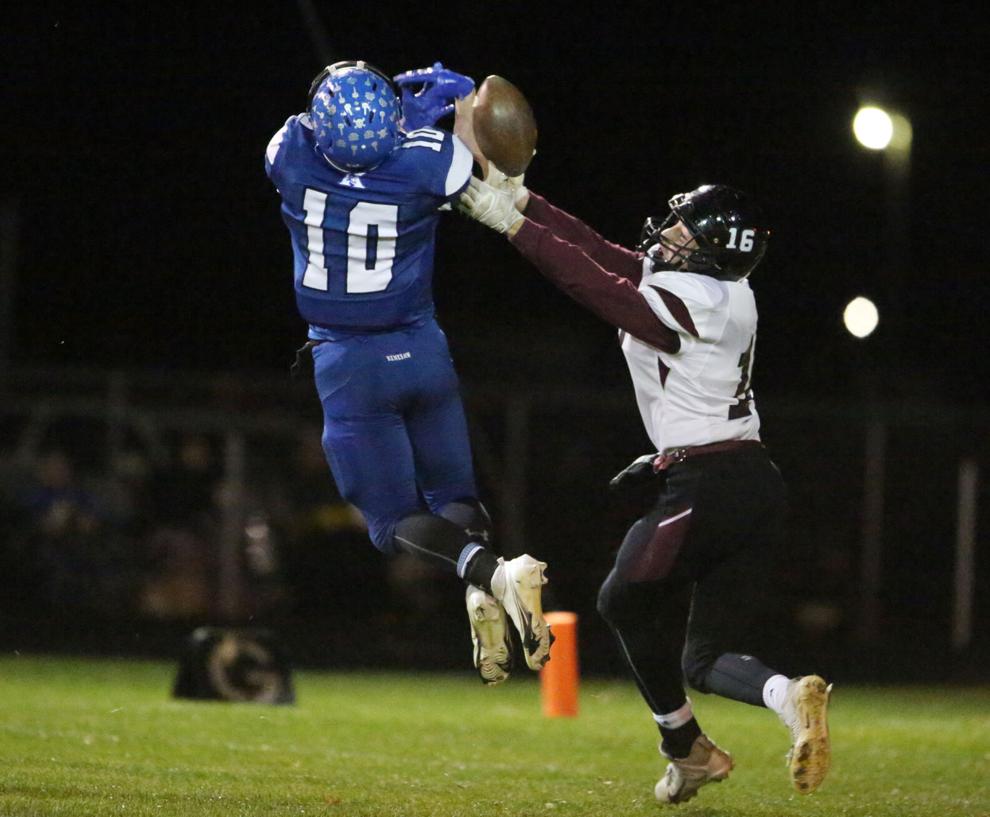 Denkert, who forced a fumble on Weber, rushed in Kenesaw's second score from a yard out, then threw a 36-yard touchdown to Lane Kelley for a 22-6 halftime lead.
In the second half, Denkert added touchdown runs of three and 37 yards to give the Blue Devils the 36-6 victory.
The power running game has been the staple for the Blue Devils' offense all season, with Denkert and Trey Kennedy in the backfield.
"Tyson was the work horse tonight. Trey got going in the third and fourth quarter, and we started to beat them down." Schnitzler said.
"We've always stayed the course in the power game this year and we just keep coming at you."
It was tough sledding early on for Kenesaw, though, as BDS put the fight to the Blue Devils in the first 12 minutes.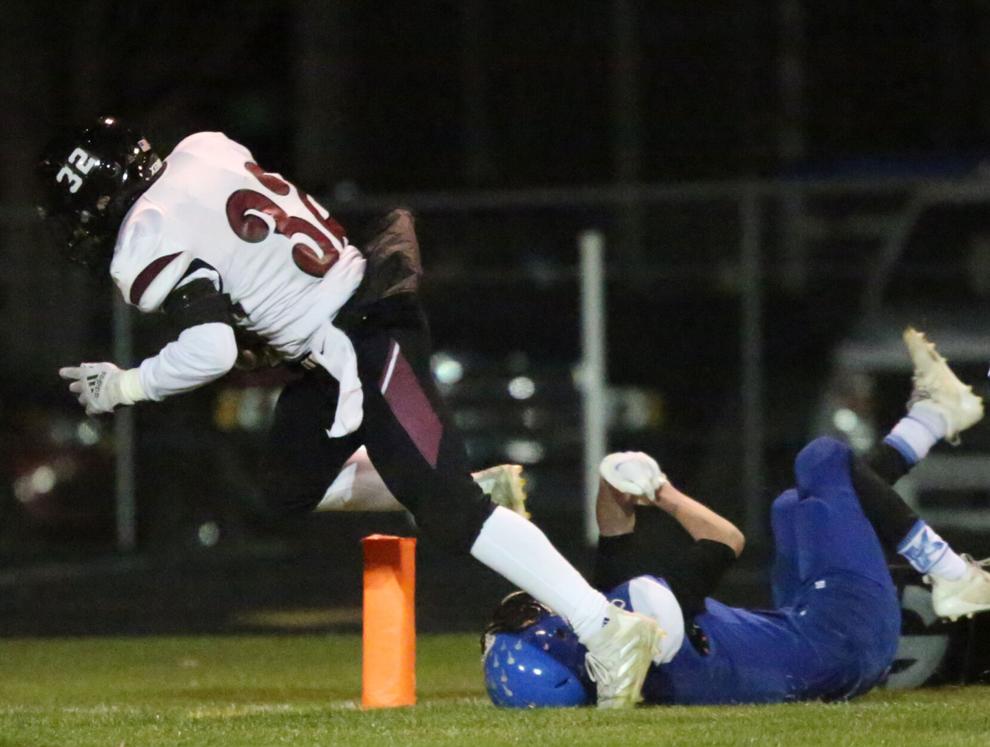 "Adam Alfs, Anthony Schweer and Tanner Bolte were doing a great job of plugging our b-gap," Schnitzler said of the Eagles' defensive line. "We changed some things up at halftime. As the second half went along, our gaps got bigger and we had some big runs."
Weber carried the ball 43 times for 230 yards, but Kenesaw held the Eagles and their senior back to a single touchdown.
"He is a load. He ran with unbelievable heart," Schnitzler of Weber. "What he did is incredible, and he is a tremendous athlete."
BDS, which entered the playoffs as the No. 14 seed and upset No. 3 previously undefeated Pender in the first round, gained crucial experience through the playoffs.
Holding a team like Kenesaw below 40 points was huge to a young Eagles squad.
"We are very young, but hopefully they will learn from it. Next year they will be a year older and hopefully we won't have all of those mistakes," said Rotter.
Kenesaw will play in the D-2 championship at Memorial Stadium in Lincoln on Nov. 22 against No. 1 Sandhills/Thedford, which defeated Elgin Public/Pope John 52-8 in the other semifinal. That kickoff is set for 2:45 p.m.
Kennedy said a trip to Memorial Stadium with a championship berth is a dream come true.
"That will be a moment I will never forget. I've gone to the state finals before and I thought someday I'm going to play in the finals. Now that dream will soon come true," Kennedy said. "I've gone to Husker games before and now with my team and I getting a chance to play on the same field the Huskers play on, it is more than a dream come true."
Said Denkert: "It will be cool that we get to play inside Memorial Stadium. I know that this whole town is going to show up and support us. When we run out onto the field, there is going to be a great crowd."
BDS....................................6 0 0 0 — 6
KEN................................6 16 8 6 — 36
K — Denkert 2 run (conversion good)
K — Lane Kelley 35 pass from Denkert (conversion good)
K — Denkert 38 run (conversion good)