The Hastings College men's basketball team dropped its 11th consecutive game on Wednesday night after falling to Morningside 93-73. But the Broncos feel as though they are on the cusp of snapping the losing streak and finding a groove in the second half of the conference season.
Wednesday's loss to Morningside ended with a 20-point deficit — the largest of the night — but that was not exactly indicative of how closely the two teams battled for the majority of the night. With under six minutes left in the game, it was just a nine-point advantage for the Mustangs.
Overall, the Broncos know they've got work to do, but they feel Wednesday's performance may have shown a glimpse of the positives that lie ahead for the team.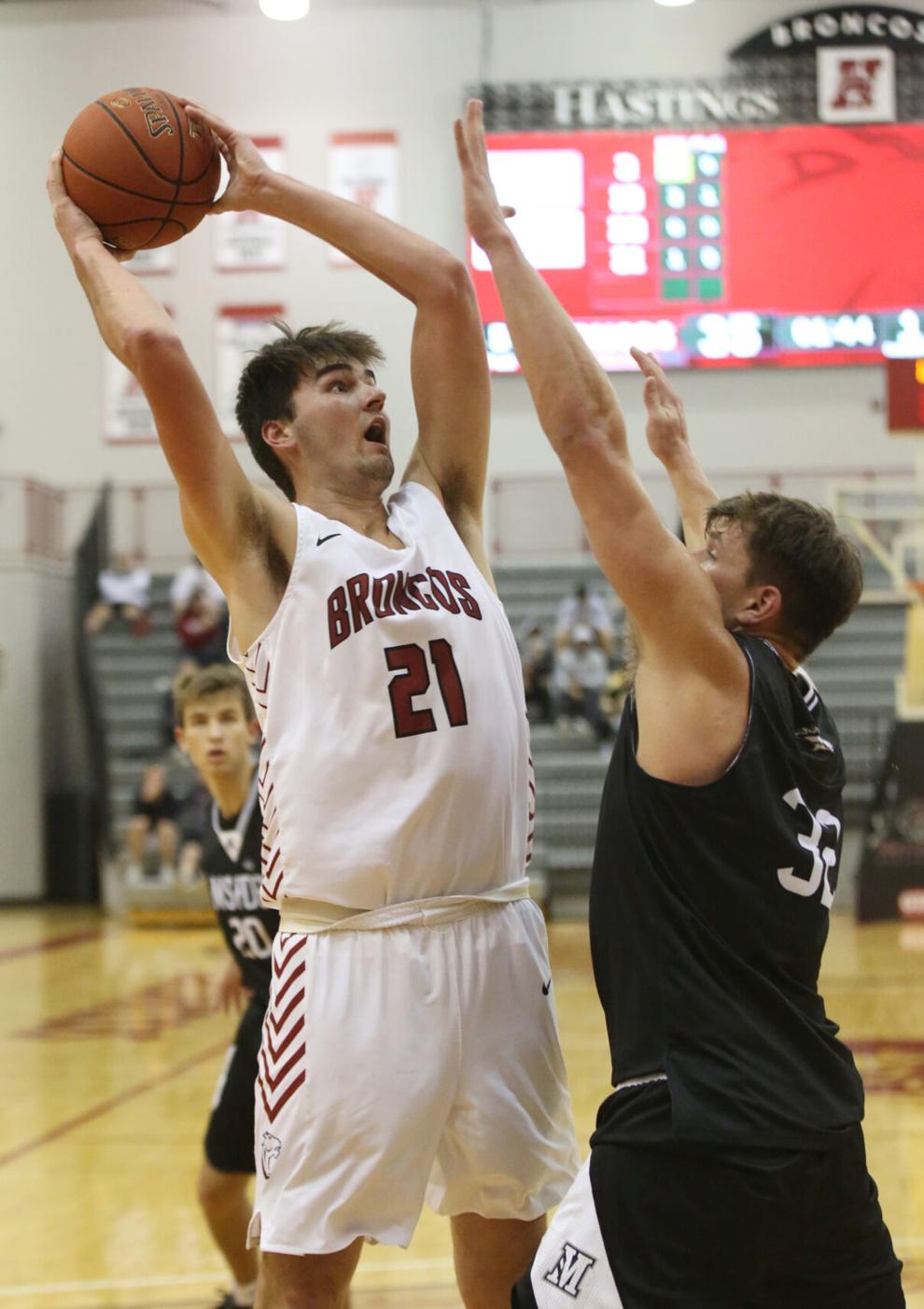 "Give Morningside a lot of creidt...They came out with a lot of passion, a lot of fire, and our guys answered that," said HC head coach Bill Gavers. "I thought our guys answered that and we did some nice things.
"I really like this team. This team is resilient. They keep coming to practice and keep working. They want to win in the worst way. We just have to eliminate some of the meltdowns. We've played some pretty good basketball, but we have to do it all the time and not make mistakes."
Hastings College had its best offensive output in six games, and the production started with Karson Gansebom, who poured in a team-high 20 points. Gansebom was 4-for-11 from 3-point range and sank five of his first seven shots from the floor.
The Bronco junior was a big reason HC went toe-to-toe with the Mustangs for much of the first half. And when Morningside started to pull away in the opening period, he was a one of the guys that rallied the team back into the game.
"Carson did some leadership things," Gavers said. "He challenged our guys a little bit about competing when things got tough. That's what we need; we need that kind of leadership going into the back half of our schedule."
The long ball kept Hastings in the game in the first half, as the Broncos shot 7-for-14 from beyond the arc, going into halftime with a 10-point deficit at 47-37. In the second half, Morningside led by 16 points just eight minutes into the period.
The Broncos went on a 15-8 run over the next six minutes, with Zach Rust's 3-pointer cutting the Mustangs' lead to 77-68 at the 5:59 mark. But Morningside answered with a 16-5 run to end the game.
Wednesday marked the Mustangs' highest scoring performance of the year, as they had five players in double figures for scoring, led by Joey Skoff's 23 points.
"They had been struggling offensively, but they found themselves (Wednesday)," Gavers said. "Early, we gave up a couple transition baskets that just can't happen. We had to call a timeout at 4-0 because we cannot give up uncontested layups to a team because it increases efficiency."
That timeout the HC coach was referring to came just 47 seconds into the game. Gavers was not pleased with his team's transition defense against the fast-paced Mustangs, who were relentlessly aggressive on both sides of the ball.
Morningside also posed a mismatch underneath the hoop, where Trey Brown, who stands at 6 feet, 7 inches, took advantage of the lack of size for the Broncos. He was 5-for-8 for 15 points and hauled in eight rebounds.
Gavers believes the inside play of the Mustangs showed an aspect of the Broncos' game they must address.
"They're a very physical team...We've got to get stronger in the upper body. Our upper body strength is not where it should be. We're getting knocked around. That's just a weight room thing," he said. "Strength is a big deal in college athletics. It's a confidence thing; it's a toughness thing. It's when you drive in the lane, do you want contact?
"We have a very nice weight room; it's open, and I can go up there any time I want. If you're getting banged around, you might want to visit that thing a few times and start punishing the other guy."
Dawson Zenger came off the bench and splashed a trio of treys to contribute 13 points to the Broncos' total. Rust finished with 11 points and Dashawn Walker chipped in with 10.
Hastings will have an unusually long break for this time of the year, as it won't play again until Jan. 21, when it hosts Dakota Wesleyan. The Tigers won in overtime on Wednesday, but they had lost four straight games before that.
Gavers said the break will do his team some good, allowing for rest from the guys that have been relied on heavily, while also allowing ample time to fine tune the squad's skills.
"We need some time to get rest, but we also need to get in and do a lot of shooting and moving our shot and getting confidence in that," Gavers said. "I thought we were fresh (Wednesday). We tweaked a little bit of what we did in practice the last couple of days, and I thought it was good."