Hyatt Collins crossed the plate with ease after he watched a 2-1 pitch to Tyson LeBar slip past the catcher's mitt and roll to the backstop on Field 7 at Smith Complex.
Collins was the winning run in a wild, ugly, insert-adjective-here victory that capped the Patriots' first-ever regular season and improved the program's record to 12-7 heading to the Class B, Subdistrict 4 tournament, which begins Thursday in Omaha.
St. Paul/Palmer climbed all the way back with a 10-run rally in the top of the seventh only to crumble where it had all afternoon: on the pitching mound.
The Cats' pitching staff issued 13 walks — one intentionally — and hit one batter. The four walks in the last half were the final contribution to the heart-wrenching defeat for the visitors.
Collins, who also scored the game's earliest run, was a recipient of a walk that scored the Patriots' first run of the seventh — Sam Dierks, who took four straight balls to begin the inning.
A single by Creighton Jacobitz and a walk to Isaac Meyer loaded the bags and Collins drew a six-pitch free pass to trim the deficit to two and become the winning run.
Kayleb Saurer followed with a two-run single that tied the game at 10 and Macrae Huyser's fly out to right advanced Collins to third.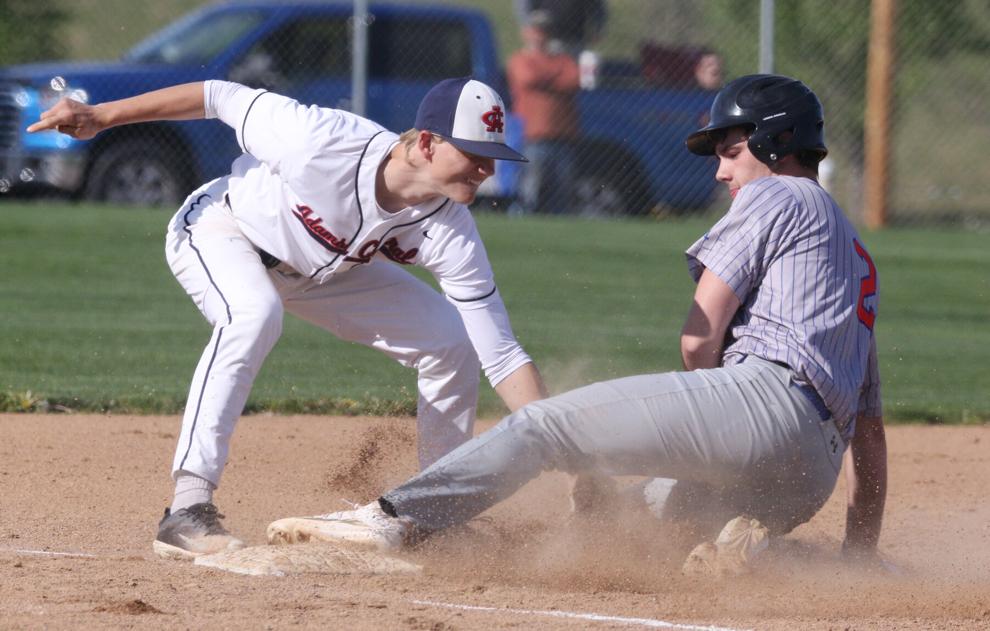 Nick Conant popped out to shallow center; it wasn't deep enough to score Collins. Jayden Teichmeier was put on intentionally and LeBar, who surely would've preferred a game-winning hit, didn't need to swing the bat due to St. Paul/Palmer's inconsistency on the mound.
"We had an approach at the plate, we understood the situation with their defense and the guy they had on the mound," said Adams Central coach Travis McCarter. "We stuck to the plan and we executed."
Adams Central recorded just four hits in the contest yet netted 12 runs. Taking into account the lack of hittable pitches his hitters saw, McCarter still felt like the number should have been higher.
"When we were seeing (hittable pitches) we were swinging early, popping up, and I was telling them to see some pitches," McCarter said.
"We had hits in big moments at the end of the game where sometimes we haven't had those big hits, but it goes back to it being late, back against the wall and putting up a good fight and giving yourself a chance to win the game. That's what they did and we won the game."
St. Paul/Palmer racked up 12 hits — eight of which came in the seventh — to produce its 11 runs. All five extra-base hits belonged to the Cats, who strung together five straight hits off of Xander Uhrmacher after the AC sophomore induced a groundout to begin the seventh.
Trevor Dugan's RBI single opened the dam. Kade Caspersen, the losing pitcher, scored another run with a fielder's choice, but Dugan was the second out on the play.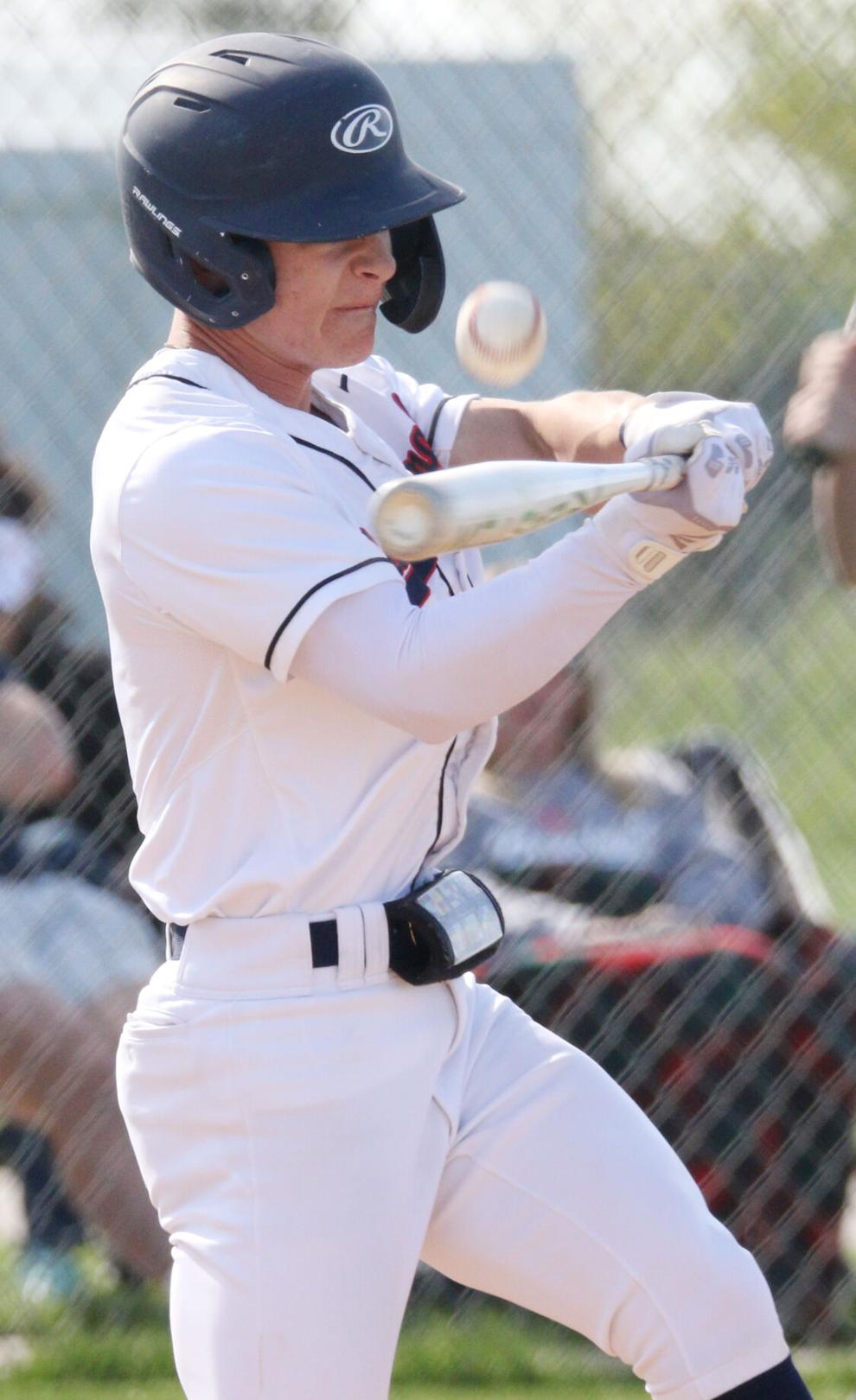 Jameson Rawlings was hit by a pitch and Logan Vogel walked with the bases loaded before McCarter turned to Tate McIntyre. The sophomore was greeted with a two-run double by Karsen Reimers, who finished 2-for-3 with three RBI.
An error by Conant at short extended the game and put the tying run on third. Ruger Reimers made it hurt with a two-run double to left-center. Then Eli Larson was plunked before Gunnar Reimers drove a ball to the wall in left to plate two more.
But the surge was short-lived.
"I wasn't going to dwell on the negative out there," McCarter said. "I told my guys to come out there and throw strikes and they did when (St. Paul/Palmer) scored all those runs. Everything just fell for them.
"I wasn't going to pull all my outfielders to the left side and have it look like a slow-pitch softball game," McCarter added with a laugh. "It's 27-to-1 odds to have three singles in a row. They had five. The odds of that happening are slim."
The Cats' defensive half of the seventh mirrored a miserable fourth inning that broke a 1-1 tie and put the Patriots in control.
The frame was a carousel featuring an error, eight walks, and one AC batter hit by a pitch. Seven runs scored without a single hit.
Adams Central, which played error-free ball until the consequential seventh, managed a pair of key outfield assists from Teichmeier. The first stunted a Cats' rally in the fourth in which they scored their first run on Karsen Reimers' first double. Teichmeier then cut down Ruger Reimers in the fifth trying to advance to third on Larson's double.
"He got us out of some jams and we didn't want to use up any more pitches than we had to. That was huge," McCarter said of Teichmeier, his freshman left fielder.
Each team used five pitchers — all in short stints — ahead of their respective subdistricts this weekend.
The Cats go to Beatrice in the B-5 district. AC plays Falls City Thursday night at Skutt and will potentially meet No. 2 seed Bennington in the second round.
Pitching depth is something McCarter feels good about despite Tuesday's late thumping.
"I certainly like our top end guy and we've got a few guys that understand their roles as relievers," he said. "I've been pretty proud of these guys as far as filling up the strike zone, competing, and polishing up the things they need to. As long as they do what they're capable of doing, they're going to give us a slugger's chance."
STP (6-7)..000 100 (10) — 11 12 2
AC (12-7).........001 700 4 — 12 4 1
W — Tate McIntyre. L — Kade Caspersen.
2B — STP, Eli Larson, Gunnar Reimers, Ruger Reimers, Karsen Reimers 2.