LINCOLN — Joel Katzberg's final pursuit on defense matched his description of the Kenesaw football team.
The junior defensive end chased Sandhills/Thedford's scrambling freshman quarterback out of bounds on fourth-and-goal and the Blue Devils' comeback effort was all but complete.
In a game Kenesaw led 30-8, the Blue Devils trailed for 18 of the final 24 minutes.
Then, Tyson Denkert consummated a 15-play drive with his sixth touchdown — the eventual game-winner of the Class D-2 state championship game.
A defensive stop and a first down later, and the top-ranked Blue Devils outlasted No. 2 Sandhills/Thedford 46-40.
"This means everything," said Kenesaw head coach Craig Schnitzler. "We've been waiting a long time. This is huge; there's going to be a lot of celebrating going on. I'm just so proud of our team."
Denkert, Kenesaw's senior quarterback who rushed 55 times for 303 yards, ended his career on top of the class, taking the No. 1 ranking wire-to-wire after already becoming the 56th player in state history to run for more than 5,000 yards earlier this year.
"His performance is second-to-none," Schnitzler said of Denkert. "Just so proud of him and I thought the guys up front gave him enough space to make some plays with his legs."
Denkert, who set the all-class record for touchdowns during a single playoffs with 31, concluded his second consecutive 2,000-yard season with his team hoisting a first-place trophy on Tom Osborne Field inside Memorial Stadium.
Katzberg said of Denkert: "He's there when you need him."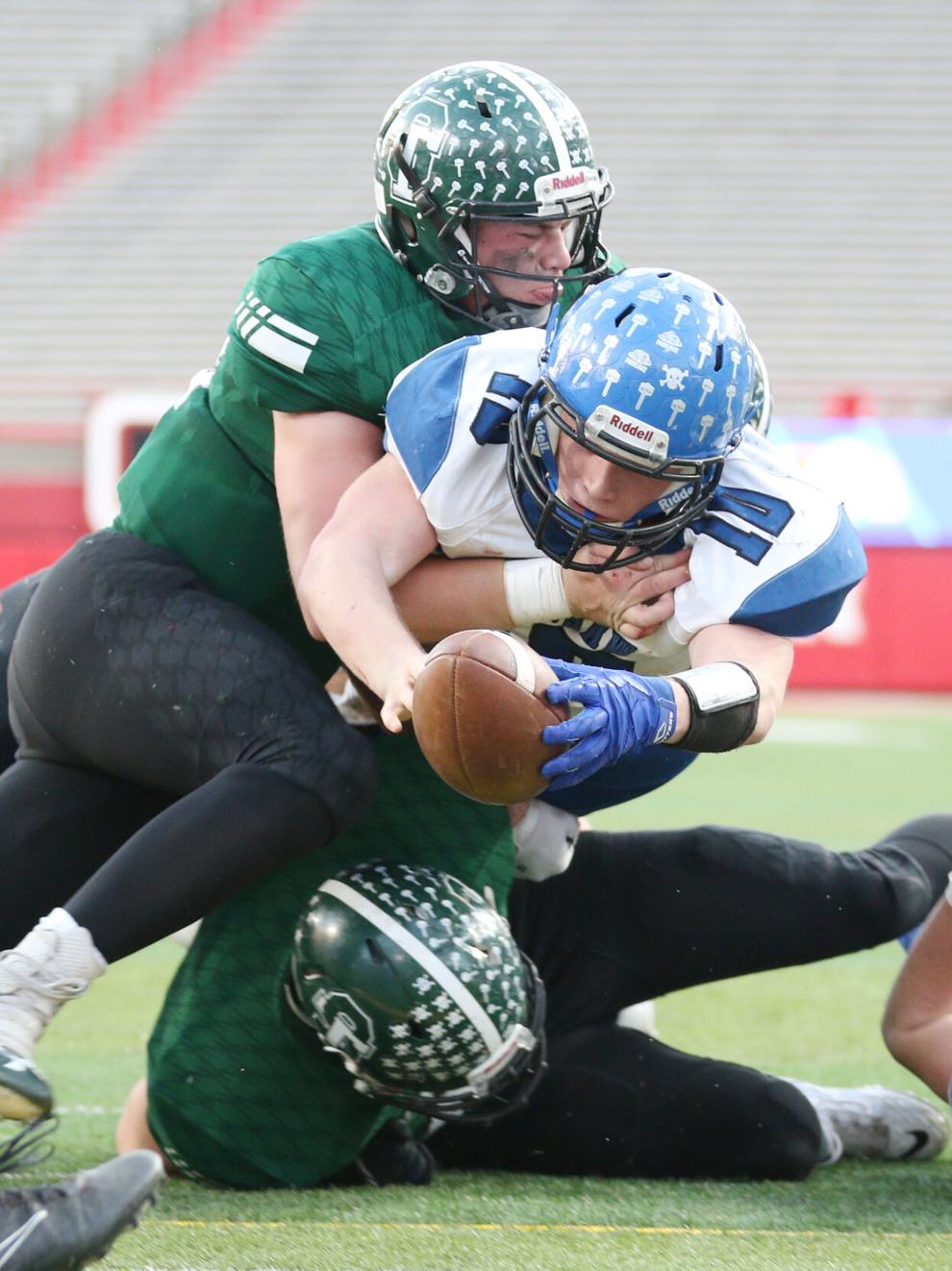 Did Kenesaw ever. And not for the first time during these playoffs, either.
Sandhills/Thedford stole the momentum with four touchdowns in a row spanning the second and third quarters to gain the lead.
But Denkert and Co. rallied from their 10-point deficit. The QB punched in a 2-yard score with 1:36 left in the third quarter and then capped a six-plus minute drive in the fourth with a 3-yard burst.
The Blue Devils pulled from their second-round victory over Falls City Sacred Heart in which they trailed by 22 points in the second half.
"I just kept reminding them that we've been here, we know what to do, we know how to respond," Schnitzler said. "We just needed to keep working and that's what they did. Just like the other games we got stops when we needed to and allowed our offense to do what they do and that's score touchdowns."
Kenesaw's final stop made all the difference.
Sandhills/Thedford drove to the Kenesaw 2 with two minutes left but failed to find the end zone.
"We all knew we had to step up and get a stop," Denkert said. "In this game it's all about plays and we made a bunch of them today."
The Blue Devils recorded back-to-back tackles for loss to force a fourth down.
Kyle Cox, the freshman quarterback, scored on the Knights' fourth-and-5 play, but holding was called, pushing the team back to the 15.
That's when Katzberg hurried Cox to the sideline.
"That (stop) was big," said Schnitzler. "We had a couple big ones, but to keep them out of the end zone there was huge."
"We stopped them on the goal line before, we knew we could do it again," Katzberg said.
Sandhills/Thedford, which finished runner-up in 2020 after losing to Bruning-Davenport/Shickley, again came up short in the big game.
The Knights' head coach Josh Deines said when his team was stopped on fourth-and-1 on their own 16-yard line midway through the third the momentum flipped back to Kenesaw.
"Obviously, the fourth down on our side of the field was probably the turning point," Deines said. "I just felt with the way both offenses were clicking and defenses weren't stopping each other, it was best to go for it.
Denkert opened the game with a 47-yard score just three plays in.
Sandhills' Reece Zutavern answered with a 54-yarder, his first of four touchdowns.
Then, Denkert scored three straight times, on runs of 1, 50 and 4 yards.
Following his 50-yard score, Denkert, who led the team with 18 tackles, forced Sandhills' only turnover when he ripped the ball from Trae Hickman's arms standing up and took it 10 yards the other way.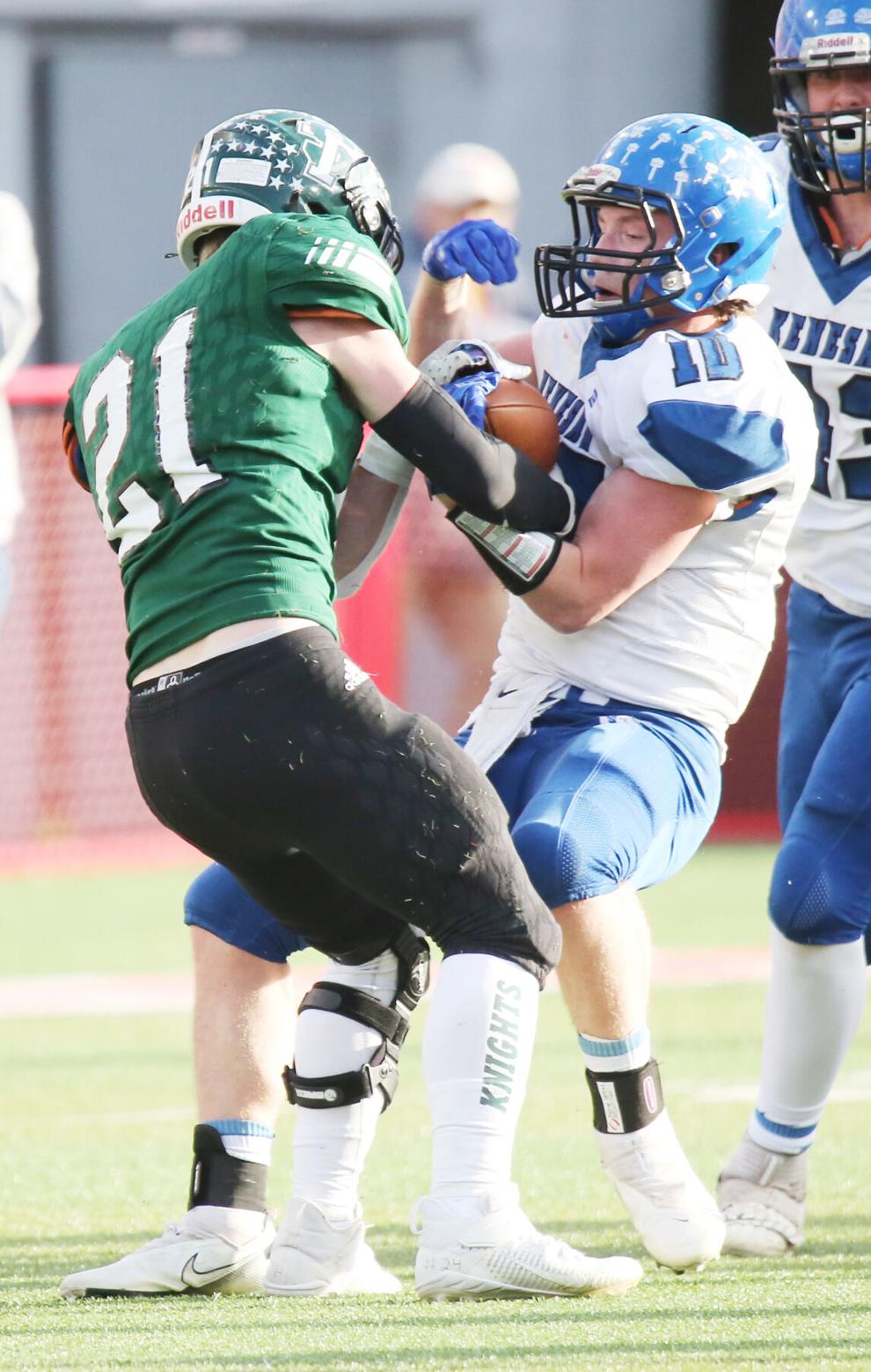 Sandhills stunned Kenesaw's defense with Cox, who the Blue Devils hadn't seen on film.
Cox aired a pair of passes on the Knights' first of four scoring drives in a row in the latter half of the second quarter.
The Blue Devils got caught with play action, which led to the eventual 14-yard pass from Cox to Drew McIntosh that cut the Kenesaw lead to 30-16.
"We did not see that coming," Schnitzler said. "They were able to hit some balls on us and I think we were a little caught off-guard on (Cox) throwing the ball."
Following Kenesaw's first and only punt, the Knights closed to 30-24 before half with Zutavern's second score — a 7-yard run.
Then, the senior opened the second half with a 61-yard house call for the lead.
Zutavern's 17-yard touchdown less than two minutes later was the Knights' final of the game. Sandhills got the ball back by picking off Denkert, who under-threw his receiver in Kenesaw territory.
Kenesaw's defense held Sandhills/Thedford to 67 yards after the Knights' initial pair of second-half scores.
"We just stayed together and kept persevering," Katzberg said. "We were relentless."
Kenesaw (13-0).....16 14 8 8 — 46
S/T (12-1)..............8 16 16 0 — 40
Ken — Tyson Denkert 47 run (Trey Kennedy run)
S/T — Reece Zutavern 54 run (Trae Hickman run)
Ken — Denkert 1 run (Kennedy run)
Ken — Denkert 50 run (Denkert run)
Ken — Denkert 4 run (run failed)
S/T — Drew McIntosh 14 pass from Kyle Cox (Dane Pokorny run)
S/T — Zutavern 7 run (Pokorny run)
S/T — Zutavern 61 run (Hickman run)
S/T — Zutavern 17 run (Hickman run)
Ken — Denkert 2 run (Denkert run)
Ken — Denkert 3 run (Denkert run)
Rushing — Ken, Tyson Denkert 55-303, Trey Kennedy 11-30; S/T, Reece Zutavern 9-177, Dane Pokorny 25-115, Trae Hickman 7-34, Kyle Cox 3-27.
Passing — Ken, Denkert 1-4-1 11; S/T, Cox 2-4-0 39.
Receiving — Ken, Kennedy 1-11; S/T, Zutavern 1-25, Drew McIntosh 1-14.