Don't look now, but the Hastings Sodbusters are starting to build some momentum.
Just one day after holding off a rally from the Expedition League's top team, the Fremont Moo, the 'Busters made it two straight victories over the Moo with a dramatic 7-6 walk-off win Thursday at Duncan Field.
"We're a team that doesn't like to give up," said Cameron McClure, who had the walk-off hit Thursday. "We're going to put good at bats together, we're going to make the situations work, and (Thursday) we just came through."
"It was awesome. I feel like we didn't give any at bats away, and that was huge the whole game," said Hastings' head coach Chandler Wagoner. "Being down three early is a tough feeling, but offensively we didn't give at bats away and we grinded through it all night."
Hastings' wild finish handed Fremont just its third loss of the season. The Moo went into the ninth inning with a one-run lead, but Hastings High graduate JT Cafferty got the rally started with a one-out single. After another single and a walk loaded the bases, McClure stepped up to the plate with the go-ahead run at second.
"I talked to (Wagoner) before the at bat, and he said, 'Just see it up and try to get something in the air," McClure said. "I was sitting slider, knew it was coming, and he kind of hung it a little bit and I was able to poke it to the left side."
McClure pulled a sharp hit to the left side of the infield, where it deflected off of the outstretched glove of Fremont third baseman Peyton Leeper and skipped to the outfield. Pinch runners Ian Riley and Tyler Monroe raced around the base paths, with Monroe scoring the winning run from second.
"Once I saw them clear the plate, I was like, 'Let's go!" McClure said. "Any way we can get a win, especially against Fremont. They're a good team. As long as we're out here competing, we're scrappy and we'll make stuff happen."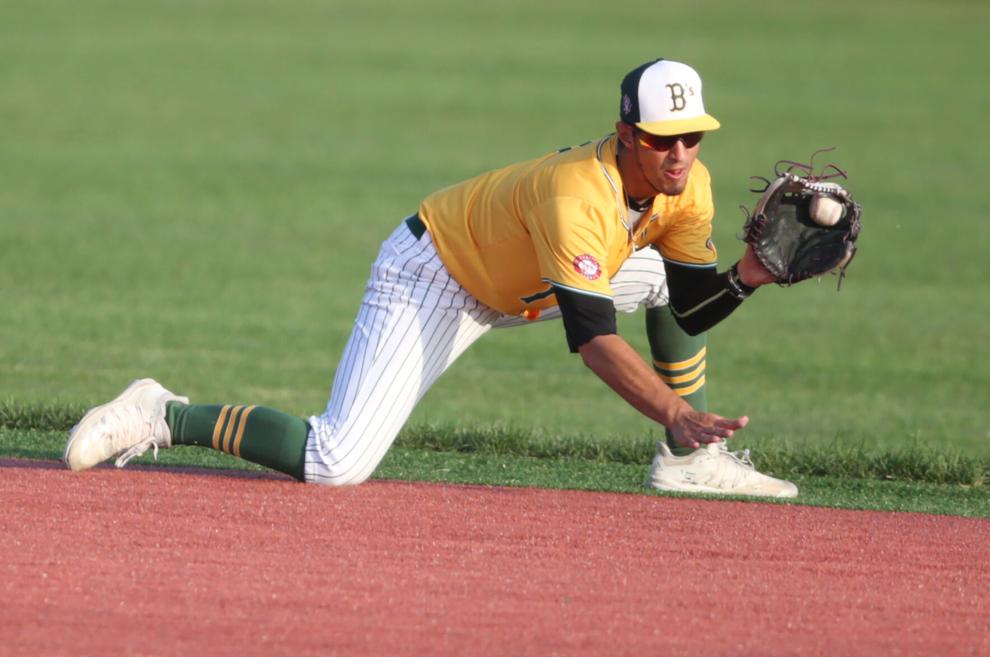 The climactic finish was a far cry from the start of the game.
Laif Hultine, another HHS grad, had tossed 14 innings this season going into Thursday and had allowed just three earned runs. But Fremont pounced on the Hastings hurler right out of the gate, posting three runs in the opening frame.
Hutline settled in, limiting the powerful Moo offense to just one run over the next four innings, which Wagoner said was a much-needed lift for the team.
"I would say (Hultine) didn't have his best stuff, but he grinded it out and kept us in the game. That's all we can ask for from a starting pitcher who doesn't have his best stuff," Wagoner said. "For him to go out and compete and give us as many innings as he did was huge."
After giving up the three runs in the first, Hultine found a groove. Fremont scored another run in the second, but Hultine retired 10 of the final 12 batters he faced. His final stat line was five innings, eight hits, two earned runs, and two strikeouts.
The 'Busters offense bailed out the defense in Wednesday's matchup against the Moo, but it found it difficult to push across a run int he early going. Through the first three innings, Hastings stranded five baserunners.
But in the fourth inning, the Sodbusters finally strung some plays together and pulled within one run of the Moo. After back-to-back singles started the inning, Matt Rodriguez plated both Carson Cahoy and Cameron McClure with a double that was smashed over the Fremont left fielder. Hastings tacked on another run when Rodriguez scored on a fielder's choice off the bat of Cole Dawson.
The double was the first extra base hit for Rodriguez, who was batting in the eight-hole on Thursday, and he drove in his second and third RBIs of the season.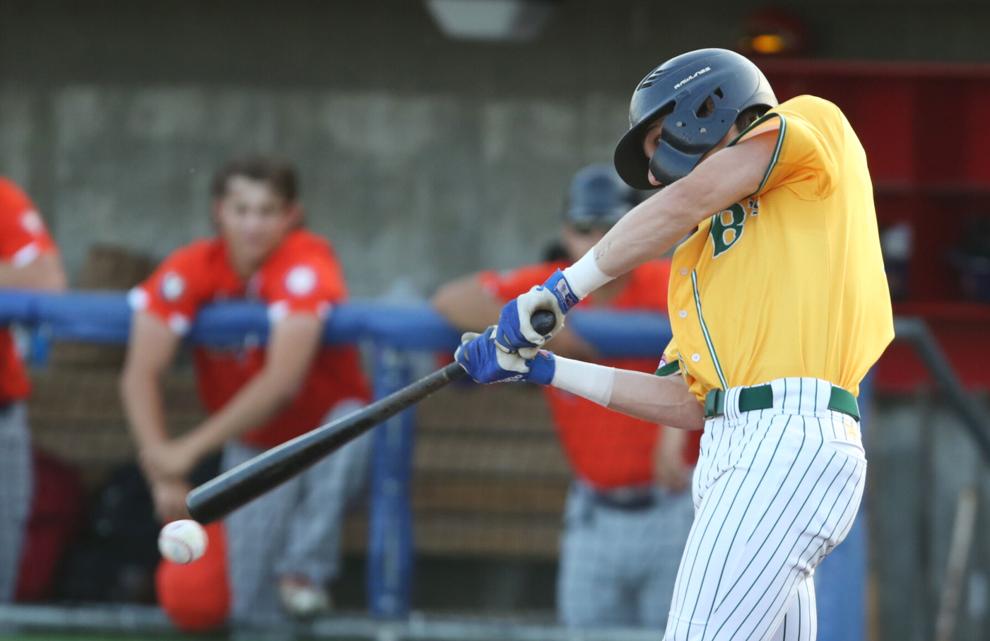 Ryan Melvin took the mound for the 'Busters to start the sixth inning, but he was not able to finish the frame. A walk and a hit-by-pitch eventually set up a two-run single by Fremont's Austin Callahan, giving the Moo a 6-4 advantage.
Hastings got another big lift from Omar Jackson, who plated a run with a double that was crushed to centerfield. The RBI hit left runners on second and third with just one out, but Fremont's Marco Ozuna Jr. struck out the next two batters, ramping the velocity up to 88 and 89 miles per hour on the punch out pitches.
Jake Bigham took over on the mound in the top of the sixth for Melvin in his first pitching outing of the season. He kept the Sodbusters in the game with 3 1/3 innings of relief, in which he did not allow a hit.
"Those were three big innings for us — 7, 8, 9. For him to put up three zeroes was huge," the coach said. "As a bullpen arm, that's what you're looking for. He went out there, controlled the strike zone, and got it done for us."
The win improved Hastings to 5-9 on the year. Beating the Moo twice at home has given the Sodbusters new breath of life as well as some confidence, as they prepare to host Western Nebraska for a three game series, starting Friday.
"They're a tough team to beat. I think beating them twice here was pretty big for us," McClure said. "With the momentum, who knows what we could do with this."
"We definitely needed that going into the weekend," Wagoner said. "It was a big confidence booster for our guys. If they know they can beat that team, they know they can compete with anyone in the league."
FRE (11-3)…10 002 000 — 6 10 2
HAS (5-9)…000 310 012 — 7 15 4
W — Jake Bigham. L — Marco Ozuna Jr.
2B — F, Peyton Leeper; H, Matt Rodriguez, Omar Jackson.