Saturday's doubleheader sweep was the perfect gift under the Christmas tree for the Hastings Sodbusters, who not only extended their win streak to four games but also took over first place in the Clark Division.
Hastings defeated the Fremont Moo 6-5 in a thrilling doubleheader opener before blanking the visitors 5-0 Saturday at Duncan Field, as fans celebrated the theme "Christmas in July in August," with proceeds going to the Hastings Tribune's Goodfellows program. Both games lasted seven innings.
"It's good to be in the top spot," said Hastings head coach JM Kelly. "The other good thing is our rotation is set up pretty well to be able to continue that... Hopefully these guys keep going out and have good outings and we can distance ourselves (in the standings) a little bit."
The Sodbusters benefitted big time from two new additions. Hastings natives Mike Boeve and Laif Hultine both made their marks on Saturday's games just days after completing their American Legion baseball season with Five Points Bank.
In game one, Boeve went 1-for-2 and drove in two runs, including the go-ahead run in the bottom of the sixth.
"It was a good experience. I knew the speed of the game would increase and be more difficult, but it was nice playing at home because I've played every home game here for the last four years, so it just felt like the same thing," Boeve said.
Hultine made his impact in the nightcap by tossing a complete game shutout.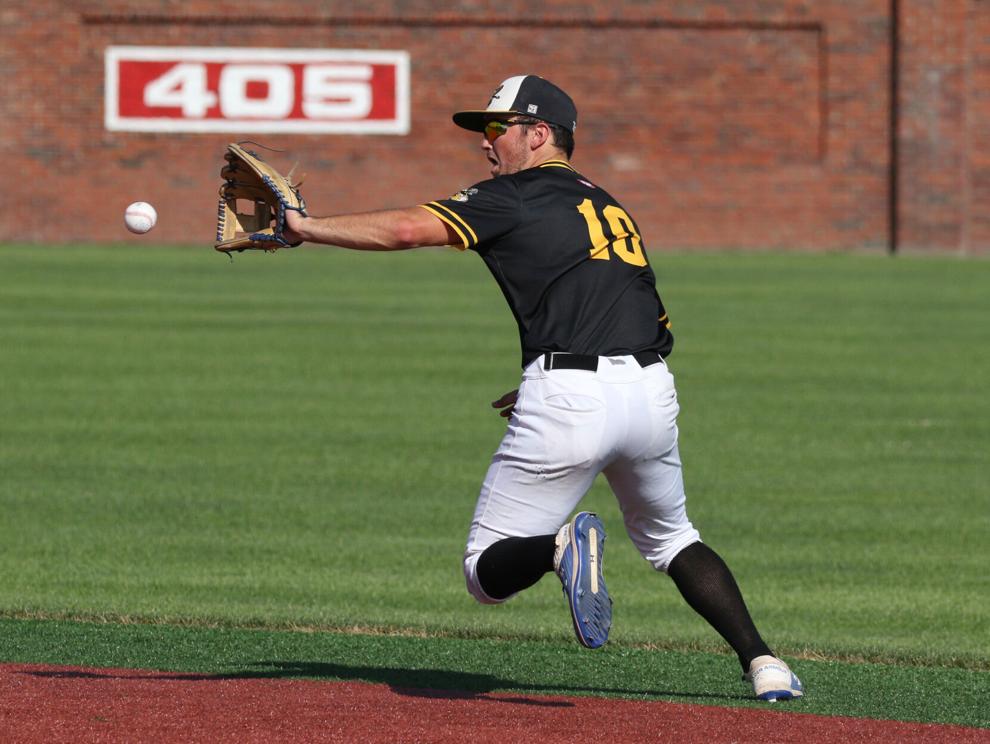 "We have an incredible defense behind us, and that's what I was told before the game," Hultine said. "I've been following the Sodbusters, I know we have some dudes. I just needed to trust them and not do too much, and it all worked out in the end."
Hastings got the doubleheader started with a big scoring explosion in the bottom of the first inning. Tayten Tredaway hit an RBI single, Wyatt Andersen drove in a run with a double, and Griffin Everitt had a two-run triple. Boeve nearly completed the team cycle in the inning, but he just got under the ball and instead lifted it to deep right field for a long sacrifice fly.
"That five-run lead was big, and then we scratched another run across when we needed to," the Sodbusters' coach said.
The big inning gave the Sodbusters a 5-0 lead, but the home team's bats went silent for the next four innings. Meanwhile, the Moo tied the game thanks to a four-run sixth inning.
But in the sixth inning, Reece Anderson reached base on a single and advanced to second on an error with just one out. Boeve then roped a single and plated Anderson to give Hastings a 6-5 lead heading into the final inning.
"The kid (Boeve) can play. I don't think he can play (just) because of the talent, but he can play because of his mind. He knows what's going on, he knows how to have an approach, knows what he's looking for," Kelly said.
"(Playing for the Sodbusters is a) huge preparation for college; seeing bigger, stronger guys, faster fastballs, everything breaks more — it's just a really good experience before college," Boeve said.
Jake Adams, who entered the game in the sixth inning, closed out the game after allowing a two-out walk and single in the seventh before getting Ryan Koski — a former Sodbuster — to ground out to first.
The second game of the doubleheader was dominated by the 'Buster newcomer, Hultine. Despite allowing at least one base runner in each inning, Hultine never seemed to be in real danger.
Hultine walked just two batters and struck out five, attacking the strike zone all night. He threw just 83 pitches, 60 of which were strikes.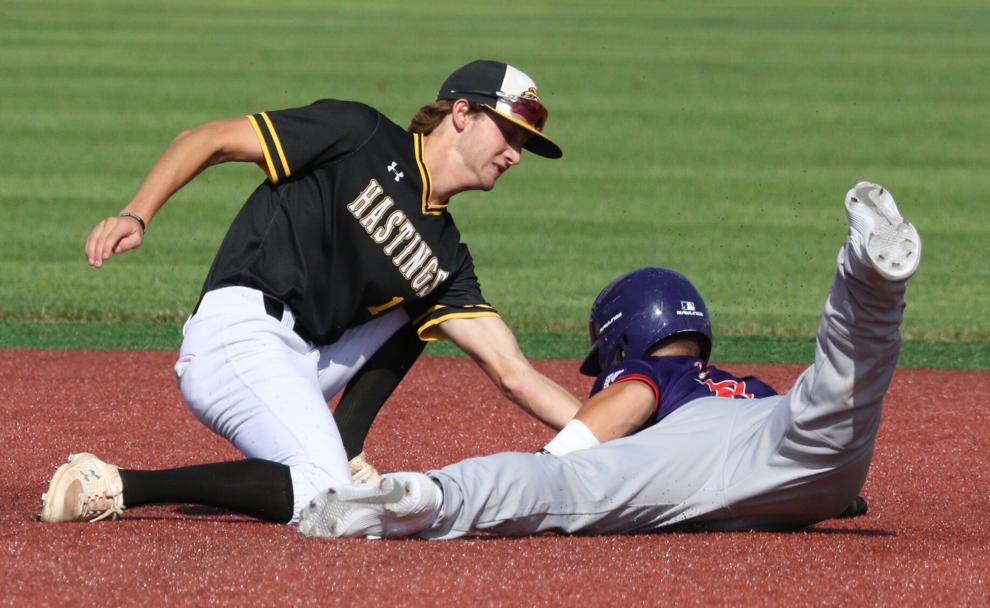 "He just goes out and competes," Kelly said of Hultine. "He's going to be really good. Missouri Southern State is getting an extremely good arm, but they're also getting a guy that understands how to pitch."
While Hultine was keeping the Moo at bay, the Sodbusters got on the scoreboard with three runs in the second inning, coming off RBI singles from Boeve and Dylan Herd and also scoring on a wild pitch.
The Sodbusters manufactured three more runs over the next three innings, tallying a pair of sacrifice flies and an RBI ground out.
The six runs were more than enough, as Hultine put the finishing touches on the shutout by striking out Luke White.
Hastings has been playing well over its four game win streak, outscoring opponents 25-15.
One of the sources for the Sodbusters' recent success has been Hastings native Grant Schmidt, who homered twice in Friday's win over the Moo. Schmidt has 25 hits in his last 18 games.
"Grant is getting back to where he was at the beginning of the year. He had a down time, but even during that he was hitting the ball hard. They're starting to fall again, and he's Grant Schmidt — he can play," Kelly said.
The Sodbusters dropped Sunday night's ball game in Fremont 18-6. The Moo exploded for 17 hits in the outing, six of which were home runs. Jack Simonsen and Jaxson Simmerman each left the yard twice. Koski and Brock Reller also homered.
Hastings, which struck out 15 times as a team, managed just one extra-base hit, a double by Efry Cervantes. Casey Burnham and Reece Anderson had two hits apiece for the Sodbusters, who remain 1/2 game ahead of the Moo in the division.
Hastings will continue to play the Moo for four more games, playing at home Monday through Wednesday and then going to back Fremont Thursday.