On Monday, central Nebraska track and field athletes brought some of their best times and distances to Grand Island Northwest High School to compete in the Central Nebraska Track and Field Championships. And one of the biggest takeaways from the event was the realization of just how strong the St. Cecilia girls running depth really is.
The Hawkettes had the most top three finishes of any Tribland team at the meet, including gold medals from the 3,200-meter relay team, which found out just before the race that one of the relay legs had suffered an injury.
"At the last second, Erin Sheehy had an achilles problem, so we switched out and put Hailey Reifert on it instead, and we ran an eight-second PR," said STC head coach Trevor Alber. "We were really happy with how Hailey stepped in with those other three. We just have great depth with those five in the 800."
"We're lucky enough to have so many good mid-distance runners on our team," said STC's Alayna Vargas. "We had Hailey come in and do such a great job; we were so proud of her. She was thrown into it the hour of the event, and she went out there and did great and we got a PR."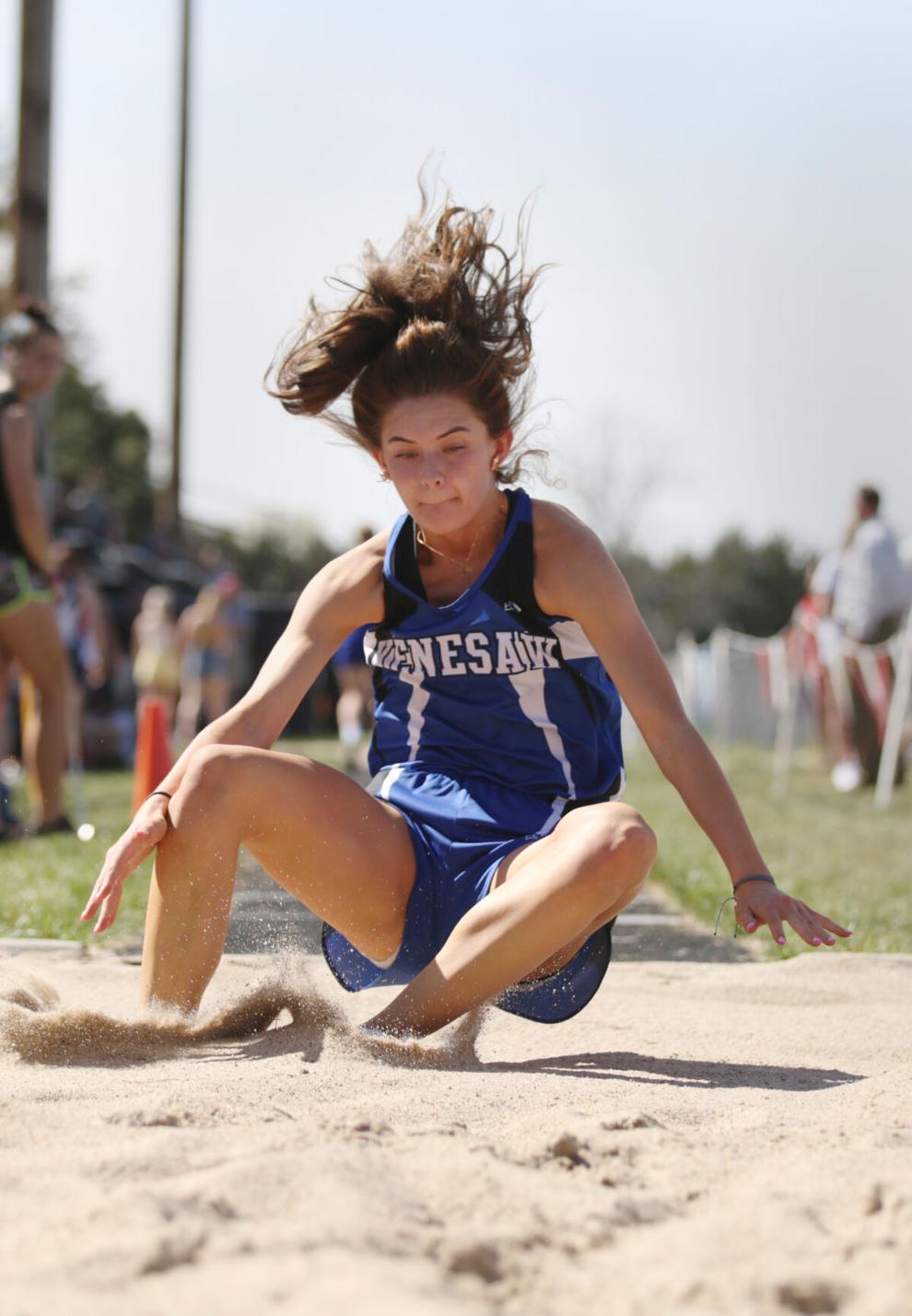 The injury didn't slow down STC, as it went on to take first place by more than 13 seconds. Alber said the team's highly-competitive practices has helped create the depth that proved to be so crucial Monday.
"Having someone else out there that can push you helps you better yourself to a whole new level," Alber said. "When you have that kind of depth, you have people fighting each other for that 4x800 spot, and it just makes everyone better."
Vargas, who captured the Hawkettes' other gold medal, has been one of the team's leaders this season. After running anchor in the team's 3,200 relay, Vargas had the fastest time in a very competitive 800-meter run race. The STC speedster recorded a time of 2 minutes, 24.37 seconds.
The top five medalists in the 800 were separated by 1.6 seconds.
"I knew we all had similar times, so my main goal was to either stick in front and lead with a solid pace, or to tuck in behind someone in the upper pack and make a move in the last 200 or 100," Vargas said. "I knew I had to wait to make a move not on a curve. I kind of planned where I wanted to finish out because I knew what I had left in me."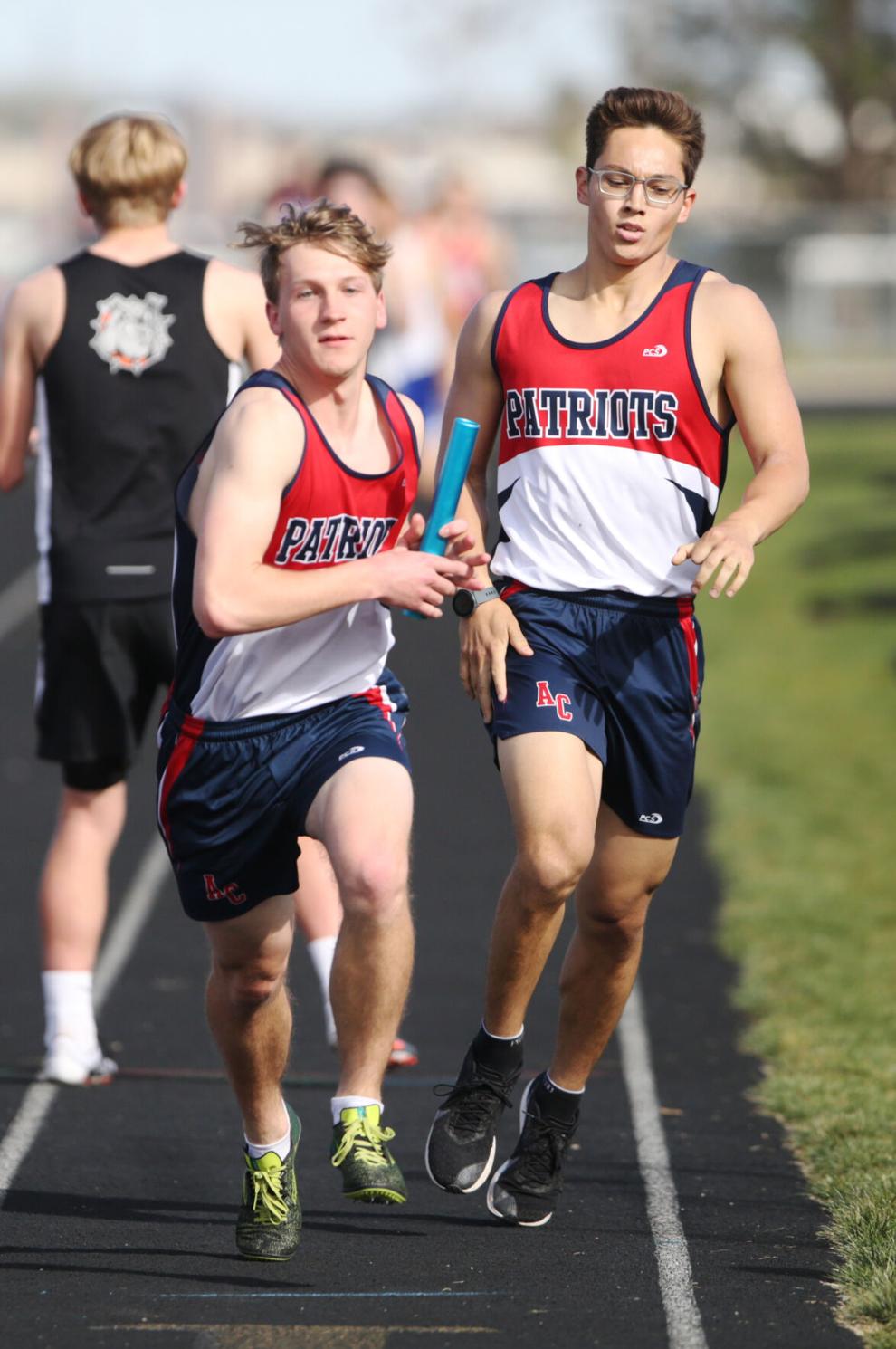 In addition to the gold medals, the team's 1,600 relay unit — which was also missing Sheehy — also set a personal best with a time of 4:08.43, bringing home the silver medal in the process. Shaye Butler earned a bronze medal in the shot put, while Jenna Esch took third in the 400.
Vargas was slated to also compete in the 1,600-meter run, but with temperatures reaching 93 on Monday, many of the athletes were not accustomed to the heat. Vargas and Alber decided to hold the runner out of the event and get her ready for the 800. Vargas had the top time of all the runners in the 1,600 going into the event.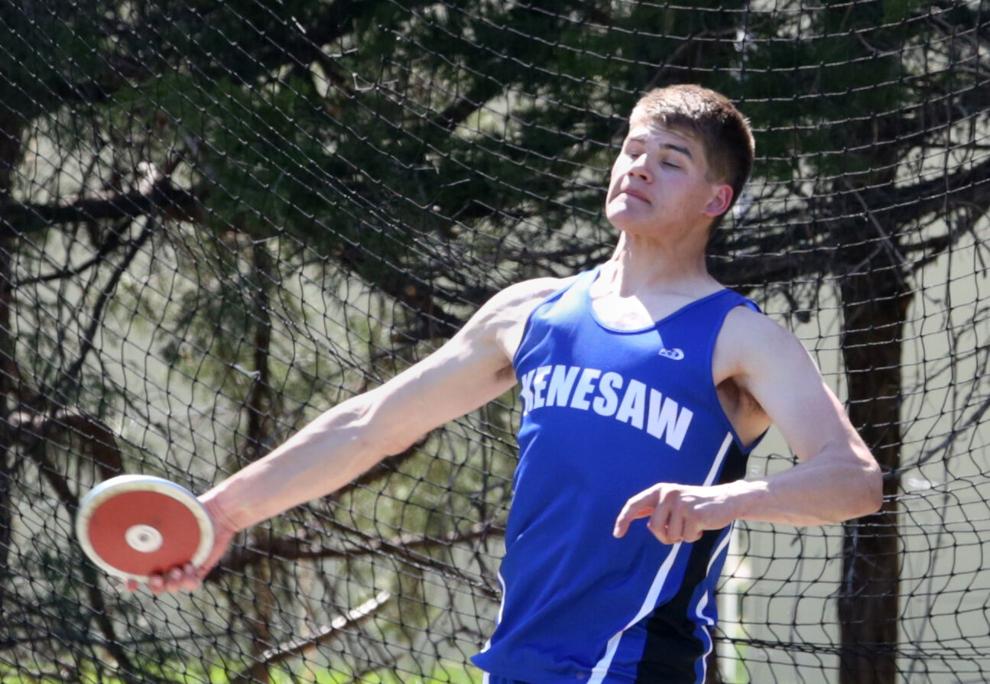 Another performer that had a big day was Kenesaw's Cassidy Gallagher, who was the only Tribland athlete to win two individual gold medals.
"Cassidy is a very gifted athlete," said Kenesaw head coach Nancy Bittfield. "I am so proud of her for what she accomplished today. She has worked hard this season to make up for last year's disappointment of not having a track season. I knew she was capable of these distances and today we finally had good weather to compete."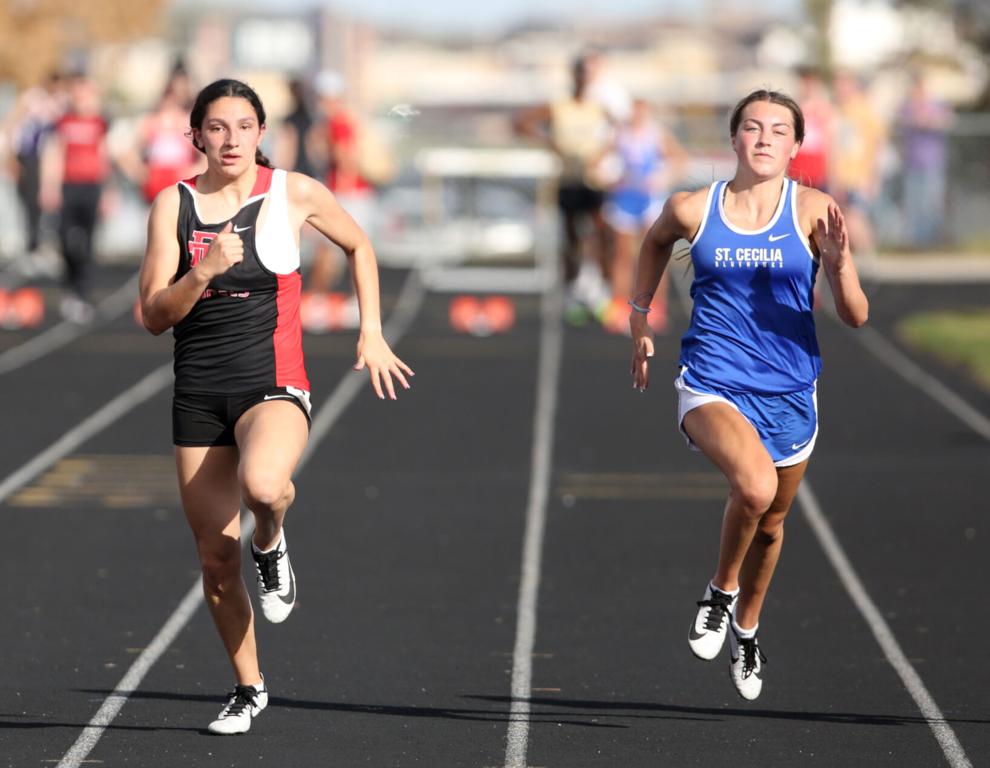 Competing against bigger schools, Gallagher didn't let that phase her, as she won the long jump and the triple jump. She finished with a mark of 35 feet, 3 inches in the triple jump and 16-10 1/2 in the long jump. Bittfield said Gallagher, who medaled in the triple jump at state in 2019 as a freshman, plans to be back in Omaha at the end of the season.
"Her expectations are do well at all the remaining meets and return to state," the coach said. "She is very coachable and practices hard but she also enjoys competing at a high level. I expect her to continue to break her pr's as we continue through the rest of the season."
On the boys side, Adams Central's Luke Bonfias was the only Tribland athlete to bring home a gold medal. He entered the meet with the best time in the two-mile race, and he proved why. He dominated the field and cruised to a gold medal with a time of 10:14.54.
"I wanted to go out pretty hard and work on going out fast, so later in the season, when everyone else is going out fast and pushing me I can better maintain that," Bonifas said. "I looked at the competition and I just wanted to make sure I won. It was a good day."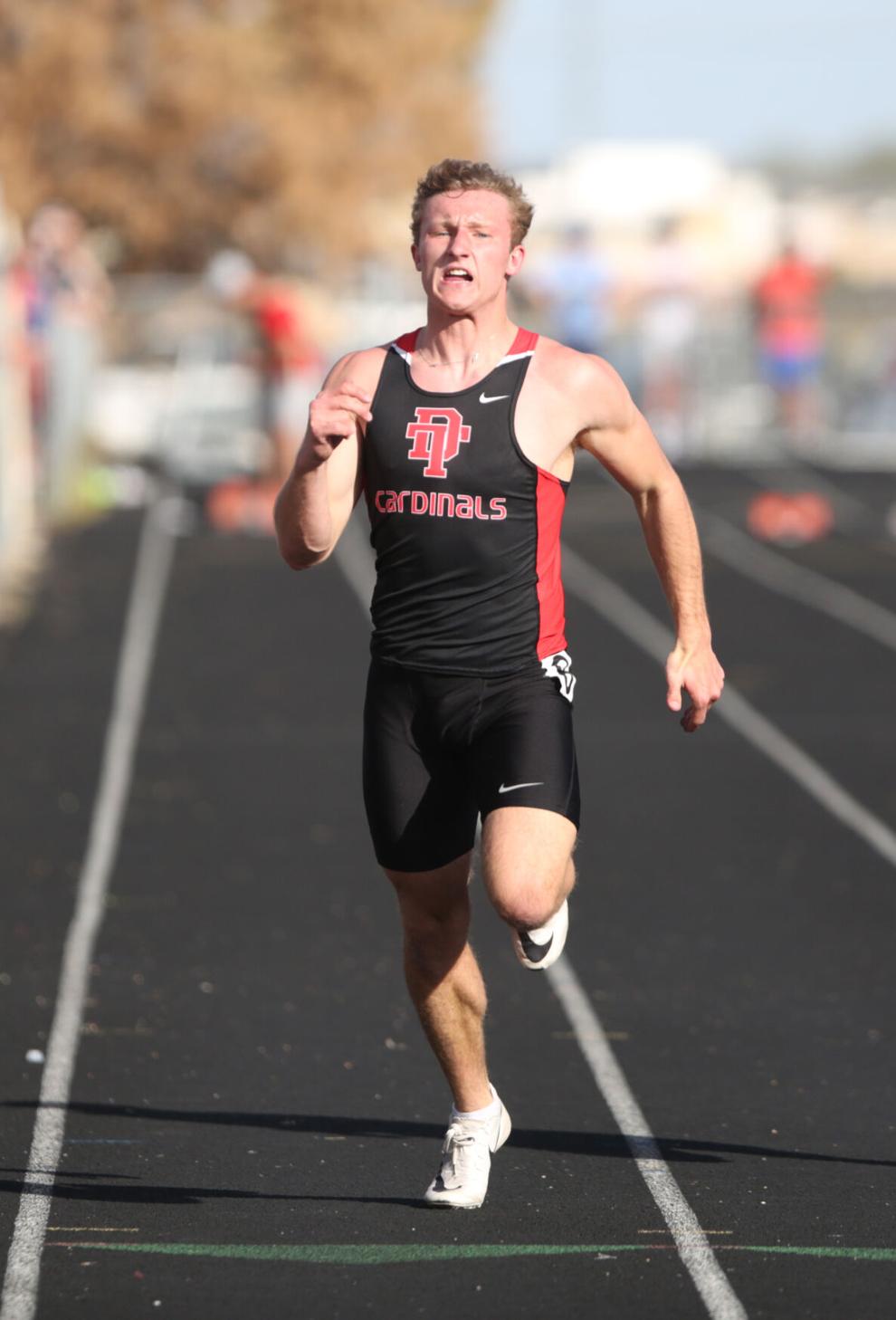 He beat second place in the race by nearly 20 seconds. Bonfias said he's got high goals for this season, but he feels he learned a lesson on how to properly finish a season after competing on the Patriots' cross country team.
"At the end of the cross country season, I kind of had a rough go of it," Bonifas said. "I did a lot of things this season to make it easier and make sure I don't burn out. I'm hoping later in the season, when we're being pushed, hopefully I can stay in the front."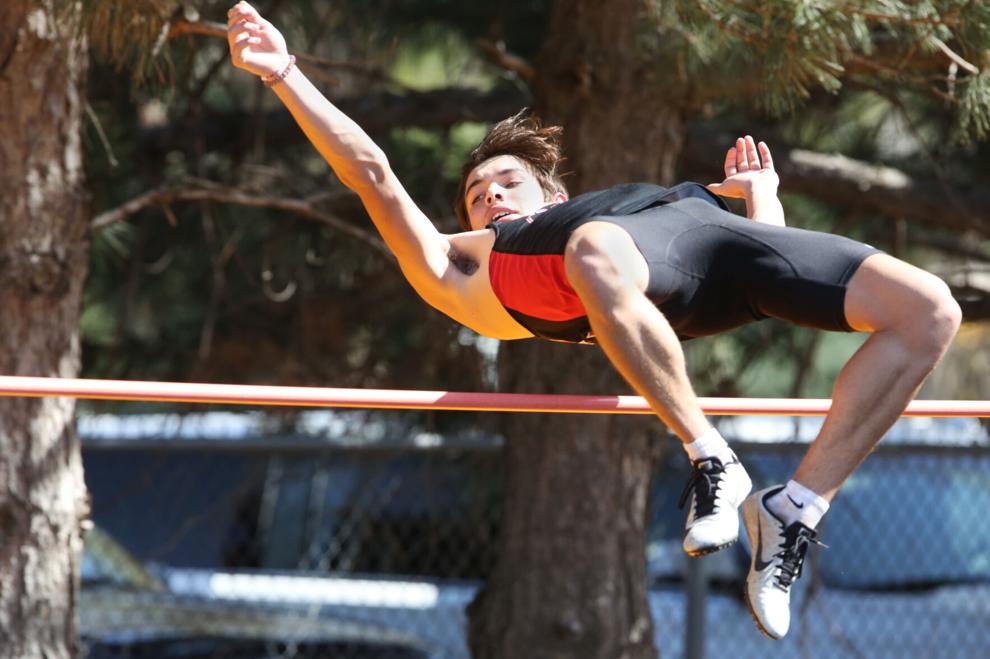 100 — 3, Ayden King, Doniphan-Trumbull, 11.36
400 — 5, Emmanuel Consbruck, St. Cecilia, 52.02
3,200 relay — 2, Adams Central 8:34.65; 6, St. Cecilia 8:47.08
Discus — 5, Eli Jensen, Kenesaw, 132-5
High jump — 3, Myles Sadd, Doniphan-Trumbull, 6-3; 4, Breck Samuelson, Adams Central, 6-1; 5, Dante Boelhower, Adams Central, 5-11
Long jump — 5, Myles Sadd, Doniphan-Trumbull, 20-4
Triple jump — 6, Carson KudlAdams Centralek, St. Cecilia, 40-9 1/2
200 — 2, Ayden King, Doniphan-Trumbull, 22.77
800 — 4, Garrett Parr, St. Cecilia, 2:03.44; Tyler Slechta 2:08.24
3,200 — 1, Luke Bonfias, Adams Central, 10:14.54
100 — 2, Gaia Andorno, Doniphan-Trumbull, 13.00; 4, Jenna Esch, St. Cecilia, 13.17
100 hurdles — 6, Rylee Legg, Kenesaw, 17.18
400 — 3, Jenna Esch, St. Cecilia, 59.57
1,600 — 8, Megan Vrooman, St. Cecilia, 6:14.73
400 relay — 3, Doniphan-Trumbull 51.22
3,200 relay — 1, St. Cecilia 9:57.32; 8, Adams Central 10:49.23; Doniphan-Trumbull 11:06.07
Discus — 2, Claire Hemberger, Adams Central, 122-6; 7, Emma Schroeder, Kenesaw, 96-6
High jump — 5, Hannah GengenbAdams Centralh, Adams Central, 4-11
Long jump — 1, Cassidy Gallagher, Kenesaw, 16-10 1/2; 3, Hannah Dunning, Doniphan-Trumbull, 16-5 1/2
Pole vault — 8, Jill Parr, St. Cecilia 8-10
Shot put — 3, Shaye Butler, St. Cecilia, 38-6; 7, Ryann Sabatka, St. Cecilia, 34-7 3/4
Triple jump — 1, Cassidy Gallagher, Kenesaw, 35-3; 7, Jessica Babcock, Adams Central, 32-3 3/4
300 hurdles — 2, Kaitlyn Mousel, Adams Central, 48.63
200 — 3, Gaia Andorno, Doniphan-Trumbull, 26.37; 5, Danae Rader, Doniphan-Trumbull, 26.84
800 — 1, Alayna Vargas, St. Cecilia, 2:24.37; 7, Madsion Shimmin, Doniphan-Trumbull, 2:34.66
1,600 relay — 2, St. Cecilia 4:08.43
3,200 — 8, Jenna Cecrle, Adams Central, 13:22.53