Hastings senior Justin Musgrave dons the number 24 on his jersey for his predecessor, Mike Boeve, who graduated last year. And while Boeve is tearing the cover off the ball as a freshman for Division I University of Nebraska-Omaha, Musgrave is making sure the No. 24 still haunts opponents.
Musgrave has been a big part of the Tigers' success during their four-game win streak, during which HHS is outscoring opponents 35-14. On Saturday, the Hastings senior drove in four of the team's 11 runs while also tossing a complete game on the mound in the 11-1 victory over Wahoo/Bishop Neumann/Lincoln Lutheran at Duncan Field.
"(Musgrave) did exactly what I thought he could do (Saturday)," said the Tigers' head coach Blake Marquardt. "It was his first start of the year; I think he had thrown maybe three innings to that point — and that's only because we have such a deep pitching staff that we haven't had to use him as much...I was hoping to get four innings out of him and he gave us five."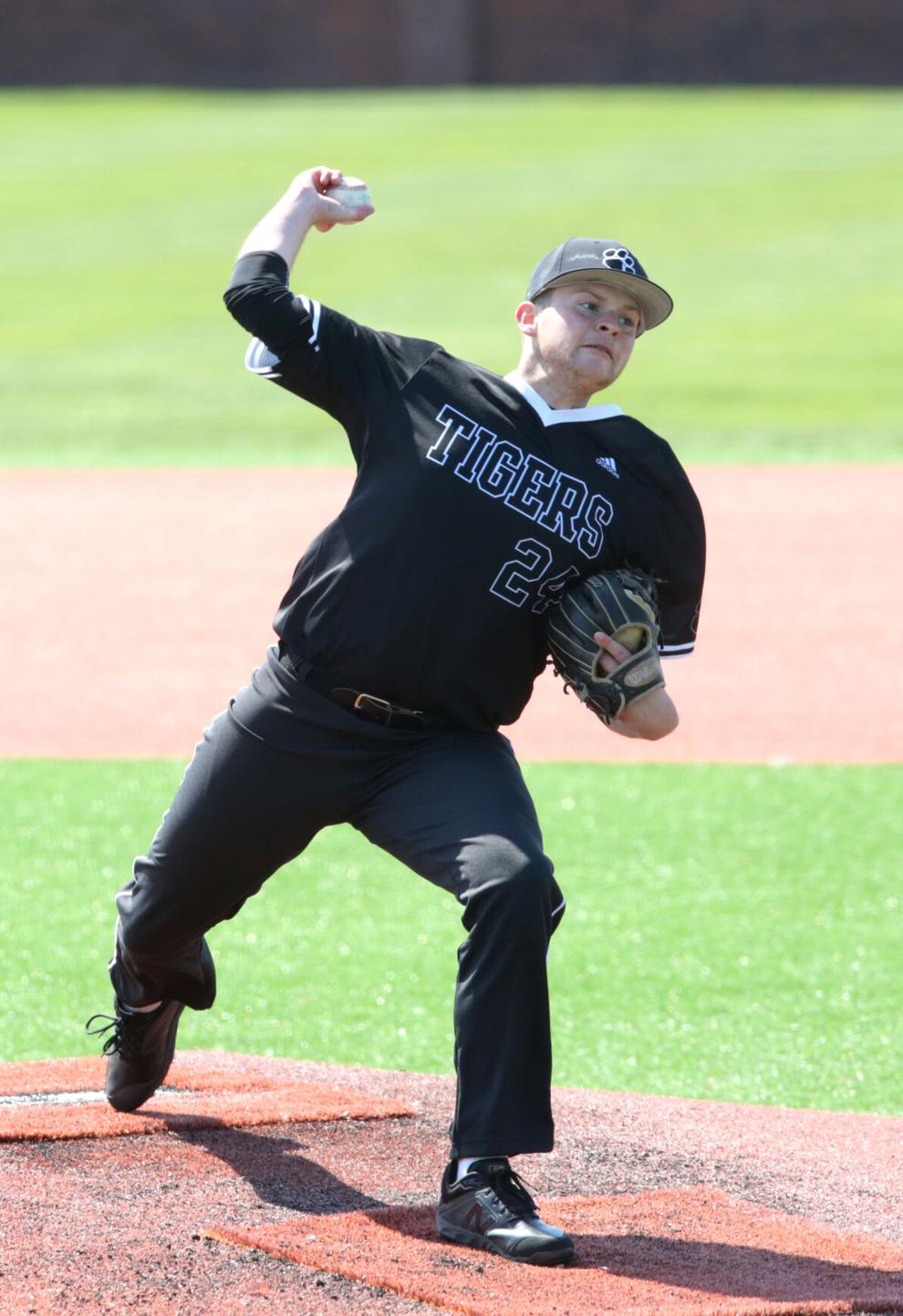 Saturday's contest wasn't much more than 12 hours after Hastings wild walk-off victory over rival Grand Island in the 10th inning. Marquardt said it was going to be important for his team to come out with a lot of energy to keep the momentum going after the thrilling victory the previous day.
"After you come through an emotional game like (Friday's) was against Grand Island — 10 innings and all — it's a big win, and you kind of wonder where your team will be at the next morning. It's a quick turnaround rate," the HHS coach said. "We just kind of talked about brining energy, 'Give the team one more day and then you can take the rest of the weekend off.' I thought throughout the entire game they brought it."
Musgrave got the start on the mound, and he delivered the exact type of start the team needed. The Tigers are in the middle of a long stretch of games, so the fewer pitches they have to use the better position they'll be in as the postseason nears. The Hastings starter went all five innings of the shortened game, allowing just one run and just five hits.
"I had a great feel for the zone (Saturday), pitching," Musgrave said. "My teammates backed me up awesomely. Bases loaded, one out, and they turned a double play to end the inning, it was great."
The Warriors managed only four baserunners through the first four innings against Musgrave. Aside from the leadoff double to start the game, which went on to score on a groundout, the only trouble for Musgrave came in the fifth inning.
After allowing a single to start the frame, the Warriors got a one out infield single and then Musgrave issued a walk to load the bases. Marquardt came out for a mound visit to talk to the senior pitcher. Musgrave then got the next batter to hit a grounder to third baseman Trayton Newman, who stepped on his bag and fired to first for an inning ending double play.
"Coach Marquardt came out and said he had confidence in me and that just built my confidence to throw strikes," Musgrave said. "He said throw us a ground ball, and luckily that's what happened."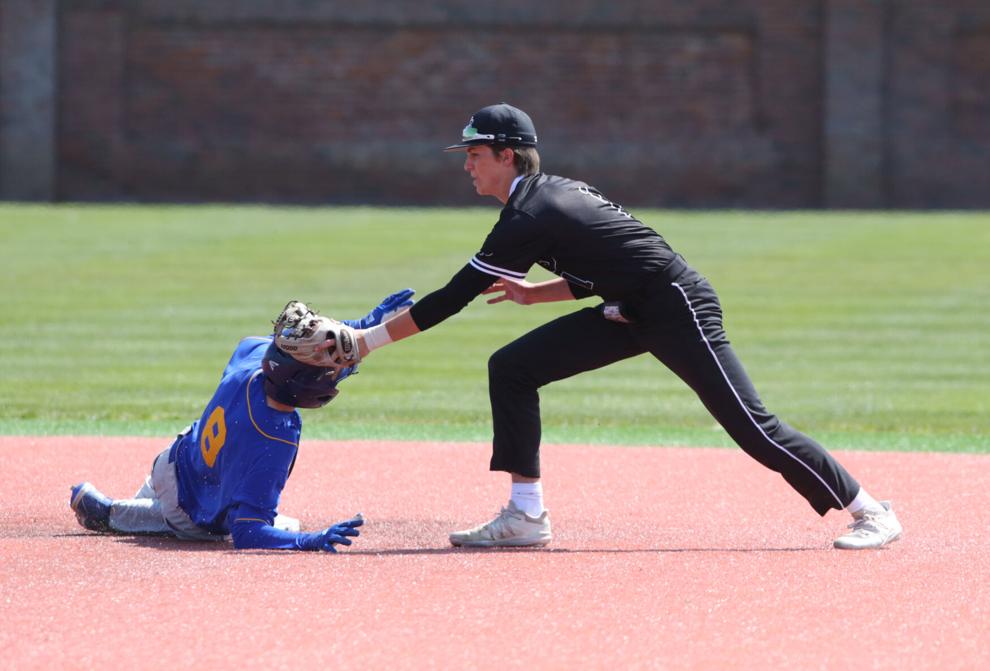 The Hastings offense certainly provided plenty of firepower for Musgrave, pouring in seven runs in the first two innings.
After falling behind 1-0 in the first, Luke Brooks tied the game with an RBI single and Newman pushed across the go-ahead run with a sacrifice fly. The Tigers then erupted for five runs in the second, highlighted by a two-run double from Musgrave and RBI hits from Newman and Brayden Mackey.
Luke Stevens extended Hastings' lead to 8-1 in the fourth inning with another RBI base hit. And in the fifth inning, Musgrave got another clutch hit for the home team, again plating two runs with a single.
"I've been seeing the ball pretty well lately," Musgrave said. "My approach has just been to get deep in the count and poke the ball to the right side of the field, and that's what I did."
"When he's at the plate, he knows exactly what the situation is. He has so many team at bats, which is exactly why he's in the two-hole for us," Marquardt said. "He's probably one of the best leaders we have, vocally and he does it by demonstration. A lot of guys get behind him. He's a great guy to follow and our guys play really well when he's going."
The run scoring hit made it a 10-1 game, and then Newman put the finishing touches on the game by activating the run rule with a single to score the game-winning run.
"Going 4-0 this week has boosted our confidence a lot," Musgrave said. "We're trusting each other a lot. Our bond is amazing; we have 12 seniors this year, so we're a real tight-knit group."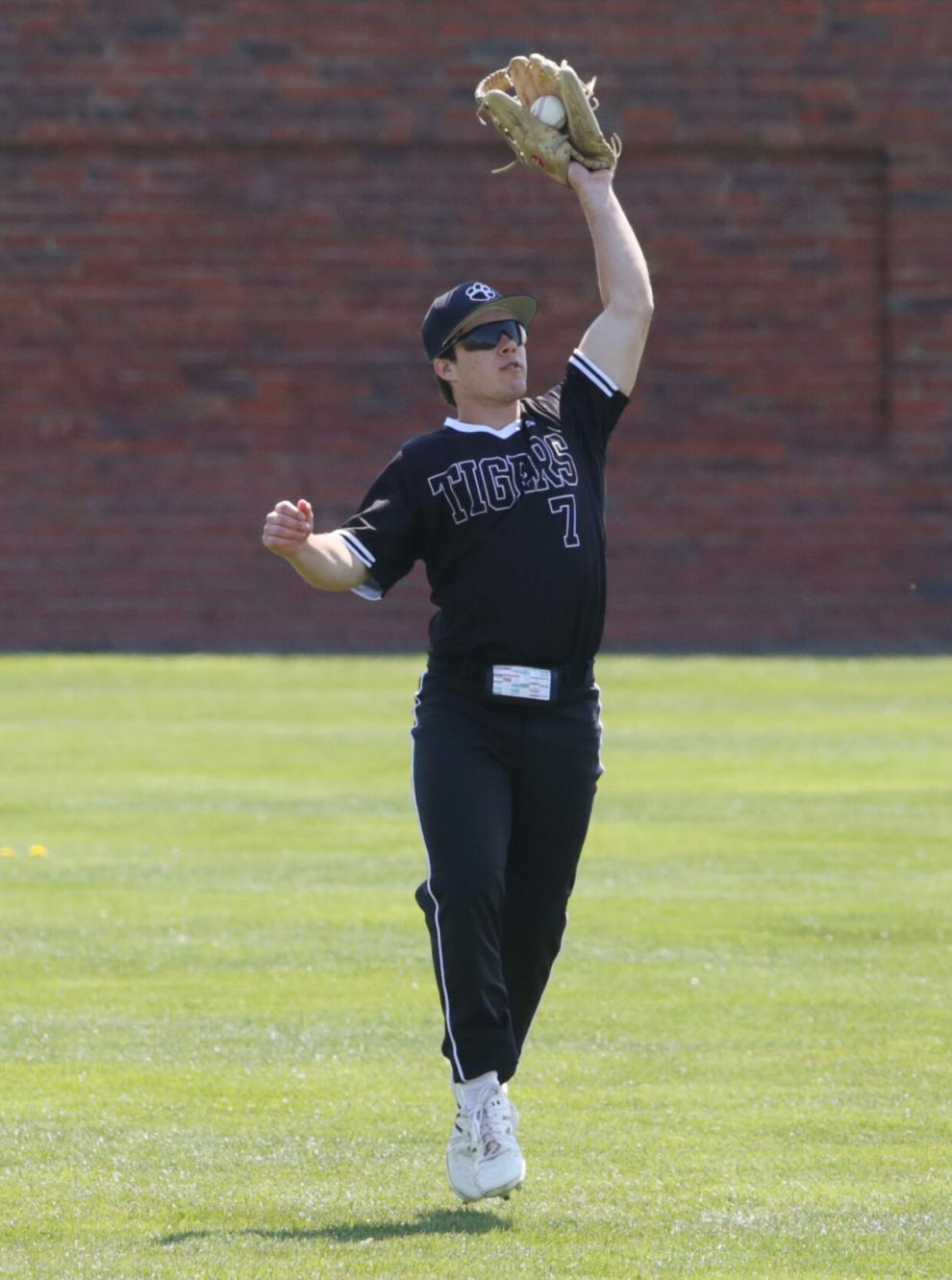 Braden Kalvelage tallied three hits on the day and stole three bases. In total, the Tigers swiped seven bags against the Warriors. Marquardt said it was important for his team work on staying aggressive throughout the game's entirety.
"We're getting there. I don't know if I'll ever say we're exactly where we want to be," Marquardt said in terms of his team maintaining that aggressive play. "We actually said after the game that there's a reason why I stay on them every single pitch of the game, even when we're up seven or eight runs: In high school baseball, you never know. You walk a guy or two and then they get two big hits and they're right back in the game.
"We talked about nonstop running and always being aggressive. When we don't, vocally, you'll hear me. I hold these guys accountable because I know they have a high-level in them, and I just try to make sure they understand that they need to be aggressive throughout the entire game."
With the win, Hastings improved to 13-5 on the season. The Tigers are ranked No. 5 in Class B, and they sit second in wild card points in the class, meaning they're in great position to host a district tournament with just five games left in the regular season. Next up, HHS will host Class A foe Lincoln Pius X on Monday.
W/BN/LL (6-10).....100 00 — 1 5 1
Hastings (11-5)..250 13 — 11 13 0
W — Justin Musgrave. L — Sam Stuhr.
2B — W, Ryan Raabe; H, Musgrave.