In the words of its own head coach, Hastings got "sugar high" after its 20-point first quarter. 
The Tigers and Lexington Minutemaids played close to even for the remainder of Thursday's third-place game at the Hastings holiday tournament, but the opening gap was wide enough for the hosts to prevail.
Hastings took down Lexington 51-34 a day after dropping a tight game with Bennington where the Tigers were out-hustled.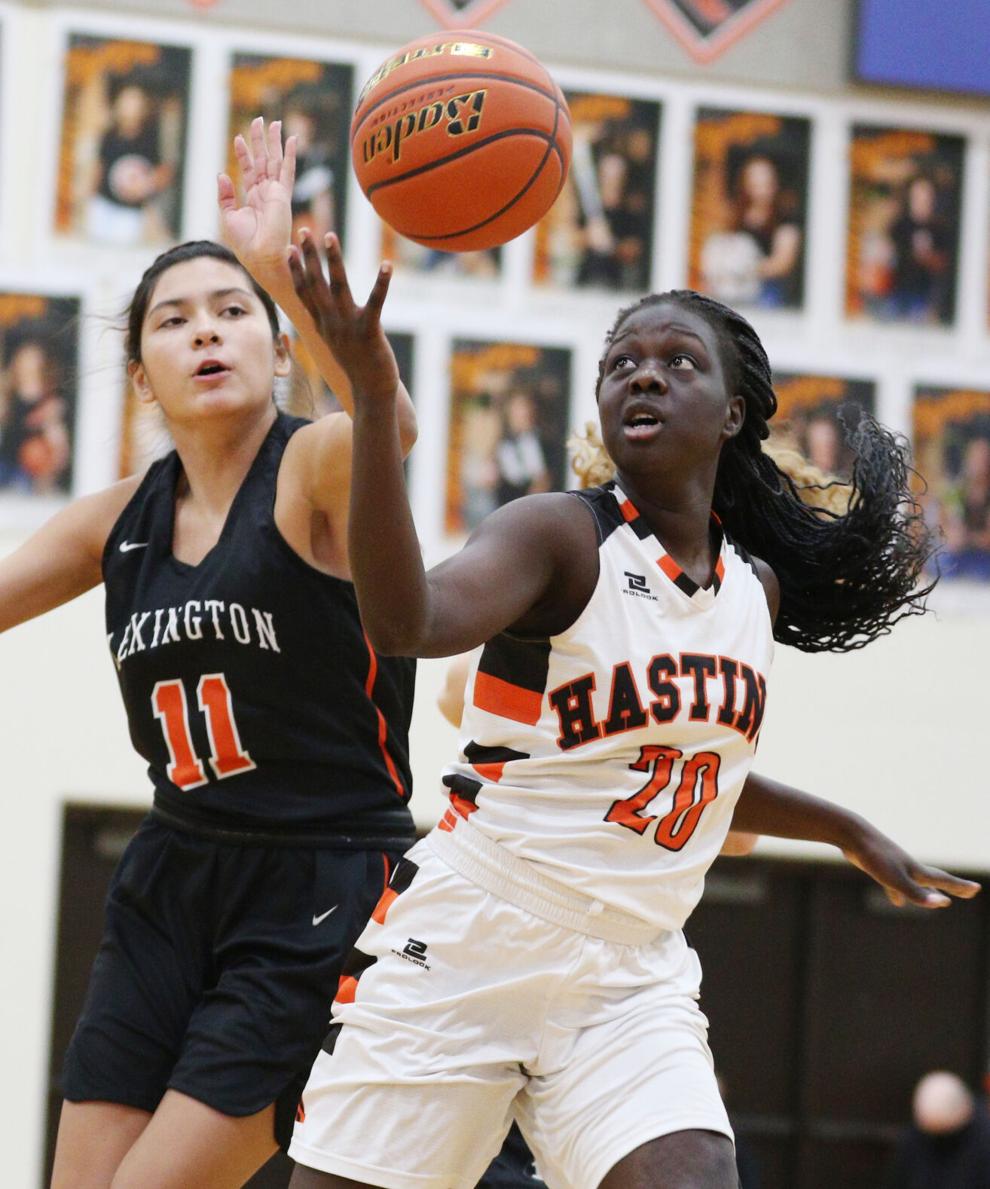 "I thought we competed for loose balls better and we rebounded better, but again, it's the same story," said HHS coach Greg Mays. "We haven't shown up against the good teams and done that yet."
Lexington's lineup was thin — and offensive threats even slimmer — but Sarah Treffer kept the Minutemaids in contention.
Lexington's 10 first-quarter turnovers allowed it to only post four shots compared to Hastings' 14, of which the Tigers made seven.
But Treffer trudged her team through the mud in the second period, where she scored 11 of the Minutemaids' 15 points on 4-of-5 shooting, including a 3-pointer that accounted for the final field goal of the half by either side.
Across a five-minute span — separated by halftime — Lexington outscored Hastings 13-2 and minimized the gap between the two to eight points. 
Treffer's blaze was extinguished by Hastings' defense forcing tougher shots in the second half, although the Minutemaid finished with a game-high 21 points. The team scored just 34.
Mays said the Tigers adjusted their help defense, especially on Treffer, in the second half.
KK Laux was assigned to guard Treffer. 
"KK does a nice job," Mays said. "The problem is once (Treffer) gets inside, she has a little bit of an advantage.
"Normally that'd be Dacey (Sealey's) job, but she just hasn't quite been herself; she hasn't been feeling just perfect. And we've been trying to keep her out of foul trouble a little."
Laux has been hot from the floor as of late and she added another pair of 3-pointers in Thursday's game as part of a 12-point contribution.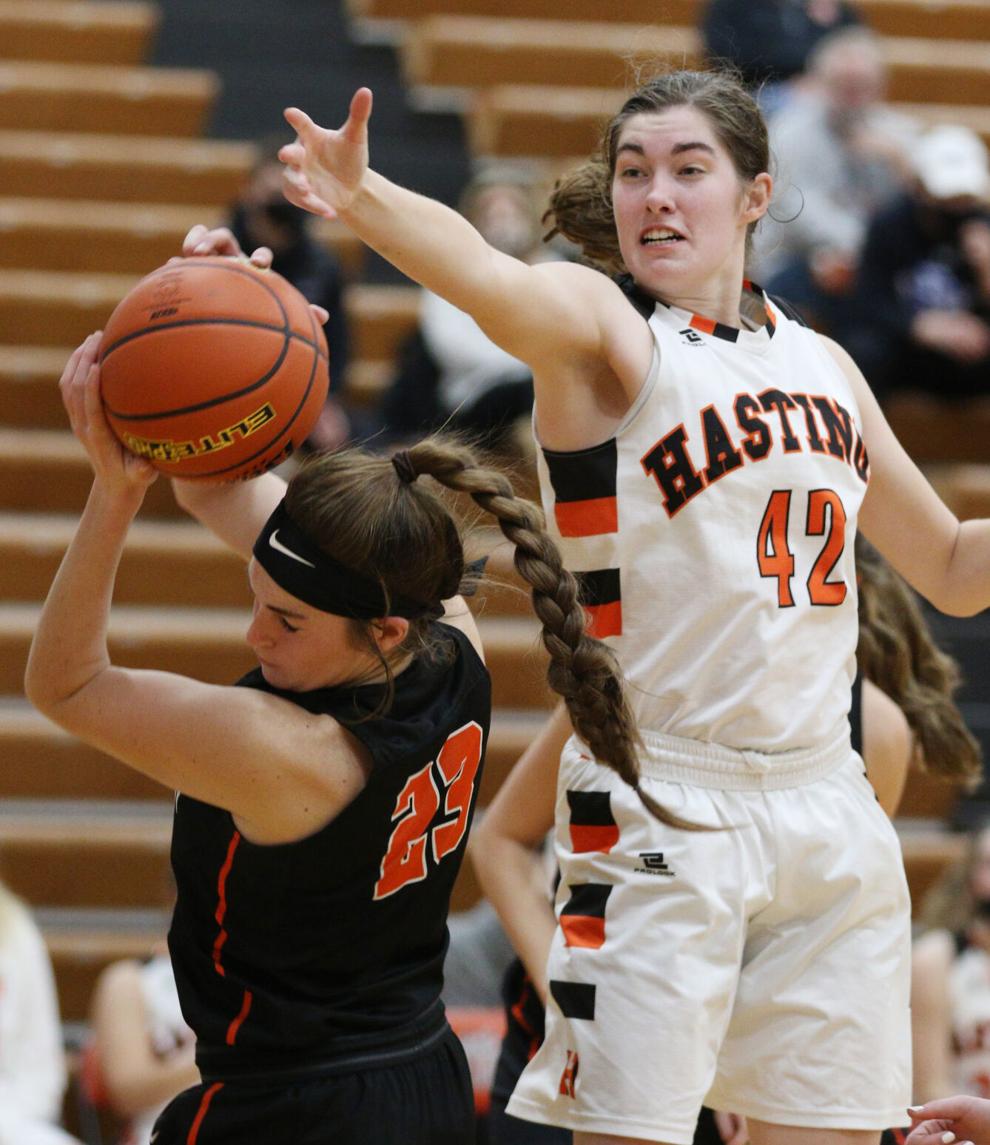 McKinsey Long's 16 points on 6-of-9 shooting led Hastings. Long drilled three triples.
The Tigers benefitted from early ball movement, which created open looks. 
"Offensively, we had a pretty good day," Mays said.
And Hastings survived its lull through the third quarter to finish strong. 
"We didn't limp all the way to the end," Mays said. 
Maddie Hilgendorf added 10 points for the Tigers, who improved to 5-3 heading into the new year. 
Hastings turned a corner at this point last season and Mays is hopeful for more of the same.
"Last year our schedule softened a little bit, and this year I'm not sure it does," Mays said. "We'll see what kind of January we can have... These girls want to play in a state basketball tournament. To tell you the truth, I want to get there and win a couple games. Right now, it doesn't look like we're in that discussion because we haven't beaten the teams that we need to beat. But I think we can get there."
LEX (2-5)..............4 15 8 7 — 34
HHS (5-3)............20 15 4 12 — 51
Mia Rowe 1-3 4-4 6, Emily Jimenez 0-1 0-0 0, Klair Fagot 0-4 1-3 1, Sarah Treffer 7-16 6-7 21, Kalli Sutton 2-2 0-0 4, Marissa Garcia 1-4 0-0 2, Kim Barraza 0-4 0-0 0. Totals: 11-34 11-14 34.
KK Laux 3-7 4-4 12, Dacey Sealey 2-5 2-2 6, McKinsey Long 6-9 1-2 16, Maddie Hilgendorf 3-6 4-4 10, Lauren Hinrichs 2-2 0-0 4, Nyagour Duang 1-5 1-2 3, Charli Coil 0-5 0-0 0, Aubry Sweley 0-0 0-2 0. Totals: 17-39 12-16 51.
Three-point goals — L 1-8 (Rowe 0-1, Fagot 0-1, Treffer 1-6); H 5-13 (Laux 2-5, Sealey 0-1, Long 3-5, Duang 0-2).